Developing BI applications
Creating and developing Business Intelligence applications – alongside a good architecture and a state-of-the-art BI toolbox – is essential when it comes to creating an Intelligent organization.
This is where everything comes together: key performance indicators, processes, strategy and implementation, behavior, views, the architecture, the different Business Intelligence tools and data all need to be transformed into valuable information for a specific aspect of the organization. Such applications may develop spontaneously (because employees gradually discover the possibilities of the data warehouse and BI tools), but we must also consciously manage towards developing Business Intelligence applications.
Choose the right business intelligence application using Intelligent Insights BI & Analytics, a unique app developed by Passionned Group. Interactive graphs and analyses help you choose the best BI application for your needs. Compare solutions on any number of criteria. Try out the demo version.
Download now
.
Go to Intelligent Insights BI & Analytics™ - 90 days access
Prepare a business case for Business Intelligence applications
It is therefore important that we prepare a business case in which we weigh up the costs and benefits of the BI application. This is not always an easy task, particularly if there is no architecture and we do not yet have the tools. If this is the case, the organization will have to measure the benefits, short-term and long-term, against the initial investments needed to develop the architecture and purchase the tools.
The strategic direction and typical applications of BI
"organizations distinguish themselves from the competition by the strategic direction they take" (Treacy and Wiersema, 1995). This strategic direction represents the areas where the organization aims to excel: the 'value disciplines'. To some extent, the different Business Intelligence applications are dependent on this.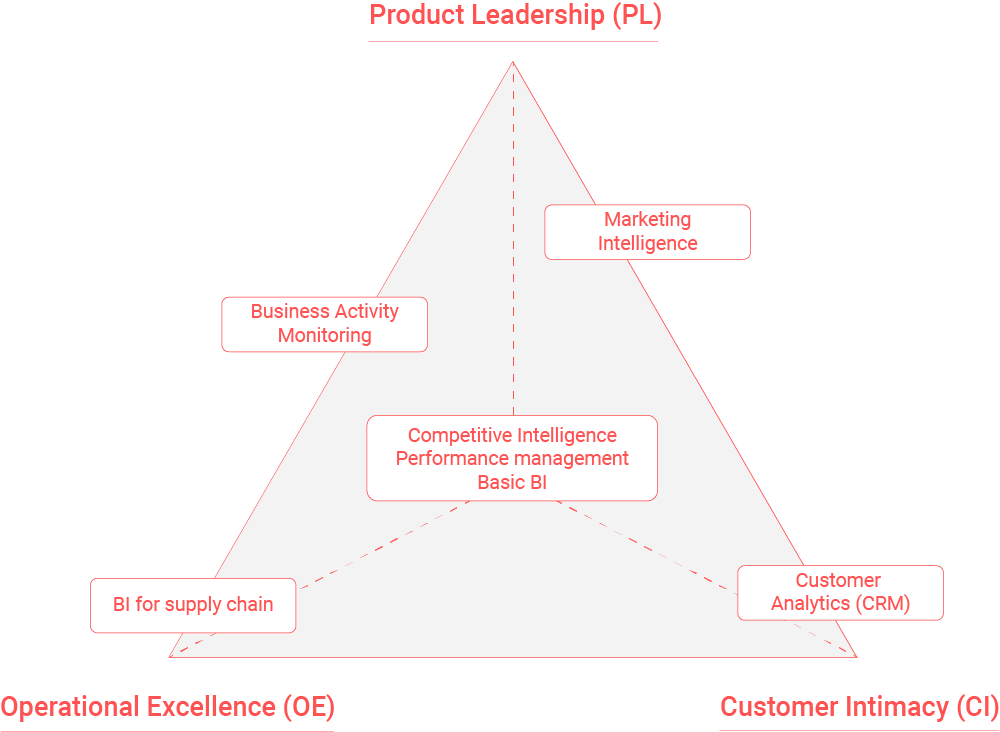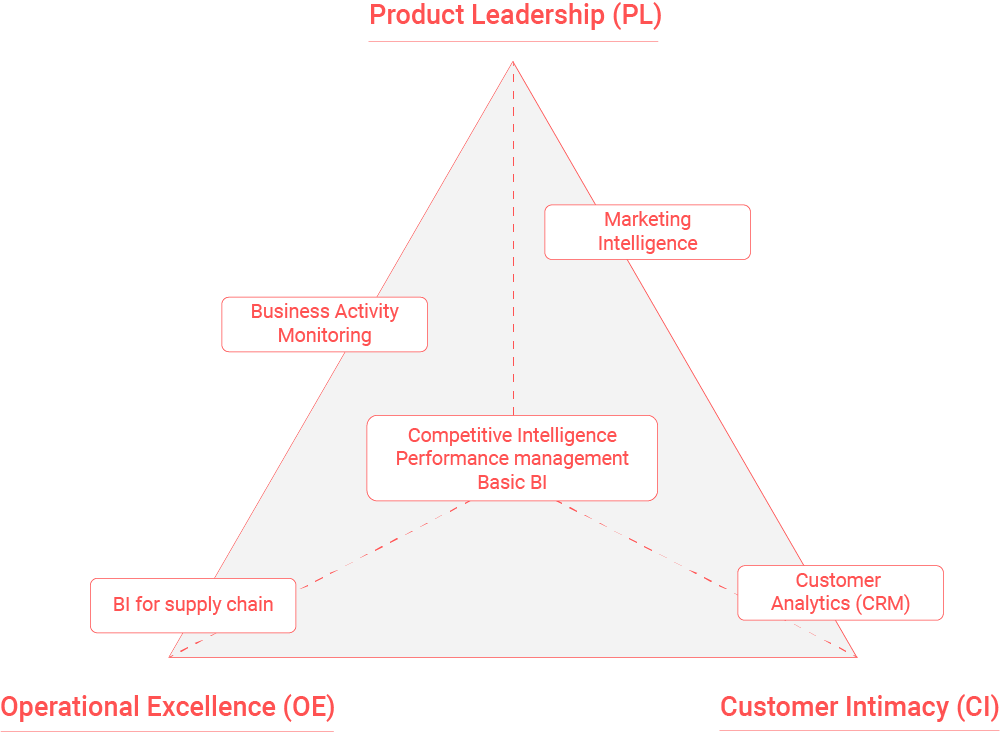 Figure 1: The different applications of Business Intelligence in relation to the 'value disciplines' of Treacy and Wiersema.
organizations that aim for product leadership focus primarily on creating and developing the best and most innovative products. organizations that aim for customer intimacy mainly focus on a small number of customers (or groups of customers) in order to offer specific tailor-made solutions. organizations that optimize their internal processes in order to be able to offer the best price-quality ratio aim for operational excellence. In practice, organizations generally choose the middle ground.
The value disciplines control the information needs
It goes without saying that the abstract characterizations (value disciplines) control the information needs and determine what data an organization wants to register as well as on which Business Intelligence application the organization should focus. After all, tracking individual customers (Customer Analytics) is hardly relevant for organizations that focus on operational excellence – and thus aim for all customers. organizations that wish to achieve a high degree of customer intimacy will – obviously – want to know as much as they can about their customers. Finally, product leadership organizations attach importance to information that enables them to increase their market share. Additionally, the characterizations are an essential filter in order to exclude irrelevant signals. Reducing the information overload begins with knowing the essence of the organization: its strategic direction and its mission.
Achieve a certain minimum performance level
For value disciplines – and thus for the information needs and the development of Business Intelligence applications – it is important that an organization is always able to achieve a certain minimum performance level (threshold) in each discipline in order to survive in the market. It is also increasingly important – and increasingly possible due to technology – for organizations to achieve a high level of performance in multiple 'value disciplines' simultaneously. Think for example of an organization that focuses primarily on product leadership, but which also creates customer intimacy through delivering customized products supported by a CRM system and a web application that offers self-service.
Different flavors of BI applications
The following links provide a summary of the most important Business Intelligence applications.
Basic BI-application
This type of 'application' is primarily used to get to know the organization – the processes and results – better. It is, as it were, a basic BI application, which provides a variety of standard – mainly operational – reports.
Basic BI enables the organization to experiment with the possibilities of Business Intelligence, so gaining better insight into developing more advanced applications at a later stage. Initially, we may want to focus on financial information and we will develop and use reports and analysis providing non-financial information at a later stage.
The information contained in Basic BI has a detailed character and mainly relates to one's own department or process. Once Basic BI applications become more strategic, they can gradually develop into pseudo-applications in the field of corporate performance management. If the refresh rate of a Basic BI application keeps increasing, some of its components can develop into applications for Business Activity Monitoring.
BI for the supply chain: supply chain integration
This is all about supply chain integration: from timely delivery of the raw materials to optimal balancing of stock amongst all parties in the chain; from quality control to fast delivery of goods to customers.
'BI for the supply chain' applications contain functions with which we can:
improve supplier management through better information on margins, quality, delivery reliability, supplier market shares;
detect possibilities to attune inventory levels to the (anticipated) demand and thus reduce inventory costs and capital demands;
achieve greater flexibility by allowing multiple suppliers to connect to the nodes (marketplaces). Switching from one supplier to another is then relatively easy;
improve both speed and reliability of deliveries;
gain better insight into reverse management flows and the causes of returned goods;
on-demand supply chain: your wish is our supply chain's command.
Through the sharing of information about inventories, purchasing conditions, expected purchases, resource planning, distribution, delivery times and suppliers, this Business Intelligence application ensures that the supply chain – from point-of-sale to suppliers of raw materials – can be well-organized and efficient.
In this way, we can align supply and demand (in the entire chain) much better and without major delays, allowing stocks to be reduced to a minimum whilst maintaining, or even improving our service levels.
Additionally, organizations can better respond to unexpected developments or to peaks and dips in purchasing. The supply chain can start co-operating less formally, provided that the chain contains sufficient alternatives. In this way, the chain becomes more flexible: if any 'hiccups' occur, we can switch to another supplier more rapidly.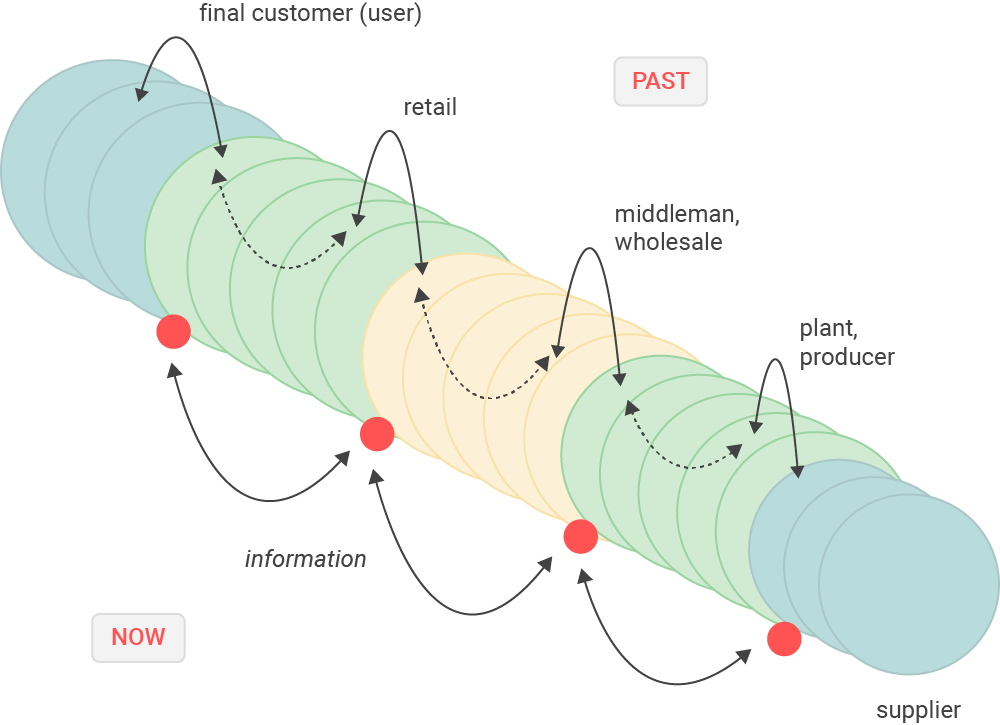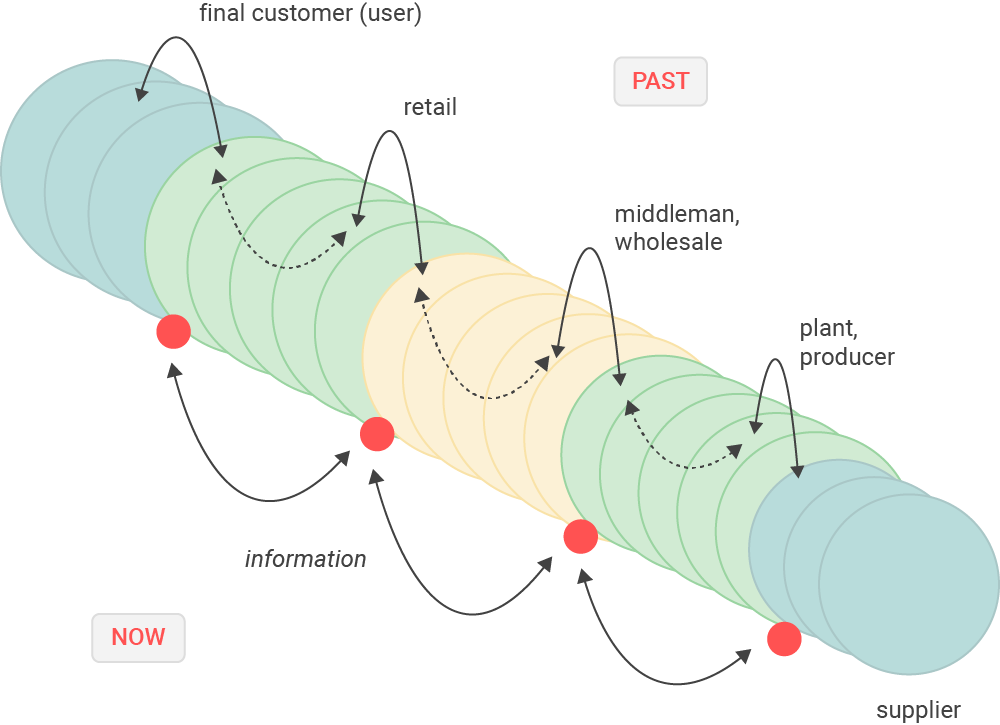 Figure 2: we can improve the supply chain's efficiency through exchanging information via internal nodes or external marketplaces in the chain.
The figure shows the supply chain with past and current information flows. In the past, information moved very slowly between the front end (sales) and the back end (purchasing) – and vice versa – of organizations in the chain (see dotted lines in figure). It often took days before the whole chain was aware of or alerted to sudden changes in demand patterns or of production hiccups at suppliers. Consequently stocks had already been ordered and products, for which the demand had dropped, had already been manufactured.
In addition, customers were promised unrealistic delivery times, and thus disappointed. We use 'BI for the supply chain' to ensure that information is exchanged both via internal nodes and external marketplaces. Information then does not have to first pass through the entire organization. As a result, the information finds its way in the entire chain in a very short time, allowing all parties to respond (or intervene) as soon as possible.
We must be aware though that this type of application only works well if a large part of the chain (and preferably the whole chain) participates. This often means that we must first overcome many political, technical and economic hurdles.
When we use this type of application it is very important that the partners in the chain can rely on each other's actions and data. If, for example, an account manager – at the front end of the chain – randomly issues quotations for all sorts of products, the other parties in the chain will get a distorted overall picture of the actual demand.
Another important aspect is that data must be exchanged in accordance with standard specifications and that the supply chain uses uniform product codes, such as EAN numbers. For this reason, various industries today use so-called Data Alignment Services (DAS). The principle of a DAS reflects an important starting point regarding the quality of data within supply chains: the manufacturer of a product or item is – and remains – responsible for both the data and the metadata of these items, simply because the manufacturer is the physical 'owner' and creator of the product.
A supply chain integration application can be a powerful tool for organizations. However, we must realize that organizations within the chain can quite easily be 'exchanged' for other parties in the same chain. The Business Intelligence yield from the supply chain can substantially increase with proper information exchange between the partners in the chain. However, if we do not meet the expectations of others in the chain, the penalties may be severe. In other words: competition can be fierce, particularly in the chain.
Business Activity Monitoring (BAM)
Business Activity Monitoring (BAM) is all about real-time information on orders, expenditures, errors in production processes and inventory levels. We can closely monitor critical processes and intervene quickly in the event of an acute accumulation of problems.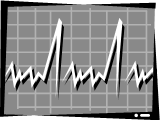 An organization that focuses on operational excellence particularly needs to be able to monitor its logistics processes in real-time. Business Activity Monitoring (BAM) provides real-time insight into what happens in the business processes. This can be necessary when a sudden accumulation of events has major impact on the results of the organization or on our customers.
BAM may for example raise the alarm when the number of errors in the production processes exceeds a critical threshold so that we can rapidly intervene and prevent things from getting worse. Another example is that an 'alarm' goes off when large amounts of cash are withdrawn from the same credit card at different locations, in a short time . In such a case, an alert credit card company will immediately contact the registered credit card owner to ascertain what is happening. This type of application is highly operational.
The advantage of real-time information in a data warehouse environment is that the moment a problem arises, we can analyze its cause and see whether it relates to previous problems. It may be that the cause of the problem occurred earlier on the same day. If our data warehouse is updated 'only' once a day, this data will not yet be available.
With the use of BAM, we can take action sooner and quickly work towards an appropriate solution. Again, this is only possible if the data warehouse is being updated in real-time – or with a slight delay. For BAM to be effective, we must combine various technologies, concepts and components . It is for this reason – and perhaps due to its complexity and its price – that, in practice, BAM is only used sparsely. However, our expectation is that, in the near future, Business Activity Monitoring will skyrocket, particularly in dynamic e-business environments.
Competitive Intelligence (CI)
The purpose of Competitive Intelligence (CI) is to gather as much relevant (strategic) information on social, economic, technological and market developments as possible, in order to keep pace with the environment and to be able to keep achieving the organizational targets.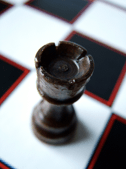 This is primarily about the information we require as an organization in order to be able to keep up with the environment, either by actively influencing it, or by adjusting the organization. For some organizations, Competitive Intelligence is highly important: the impact of decisions made by (third) parties and people in the (external) sphere of influence, is often much greater than the impact of internal decisions.
An organization that applies CI will proactively search for information about potential competitors or about legislation that is imminent. It 'scans' the environment in all possible ways and so gathers all sorts of potentially relevant data about, for example, patents, profit and loss accounts in Chamber of Commerce files, social developments in National Statistics offices and so on. If necessary, market surveys will be developed and executed and if relevant local, regional, national and European authorities are paid a visit.
The organization visits National and international trade fairs, browses the internet, reads annual reports and keeps its eyes and ears open at receptions, on the golf course, at the Rotary Club and so on. This is to absorb as much relevant business intelligence as possible about on-going developments at the earliest possible stage – and preferably sooner than the competitor.
The reliability of this information depends greatly on its source(s) and its structure. Today's rumour can be tomorrow's reality. In other words: we must verify the rumours heard at the golf course and the things we happen to 'overhear' in the lobby. This 'soft' information should ideally be confirmed as soon as possible through other, more reliable channels.
Various types of analysis and tools
The CI Application will support the organization with various types of analysis and tools:
Financial analysis: comparing figures of similar organizations in the sector. This concerns standard financial ratios such as revenue per employee, return on investment, return on sales, economic value added, etc.
Trend Analysis: this concerns durable economic or social developments at both macro-level and meso-level, and – although to a lesser extent – fads or trends that are often very volatile. For example: design styles, employment rates, income developments, export figures, the popularity of holiday destinations and so forth.
Extrapolation: the results of the trend analysis are being extended into the short-term future (one to two years ahead). The regularity that is assumed in these trends is an important factor, because trend breaks occur increasingly often in today's dynamic society and economy. Think for example of the dotcom crisis in 2001, of 9/11, or, more recently, the financial crisis.
Correlation and regression: looking for correlations between two or more variables, such as price changes and sales figures or improving the after-sales services and customer loyalty.
Portfolio analysis: the revenue figures of the different product-market combinations of the organization are published in a portfolio so that we can position and compare products and subsequently develop new products. A well-known tool for portfolio analysis is the Boston Consultancy Group Matrix with its four quadrants: cash cows, stars, question marks and dogs. Another tool is the lesser known however more sophisticated Shell Portfolio, which includes nine cells.
Scenario analysis: in contrast to extrapolation and correlation with which we predict the future using quantitative values, scenario analysis does this based on qualitative values. Scenario planning mainly relies on knowledge of experienced employees and creates plausible constructions of 'futures' we can logically expect in the long-term (five to ten years from now).
Simulations: simulating short-term and long-term forecasts using computers, people or a combination thereof. Simulation can come in handy when we want to visualize scenario analysis and extrapolations. In this way, fallacies can become visible, as well as new scenarios.
Multi-criteria analysis: the previously mentioned analysis and tools should lead to alternative strategies the organization will want to attempt in order to resolve the problem. We should be able to compare these strategies based on the same criteria, such as the importance to the customers, the attractiveness of the market, synergy between organizational units (qualitative criteria) or feasibility, profitability, risks, time scale, availability of personnel, internal performance risks (quantitative criteria), and so forth.
(Technology) Assessment: the organization will ultimately adjust its (product) policy and should examine what consequences the new product or service will have on society (only in case of major changes) and the market.
The purpose of CI applications
The purpose of CI applications – including the available features and analysis – is to combine as much qualitative and quantitative information as possible for future short-term and long-term forecasts and possible subsequent decision-making. It is then very important that we link the external information – acquired by the CI application – with our internal information. Competitor information, for example, may be linked to specific customers or customer groups who are potentially interesting to that competitor. This is tricky though, because external information is often 'weakly' structured, if at all. Modern technologies such as 'text mining' and 'document data warehouses' can only partially correct this issue, which means that in some cases we cannot avoid having to structure and document the important information ourselves, prior to entering it.
Corporate Performance Management
Corporate Performance Management (CPM) applications have multiple purposes: they do not just aim for better understanding of the organization, they also – and more so – aim to optimize the processes within the organization and – to a lesser extent –innovate.
The information contained in this type of application mainly serves the purpose of obtaining an overall picture of the business and primarily focuses on both the development and management of the organization. From strategy to implementation: the relationships between key success factors and the various KPIs of as many business processes as possible are made visible on as many levels as possible and recorded as such.
This has multiple effects: employees – at all levels – will become familiar with the direction the organization is taking and as a result the required knowledge, the competences and the tasks and responsibilities of employees will gradually manifest themselves. This is often a reason for organizations to think about ways to improve and secure that knowledge and those competences. For that reason performance management is not only a very powerful means for managing organizations, but also for developing the organization. In the following paragraphs, we will further elaborate both aspects in relation to the most used CPM applications.
The difference between 'You can manage what you measure' and 'you must measure what you manage'
The actual implementation of any of the above-mentioned performance management models is a cyclical process and not something we can do all at once without adjusting or fine-tuning (even though, in practice, this does happen). This is about the slight but important difference between 'you can manage what you measure' and 'what you manage you must measure (again and differently)'.
If we do not maintain our performance management model and only manage what we already know (have measured), we may risk bankruptcy purely because we no longer know what we should measure. In other words: we might neatly achieve our targets, but lose sight of what we should measure due to changes in the organization or its environment. It is therefore important that we keep adjusting, updating and maintaining the management model.
Lean Six Sigma
Six Sigma and Lean Six Sigma is not only a performance management model but also a philosophy. The philosophy is to rule out undesirable variations in business processes and to take customer-focused decisions based on facts.
The model derives its name from the (theoretical) purpose to reduce the number of process deviations to a maximum of 3.4 defects per million, in order to increase profitability and customer satisfaction. It is a 'measure of quality' that strives for near-perfection in processes; from production to sales, from order intake to distribution.
Additionally, Six Sigma offers a disciplined and data-driven approach for measuring the number of deviations or defects in the process. This approach consists of a cycle of defining, measuring, analyzing, improving and monitoring and includes statistical analysis with standard deviations and averages.
The final stages of the cycle are meant to further reduce the actual number of deviations. This performance management model can in fact also be used to develop new products and services, in which case the last two stages of the cycle do not focus on improving and monitoring the business processes but on the development and verification of new processes.
In recent years a variant of Six Sigma, called Lean Six Sigma has gained popularity. The purpose of Lean Six Sigma is to not only to improve the quality of processes (working better and smarter) but also their efficiency (working faster and more efficiently).
Even though the Six Sigma approach would assume that all the business processes in an organization could be improved in this way, we should question this. Sales and innovation processes, for example, are in themselves intangible and difficult to measure. Acquiring a new customer often partly depends on barely manageable factors such as whether the customer and account manager 'click' together.
Six Sigma thus seems particularly applicable in both production and service processes with parameters between which a causal (or nearly causal) relationship exists.
Customer Analytics and CRM
Customers usually provide organizations with the right to exist. They are the most important party, or at least they should be. Therefore, organizations should know their customers well and obtain a 360-degree picture of who they are, regardless of where the data is being registered and regardless of the communication channel (web, phone, fax, face-to-face, etc.).

Customer Analytics is a BI application that allows us to find out more about how our customers behave, what they need and what they want to enable us to develop a strong bond with them. That is what it is all about: after all, a good relationship with our customers is the core of our business and the starting point for adaptivity.
This enables us to discover sales patterns faster and subsequently to respond better and more rapidly – often using the same application – to our customer's needs by initiating various actions, either by phone, in person or via direct marketing. This also applies to the future: we can develop new products or services that better meet the – new or changed – needs of our customers.
Typical Customer Analytics applications
Customer Analytics applications are, among other things, used to:
discover new customers and cross- or up- selling possibilities in order to increase revenue;
prevent customers from moving away (customer retention);
provide better service because we combine all the information concerning the customer. In this way, for example we – immediately know that two orders for a specific customer have been put on hold due to late payment;
speed up the quotation process in order to close deals faster;
simplify marketing and sales activities through closely integrating information and application;
distinguish between successful and unsuccessful direct mail campaigns;
increase the efficiency of call centers.
organizations that offer 'customer-self-service' can reduce the costs per customer and further improve customer relations. Customers are given access to a web portal where they can manage their own account details and in some cases perform analysis.
In this way, we provide the customer direct access to the back office, which leaves employees more time to focus on direct customer contact and customer support. Because administrative processes will take place partly externally, the organization itself will have more time to achieve genuine customer focus and customer intimacy.
Additionally, customers in general find it pleasant to be able to view and modify their personal accounts (name and address details, email settings, preferences, transactions, discounts, orders).
Obviously, web technology plays an important role in this. It is however secondary to the (main) goals: maximizing service, revenue and profitability from existing customers. This is particularly true for commercial organizations. We must, however, be a little cautious here: do we really want our customers to be informed faster and better than our employees are? It is wise always to check whether the information we make available to our customers – via the internet – is in fact also important internally – which is often the case – and whether the monitoring and security of that information is guaranteed.
Customer Analytics and CRM are all about extending the 'customer life-time' and increasing customer satisfaction as well as increasing revenue from existing customers. These are the aspects on which Customer Analytics delivers the highest return. Both customer analytics and marketing intelligence are BI applications that can be used separately, however when combined they provide the highest returns. It is indeed important that we can see our marketing efforts reflected in more valuable customer interaction and an increase of sales.
Marketing Intelligence
Marketing Intelligence applications provide insight into the performance of our marketing efforts with regard to the product-market combinations we offer.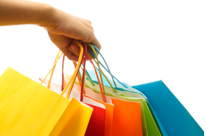 Marketing intelligence focuses on product and market, whereas Customer Analytics focuses on the customer. Marketing intelligence is not about analyzing individual competitors – see Competitive Intelligence – but about analyzing aggregated market information such as market shares, market growth per product group, the effectiveness of marketing campaigns and the product portfolio. More specifically, we use Marketing Intelligence applications to review and evaluate the effectiveness of all marketing activities. For example: the relationship between revenue achieved in a certain period and a TV commercial.
Marketing intelligence enables us to observe new customer groups and to keep a close track of (new) products being launched (on the market). We also maintain our product portfolio and consult with both R&D and our customer sales force in order to find out whether the portfolio needs adjusting. Sometimes we initiate product innovations. Marketing Intelligence applications enable marketing and innovation processes to integrate, which is no superfluous luxury today where dynamics are increasing and product life cycles shortening. Being able to respond quickly to market developments is an absolute necessity.
The company website – particularly if it provides purchasing options – is a major area of interest for Marketing Intelligence applications. Based on statistical analysis of visitor or click stream data, the marketing department can vary the web content and for instance decide to give more (or less) attention to certain products depending on demand.
With the use of 'cookies' or other methods we can not only identify individual customers, but also create customer profiles containing interests and preferences, on the basis of which we can personalize the website. When we analyze click stream patterns and adjust the website based on the results, we actually fully combine marketing intelligence and customer analytics.
After all, the ultimate marketing goal when it comes to customer segmentation is that each customer represents one segment and that we can treat them both as a person and an individual (Peppers and Rogers, 1996). In practice, this is (still) very difficult and often not even profitable. However, by combining marketing intelligence and customer analytics, we might get nearer to achieving this goal at acceptable cost.
'Islands of automation'?
These applications should not be seen as standalone 'islands of automation'. The Intelligent organization ensures that all applications use the same basis – the architecture including the data warehouse – and utilizes the different Business Intelligence tools. If each application uses its own little data warehouse, we run the risk of having to deal with multiple versions of the truth. If each application uses its own tools (from different suppliers) for interactive analysis, our employees would have to build up knowledge of multiple tools and managing the Business Intelligence applications would become unnecessarily complex and expensive.