Business Intelligence (also called Business Analytics) helps organizations to improve their performance by providing employees and management the key information they need at the right moment. Especially in times of high uncertainty and a volatile business climate, people need reliable insights to be able to take better and smarter decisions.
Create valuable insights and actionable information
Organizations can start with Business Intelligence by extracting data from different source systems and by combining it into one system. And more important, by using that data to create valuable (customer) insights and actionable information for your users. Define, prepare and visualize it with cubes, reports and Business Intelligence & analytical tools so your users will be able to benefit from the information.
Top read: The 5 most important Business Intelligence trends – Data Analytics in 2017
Business Intelligence: a definition
"Business Intelligence (BI) is the continuing process in which organizations collect, store and analyze data in a specific way in order to apply the resulting information and knowledge in decision making processes to improve the performance of the organization" says Daan van Beek, managing director Passionned Group and author of the Business Intelligence book: 'The Intelligent Organization' (3rd edition).
Understand first what insights are relevant
Key in the Business Intelligence process is the understanding which KPIs, insights and information are relevant for your users. And more important how the insights will help them to make faster and better decisions. Our Business Analytics approach will help you to identify and define the most important indicators and insights quickly.
The success rates of Business Analytics
Our research regarding the success rates of Business Analytics contain the most important conclusions of a five year study into the critical success factors of Analytics. The study (389 participants) was initiated to determine what the underlying reasons are for success or failure, without a preconceived goal or hypothesis that had to be proved or disproved. Below are the results of the success rates: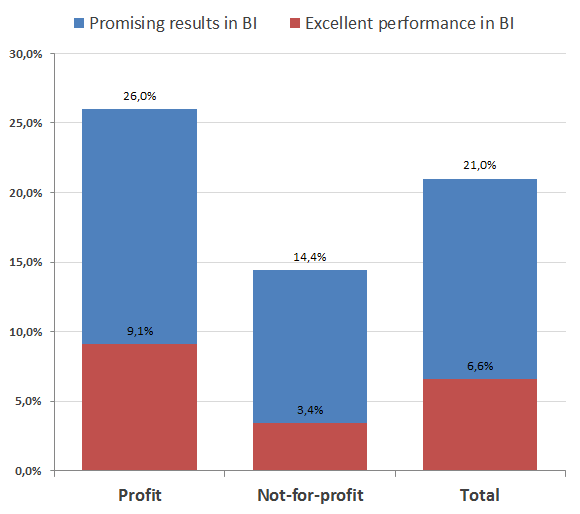 Outstanding BI Performance (category A)
The percentage of outstanding Business Analytics performers – where the improvement could be clearly demonstrated – was 6.6% of the participants (after the removal of dubious questionnaires). The public sector only achieved 3.4% in this category whereas the private sector managed 9.1%.  In almost all of the cases here we are considering wide reaching changes, where the improvement has been across the whole organization, creating a more intelligent organization which produces much better results.
Promising BI Performance (category B)
In this category the private sector reached a much more acceptable 26%, the public sector achieved 14.4%. What we are looking at here are the smaller successes that can be achieved with Business Intelligence, comparable to the first steps taken by a child or the first words spoken. Often this success can be seen at a departmental level, illustrations are a reduction of days lost through sickness, an increase in market share or a reduction in unnecessary stock levels. For a department this can be very important but the change is not (yet) across the whole organization.
The good news about Business Analytics
The low success rates might be perceived as 'bad news'. But, the good news is that we – as one of the few Business Intelligence companies – now know and really understand the most critical success factors, that what the outstanding BI Performance companies got in common and were doing right. For more information download our research paper 'The Business Intelligence Pitfalls & Success factors'.
What do the vendors mean by Business Analytics?
The huge difference between Business Intelligence and Business Analytics is what they say 'predictive analysis', 'predictive modeling' and fact-based management in order to drive better decision making. Where Business Intelligence is about OLAP, dashboards and reporting about the past, is Analytics about reporting about why things happen and events that might happen in the future.
Business Analytics does heavily lean on statistical and quantitative analysis, mostly on large data sets. Remarkable is that IBM Cognos and SAS – and the public with regard to them – are barely using the word business intelligence on social media. The graph below displays the difference between the amount of posts that are related to business intelligence and the posts that contain the word 'analytics'.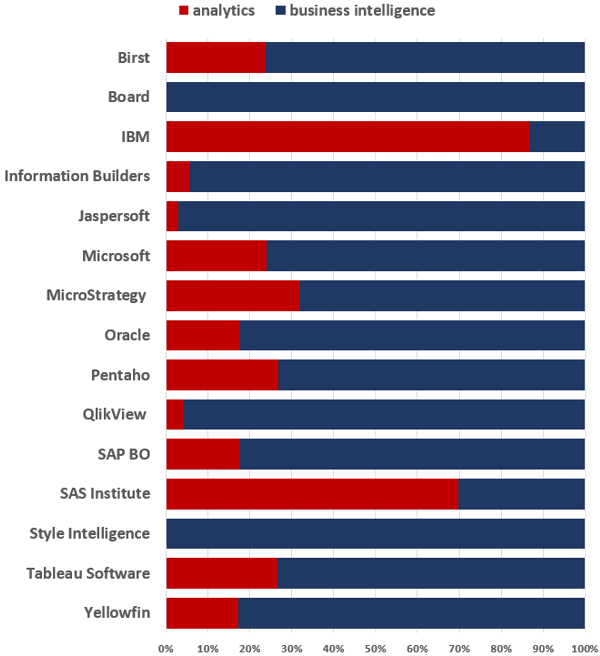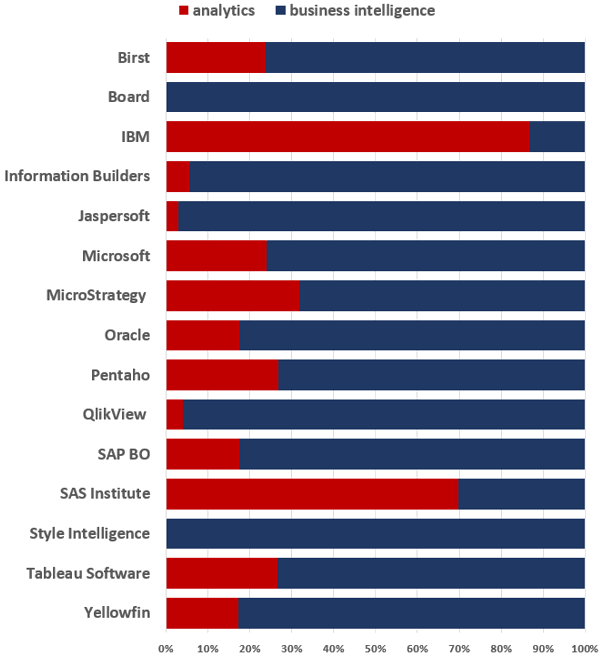 Figure: which phrase is used most often when people tweet or retweet with respect to the vendors, 'Business Analytics' or 'Business Intelligence'?
Some of the vendors are trying to convince us that Business Intelligence is dead and Business Analytics is the new way to go. We see that mainly as marketing. In our view if you do business intelligence, you do analytics too. In the analytics area you can find most of the time the biggest added value, but without reporting, KPIs and dashboarding you won't be able to run your company.
Above graph tells us that the market is almost blue colored (Business Intelligence). The question we would like to raise here: why do IBM and SAS bet so largely on analytics and for how long will they maintain this course. In our opinion they lose at least some market share in 'traditional' business intelligence and reporting because of their almost compulsive focus on analytics. Read more in our vendor neutral Business Analytics Survey 2018.
The added value is in the internal communication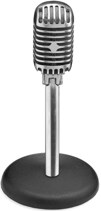 Achieving measurable performance improvements with Business Intelligence is clearly difficult, but when we succeed the impact on the organization can be huge. Better results are achieved in all sorts of different areas, both financial and non-financial. Customer satisfaction suddenly improves, profit margins increase and sickness percentages fall. From top to bottom and from left to right the organization just works better. This is what we call the intelligent organization. The payback from this sort of organization-wide Business Intelligence almost certainly comes from the improvement in the internal communication between the different departments and disciplines within the organization, a better understanding of what is going on leads to "added value" just at the point where it often goes wrong.
Two perspectives of Business Intelligence
Business Intelligence has two major areas of concern: a technological and a business perspective.
The first is concerned with systems: designing and building a data warehouse and information cubes, selecting and using the right tools, creating reliable reports, dashboards and data visualization. That is the technical side.
The second perspective is about analyzing the data and using the information and insights consequently to enable people to take smarter decisions and more appropriate actions. In addition, it is very important that people discuss these insights thoroughly before taking action, often called social BI or collaborative BI.
In our view it is important to have both perspectives in mind, not only at the start of a project but also when you aim for the higher levels on the BI-roadmap.
Make real profit from your data with a BI competency center
Both perspectives should come together in a competency center. In such center, all the resources, technical and business, knowledge and guidelines are combined and aligned to be able the make real profit from your data and execute your BI-strategy more properly and quickly.

Five key areas that are important for BI-success
At Passionned Group we believe that Business Intelligence and analytics can be more successful when organizations manage these five key areas:
Data and information
Knowledge and action
Organization and process
Behavior and culture
Learning
In our unique Business Analytics approach we will cover all five areas because we believe that by doing so we can be more effective in achieving our mission: Letting organizations work smarter*.

Use a Business Analytics framework
Key in this approach is our Business Analytics framework, by which you are able to define which KPI's and insights are applicable to which role in the organization at either a specific time or step in the business process. This approach is supported by most Business Intelligence tools and helps you to implement Business Intelligence / Business Analytics in a very cost-effective manner.
Interested in our BI expertise and experience?
Contact us and discover how we can help you with a successful implementation of Business Analytics (BA).