Use data analytics as a competitive weapon
Why do organizations find it so difficult to analyze their data consistently? How do you actually perform a proper data analysis? And how can you use data analysis as a competitive weapon? Van Beek and Abramse shed their light on these burning issues.
Thomas Abramse kicks off. "You can declare BI dead and replace it with AI, but then you quickly get bogged down in a discussion about definitions that does not benefit the customer." According to him, investing in BI only makes sense if you are able to transform data into usable information and use new insights for actions that strengthen your business. Data analytics plays a crucial leading role in this whole story. "Investing 200k in a data warehouse is pointless if it does not ultimately result in concrete continuous improvement actions."
Data analysis as the beating heart
Daan van Beek is on the same wavelength. According to him, data analysis is the beating heart of Business Intelligence . "That has always been the case. If you take that out, then all the vitality and energy flows away at once." In practice, he sees people staring at their dashboards without understanding or being able to explain the numbers behind the graphs. "Suppose you are a mortgage lender and see on the dashboard that the inflow of new mortgage applications has been 10% lower for two months than the same period last year. What actions will you take? Under pressure, organizations quickly opt for panic soccer. Flexible employees are fired and ill-considered marketing campaigns are accelerated. But that can be counterproductive and set in motion a self-fulfilling prophecy."
Look for the root cause
Van Beek: "The only correct action is to look for the root cause (analysis) of the dwindling mortgage applications. For the same money, something went wrong with the recent upgrade of the website, causing the conversion to falter. In short: you need data analysis to find out exactly where the problem is and what buttons you can turn."
Van Beek gives another concrete example. "The corona dashboard shows that the number of covid infections has risen exponentially in recent weeks. The tendency is then to immediately fall back on harsh measures. However, with a thorough root cause analysis you can work in a much more detailed way. Without this fine-grained approach, the policy fails on all fronts, because everyone is lumped together. The vulnerable groups are insufficiently protected, while the majority suffers unnecessary and severe damage," Van Beek argues.
No polonaise for me
But why would professionals and policymakers simply skip the necessary data analysis? Both Van Beek and Abramse are able to give plausible reasons based on their years of experience. Abramse: "Professionals working in our field prefer to stay in their comfort zone. Data can be quite confronting".
A data analysis can show that the old, familiar way of working is now outdated.
Data can knock over sacred cows. In addition, some of today's executive managers are simply not data-literate enough. The older generation sometimes has no affinity at all with data and reasons along the lines of "I don't care about data."
Do not expect miracles
Van Beek identifies not only very practical causes such as lack of time and laziness, but also emotional blockages such as disinterest and real commitment to the cause, fear of the truth and resistance to change. According to him, too many executives still underestimate the great importance of data analysis. They lack the analytical perspective and the skills. And so they also don't give professionals the time and space to analyze data thoroughly.
Organizations also expect miracles from hiring a data analyst, while a data analyst is by definition an outsider. They often have insufficient domain and process knowledge to perform good analyses. "Affinity with data is only cultivated by having every employee practice with data sets in a duo setting for about four hours every week. Teams keep each other sharp and in this way you steadily build up knowledge. This also prevents unnecessary work and ensures that the right priorities are set. This does indeed require data-literate employees."
Get to work yourself

Should organizations contact Passionned Group's data specialists before they start data analysis, or start experimenting on their own first? Abramse: "As with so many changes, getting to work with data yourself and gaining experience is necessary to learn how to deal with data. That applies in principle to every employee."
Van Beek concurs: "But we can make the difference in a number of areas. For example, we can train and coach employees, whether it's about Tableau software, Power BI, Qlik Sense or other tools. We are vendor-independent. We prepare employees for a data-literate follow-up career. They also benefit from that knowledge and skills in their normal daily lives. In business terms you probably also need a solid data infrastructure, including data models, cubes, data lakes or a data warehouse to make good analyses. We provide objective advice on this and help build it. We also map out the strategy, performance management KPIs, processes and decisions in a very practical way, so that you can perform much more targeted data analyses. That's perhaps where the biggest profit lies."
Data Science book for Decision Makers & Data Professionals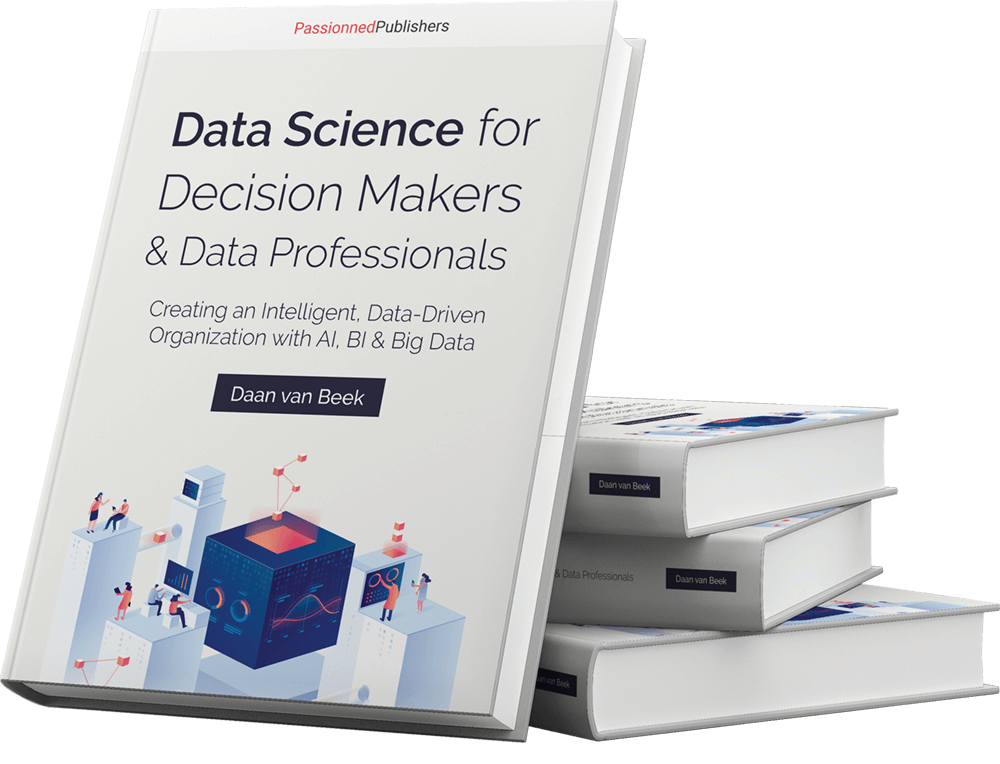 This book (with more than 25.000 copies sold) covers the whole spectrum of data. This is a brand new, promising way of working. The author describes the entire process from data analysis, BI, AI, big data, to root cause analysis. With this book, you have the right tools and knowledge to make your organization data-driven. Order this book now.
Recognize the talents
But what makes someone a good data analyst or a data scientist, if you will? Someone who has occasionally thrown together a dashboard using Power BI is not one, according to Abramse. "A good data analyst is someone who provides relevant new insights on a regular basis. These insights are based on reliable data, can be applied quickly and are aimed at improving or speeding up processes or increasing profits or quality. A good data scientist uncovers what is invisible to everyone, but very important to know, such as patterns, causal relationships and correlations, for example."
Recognize the weak brothers
Some say that one-eyed is king in the land of the blind. According to both gentlemen, customers are not to blame. They also just want to do something with BI, AI or big data analytics, create a BI roadmap or build a cool dashboard. That need is legitimate and we respect it. Van Beek: "Organizations have sometimes had disappointing experiences with BI and data analyses. The weak brothers, who you encounter in every profession, are partly responsible for the idea that BI yields too little return. That's why I think we need to train our BI consultants, BI managers and business managers much better and feed them with inspiring ideas. In this sense, we bear a heavy responsibility, but we don't experience it as such."
Avoid the pitfall of bias
So how do you conduct a proper data analysis, an approach that you can also justify? Abramse: "In simple terms, you link different data sources to the various types of business questions and then look for a data analysis technique that works best. That sounds simple, but in reality it is a continuous process of convergence and divergence along different axes. Compare it to the shape of a cut diamond. The key here is not to work too fast towards the solution. People often already have a solution in mind and then look for the data to go with it. They are only looking for confirmation. Bias is a big pitfall."
Always leave room for rebuttal

Van Beek concurs: "It starts with the selection of good quality data. Always combine multiple data sources. Furthermore, you must always be aware of possible biases and be prepared to set your own convictions aside. I myself have benefited greatly from Karl Popper's theory of falsification. Also, always look for counter evidence. By the way, there are two types of data analysis: directed data analysis where you are looking for something concrete, or free data exploration. Abramse: "Data analysis can also be very misleading. You should therefore always ask yourself how the data analysis was carried out. On the one hand biases are always lurking, on the other hand you cannot turn every data analysis into a complete scientific study. Data analysis almost always takes place under great time pressure. It is a creative process that you don't just do on a Tuesday afternoon between your regular duties. Always look for the question behind the business question. We have developed special interview techniques for that."
Ignorance prevails
Van Beek: "Properly applied, data analysis is a very powerful weapon in the competitive struggle. I consider it the most important part of the Business Intelligence discipline. Intelligent, data-driven organizations analyze their data on a daily basis, allowing them to continuously improve their processes. The rest are just messing around. This is not meant to be disrespectful, but the reality. If you remove data analysis from BI or neglect it, BI is nothing and it's better to stop." Abramse also experiences the power of data analysis daily in his contacts with customers. "Because there is still a lot of ignorance, you quickly reach an advantage if you invest in data analysis and data literacy of your people. Better products and services and better-trained employees will then provide a competitive advantage."
How do you select the right data analytics software?
In the past, a lot of attention has been paid to the selection process of data analysis software. However, Abramse has the impression that tools don't really make the difference these days. He has also had good experience with Google Data Studio, a free online tool that can also get you a long way. According to him, it is better to invest the time and energy in other important matters such as the data literacy of your employees.
Van Beek: "Moreover, with our online guides (the BI & Analytics Guide and the ETL and Data Integration Guide), we have made the entire process of vendor selection transparent, which can save you a lot of time. In this regard, I would like to point out the topics of Data discovery and Self-service BI."
Top of the list: ad hoc analysis
"There are several dozen techniques for data analysis. Top of the list, as far as I'm concerned, is ad hoc analysis," Abramse explains. "That's a must. It allows you to make the most profit relatively quickly, without of course compromising on soundness. Because as I said, every data analysis (including the ad hoc) deserves all the time and attention. In addition, I have had good experiences with churn analyses at SaaS companies. Who doesn't want to understand why customers walk away and more importantly, how to prevent this? In doing so, every BI professional should also have correlation analysis in their toolbox by default and of course the aforementioned root cause analysis, the godfather of all available data analysis techniques."
Be surprised by zero data
Van Beek, in turn, is very keen on so-called zero data analysis, which is based on data that is not in your database. "Find out why customers didn't buy a good product from you, while they did buy it elsewhere. Compare those segments and voila you have an almost ready-made action plan for your account managers. I have very good experiences with that. Also, within the realm of Artificial Intelligence, I'm coming across data analysis techniques that are very powerful.
With AI you can largely automate away the analysis function in your organization.
Then ensemble learning, the random forest algorithm, neural networks and techniques such as stacking, bagging and boosting come into the picture. This is a hugely interesting development. Incidentally, you will still need data-aware employees. Let there be no misunderstanding about that. But the onerous task of making every employee data-literate feels a lot lighter then."