Let Passionned Group make your organization more intelligent:


As a driven manager, competent director, or consultant, you might notice a lot of room for improvement within your organization. We can help you to seize these opportunities and offer structural solutions to problems. Passionned Group's mission: to make your organization genuinely intelligent.
Do you recognize one or more of these problems?
Decisions aren't made fast enough, or don't have the desired effect.
Employees don't possess the right information and KPIs.
Employees' behavior is often at odds with the mission and strategy.
The organization still wastes a lot of time and energy on unnecessary rework.
The organization isn't agile enough, missing out on a lot of opportunities.
IT is falling more and more out of touch with other departments.
Your organization from a different perspective
If one or more of the above problems plagues your organization on a daily basis, it's time to turn the tide. Look at your organization from a different perspective. Your organization can achieve more in the same amount of man hours. Transform your organization into an intelligent organization. As the founders of the Dutch BI Award for the most intelligent organization, we know better than anyone how to make organizations more effective.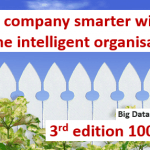 This business intelligence book covers the most important basic principles, organizational processes, architectures, tools and conditions needed to create a truly Intelligent Organization. Making better decisions faster, at all levels
read more...
What is an intelligent organization?
An intelligent organization has been made intelligent in every facet. We translate the overall vision and strategy into everyday activities. Management and employees will have access to personalized dashboards and smart information tools (analytics & BI) so they can make smart, data-driven decisions. Processes will run more smoothly, and the organization becomes agile. Teams will continuously improve, becoming a little bit better every day. Read more about the concept behind the intelligent organization in the book written by the Passionned Group's founder, Daan van Beek.
Passionned Group has helped over 250 organizations become more intelligent. Every other year we organize the prestigious election of the Smartest Organization of the Netherlands, the Dutch BI & Data Science Award.
Passionned Group: 100% independent for over ten years
If the concept of the intelligent organization sounds appealing, Passionned Group can help you. We are an experienced, 100% independent advice and consultancy company. For over ten years, we've been helping organizations large and small to work more intelligently. We do this through our knowledge base, training courses, advice, and our complete implementation projects.
The answer is simple: intelligent organizations perform better across the board. They make more profit, have more satisfied customers, manage their workforce better, and innovate more successfully.

IT Management Magazine
The hallmarks of an intelligent organization
✓ They attune the strategy to the workplace.
✓ They work with genuine KPIs.
✓ They're exceptionally agile and less lumbering.
✓ They save money in many areas.
✓ Employees and customers of intelligent organizations are much more satisfied.
✓ Margins and profitability go up.
Read our article "The 7 habits of highly intelligent organizations".
Solutions to get started immediately
Based on our years of experience in making organizations more intelligent, we offer a selection of relevant research reports, books, and training courses:
Want to make your organization more intelligent?
Contact us for a free appointment or a conversation to discuss the possibilities with one of our consultants or managers.