Business Intelligence & Analytics
Business Intelligence & Analytics accelerates and improves the conversion of raw data into useful information and almost always results in new insights. You can present these, for example, on a BI dashboard, in a nicely formatted report or in a BI analysis. You would think that this would automatically lead to better decisions and improved performance. But it turns out that Business Intelligence technology (List of 24+ BI tools) does not necessarily go hand in hand with better decision-making in organizations. How can that be? We unravel that mystery on this page. In addition, we will discuss the most crucial aspects of business analytics and the complete BI process. But first we will cover the basics of BI: what is BI, the definitions and the 25 benefits.
Work toward a data-driven organization with
BI & Business Analytics
and make better decisions more often at all levels.
The top 7 BI & AI trends
Open Table of Contents
Embrace Business Analytics and make better decisions everywhere in your business
What is BI?
The abbreviation BI stands for Business Intelligence, a term that Hans Peter Luhn (IBM) introduced back in 1958 for "the ability to understand the interrelationships among presented facts in such a way as to guide action toward a desired goal." This ironclad business intelligence explanation just goes to show that BI is not just about technology. All employees in an intelligent, data-driven organization can read, understand, analyze and apply data in their daily work. In short: learn to work data-driven with BI & analytics.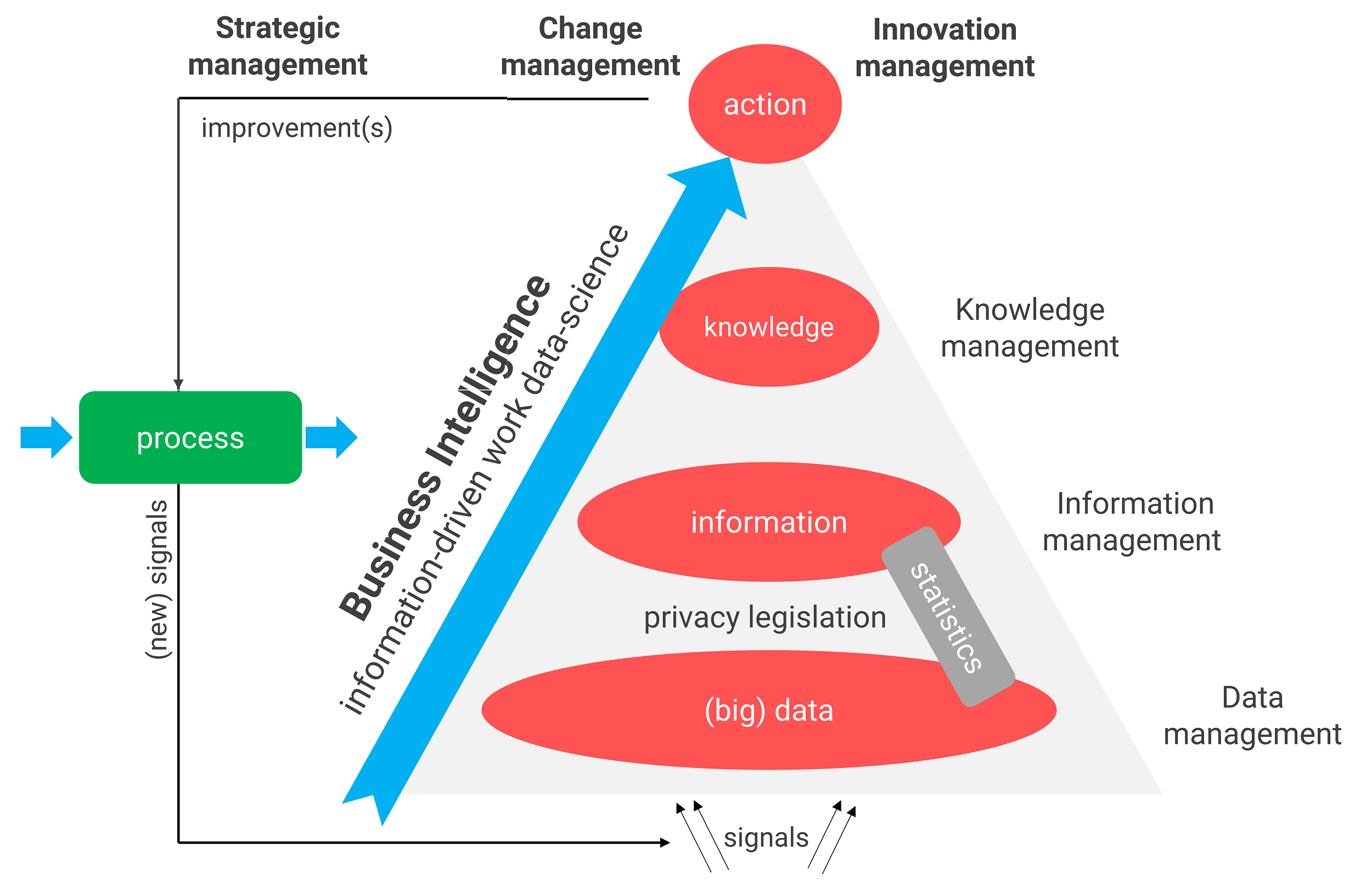 Figure 1: The Business Intelligence concept as a multidisciplinary field is focused on process improvement, innovation and strategic management.
What is Business Intelligence? Schematically, you can see in the preceding illustration what Business Intelligence stands for and how the BI concept is structured. The process goes from data via information to knowledge. You then take action to improve the process. The BI acronym has already been adopted by many organizations, but still large numbers of people wonder: "what does BI stand for?" and "what is BI?". Understanding the essence and improvement power of Business Intelligence is one of the pillars of the success of Business Analytics. People in your organization need to experience that the real BI meaning lies in data-driven work in all facets of business. With BI you can improve every day and do better than your competitors based on data and clear key performance indicators. This principle helps in everything you do and how you do it.
Create a BI roadmap in 5 steps
Business Intelligence & AI book
This business intelligence book covers the most important basic principles of Business Intelligence (BI), Artificial Intelligence (AI), big data analytics, machine learning, and data science. You will learn how to make better decisions for your organization. Order this book now.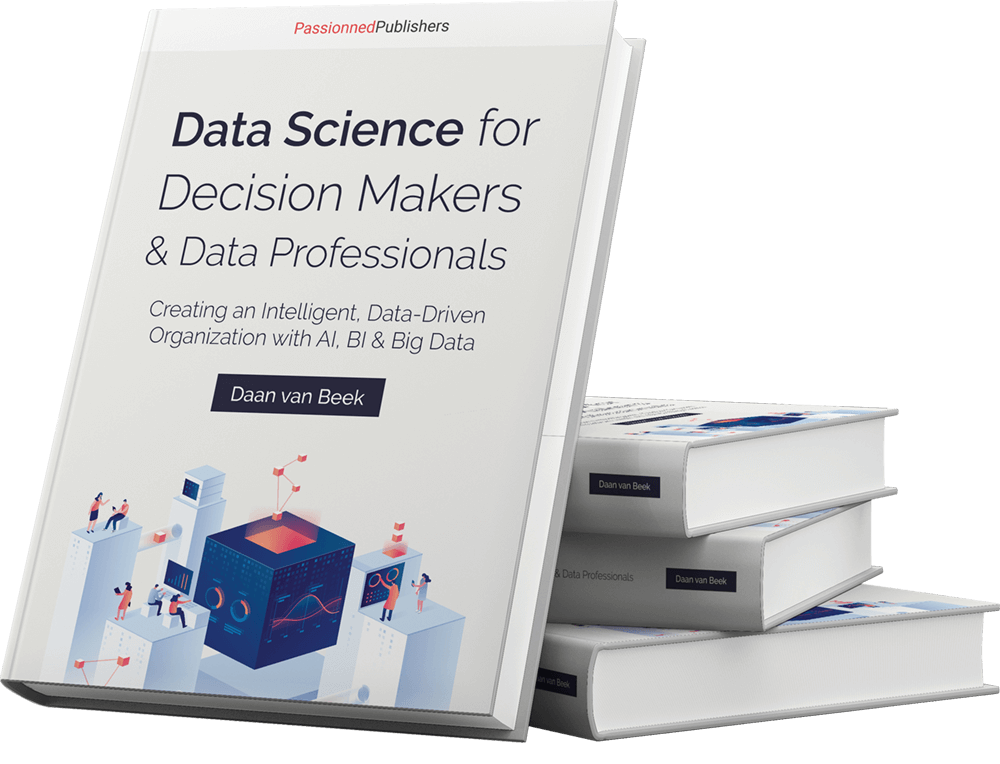 Order now
The best BI definitions
All the possible Business Intelligence definitions address one or more of the concepts of data, information, knowledge, patterns and decision making. Because of the multidisciplinary nature of BI, we do not use one definition of Business Intelligence but three:
Definition of BI as a process: BI is the continuous process by which organizations collect and register (big) data in a targeted way, combine, analyze and consistently use the resulting (predictive) information and knowledge to make better decisions. This is with the purpose of substantially improving the performance of the organization, teams and employees.
Definition of BI as technology: BI is the collection of IT tools that support the BI process in organizations, make it efficient and give it a face. BI technology provides a single source of control information that is used by both humans and algorithms.
Definition of BI as a discipline: BI is the whole of concepts, processes, strategies, culture, structure, methodologies, standards and IT tools that ensure that organizations can continue to behave and develop more intelligently.
Source: The intelligent, data-driven organization (2020) by Daan van Beek.
The BI definition you will prefer to use will depend on your perspective on BI. A more technically oriented person might reach for the second business intelligence definition, while a process owner feels more at home with the first definition: BI is not a tool but a process. A Business Intelligence consultant or teacher might prefer to look at the field as a whole, BI as a discipline or area of science. Regardless of your preference, it is important that you also understand the other definitions. Business Analytics is a multidisciplinary field and business and IT really need to work very closely together to make BI a great success. And that's not so obvious.
Close the Business Intelligence Gap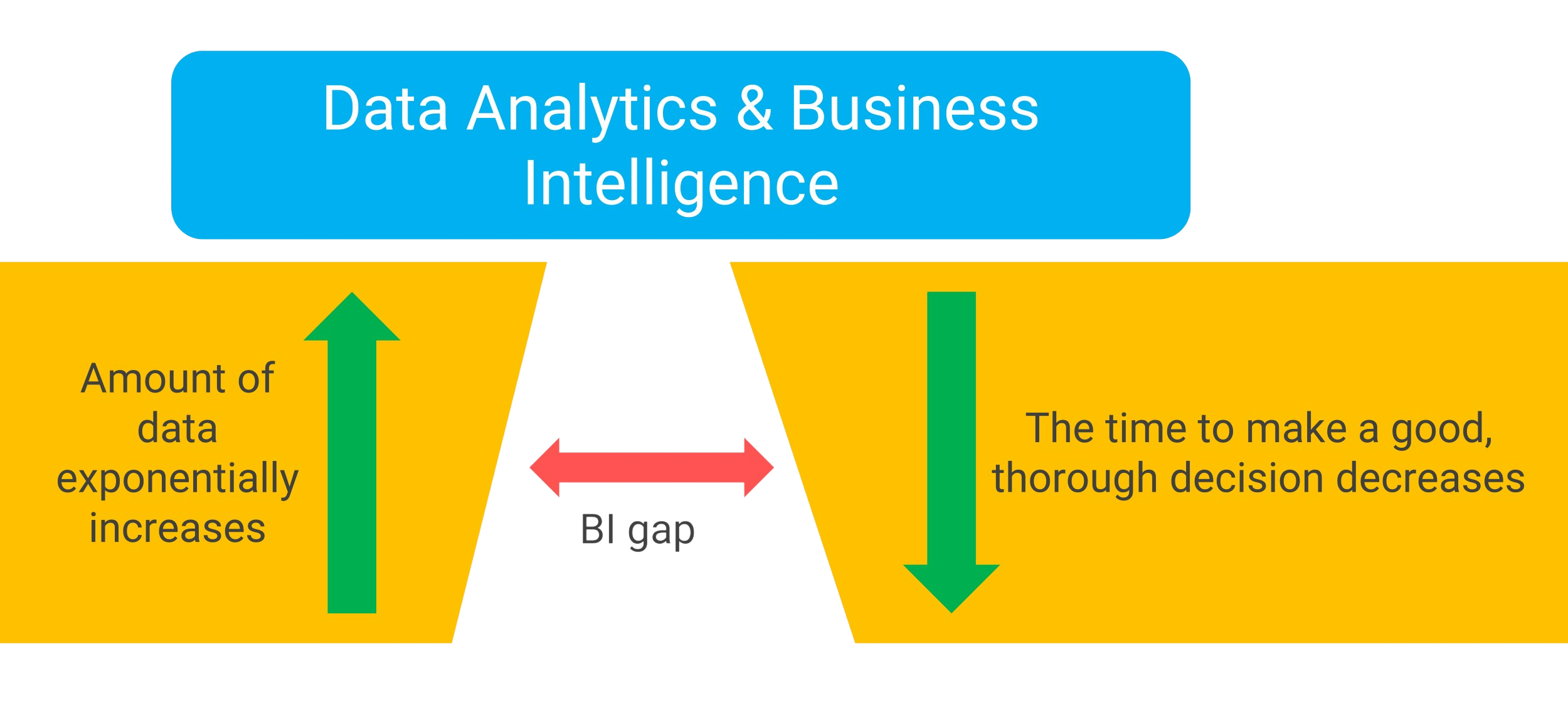 Figure 2: Business Intelligence as a platform to close the gap between the exponential growth of data and the increasingly shorter time you get to make a good decision.
The growth of data is increasing exponentially. Every other year we manage to double the total size of data worldwide. At the same time, the complexity in society is increasing and you need to make the right decision faster and faster. There is a surplus of data and a glaring lack of data analysis.
The big challenges that are around the corner in closing the BI gap are: setting up a data warehouse, building a good team, setting up the KPIs and determining what products and services you will deliver from BI.
What is analytics? What is business analytics? What is business analytics?
Traditionally, BI has been a common term (and still the most sought after) but some organizations prefer to talk about Business Analytics, Business Analytics or just analytics. The Business Intelligence vendors are often to blame for this confusion of terms. After all, they need to be able to differentiate themselves from the competition. They eagerly sprinkle new marketing terms and thus create the impression that their solutions are fundamentally different. Sometimes that impression is justified, but more often it is old wine in new bottles. The terms data analytics, business analytics, business data analytics, BI & analytics and business intelligence are simply interchangeable. It does not matter what you call the BI beast in your organization, if the meaning of BI is not negated.
The real BI meaning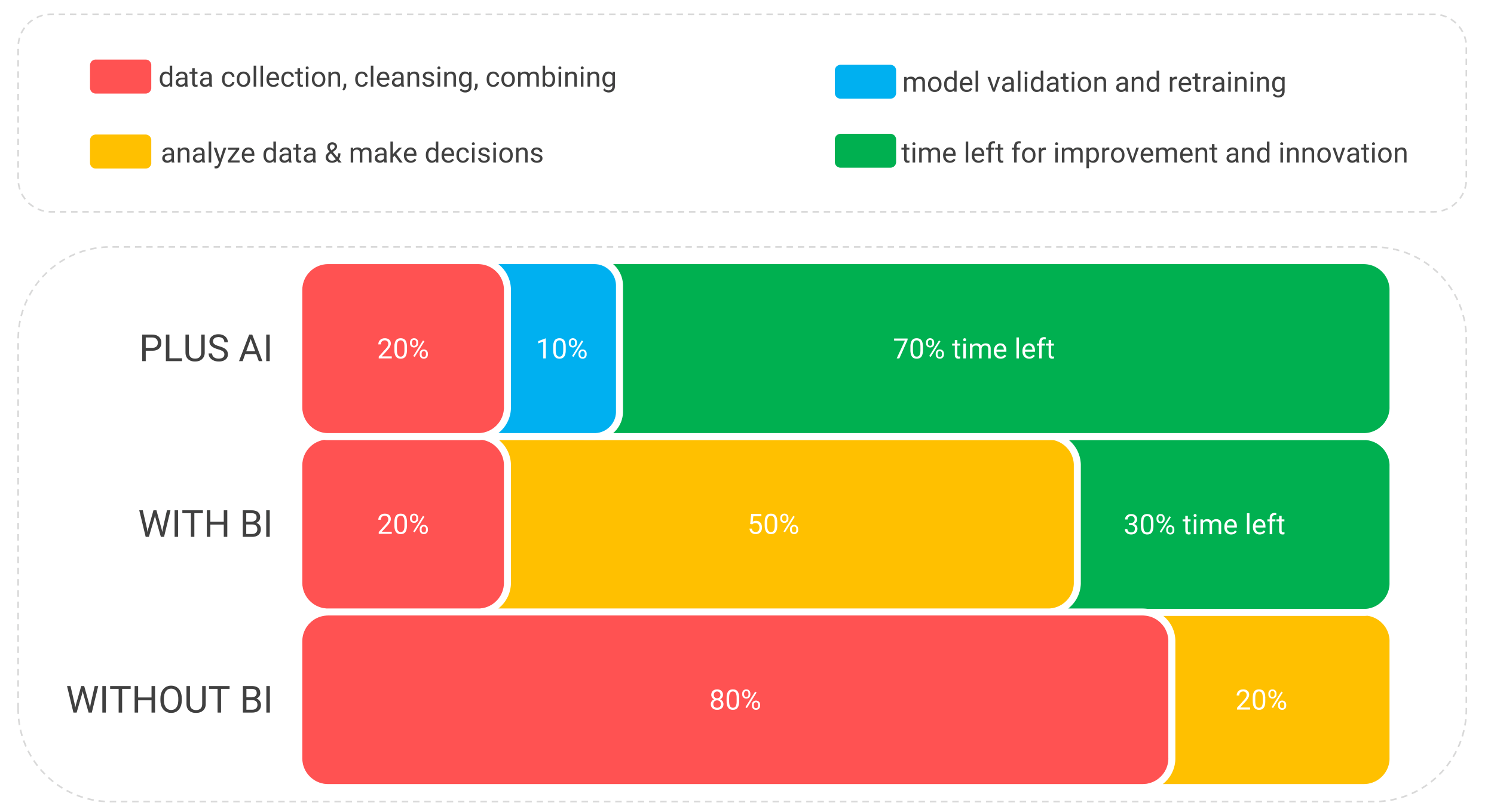 Figure 3: The significance of Business Intelligence is also that you spend much less time collecting, cleaning and combining data each time. Through AI you also automate the analysis function in your organization and the time saved is even greater.
If you want to harness the full potential of BI, it is important to understand the true business intelligence meaning. Because if you can't explain "what does BI mean" for your customers, employees, your processes and refining and accelerating strategy execution, then you are missing too many opportunities.
Getting to the bottom of analytics is not just a matter of understanding the theory, but also successfully applying it in your own situation.
When and why use Business Intelligence?
The real business analytics meaning is, among other things, about the strong awareness that:
you can report and build BI dashboards much faster and more flexibly with BI
BI allows you to gain insight into problems and solutions earlier and faster than ever before
BI helps you to make better and more refined decisions more often
BI frees you from the jungle of spreadsheets and unfathomable formulas
a BI system allows you to link all sorts of data files effortlessly
What does Business Intelligence do?" is thus explained, but this is only the proverbial tip of the iceberg. The list of 25 benefits of BI reveals almost all situations in which Business Intelligence adds value.
The 25 benefits of Business Intelligence & Business Analytics
Through our years of experience with data and analytics, we know better than anyone where and especially when you can reap the benefits. It's not just about low-hanging fruit, but also about the long-term benefits. We list all 25 benefits of BI & Analytics: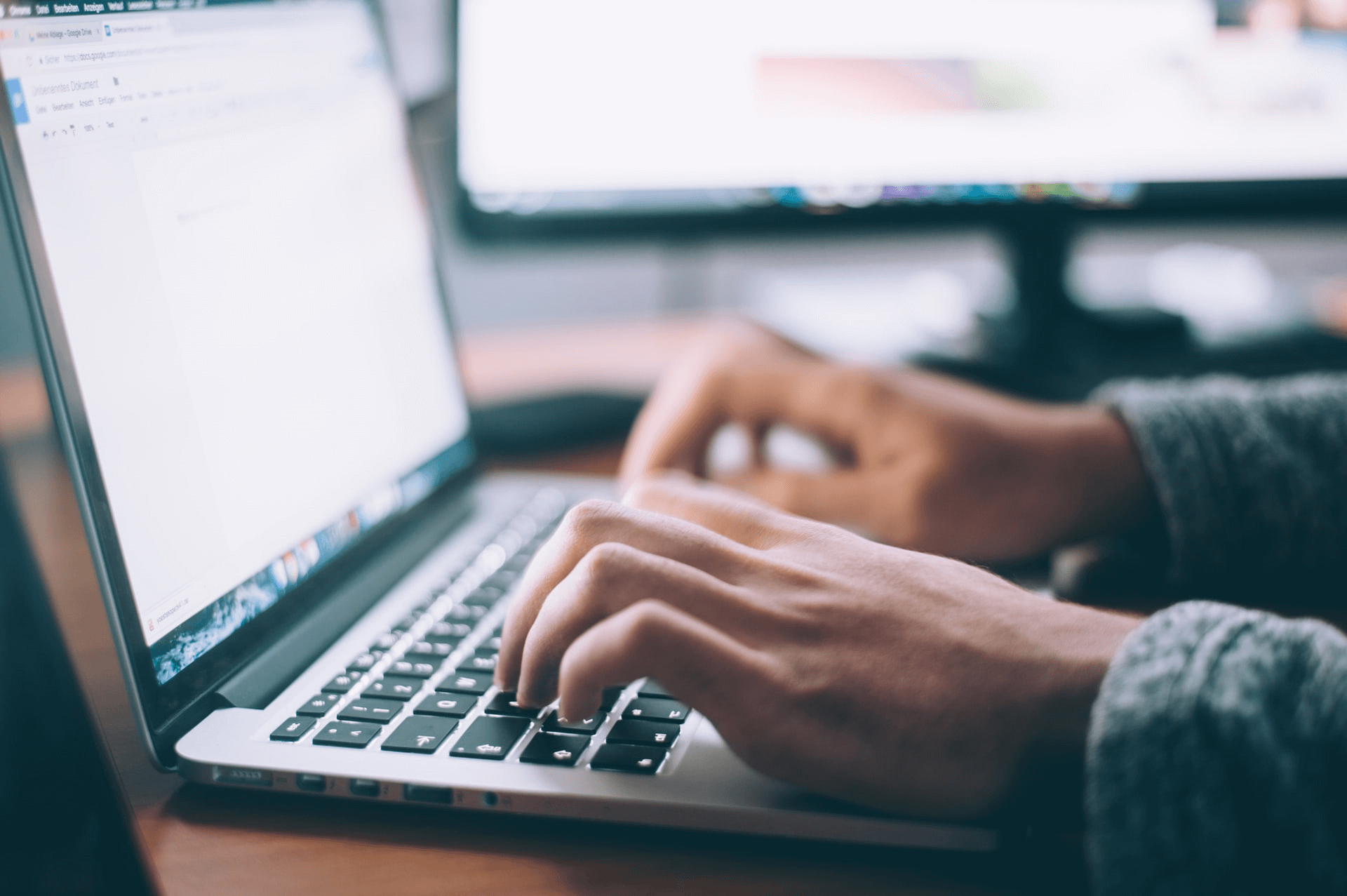 Quickly combine all kinds of (big) data into reports, dashboards, algorithms and analyses
You will relieve the IT department and operational systems
With BI you get rid of the jumble of spreadsheets
You get one version of the truth, but this does not feel like a harness
The return on staff and knowledge workers can increase with BI
Smart BI solutions prevent information overload
Business Analytics acts as a driver for knowledge management
BI puts managers and team leaders in their true power
Data Analytics will stimulate specific search behavior
There will be a better balance between intuition and brains
You will get to know your business model better through a continuous 'collision with data
With Business Intelligence you will sell more and achieve a better margin
BI helps you to formulate and pursue your strategic, tactical objectives
Analytics help you to get more engaged and loyal employees
You achieve more transparency at all levels and also prevent fraud
Business Intelligence helps you professionalize risk management
With Business & Data analytics you can better differentiate and personalize
Your organization becomes more agile
You will innovate faster with insights that indicate that your strategy no longer works
With data and analytics you get a better handle on uncertainty, dynamics and market forces
With Business Intelligence predictive analytics you can anticipate and predict better
BI allows you to improve your data quality as a continuous process
You can easily analyze and combine unstructured data
Business Analytics creates a more sustainable world
It creates a healthier organization for people
Based on these above BI benefits, you can now start writing the business case for Business Analytics in your organization. Would you like support in working data-driven with BI & analytics and make use of our Business Analytics service? Contact one of our data analytics experts here.
How do you set up a future-proof Analytics BI system?
Now that you understand what Business Intelligence analytics is and can name the benefits for your organization, you start thinking about how to set up a future-proof analytics BI system. One that fits your situation and organization. First, it is advisable to start experimenting with business intelligence & data analytics at an early stage. You will gain a lot of valuable experience with BI analysis. You will create your first dashboard, make a BI root cause analysis or a slick report and of course, ask for feedback. The data quality will probably not be perfect, but this way you will become aware of the power and possibilities of BI analytics. To invest in BI, you need money, and so you ask for approval from the supervisor or the board. You build a business case and a vision of Business Intelligence management: what positive impact can BI have on your customers, your processes and your employees? What transition could you make? Next, you'll think about:
The requirements and the BI content: which KPIs, analyses, cross sections, reports and dashboards should the BI system deliver for which roles in your organization?
How you can inspect your data quality, because you want to have an idea of that beforehand.
Which BI architecture is needed in your situation to meet the requirements, to load and unlock the data and to achieve your vision.
The vendor selection: you perform a tool selection and choose a particular Business Intelligence technology
The organization: you need a (small) team of people to build a solid data infrastructure, develop a BI dashboard, build the reports and perform analyses.
When designing the BI system and certainly when delivering it, you naturally take into account the fact that employees and managers are not all data-literate and that you will have to help some of them. Does your team lack analytics expertise? Then contact us here.
The top Business Intelligence companies Netherlands
Passionned Group is one of the top Business Intelligence companies in the Netherlands. In our BI consultancy practice we mainly work with senior Business Intelligence experts, who are well versed in the business. They not only bring the right theoretical models but can also apply them practically. We are the Business Intelligence partner you can rely on. Our BI experts not only provide independent advice, they also like to get their hands dirty to build dashboards, to set up a complete BI environment, or to develop machine learning models. We are passionate, committed and as BI experts we know the ropes like no other. Our complete BI services are aimed primarily at: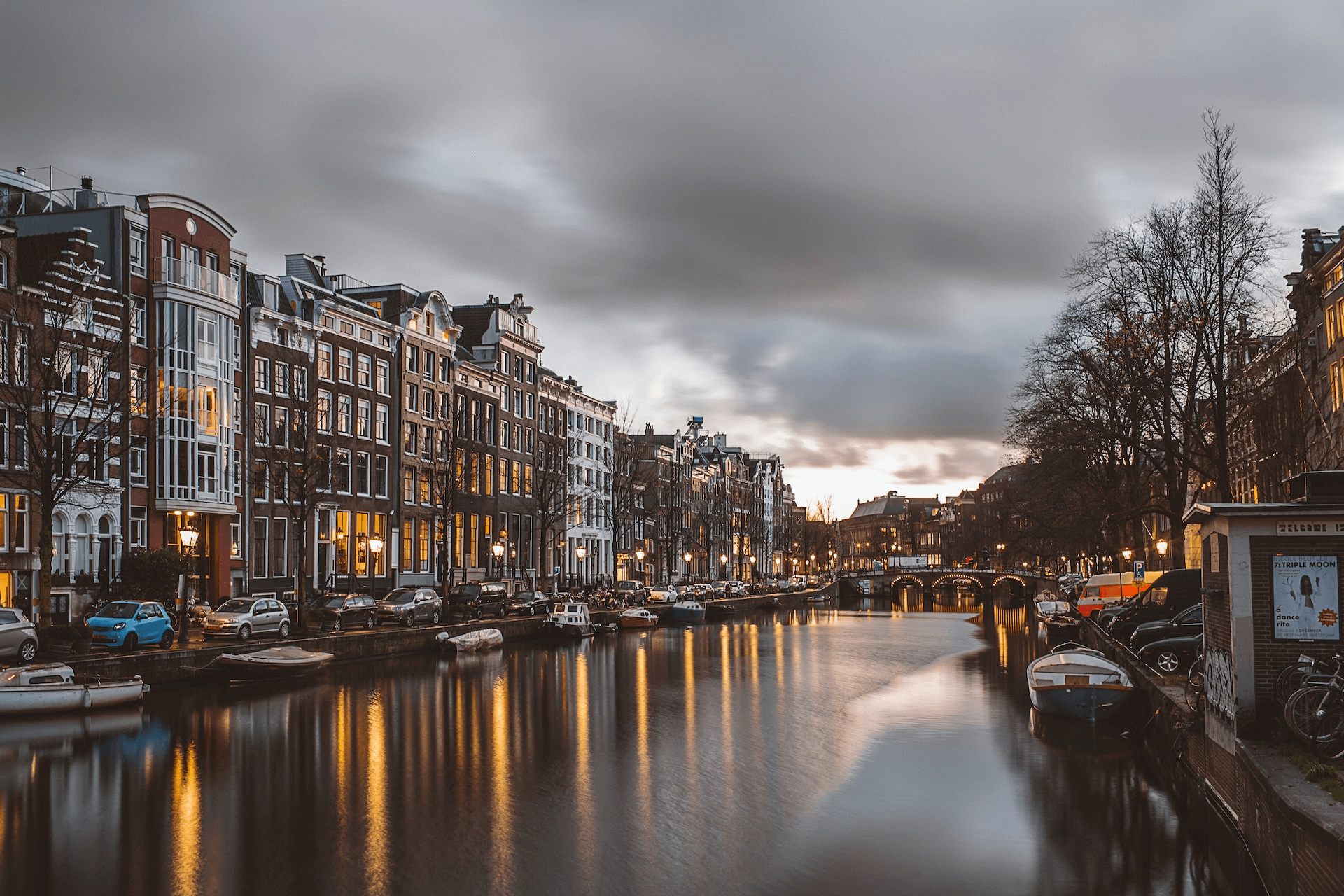 Providing 100% independent BI advice on organization, projects & BI technology
The joint development of a Business Intelligence roadmap, including workshops
Delivering a future-proof BI architecture that everyone can understand
Selecting the right Business Intelligence technology, either in the cloud BI or on-premises
Building data warehouses, interactive dashboards or reports
Developing data science applications and machine learning models
Using our interim Business Intelligence professionals
Setting up a Business Intelligence Competence Center or BI department
Do you also want to talk to a BI expert or a Data Analyst and consultant who knows everything about the subject? Ask your question here or call us directly.
The Business Intelligence & Analytics Guide™ 2023
Effective business intelligence requires the right BI tools for your organization or data set. Using our unique BI & Analytics Guide, you will be able to findthe BI supplier that best fits your needs and you will have access to large amounts of data that will help you implement BI and AI in your company. Download now.
A Business Intelligence example from 4 sectors
Want to be inspired by successful Business Intelligence examples? Then consult one or more of the four examples below. We work for many of housing corporations, hospitals, mental health institutions, safety regions, municipalities, provinces, ministries, banks, transport companies and wholesalers.
BI real estate example: De Woonplaats
For housing corporation De Woonplaats, we developed a complete BI environment with interactive dashboards and a set of reports. What preceded the implementation of this Business Intelligence real estate application was an integral and organization-wide KPI trajectory in which we, together with the various team leaders and the management, drew up a set of KPIs that had to be made accessible with BI.
Business Intelligence Healthcare: Carante Groep
Carante Groep is active in the service and care of young and adult people with a mental or physical disability. We have been helping this organization for years with the further development of Business Analytics. Recently we helped them with the choice of a new BI platform and the migration to Microsoft Power BI. See also 'Carante Group takes next step in Business Intelligence'.
Business Intelligence transport: ProRail
Also, in the transport sector you see that Business Intelligence is gaining interest. Take for example ProRail that was fed up with the disunity surrounding data and definitions. They have now taken a big step forward by unlocking information in an integral BI dashboard. But ProRail has also been experimenting for some time with artificial intelligence, for example to predict where track walkers are active, and with success.
BI for trade: AVIA, Mosadex and Brocacef
We help a range of companies in the trade sector with BI trade applications. At Mosadex we helped set up a total (new) BI environment, including Datawarehouse Automation tooling. At Brocacef wholesale, we advised from an independent perspective on the migration to a new BI tool: OBIEE. We also provide 'BI for Commerce' dashboards for various gas station chains.
The BI implementation process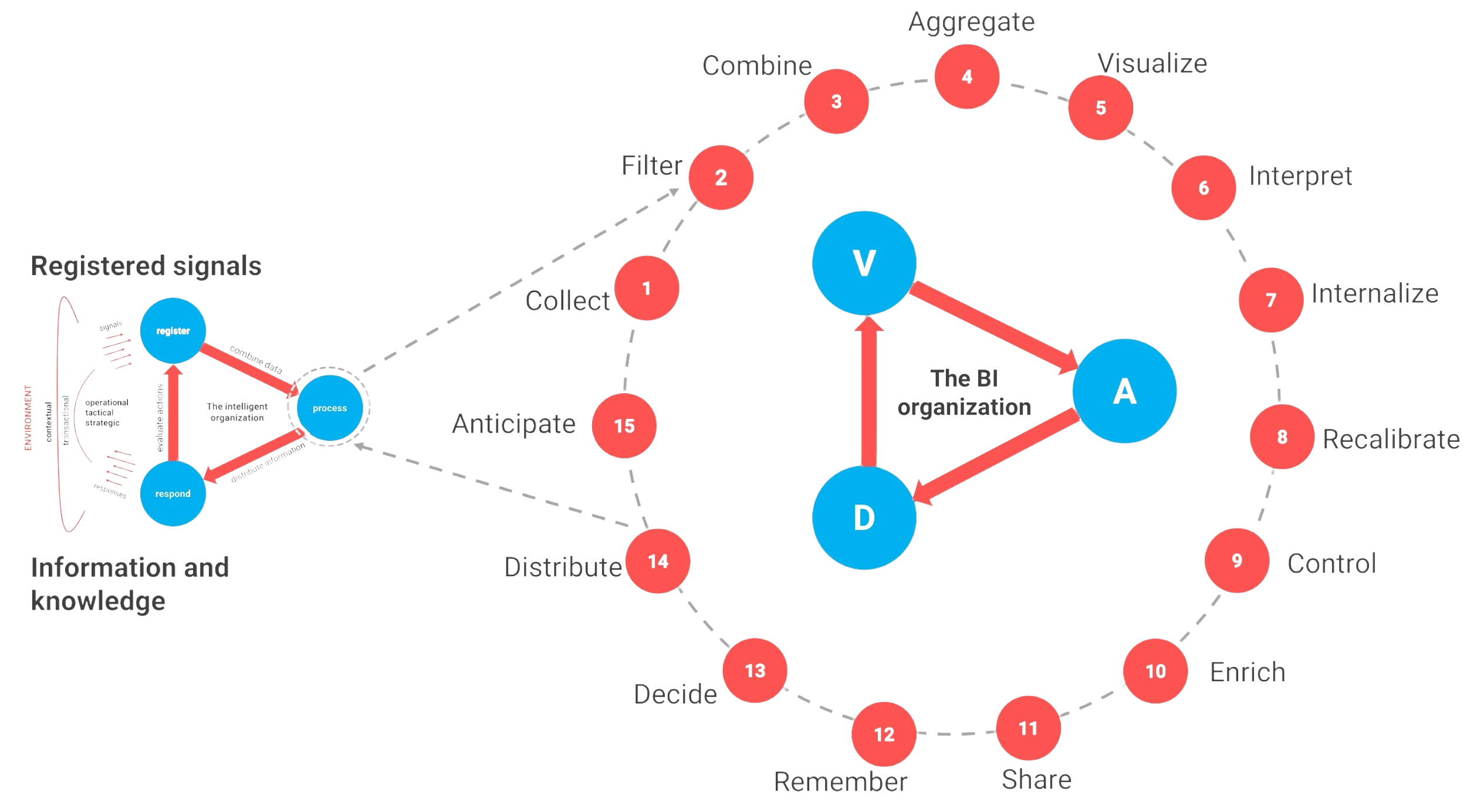 Figure 4: A small BI cycle with the fifteen BI steps from data to change. In our 3-day BI training, the instructor walks you through all the steps in detail.
How do you start implementing BI and how will you organize the Business Intelligence process in your organization? Schematically, the analytics process looks like this:
The process of BI falls roughly into two parts: you can automate the first five process steps almost completely; they are the domain of the computer. The last ten steps are the domain of humans.
15 steps to better decisions
Collect: you are going to collect internal data from the various source systems and external data in a separate system, for example you are going to set up a data warehouse.
Filter: you only let through data that is relevant to the (future) information needs. Data that is (very) outdated or of poor quality is not selected, is held back or set aside.
Combine: you are going to combine and integrate the data from the various source systems to create one common source and one version of the truth for analysis and decision-making.
Aggregate: you are going to aggregate detailed data into summaries that users want to consult frequently, for example the turnover per month and per product group. This will enable them to quickly retrieve the right information.
Visualize: you are going to visualize and arrange the data in such a way that the interpretation and internalization of the information can take place much faster. In addition, in this step you also make sure that the information triggers the right action. Read more about data visualization here.
Interpret: what does a data point mean? What does it relate to? What is it about? These are questions that all bubble up during the interpretation process. They are related to the context of the data. The more complete the context is, the easier it is to interpret data.
Internalization: after interpretation, a necessary internalization process starts. You internalize the message behind the data as much as possible and this allows you to quickly recall the insight from your memory. The steps consist of reading, looking, analyzing (for example, performing a BI root cause analysis) and looking, analyzing and reading again, so you can pin the "picture" in your memory. Read more about data literacy here.
Revisit and recalibrate: during this step, based on the new information, you will revise, change, or remove existing information and knowledge from your memory. When a brand-new product immediately achieves the highest sales, the top 10 best running products should be revised. In this case, the number 1 must be replaced by the new product, and the rest should be re-ranked. The availability of new information may lead you to reject old meanings and fixes.
Checking/controlling: you must check the new insights and knowledge, for example by comparing the negative development of the market share with the development of sales and any price increases. If it is positive and your market share is falling and there have been no price increases, then the market has grown, for example.
Enrich: new insights and changed views are documented here. This is about the story behind the numbers, or storytelling. That very concept often contains interesting and crucial details that the BI data itself cannot tell.
Share and communicate: the previous steps are essential to be able to share the new insights. Insights can only be transferred properly and quickly if you have lived through and ruminated on them, so to speak. By talking about it with others, a certain nuance emerges, you avoid interpretation problems, or perhaps a completely new angle is illuminated. A continuous data dialogue is crucial to realize returns on data analytics.
Remembering: after new signals have been interpreted, internalized, reviewed, verified and enriched, they must be able to be remembered. After all, a signal may call for further analysis because it is not yet entirely clear or only proves useful over time. Or because other relevant signals have yet to come in first.
Decide: when the information has become sufficiently clear, you feel certain about the next steps and no further BI analysis needs to take place, you can make the final decision. However, this is almost never the case immediately. Often more information is needed to make a well-founded decision, or the manager first wants to discuss the consequences with others.
Distribute: newly acquired insights, BI process analyses and associated decisions are distributed in the organization, so that all stakeholders can take note. The new insight has been validated for accuracy in this phase and is ready to be used for decisions at lower levels or elsewhere in the organization.
Anticipating change: the examination (in outline form) of the "pros and cons", whether or not expressed in terms of specific costs and benefits, of a decision is often part of the decision-making process itself. Undoubtedly, in the case of weighty and far-reaching decisions, an organization will subsequently want to examine in detail what the exact consequences will be and for whom.
Many of the last ten steps of the Business Intelligence and analytics process are often not taken or are taken unconsciously. In fact, like decisions, they are not always highly visible. All in all, it is a rather diffuse process. And that is precisely the key to successful Business Intelligence management: how are you going to ensure together that the quality of the 10 steps can increase.
Governance of your BI implementation
When you start out with BI, everything may still seem straightforward: you pull relevant data from your systems, pour it into an analysis model and create your first dashboards and reports. But as BI grows, you need to think about how you're going to manage Business Analytics in your organization, so that BI implementation can (successfully) become a habit: BI governance. Then you need a Business Intelligence model, a vision, a strategy, a BI team (or BICC) and a data infrastructure built for growth. The main challenges we often encounter that highlight the need for Business Intelligence management are: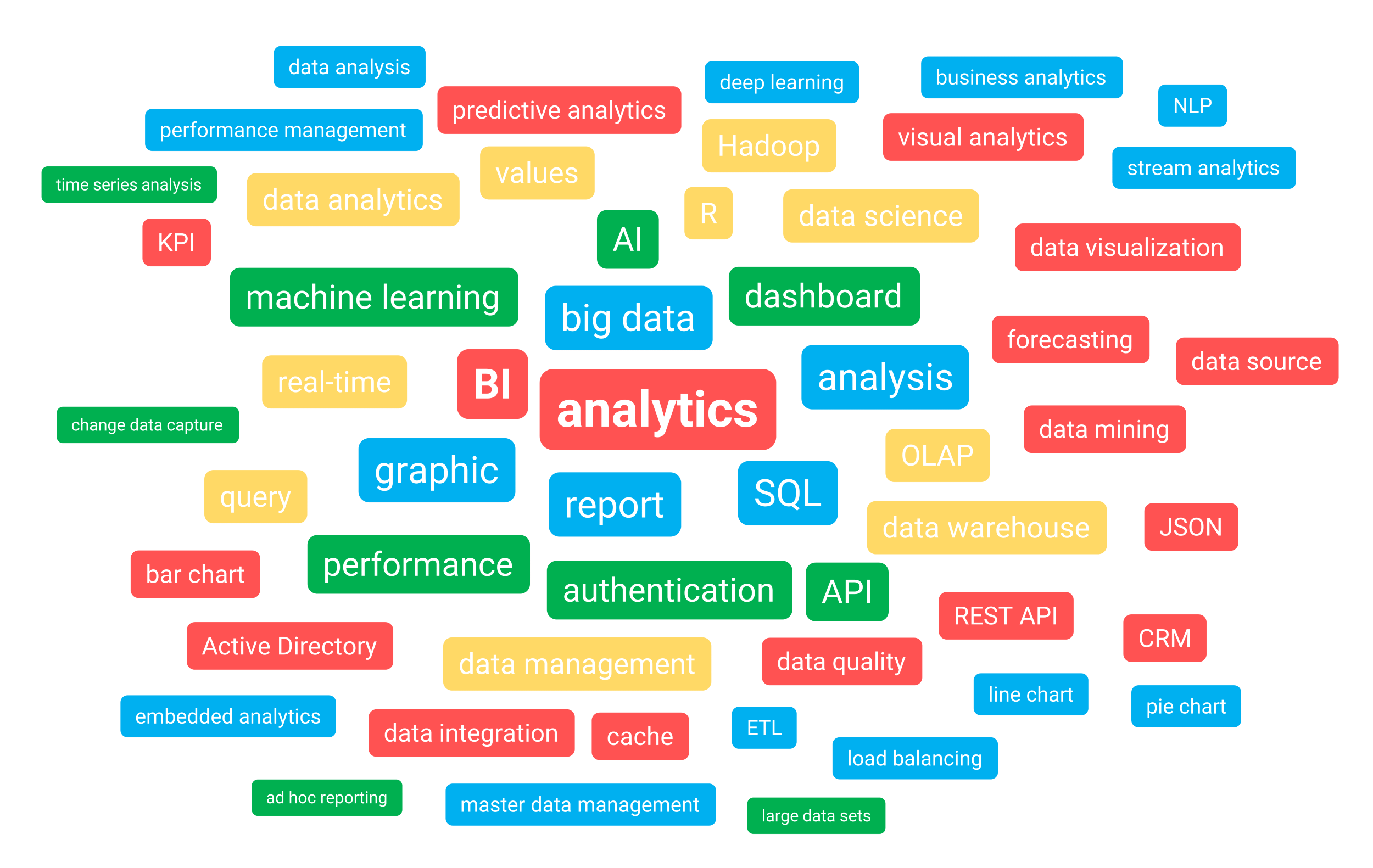 Figure 5: Through our own AI knowledge platform, we have investigated which terms are more or less related to BI & Analytics. For this purpose, more than 500,000 documents were analyzed.
Data Analytics is fragmented in the organization, there is no direction and certainly no integrated vision
The BI team is technically very good, but they have no knowledge of the business
The KPIs are not clear, the business model is diffuse and there is no steering on improvement capability
BI is not linked or is disconnected from continuous improvement and innovation
BI has become a report factory, sometimes with up to 4,000 reports, which is uncontrollable
The business does not care about or engage with Business Analytics
Data science, Artificial Intelligence and Big Data are not under the control of the BI department.
These are just a few of the many challenges you face as a Business Intelligence manager. None of this needs to be a problem if you approach Data Analytics from an integral perspective. The figure below shows the integral nature of the field.
We would be happy to help steer the analytics challenges in your organization in the right direction. With our Business Intelligence model, described in the books 'The intelligent, data-driven organization' and 'Datacratic work' we can demonstrably make a significant contribution to better BI & analytics, see also our customer reviews.
The 4 perspectives of Business Intelligence & Analytics
Often the focus is only on the technology, or on simple reporting, or on the internal organization. And that is a pity. Because Business Intelligence can contribute a lot on all fronts: aligning with and influencing the environment, optimizing the organization's processes, increasing human productivity and finally making better use of technology and conquering the gigantic mountain of data.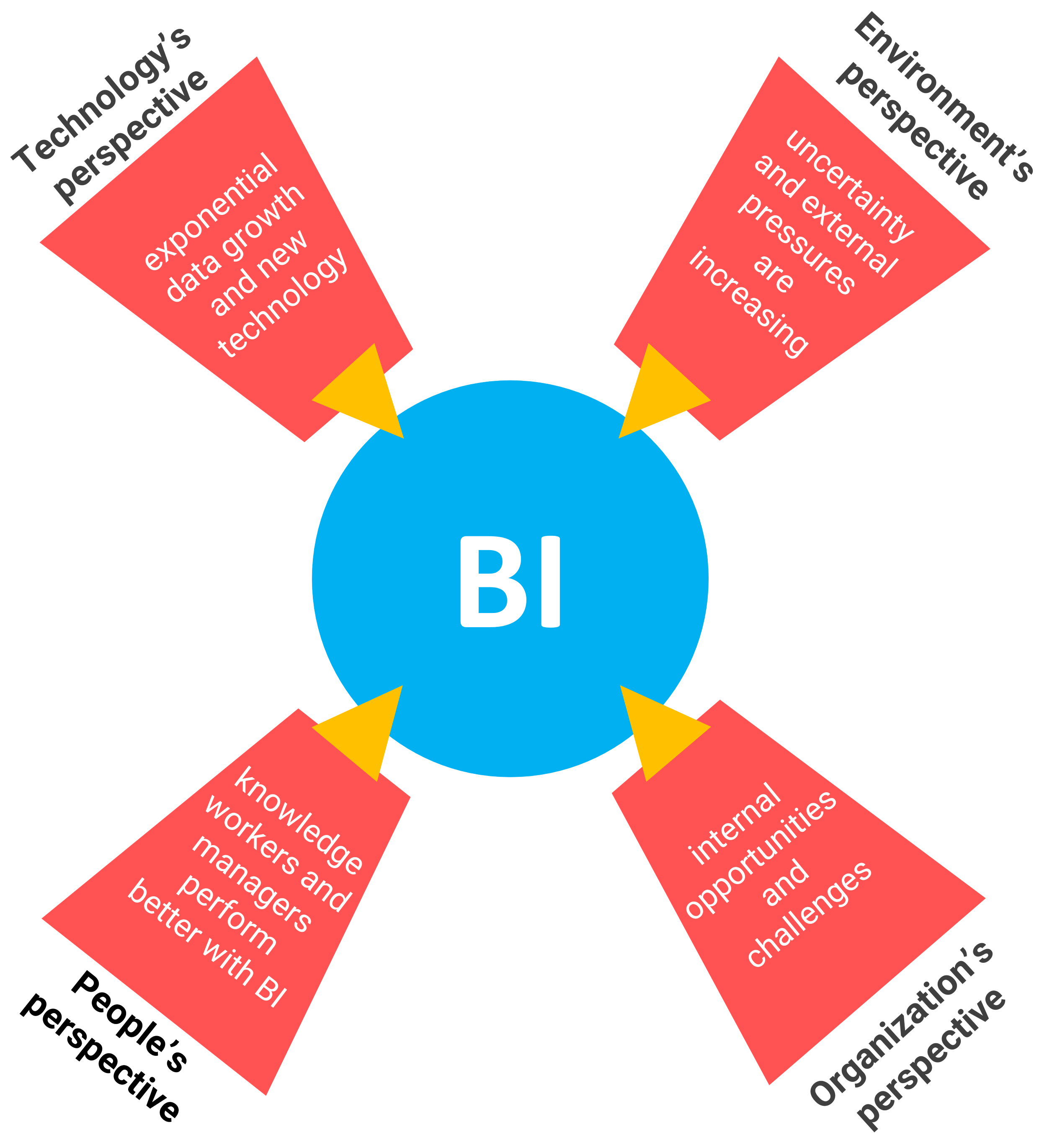 Figure 6: The four perspectives of Business Analytics
The business case for Business Analytics is extensive and richly varied:
The environmental perspective pinpoints the external trends that make Data Analytics necessary to survive as an organization. It outlines the enormous pressures and dynamics that organizations are currently facing. Here, the focus is on containing the (potential) risks that arise when an organization does not keep a close eye on its environment and adapt in a timely manner.
The organization perspective mainly highlights the opportunities that Business Intelligence brings such as "better customer knowledge and more sales" and "stimulus for more effective execution of the strategy", including by using unambiguous definitions, KPIs that mean a lot and unambiguous integral customer information.
The people perspective addresses people as information processors and decision makers, who must perform increasingly knowledge-intensive tasks, collaborate more, and do so in increasingly shorter time frames. With Business Intelligence, the productivity of the knowledge worker can increase and there can be a better balance between using intuition and facts in making decisions.
The technology perspective emphasizes the information technology benefits of Business Intelligence. For example, Business Intelligence can take the burden off the IT organization and prevent the explosive growth of data from leading to information overload. Organizations should also make optimal use of the latest (mobile) Business Intelligence tools.
BI applications are critical to the success of data analytics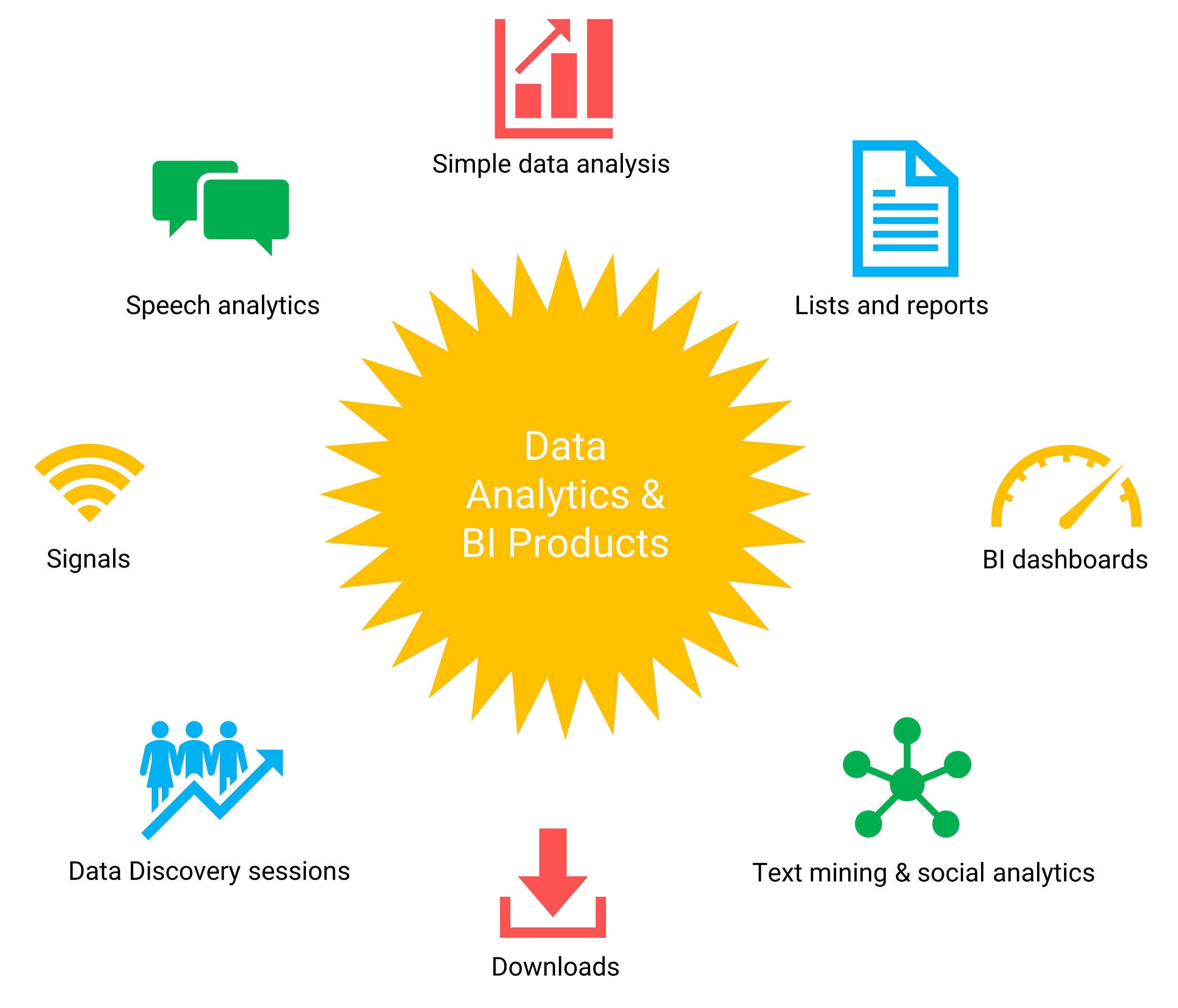 Figure 7: Overview of the major Data Analytics & BI products.
Business Intelligence is supposed to support the board, management and employees in making their daily or weekly decisions. But of course it also contributes to improving tactical and strategic decisions. By not taking the data as the starting point but the (operational) decisions in the primary process, you significantly increase the chances of successfully developing a concrete BI application. When you start implementing Business Analytics, always keep in mind an extra step; developing a data infrastructure or a dashboard is not enough. You need to think carefully about the application together. In short: how are you going to apply information to the primary process so you can make a return on your investment. The most important Business Intelligence KPI is that BI from high to low is used at every relevant moment and that better decisions are made.
The following types of BI applications are common, make sure you build them carefully and in a balanced way in your organization.
Limit Business Intelligence reporting
A report can give you good insight into the process, show a list of items that will soon be past their sell-by date, or show the development of turnover over the last 24 months. The big risk with Business Intelligence reporting is that you are mainly looking backwards and are setting up a report factory that is impossible to manage and that requires a lot of maintenance. Don't fall into this trap! How to avoid a report factory can be read in our article 'Business Intelligence must be more flexible, faster and cheaper' and the opinion piece 'One algorithm can replace 100 reports'.
Design a perfect BI dashboard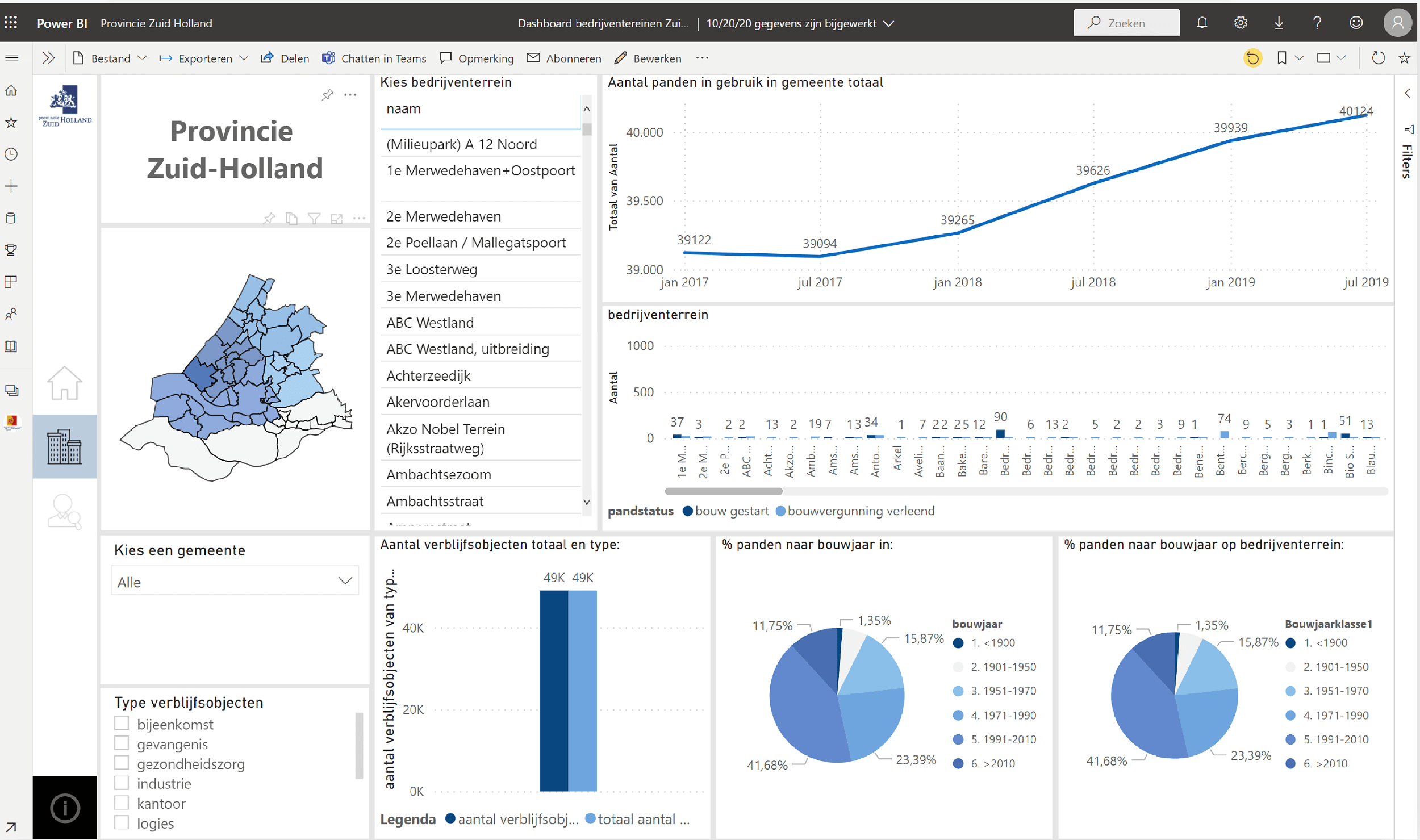 Figure 8: A province's Business Intelligence dashboard. Contact us here for a BI dashboard for your province or municipality.
Interactive Business Intelligence dashboards should show you at a glance how you are performing as a team, department and organization. This requires a minimalistic design without all kinds of bells and whistles such as frequent use of color, 3D graphics, too many buttons or a faulty navigation structure.
A BI dashboard should be as easy to use and as fast as a good website. In addition, the unadulterated KPIs should be at the top of the dashboard for every employee, which is also quite often left out.
Let Business Intelligence and Big Data run together
Since a number of years, the interest in Big Data has been great. Whereas traditional BI is mainly about reporting based on structured data through the rear-view mirror, Big Data is mostly about large amounts of unstructured data, such as audio clips, chats, emails, videos and sensor data. Don't be afraid to experiment with Big Data alongside traditional BI, don't wait too long. By doing so, you can give Business Analytics a much more proactive character, have a more direct impact on your organizational results and go deeper into your process improvement. Successful BI organizations know better than anyone how to assess the value of Big Data for their organization. Read here the article 'It's almost science fiction what we do with Business Intelligence Big Data' and 'Why every controller should know everything about Big Data'.
Predict the future with Business Intelligence predictive analytics
It is no coincidence that smart organizations are successfully applying Business Intelligence predictive analytics. This type of BI application (artificial intelligence) can help your organization to radically improve processes, speed them up and make them more sustainable. After all, if you can very accurately predict the demand for beer or potatoes for the coming weeks, then you purchase much more precisely, you save a lot of costs, your customers are better served, and you need to throw away very little. Algorithms now call the shots and of course managers are still needed, but they have been given a different, more coaching role. With Analytics & AI you radically break away from the focus on Business Intelligence reporting and build an improved or completely new business model that can effortlessly compete with the competition.
Business Intelligence checklist & tips
Finally, a handy BI checklist and 10 tips to improve the Business Intelligence function in your organization.
Get to know your organization better (in cycles) and try to run it better than yesterday and better than your competitor and do so based on data.
Think big, talk little and start small.
Be aware of the big difference between the efficiency and effectiveness of Data Analytics.
Involve management and key users, collaborate daily and weekly.
Measure less but know more (see our SMART KPI Determiner 2022): focus on the key insights that can make or save you the most money, or increase your quality of service.
Train your users not only in tooling, but especially in analytical and collaborative skills (PDCA+KPI).
Your very first BI architecture doesn't have to be permanent, be transparent about this to the client.
Use a Business Intelligence framework and think in organizational roles when building your BI.
Don't worry too much about the financial side of the business case. Information is like energy, you just need it or sooner or later your organization will lose the battle.
Don't build a report factory but use that time to experiment with artificial intelligence & Big Data.
Which tip appeals to you the most? Feel free to let us know and get in touch.
Take the test and contact us now
Have we been able to inform you properly about all aspects of Business Analytics that are important to you? Would you like to discuss this with one of our BI experts? Don't hesitate, take the test and contact us here.
About Passionned Group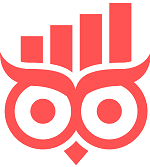 Passionned Group is the specialist in designing and implementing Business Intelligence & Data Analytics. Our passionate and experienced BI-consultants help larger and smaller organizations to transform into an intelligent, data-driven organization. Every other year we organize the Dutch BI & Data Science Award.
Our senior Business Intelligence advisors
ir. RICK VAN DER LINDEN
Senior Business Analyst
DAAN VAN BEEK MSc
Author of 'The intelligent organization'
RINI VAN OOIJEN MSc
Projectmanager Business Analytics