The Business Intelligence Tools Survey 2019,
a clear, thorough market analysis
:
100% independent information
Tools compared on 197 criteria
Used in over 100 countries
Reviews 19 leading products
The best tools for Business Intelligence and Analytics software
Business Intelligence tools (or Business Analytics software) provide companies reliable information and true insights in order to improve decision-making & social collaboration. With business intelligence software you'll be able to produce much better company results. BI tools provide the means for efficient reporting, thorough analysis of (big) data, statistics & analytics, and dashboards displaying KPIs.
Above list of BI tools is in random order, it has no significance in terms of how highly the products scored in our independent BI study. Click on one of the Business Intelligence solutions in the graph below and learn more about it.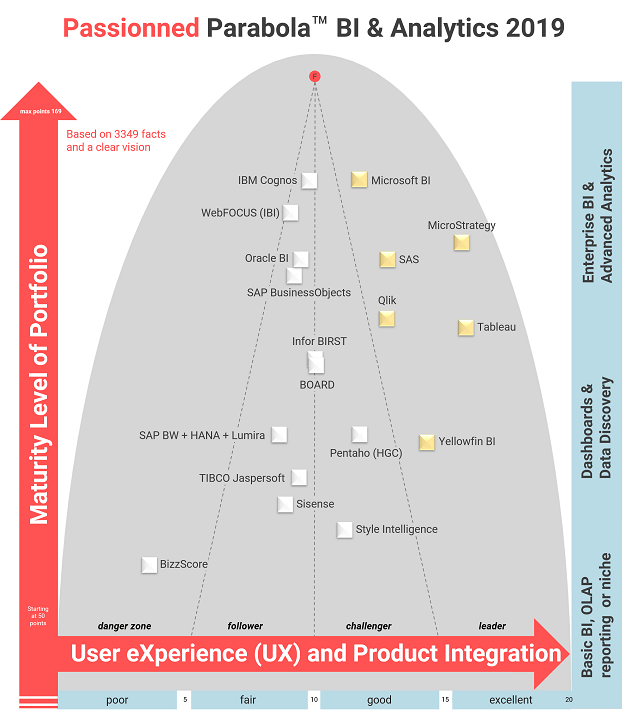 Get our 100% independent BI tools survey
The BI Tools Survey offers genuine insight in the strengths and weaknesses of 19 different business intelligence tools. The report is 100% vendor-independent – we aren't affiliated with the vendors in any way. The report compares the BI tools on 15 important categories and describes their functionality from top to bottom.
Aside from the research, the survey contains the opinions of experts, many tips, and a comparison matrix. Take advantage of our knowledge and expertise and save precious time in the vendor selection process.
Order the Business Intelligence Tools Survey
Save time with our 100% independent survey. Using this reliable guide, you can start the selection process right away. Download the Business Intelligence Tools Survey now.
Perform better with Business Analytics software
Bring your company data to life and perform better by combining, analyzing, and visualizing all that data very easily with Business Analytics software. This type of software will help you to see and understand the success factors of your business more quickly. And where things (might) go wrong and where you need to make adjustments. They give employees and managers the possibility to improve business processes on a daily basis by using correct information and relevant insights.
A 100% vendor-independent ranking: 197 criteria
For a 100% vendor-independent ranking – on 197 key selection criteria – download and use our BI Tools comparison matrix and save time in selecting the best BI tool or platform for your needs.
Selecting the wrong BI tool might hurt
Companies who are not successful often have an issue with their information infrastructure. They may have selected the wrong Business Intelligence tool or perhaps they don't use Business Analytics software at all. They have not been able to implement BI and are still in the dark and that hurts company results. Read our Quick Guide: 'Selecting Business Intelligence tools'.
The biggest benefits of Business Intelligence software:
✓ Improve the overall performance of your organization, departments and teams.
✓ Make fact-based decisions without neglecting the intuition of experienced employees.
✓ Enhance the business processes in the organization using the right visualizations.
✓ Easy monitoring and reporting of your genuine KPIs using role-based dashboards.
Five steps to selecting the top Business Intelligence tools:
Step 1: Define the key BI tool selection criteria, both the user and IT requirements.
Step 2: With a list of questions you need to contact all the vendors to get the answers.
Step 3: Validate and analyze all the information from the Business Intelligence vendors.
Step 4: Make a short list for a proof-of-concept (POC) and perform the POC.
Step 5: Choose the tool / platform that suits your needs and price criteria best.
We all know that selecting the right solutions can be a very labor-intensive process. We have assisted organizations in this process for more than 15 years and we have developed a powerful instrument: the Business Intelligence tools Survey 2019.
How can you compare BI tools very quickly?
Business Intelligence tools come in many different flavors. All the tools run on the Windows platform for example, but only a few support the different flavors of Unix and Linux. Some have excellent functionality for pixel-perfect reporting and others do better in dashboarding and predictive analytics.
That is why in our Business Intelligence tools Survey the tools are thoroughly examined, compared and rated on 197 key evaluation criteria. With that knowledge at hand you will be able to choose the solution that best suits your company very quickly and achieve the best results with business intelligence.
Choosing a Business Analytics product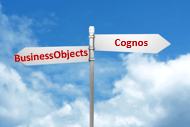 Only a few years ago, choosing Business Analytics software was relatively simple, and extremely costly. Two companies appeared to be in almost total control of the market, Business Objects and Cognos, only if you were looking for something out of the ordinary, like advanced statistical analysis, or financial consolidation or access to legacy databases on the mainframe did you look further at products from companies like SAS, Hyperion or Information Builders. Not that these BI tools did not do everything that the leaders did and more – they did – but they did not have the mass acceptance of Business Objects and Cognos.
The different components of Business Analytics platforms
Business Analytics software contains the following components:
The problem with the marketplace in the last 10 years
The problem with the marketplace in the last 10 years is that we appear to have gone too far from Dresner's initial ideas – he spoke then and still does about "information democracy". Other top BI analysts like Tim Jennings talk about "Pervasive" BI. This means it should be available to anybody who wants it when they need it at a price they can afford – just like healthcare, and just like healthcare we haven't been very successful at achieving our goals.
Business Analytics software for the masses
When we moved away from the mainframe products – like IBM's AS, WebFOCUS and SAS – to the PC based products everybody expected the usability to increase. With better graphics, a simpler GUI and personal processing power it looked as if we had finally achieved "BI for the masses". The acceptance however remained a problem, partly because of performance issues created by the client/server model and partly because of the difficulty of making clean and consistent data available to the BI product for processing.
Customer testimonial
"The Business Intelligence Tools Survey of the Passionned Group has been immediately useful to me in selecting the right BI-tool for our company."
Richard Silverstein
Sweet & Maxwell Group
BI has come from an external source: Apple

Now, in 2019 for the first time ever, we may be closer to achieving this dream. The solution, as is often the case with business intelligence, has come from an external source: Apple. One of the major problems with BI (and there are several) is that the people who need the information still find the "tools" too difficult to use, and the iPad user interface may just fix that problem.
After nearly 30 years of "personal computers" we appear to have a device that can be used and is accepted by people from 4 years of age upwards – it is possible that BI on the iPad (and the iPad's competitors) may just be what we need to solve the Ease of Use issues.

Our industry analysts
YOUR PHOTO HERE?
It's not a beauty contest
The intention of our 100% independent study is to see what the most popular business intelligence tools offer now, in terms of usability, functionality, security, and connectivity, and add some advice. We do not believe it is possible to hold a beauty contest and choose an overall winner; the most suitable product for one organization need not be the most suitable for another, depending on number of users, hardware, where the data comes from, volumes of data, the requirements and type of organization. In order to avoid comparing apples with oranges (as much as possible) we have split the products into four categories:
Enterprise Business Intelligence software
Database & packaged Business Intelligence tools
Data Discovery & Visualization products
Innovative, new and niche tools for analytics
We have, however, allocated points within the areas that we have evaluated. We haven't applied weighting factors since they are different from organization to organization. The survey also covers Open Source BI Tools.
Get in touch with us
If you want assistance in selecting the right Business Intelligence tools or Business Analytics software for your company, please contact us for more information or an appointment.
About Passionned Group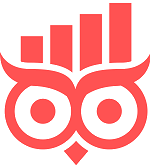 Passionned Group is a leading expert on the BI tools market. Our BI tools survey helps organizations choose the right tool for the job. Every two years we organize the Dutch BI Award©, the election of the smartest company.