Ten rules we live by
Advice, research, and project management are serious matters that require a high degree of responsibility, involvement, and objectivity. These are our specialties. By working closely with you and your employees, and with crystal-clear communication, we deliver keen, executable advice. This is why dozens of clients have already used our services. Here are 10 reasons why you should consider contacting us.
1. High-quality knowledge infrastructure

Thanks to our years of experience and research, we've learned a lot about the critical success factors of organizations and strategy, Business Intelligence, and agile working. We perform the National Business Intelligence Survey every year, we're jury members on the Best Business Case, and we've built up expertise by, among other things, making strategy maps for dozens of large and small organizations.
We know the market for BI Tools, ETL Tools, and performance management solutions like no others. All this knowledge is available to you. We regularly research all the top BI Tools and publish the results in our BI Tools Survey, which can help your company choose the correct BI Tool quickly.
2. We're objective and independent
We're not bound and/or gagged by anyone or limited by contracts with software vendors. We're solely dedicated to your needs. We consider all options available on the market and we let ourselves be guided by our values: objectivity, integrity, and trust.
3. Proven quality: clients rate us 9+
Every assignment is capped off with an evaluation. This has shown us that our clients would hire us again in every case, if it were necessary. And they're prepared to recommend us to other companies and institutions.
4. We know your sector
Thanks to our focus on making organizations work smarter and our extensive network, there's a good chance that we're intimately familiar with your sector or industry. However, every challenge is unique to each organization, whether it's in the pharmaceutical industry, government institutions, retail, mental health care, or insurance. Intelligent organizations can't be copied. To put it more strongly, it's not only ill-advised, but also risky. But it is important to learn from each other.
5. An extensive network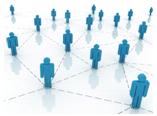 Of course, we don't know everybody, but it seems like a lot of people and organizations have crossed our path. The reason is simple.
We employ a smart strategy based on two pillars: thorough research and excellent marketing. By now we've published dozens of articles in renowned magazines, as well as five books and four research reports.
Our employees often deliver keynotes at congresses and conferences, and every other year we organize the Dutch BI & Data Science Award. You can make use of the network we've built. If you want to meet a jury member, a CIO or CFO of a top 500 organization, a professor, a government member – we can help you.
6. We're fast and effective
This may be the most important reason to contact us. Thanks to our high-quality knowledge infrastructure, independence, and our extensive network, we can help you quickly and effectively. We're not interested in racking up billable hours – we want to make your organization more intelligent. We're in and out again as quickly as you want us to be.
7. We train your people
We always give you a choice. Naturally, we can provide advice, execute your projects, or perform a role-based information analysis. But we also like to help you by providing training and coaching. You don't always need to hire knowledge. We can make sure that your people are trained and coached.

8. We know what we don't know
We know that the world can be more complex than it seems, precisely because we put a lot of time and energy into research and knowledge development and sharing experiences. That's why we make choices. Do this, but not that. What do we really want to know more about? Where do we draw the line?
9. Flexible deployment
We sign contracts based on results instead of just hours worked. This means that we offer flexibility when hiring expertise. It doesn't always have to be a 40-hour week.
10. We achieve results together
By working with us, you spend less money in the long run. On advice and research, but also the execution of your projects. Our strength is doing things right the first time, together with your employees. That quality brought us to where we are now.
If you have any questions, feel free to contact us.