Real entrepreneur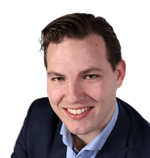 Alex de Jong studied technical business administration at Twente University, specializing in Production and Logistical Management. Alex is a real entrepreneur, and since 2013 he has been active as a freelance software developer and consultant. He has completed assignments for several large clients, including Rijkswaterstaat, the Dutch National Railways, and various banks, both foreign and domestic.
Always create value for customers
In his assignments, Alex always focuses on creating value for customers. "Essentially, a project should always lead to savings, quality improvement, or more revenue", Alex says. In order to do this, he mainly focuses on automating the right processes and determining the right KPIs.
Don't lose sight of the goal
Because Alex is involved in projects from start to finish, he has something to offer every facet of the project. From identifying the problem or the goal to testing the user-friendliness of the software for the end-user. During every step, he makes sure not to lose sight of the goal, and he considers the needs of every stakeholder.
Good communication with the customer
Alex makes great use of his background in technical business administration. This allows him to communicate well with the client, and come to a joint analysis of the problem. At the same time, he can explain what's technically possible, and what the final solution might look like.
Optimizing processes
Since 2016, Alex has been getting more involved in optimization of production and logistics. He has developed smart BI solutions which optimize the production process based on data and scientific research at various production companies. Continuous improvement according to the Lean Sig Sigma method is all in a day's work for Alex.
No organization works just like theory
Because there's not a single organization that works exactly like the theory, applying the theoretical optimization possibilities in practice is always a challenge. In this process, Alex has developed into a person who can apply structure to complex issues. In doing so, he discovered that solving the management issues and developing a software program aren't so different.
Solving problems, piece by piece
Alex: "Nothing is as satisfying as making a vague concept real and tangible, and then solving every little piece." Business Analytics and Big Data play a big role, too. It's important to find the right data and parameters and use them to better control the process. Contact Alex now and learn what he can do for your organization.