From data to knowledge to intelligence
Data, information, knowledge, and behavior are inextricably connected. Yet, we often forget that. Also, what exactly is the difference between data and information? The sequence of "data, information, knowledge, and behavior" forms an essential link in Business Intelligence processes. It helps companies achieve greater returns from data, human capital, knowledge, and IT systems. So that your organization as a whole can become more intelligent.
Let data transform into information
Data is the foundation of information and knowledge. Data, essentially, comprises the edited or unedited signals registered by a company for various purposes.  They only gain shape, meaning, and value when they are interpreted at the right time, in the right form, by the right person. Data can then become relevant information. Data becomes information as soon as you need it.
"How dreadful knowledge of the truth can be when there's no help in the truth."
Sophocles
Change in thinking and acting
Information should lead to new knowledge and clear insights about the organization, the market, events, company processes, and progress towards operational, tactical, and strategic goals. The knowledge and information should ideally directly lead to a change in thinking and acting. Unfortunately, reality doesn't always work out this way.
When the data says turn right, it turns right
In an intelligent organization, it does work out that way. Employees and managers will act differently and immediately make better decisions. The company could enter new markets, serve existing customers better, or sever its ties to certain customers, for example. Or it can strive for shorter lead times or maintain a closer relationship to its suppliers. If the data says to turn right, it turns right.
Resistance to transparency
Employees and managers sometimes resist more transparency and the integration of data in a data warehouse. After all, it exposes their performance and means they don't work on their own anymore (own domain). The company strives for greater synergy between domains, along with smarter cooperation and process-oriented KPIs.
Attention to behavior, structure, and culture
Progress doesn't happen on its own. That's why systems alone can't improve the situation automatically. Focused attention on behavior, structure, and culture in this change process is essential, the goal being complete integration of people, organization, and technology. See also our Business Intelligence training course.
Cleaning up and combining data provides relevant information.
Integrating and interpreting information provides knowledge.
By mastering and sharing knowledge, you start changing behavior.
By changing behavior you can perform, organize, and do business better.
The book that explains it all
The third edition of The Intelligent Organization by Passionned CEO Daan van Beek is out. This book covers every facet of transforming data into actionable information and knowledge, so that effective changes in behavior can take place. The book also thoroughly covers organizational structures.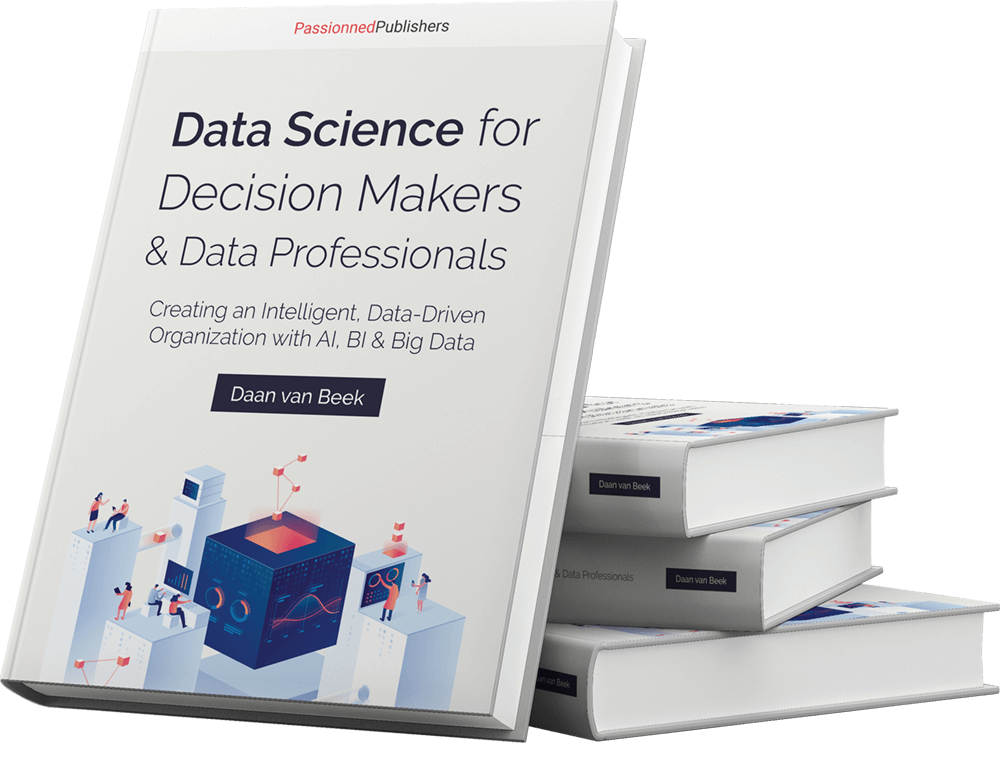 This Data Science, AI & BI book covers the most important basic principles, organizational processes, architectures, tools, and conditions needed to create a truly Intelligent Organization. Make better decisions faster, at all levels of your organization, using the right data, information, knowledge, and behavior.
Order this book now
.
Go to Business Intelligence book
More information about data, information, knowledge & behavior?
If you want more information about any of the topics covered above, or you want to meet one of our experts, feel free to contact us.