The last ten Business Analytics process steps
The first five of the fifteen process steps of the Business Analytics cycle are usually fully executed by computers. This paragraph takes a closer look at the various processors – the most important stakeholders of Business Analytics – that play a role in the last ten process steps.
Figure: a variety of processors within an organization process information and knowledge and keep the organization on track.
The different processors each fulfill a specific role with Business Analytics and each have a typical use of information:
1. Operational management
The operational management monitors the ins and outs of the organization on a daily basis. This processor ensures that business processes run smoothly and where necessary, independently, initiates some (small) process improvements. In case of proposals for drastic changes, the operational management will first consult the Board of Directors. The operational management is primarily interested in internal, daily updated, information that shows the performance of the business processes. The emphasis is on executing existing operations in the best possible way.
2. Knowledge workers and operators
The term knowledge worker says it all: this type of employee requires extensive information and knowledge to do their job properly. Knowledge workers are true information consumers. At this level, an organization generally adds value for its customers and achieves its margins, either directly (operators) or indirectly (knowledge workers). Knowledge workers are often members of staff or external advisors who ensure that the primary business processes run smoothly. They do this by drawing conclusions (knowledge) about process optimization, based on information about the primary business processes.
Purchasing discussions with suppliers could for example be much more effective when information about the supplier's products – delivery times, gross margins, market shares and other figures – is available. Knowledge workers often work with weekly or monthly aggregated information, which they want to extensively analyse and document to ultimately retrieve that one piece of information that benefits the business. Operators – those who actually carry out the primary activities within an organization – benefit from information that tells them something about both their own performance and the team performance as well as about the performance of organization as a whole. Real-time information about for instance the number of requests pending, but information over the past day or week is also important.
3. Clients
Those who justify an organization's existence must be fed with information (amongst other things), which – hopefully – confirms their idea that doing business with this organization is a good choice. Information for customers usually relates to product details, delivery times, stock levels, ordering behavior, service levels and payment behavior. This is true in particular for regular customers. It allows them to proactively steer the organization and to issue alerts when they believe that the organization is not performing well or making mistakes.
In the past, an account manager would supply this information to a customer, but often not on a regular basis. Now, with the use of a well thought out Business Intelligence system, customers have much more control because they can access and analyse information at any given time, often online. Clients (including consumers) usually benefit most from interactive reports with which they can perform limited analyses to improve their own business or household with the support of the vendor. For this reason more and more telecom companies and energy suppliers offer consumers and business online access to invoices and cost calculations.
4. Vendors
Those who nourish the organization with valuable 'resources' have an interest in the proper functioning of their information portal and they like to see the organization performing better using their 'resources'. Vendors can help organizations to perform better when they have access to relevant information on for example sales rates and inventory levels of products; market shares and the number of times an organization has to refuse a sale due to shortage of stock.
Suppliers wish for daily, weekly and monthly, partially interactive information so that they are able to tailor their trade to the organization's activities and the movements within the market. An organization that supplies this information to its vendors can count on better collaboration, higher gross margins, faster deliveries and smarter stock management.
5. Board of Directors
Both the mission and strategy of an organization are the responsibility of the Executive Board or the Board of Directors (BoD). Based on aggregated information and indicators, the BoD decides – if necessary – whether or not the organization needs fundamental changes and if so, manages the appropriate change process. Top management/BoD will, to a high level of aggregation, want to know how the mission and strategy will work out at a certain moment in the future and ideally operates on the basis of relations between various indicators.
The main focus of the BoD lies on internal information about the strategy and on external information concerning the organization's environment such as market trends, technological developments and the movements of competitors. A BoD or management team often works with benchmarks to compare certain organizational elements or to compare their own organization with similar companies. The information a BoD requires should be easy to grasp and initiate direct action: traffic light reports, scorecards and dashboards are the most suitable Business Intelligence tools (Style Intelligence, MicroStrategy, etc.) for this processor.
6. Shareholders
Information intended for shareholders usually concerns financial details and related non-financial indicators, with which shareholders can assess whether the capital they invested will be profitable, either now or in the future. This information enables them to make decisions – individually or as a group – such as whether the Board should remain in control or whether to reduce or increase their shareholding. Shareholders appoint the organization's management board and fulfill a supervisory role – usually delegated to a Board of Commissioners – for the Board of Directors.
7. Government
The government for example wishes to know whether insurance companies and pension funds will meet their obligations in the future, or whether organizations stay within the law and meet licensing conditions. This usually involves information about environmental issues, working conditions, the integration of minorities and various tax payments. For both government and shareholders general static umbrella information with a slight degree of interactivity is sufficient. In most cases a sheet or download with (financial) figures is sufficient. These reports often include monthly, quarterly and yearly figures and contain a brief historical perspective.
8. Information systems
This processor is also important. By including information in information systems such as a CRM-system, an organization allows its employees to get an overall picture of their customers. A call center agent who handles complaints is then able to see immediately that the customers on the phone has an average service level of 87% and spends a hundred thousand Euros a year on products and service the organization offers. This customer therefore must have good service and attention; the information enables employees to respond sensitively and understandingly and so give each telephone conversation its own tailored character. As a result, the customer feels better understood and respected.
Customer segmentation
Business Analytics can also provide detailed customer segmentation, which in turn can be used by the direct mailing system to offer specific products and service to specific customers. In that case, information and knowledge are processed without human intervention and used to manage operational processes. This principle – as depicted in the figure below – works both ways.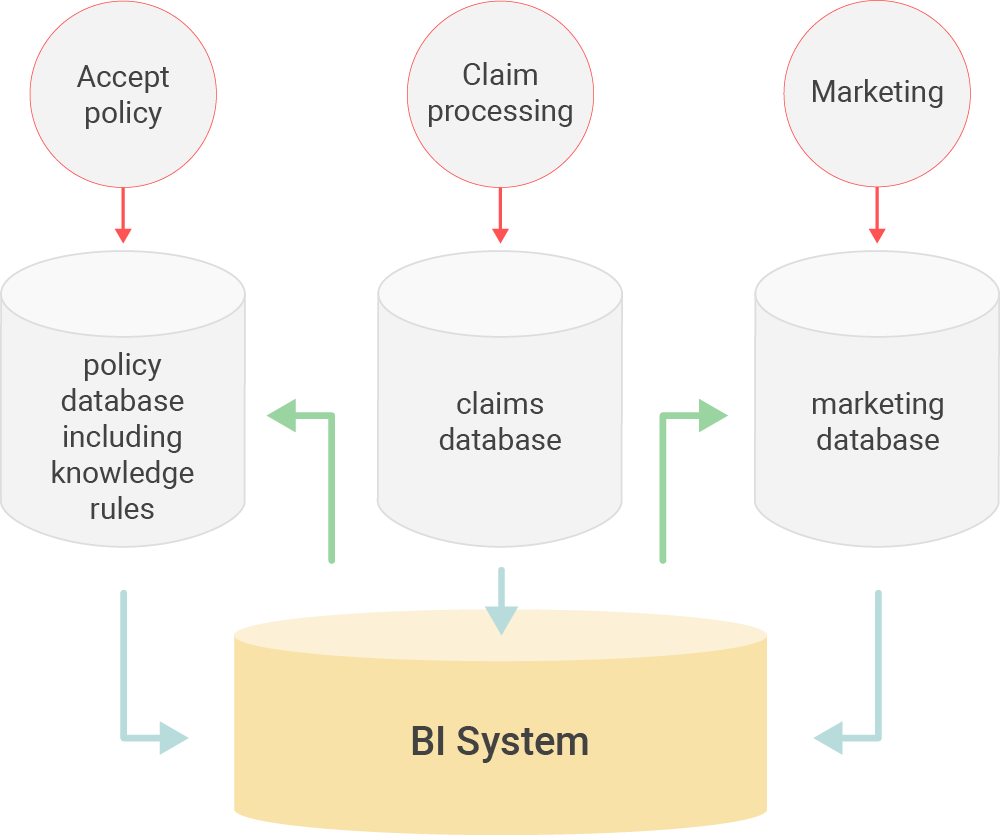 Figure: Information and knowledge from an insurance company's BI system feeds (the upward arrows) a number of operational systems.
Bidirectional BI applications
The Business Intelligence system extracts the data from the operational computer systems and then returns a number of enriched elements. In this way a claims database for instance can perform a premium calculation based on the claims history of this type of customer. Business Analytics will become increasingly capable of independently managing an organization as a closed-loop-process. Systems that support the primary business processes will then be fed with information from the Business Intelligence system.
Consequently, these systems will automatically use the information to optimize, adjust or redesign processes. The organization then automatically adjusts its method of working – through using smart bidirectional Business Intelligence applications – and can thus respond to market changes more rapidly.
Ensure that specific information for all the processors is consistent
Each processor has its own specific role, its own typical information usage and does its bit in keeping the organization on the right track. Well thought out Business Intelligence systems and processes play an important role, especially since they ensure that specific information for all the processors is consistent and coherent. There is often an overlap in the information the difference processors require: the service level for instance is interesting information for account managers and customers but also for the Board of Directors, albeit at a higher aggregation level.
By ensuring that information is consistent and coherent, the different processors reinforce one another and consequently the communication process within an organization runs much smoother and is more efficient. Everyone speaks the same language and uses the same business definitions. In this way, the organization achieves optimal transparency.
This is partly achieved with the aid of a well-designed Business Intelligence system with a certain stratification, in which a specific indicator can be easily accessed, calculated and analysed at different aggregation levels.
Let information flow through the entire organization
The value of information substantially increases when it can flow through the entire organization or even penetrate through the organizational boundaries to inform shareholders, government, vendors and clients. The more processors can "feast" upon good information, the higher the yield of Business Analytics. If they can also observe each other – benchmarks comparing different operating companies or regions for instance – and have information at their disposal on an ad hoc basis the yield will be even higher.
A duty to pull and push
The Business Intelligence system should not just 'push' information. There is a so-called duty to pull and push. Employees who wish to implement the Business Analytics process in the organization, will map the information needs of the processors (pull), but in return the processors will have to adopt a pro-active attitude and ensure that they provide relevant information to realize their goals quickly and effectively (push). A balanced mix between 'pulling' and 'pushing' ensures that the information from the Business Intelligence system aligns better with both the tasks and the responsibilities of the processors, generally allowing Business Analytics processes to be carried out more effectively.