How do BI projects differ from traditional system development projects?
This article discusses the required project approach to the competencies and roles needed to merge the Business Intelligence processes, the architecture, the tools, and the applications into a lasting, working entity. Business Intelligence projects differ from 'traditional' system development projects in several ways, namely:
They often go beyond the boundaries of departments, processes and even business units;
They contain a mixture of strategy, business operations and technology and are usually very political;
Business and IT need to cooperate very closely;
Business Intelligence systems are for the most part derived from the operational systems and relate not only to the operational level but also to the tactical and strategic levels within organizations;
They contain a relatively large number of risks and therefore a high probability of failure;
They require a combination of two methods: the traditional 'waterfall' method and the modern iterative method (incremental development). The first method is needed for both information analysis and a balanced architecture, whereas the latter realizes the different increments;
BI projects require a multi-disciplinary project team.
These aspects make BI projects difficult. For that reason, we require a separate and specific project approach: the Business Intelligence project cycle.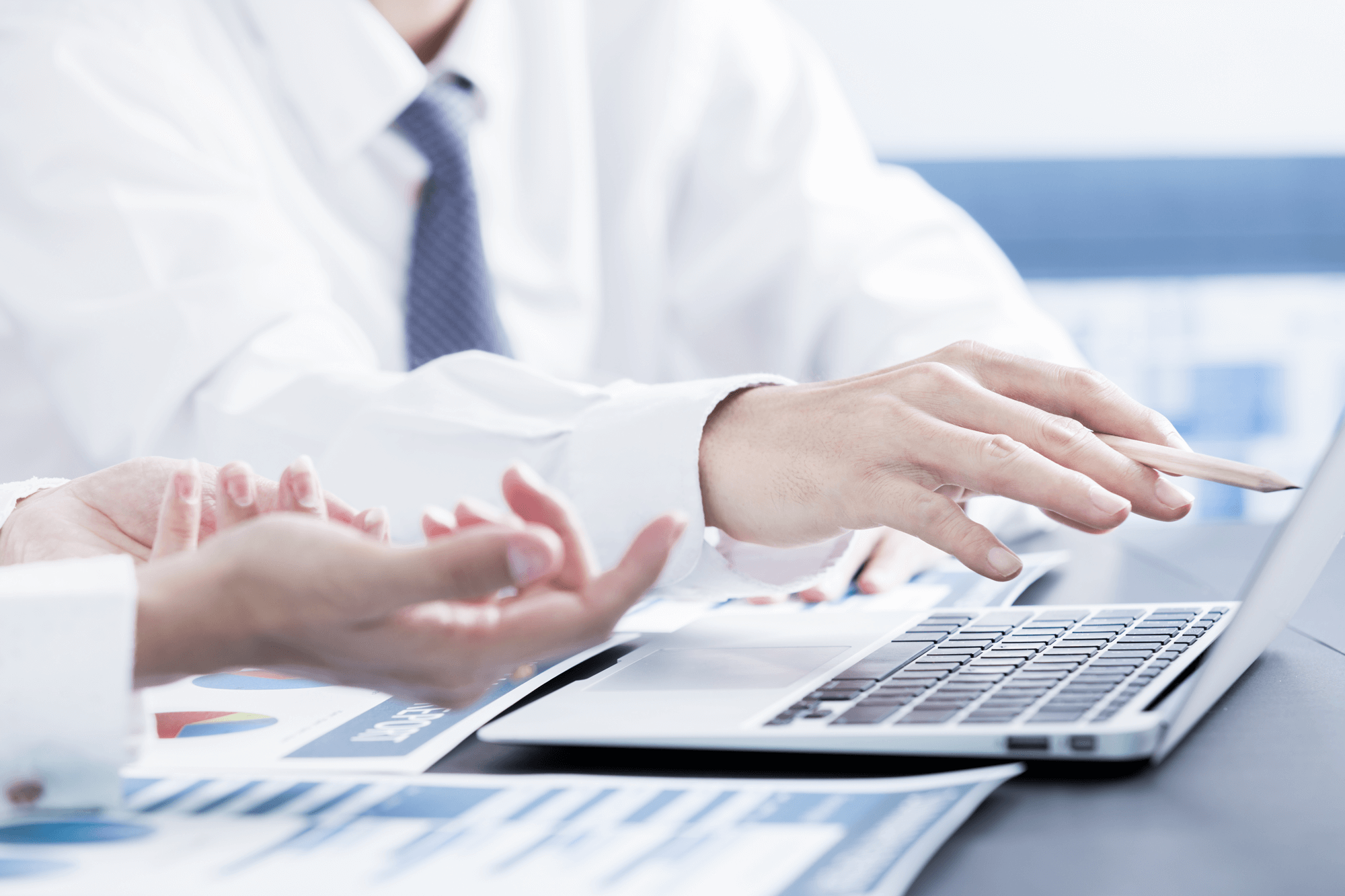 This business intelligence book covers the most important basic principles, organizational processes, architectures, tools and conditions needed to create a truly Intelligent Organization. Learn how to apply the business intelligence project cycle in your organization. Make better decisions faster, at all levels of your organization.
Order this book now
.
What makes or breaks a BI project?
Once the organization has defined and prioritized its projects, it is important that we know exactly how we can make the Business Intelligence project – the first one in particular – successful. What makes or breaks a BI project?
What steps do we need to take (and in which order) to achieve success? How do we navigate the project? This is where we define the BI project cycle: a cycle that has proven itself in practice in many organizations, particularly those that started using Business Intelligence seriously after an initial trial period. The project cycle takes into account the most important risks and exploits new opportunities as they arise. It also ensures that the organization continues to learn from its BI projects.
BI projects often provide unexpected opportunities that we have to take advantage of. After all, it's all about flexible reporting and analysis. Flexibility comes with risks – for example when users get bogged down in the many possibilities BI has to offer – but also offers the organization many opportunities to increase the return on registered data. This fact alone is a plea to reserve sufficient (additional) time and money in order to exploit these unexpected chances, for example in future increments.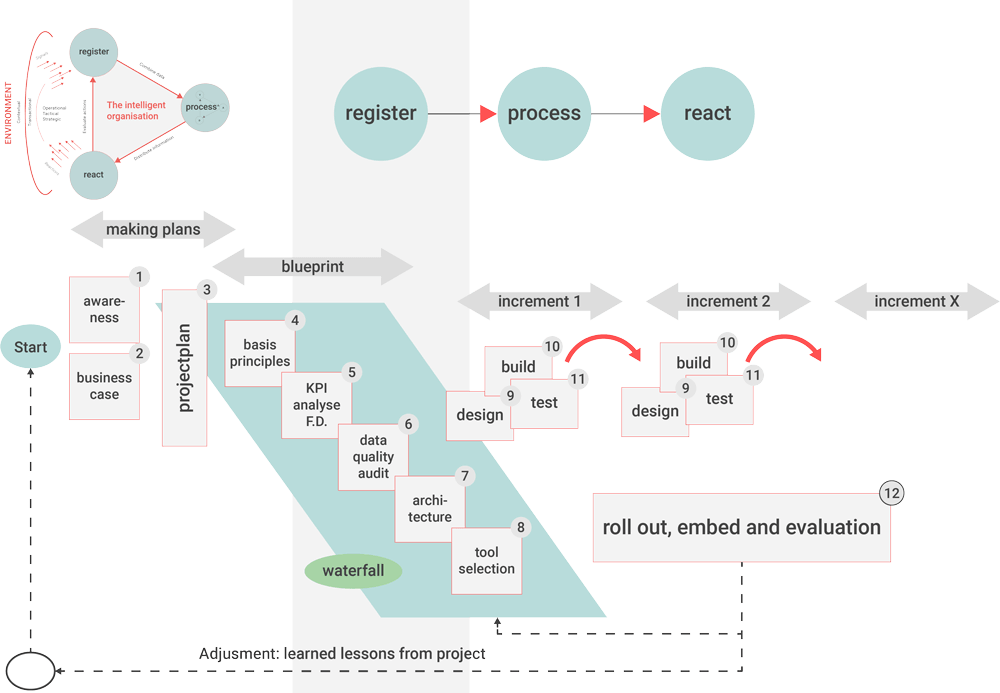 Figure: The BI project cycle is made up of 12 phases: F.D stands for Functional Design.
1. From awareness to blueprint (phase 1 to 8): the project cycle begins with awareness: what are the benefits of BI? We determine the business case, the scope and a project plan. After this, we describe the (performance) indicators and the associated architecture and we select the Business Intelligence tools. The blueprint has an integral character and is intended to manage and feed multiple increments (sub-projects).
2. The increments (phase 9 to 11): during these phases, we design, build and test. We create a part of the blueprint and we build and test the system. The activities of the increments are divided into three elements:
– Data warehouse and ETL: extracting data from the source systems, integrating the data into a data warehouse and aggregating the data in data marts;
– reporting and analysis: designing and developing dashboards, reports, and analyses based on the data in the data marts;
– distribution: ensuring that reports and analyses are in fact distributed throughout the organization.
For a large part, these three elements can be executed simultaneously (in parallel), whereby the first element often requires the most effort and the most risk.
Hint: if most of the logic (or knowledge) is already present in the data warehouse, then it is usually relatively easy to build reports without first having to create a detailed design. This even applies to more complex reports.
3. Embedding and evaluation (phase 12): the project organization will ensure that the project results are embedded in the business operations and encourage – or where necessary try to enforce – effective usage of these results, to achieve the highest possible return on the project results. Additionally, the project organization evaluates the project and determines the content of the following increments. If necessary, the architecture and tools are also evaluated.
The BI project cycle concentrates mainly on the specific activities and products of Business Intelligence projects, thereby using elements from existing standard project management methods – such as working with business cases from Prince II and DSDM.
Moreover, the BI project cycle builds on some other existing methods that have been developed for Business Intelligence and data warehousing (Kimball and Ross, 2002; Kelly, 1997).
Business Intelligence and data warehouse projects often fail
This is partly because the aforementioned aspects make them high-risk. Various studies prove that Business Intelligence projects show an average return of investment (ROI) of between 17% and 2000% (IDC, 2002; Wu, 2000). However, at the same time, many Business Intelligence projects (50-70%) fail or do not live up to expectations. They don't produce the desired results.
How can we explain this contradiction? There are, in fact, two explanations:
The figures don't include the projects that have failed, either completely or almost completely,
If a project does succeed, the returns can be enormous. The question therefore is not so much whether we should invest in Business Intelligence, but how we can influence the success factors and monitor the probabilities of failure.
The high failure rate is often because no proper business case was drawn up, even though there may have been one, had we looked for it. It is thus important that we properly prepare projects, use a good project approach, identify risks and success factors and put together a balanced and knowledgeable project team. This actually applies to nearly all projects. For that reason, we will elaborate these issues further in the next articles, but in this case specifically for Business Intelligence projects.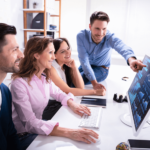 Our practical Business Intelligence training course covers KPIs, analytics, BI Project Cycle Management, Big Data, change management, data visualization, and BI success factors. This training will let you take the next step in BI Project cycles and take on a leading and advisory role. Read more…
Business Intelligence awareness
The Business Intelligence project cycle begins with awareness: becoming aware of the benefits and the 'why of BI'.
Business Intelligence systems and the associated concepts and technologies actually differ significantly from traditional information systems supporting the operational level of the organization. The latter are not very flexible: mostly we can only choose one single dimension or indicator (or a combination) simultaneously.
BI systems, on the other hand, provide end users with the option to determine 'on-the-fly' which views and indicators they wish to combine in a report or analysis. This allows users to 'juggle' with the data – if the response time is fast enough – and to gain insight into the business operations quickly.
Hence, Business Intelligence systems essentially differ from conventional information systems (with respect to design and usage). Organizations that wish to start using Business Intelligence but have not yet gained experience in this area are wise to attend supplier demonstrations, to study demo versions, to experiment and to visit colleagues in the industry who have already gained knowledge and experience with Business Intelligence.

The Business Intelligence Tools Survey is a 100% vendor-independent, extensive comparison report and market analysis. Use it to choose the best tool / platform for your business intelligence project cycle very quickly while saving valuable time and money. 19 tools are reviewed on criteria.

Download now

.

Flexible reporting is not the only phenomenon that plays an important role during the stage of awareness. The simplicity of reports is just as important: we must hide the logic – the calculations and transformations required for the indicators – under the hood of the Business Intelligence system. By doing this, we allow end users to create complex reports quickly, as indicators have already been prepared.

In practice, we quite often see that future users – for different reasons, often political – tend to position or label the data warehouse as a 'stupid box' (data-driven approach). These users are usually 'afraid' to relinquish control and often wish to perform their own calculations and analysis. Lastly, but just as important, is the fact that Business Intelligence can create a shared single version of the truth and increase transparency. The awareness of the essence of Business Intelligence, its advantages and the costs and benefits, must be further developed – and preferably quantified – in the next phase of the project cycle.
Contact us for advice about BI Projects
If you want to learn more about how to properly set up a BI Project cycle, feel free to contact us. We're also available as BI consultants, or you can take a look at our BI training course or BI Tools Survey.