Distribute information across as many processors
An Intelligent organization should keep its eyes open and prick up its ears for data and information. The information it receives should be interpreted, internalized and revised to eventually be distributed across as many processors (people, systems) as possible. However, Business Intelligence does not stop with the distribution of knowledge that encourages actions.
Reap the fruits of Business Intelligence
Business Intelligence goes beyond that: ultimately, the information must contribute to a range of aspects such as a higher profitability, better products or faster processing times, all depending on the goals and ambitions. What can or must organizations do in order to actually reap the fruits of their investments in Business Intelligence?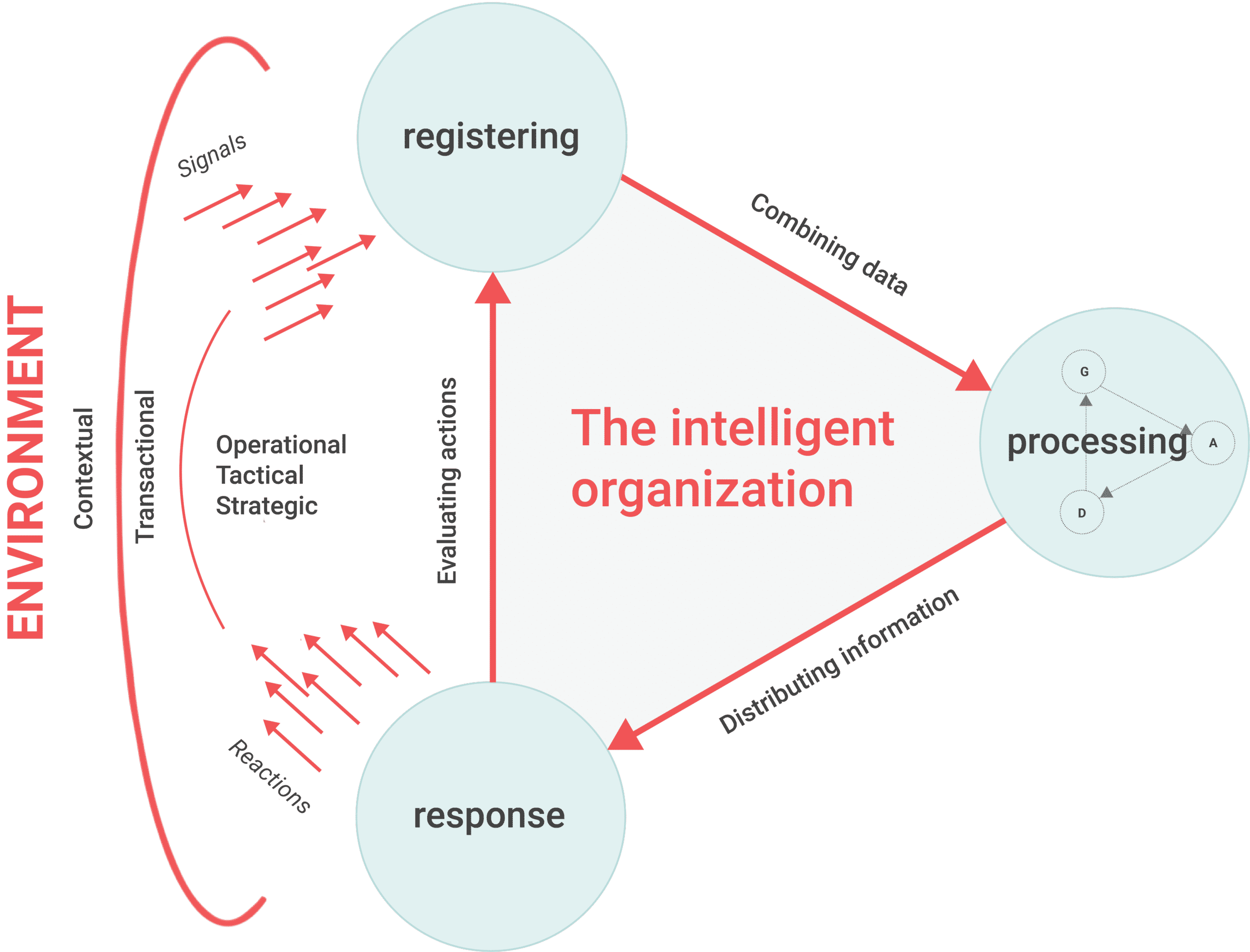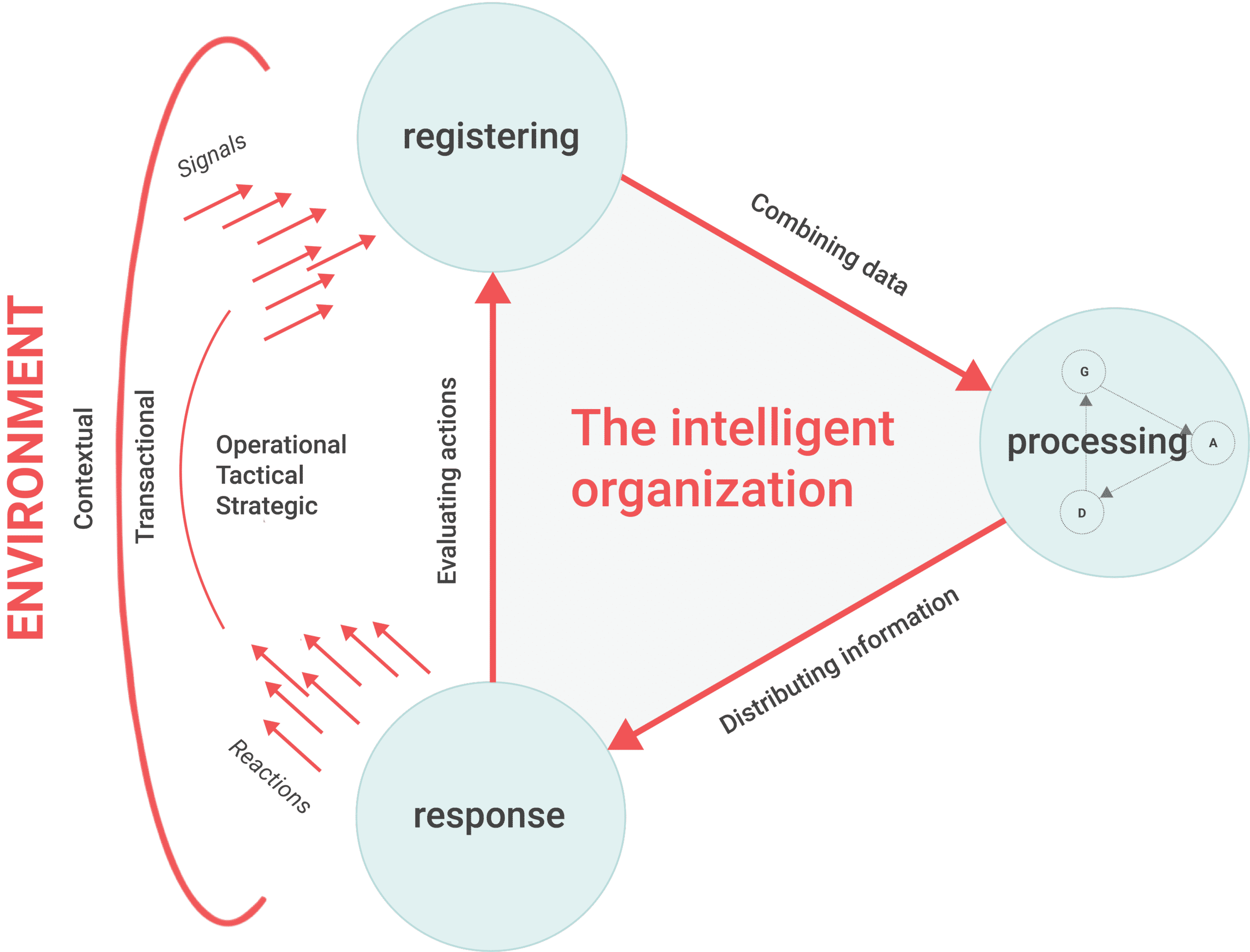 As evidenced by the Business Intelligence cycle (see picture above) organizations must not only register, collect and analyze initial signals, they must also adequately respond to those signals. Exactly that is still lacking in many organizations: informed decisiveness and inspiring leadership.
The ability to respond quickly and qualitatively is vital
In today's economy (and society) the ability to respond quickly and qualitatively is vital. With the aim of well functioning sensors and processors organizations may be able to know very quickly (within a day or even faster) that change is needed (sensitivity) but knowing alone is not sufficient if it then takes the organization another six months to actually change (adaptive capacity). Let us define these two notions in more detail:
Sensitivity: the extent to which an organization and its employees are sensitive to signals that are relevant to the business and the degree in which they consciously notice these signals and where possible keep them in sight using all senses. Sensitivity is the intrinsic (sensitive) collective organizational capacity to quickly notice relevant signals on a structural basis.
Adaptability: the extent to which an organization and its employees are capable of quickly adjusting to environmental changes or necessary changes within the organization, based on the observed signals. Adaptability is the intrinsic (adaptive) collective organizational capacity to quickly implement desired changes in a structural manner.
Developing a certain laxity towards using the relevant information
If the organization's sensitivity and its adaptability are not properly aligned this may lead to employees unintentionally developing a certain laxity towards using the relevant information made available by Business Intelligence simply because the organization takes too long to actually adjust. Moreover, the necessary change might come too late because rivals have long continued or have shifted their focus on other things.
In short: properly oriented sensors (KPIs), reliable processors (data warehouse, OLAP, data lake and people) and effectors – allowing quick responses – together form the inextricable trinity of the Intelligent organization.
It is crucial that BI integrates with business operations
It is thus crucial that Business Intelligence integrates with business operations. If this is not the case, many initiatives and investments in Business Intelligence will turn out to have been worthless.
Run Business Intelligence as a smoothly continuing process
The Intelligent organization should use Business Intelligence to ensure that information can easily – as a smoothly running continuing process – lead to improved performance and development of the organization. In this chapter, we briefly examine the most important preconditions for the adaptive customer and process-oriented organization:
Necessity: first of all an organization should examine whether it is indeed necessary to put effort in becoming an adaptive organization.
Expertise: the processors within the Intelligent organization need to be experts. They should have very good knowledge of business operations, business processes, customers, mission and strategy, the range of products and services and of the markets in which the organization operates or intends to operate. This answers the question as to where the organization can quickly adapt in order to permanently perform better.
organizational structure: the organizational structure should increasingly support collaboration between competent employees allowing the organization to quickly and properly adapt. Information technology often plays a decisive role in facilitating an adaptive customer and process-oriented structure.
Social infrastructure: we must impose new (or different) requirements on both managers and employees so to enable them to actually use information and knowledge to improve performance.
Plan Do Check Act
Besides cultural and behavioral changes the so-called Plan Do Check Act (PDCA) cycle plays an important role in achieving this. Both managers and employees should start acting differently: more goal-oriented thinking and reflection (plan, act), communicate with each other about figures (check) and act in accordance with the figures (do).
With Business Intelligence, the people within an organization can – and must – often work more autonomously. However simultaneously collaboration should improve too.
An Intelligent organization isn't simply the sum of the IQ of its employees
This is easier said than done, especially since it is often thought that an Intelligent organization simply is the sum of the intelligence of its employees. "Sometimes it seems as if the number of intelligent employees is inversely proportional to the intelligence of the organization" says Egbert Philips, former director of strategy of a large dairy company.
The social infrastructure of a smart organization should ensure that the whole is much greater than the sum of its parts. This could mean that there proves to be little if any synergy between those parts and that it is desirable to dispose of them.
Do you need all sorts of new tools to be intelligent?
Creating an adaptive organization does not have to involve purchasing all sorts of new tools. To the contrary: it is about the ability to smartly and logically merge, organize and combine existing resources, about unlearning certain behavior and about dismantling rigid structures in order to enable the organization to become agile and to respond faster. The ultimate goal is to develop a customer and process-oriented organization with a capacity to quickly respond to changing market conditions.
Learn more in our Business Intelligence training
Learn how to succeed with Business Intelligence in our unique Business Intelligence Training which is organized in New York, London, Amsterdam, Singapore, India and Australia.