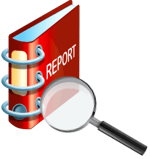 Interactive analysis or reporting? A well-executed – business-driven – information analysis ensures that many potential decision problems are already on the 'agenda' and that information and goals demonstrate coherence.
Identify additional indicators and key success factors
The indicators that are crucial for the realization of our strategy, for accomplishing our goals and for achieving our mission, are placed on the dashboard or in the reports. Interactive analysis powered by OLAP – playfully analyzing enterprise data – allows us to identify additional indicators and key success factors.
However, if the information needs are not sufficiently mapped, we can 'play' and analyze until we drop and not come across a key success factor or a problem that requires a solution, and if we do, it is more by hit than by wit.
This is because we lack a general frame of reference for the management of the organization, namely the correlations between the business processes, the strategy and the mission. Without a direction, we cannot know where to look.
Different stages in the decision making process
Practice shows that users initially require static reporting, but as soon as a problem arises – a dropping market share, growing number of sick leaves etc. – their need for interactive analysis increases. Research supports this finding (Borgman, 1984). Therefore, we require both Business Intelligence tools but at different stages in the decision-making process.
If we merely rely on interactive analysis, we might overlook problems. If we merely rely on reporting, we will be able to signal problems, but we will not be able to investigate these problems further (or just very limited).
OLAP actually boosts creativity and effectiveness
Moreover, when we allow employees to also use interactive analysis for so-called casual browsing – not specifically looking for something – this actually boosts creativity and effectiveness. When we casually browse, we go off the beaten track as it were and we open up for new ideas and different solutions. Overall, it is best to fully integrate both type of Business Intelligence tools, with all their facets, in a single Business Intelligence system and to ensure that they are compatible with one another.