Measure the effects of advertisements
A large French retail organization in the food industry that operates as a franchisor was not able to measure the effects of its advertisements correctly. Due to the economic decline, the organization was forced to minimize the marketing costs and to try to maximize the impact of its marketing efforts at the same time.
A major challenge was that different advertisements in the media (TV, online, papers) were mixed up and largely overlapped.
Registration needed to improve
To start with, the organization concluded that the registration of advertisements was not correct- much of it was registered using a spreadsheet – and thus needed improving. The improvement process also involved taking into account (nearly) all events within the marketing processes, thus also events such as a commercial that had been improved, shortened, lengthened or broadcasted following a different pattern. Additionally the planning of advertisements was recorded in order to be able to adjust stocks accordingly.
Importing the data in the data warehouse
Once the registration system was fixed, the organization began importing the data into a data warehouse on a daily basis. Various reports and analysis were developed in order to gain insight into the effectiveness of advertisements (revenue versus advertising period) per media channel, per market segment, per region and even per product and supplier (if applicable).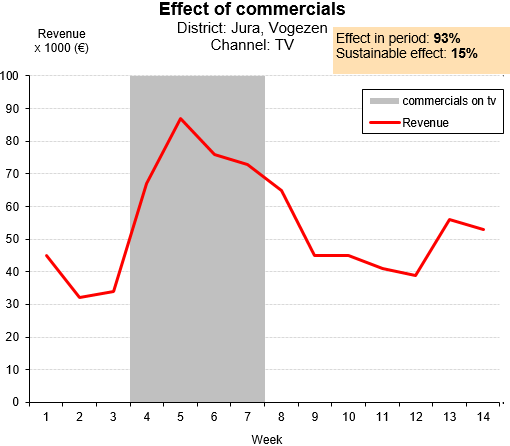 Figure: The (permanent) effect of TV commercials of a French retailer (of some of the products).
By also including the costs per advertisement in the report, the retailer was able to detect quickly which commercials were ineffective and to then adjust or withdraw them.
Not in repetition alone
Additionally, the retailer discovered an important correlation: the power of advertising lies not in repetition alone, but also in applying (small) variations and in withdrawing and re-entering the commercials according to a specific pattern. Within a year, the retailer earned back its investments and the registration system was greatly improved.