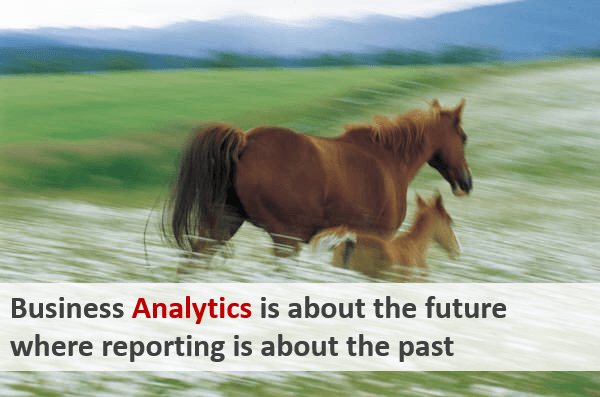 Business Intelligence is all about Business Analytics
A few Business Intelligence vendors believe that Business Analytics (BA) differs from Business Intelligence (BI). A couple of years ago a few vendors like IBM Cognos and SAS Institute said that the term Business Intelligence fall short. They find out that Business Intelligence is all about Analytics: analyzing data to get to know why things happen(ed) and what might happen in the future. Today, many vendors have adopted the analytics concept and they use the phrase 'Analytics' instead of the term Business Intelligence, or they use it in addition to it.
What do they mean by Analytics?
The huge difference between Business Intelligence and Business Analytics is what they say 'predictive analysis', 'predictive modeling' and fact-based management in order to drive better decision making. Where Business Intelligence is about OLAP, dashboards and reporting about the past, is Analytics about reporting about why things happen and events that might happen in the future.
Business Analytics does heavily lean on statistical and quantitative analysis, mostly on large data sets. Remarkable is that IBM Cognos and SAS – and the public with regard to them – are barely using the word business intelligence on social media. The graph below displays the difference between the amount of posts that are related to business intelligence and the posts that contain the word 'analytics'.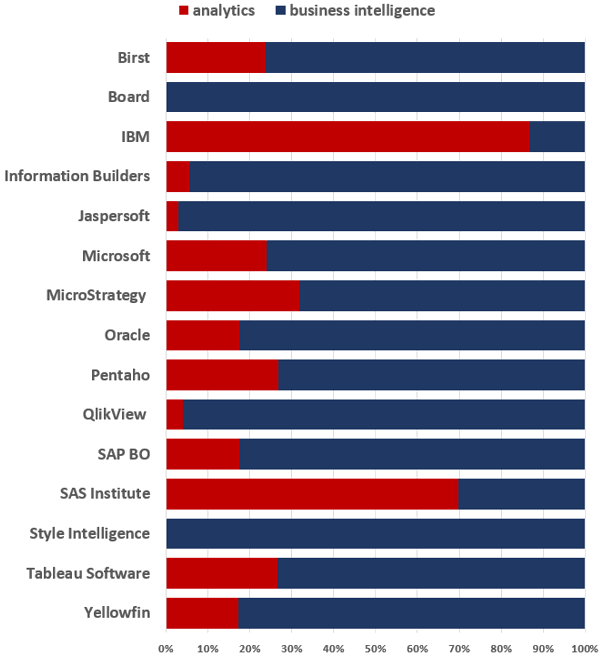 Figure: which phrase is used most often when people tweet or retweet with respect to the vendors, 'Analytics' or 'Business Intelligence'?
Some of the vendors are trying to convince us that business intelligence is dead and analytics is the new way to go. We see that mainly as marketing. In our view if you do business intelligence, you do analytics too. In the analytics area you can find most of the time the biggest added value, but without reporting, KPIs and dashboarding you won't be able to run your company.
Above graph tells us that the market is almost blue colored (business intelligence). The question we would like to raise here: why do IBM and SAS bet so largely on analytics and for how long will they maintain this course. In our opinion they lose at least some market share in 'traditional' business intelligence and reporting because of their almost compulsive focus on analytics. Read more in our vendor neutral Business Analytics Survey 2015.
Quit common
Such a shift in terminology is quite common in the software branch. Earlier Business Analytics software is called performance management, business performance management, corporate performance management and so on. But it is often the same software they try to sell. In our vision Business Analytics should be part of your Business Intelligence strategy, not an unimportant part. Read more in our article 'BI is still just called BI'.
What are the users looking for?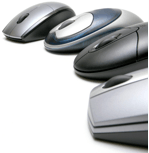 Is Analytics a hype or a lasting trend? We can't say anything about it yet. Maybe we are at the start of the hype cycle. Or maybe at the end. What we know from our research using the public statistics from the major search engines, people are by far interested in Business Intelligence. The search traffic statistics from a specific search engine (the worldwide market leader) shows that the search term 'Business Intelligence' is used 550.000 times a month worldwide, the phrase 'Business Analytics' is used 'only' 40.500 times. Based on these figures we may conclude that there is a big discrepancy between what the vendors are trying to sell and what end-users are looking for.
The best Business Analytics Software
A fully vendor independent and in-depth comparison of the best Business Analytics software is available for download. In the list of business intelligence software you'll find IBM Cognos and SAS as well as other popular vendors like Oracle, SAP BusinessObjects and Microsoft BI.
Based on our latest research findings eleven of the eighteen BI platforms we examined contain capabilities for Analytics or data mining out-of-the-box (not meaning that you don't have to pay additional fees):
Data mining and Predictive Analytics
The power of data mining lies not so much in discovering a correlation between a particular attribute and the target variable, but more in discovering relationships between combinations of attributes and a target variable. Usually, we are quite capable of discovering – albeit with some effort – the former with interactive analysis. The latter however, are less easy to find and more time consuming. With data mining, we might for example discover a correlation between the type of car someone drives, which sport someone plays and the spending patterns of credit cardholders, but only in the combination of all three. This is how it was 'discovered' that Volvo owners who play golf in fact spend a lot of money paying by credit cards, which makes them an interesting target audience. Read more about data mining.