When people talk about agile business intelligence, then they are often talking about the software development framework Scrum: the project management perspective. Or is it about the idea that BI can make the business more agile: the business perspective. There is still little attention given to making the BI process itself more agile, faster and cheaper. Nowadays this is quite simple. Then you need to keep out the traditional builders of report factories and dashboard collections (for now), because they often have little interest in minimising reports and dashboards. Business Intelligence frameworks can help you here.
Business Intelligence has two sides
In our vision, Business Intelligence has two sides: technology makes it efficient; the user makes it effective. The latter is evident from our national research into the success factors of BI. Making purposeful use – interpreting, discussing and analyzing – and targeted application of information appears to be decisive in achieving more success with Business Intelligence. It is this that counts, not the possession of a data warehouse, a collection of cubes or a business intelligence tool. These are 'only' to make the information logistics process more efficient.
Develop policies to make BI more efficient
The distinction between effectiveness and efficiency needs to be given more importance. The benefits of BI are too often lumped together. By making the distinction clear there can also be more specific policy to make business intelligence more efficient than is currently the case. Therefore Business Intelligence can also be made much cheaper. This does not mean that the two sides do not affect each other. Naturally a very efficient BI process can ensure a higher effectiveness of BI. A user who has to wait months for the information he needs will be less inclined to use that information and may not even trust it (any more).
The information logistics process: the BI cycle
The Business Intelligence cycle gives a clear visualization of the total information logistics process. Each step should contribute to the greater effectiveness of business intelligence, but must be tailored to the user and be carried out as efficiently as possible. From data collection to visualization of information to sharing knowledge, making decisions and anticipating actions that bring about changes. The objective of this 15-step process is to allow the organization to work much smarter and help employees to make much better decisions.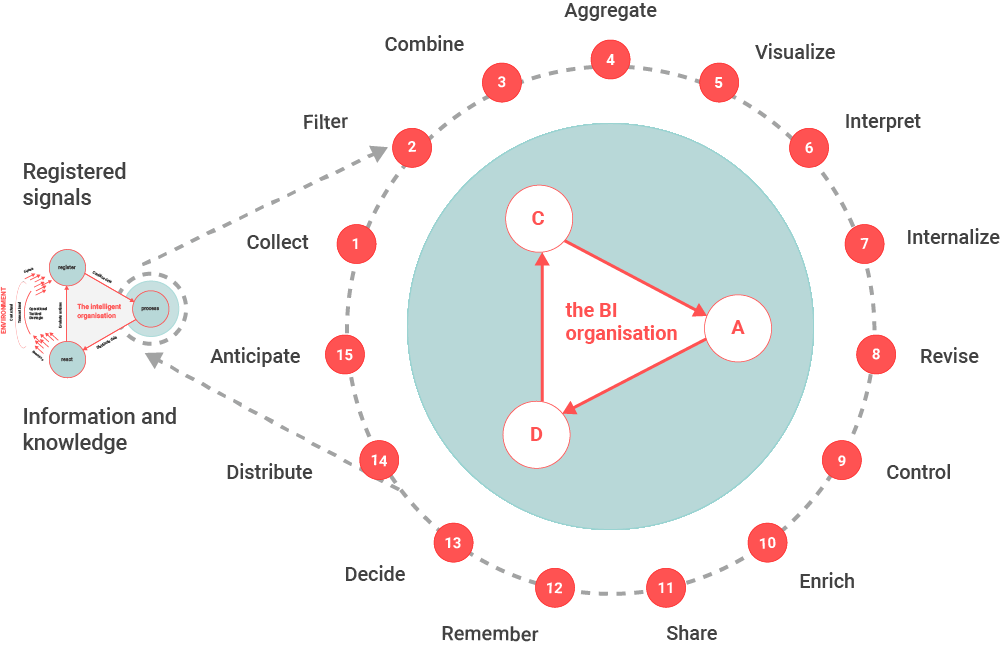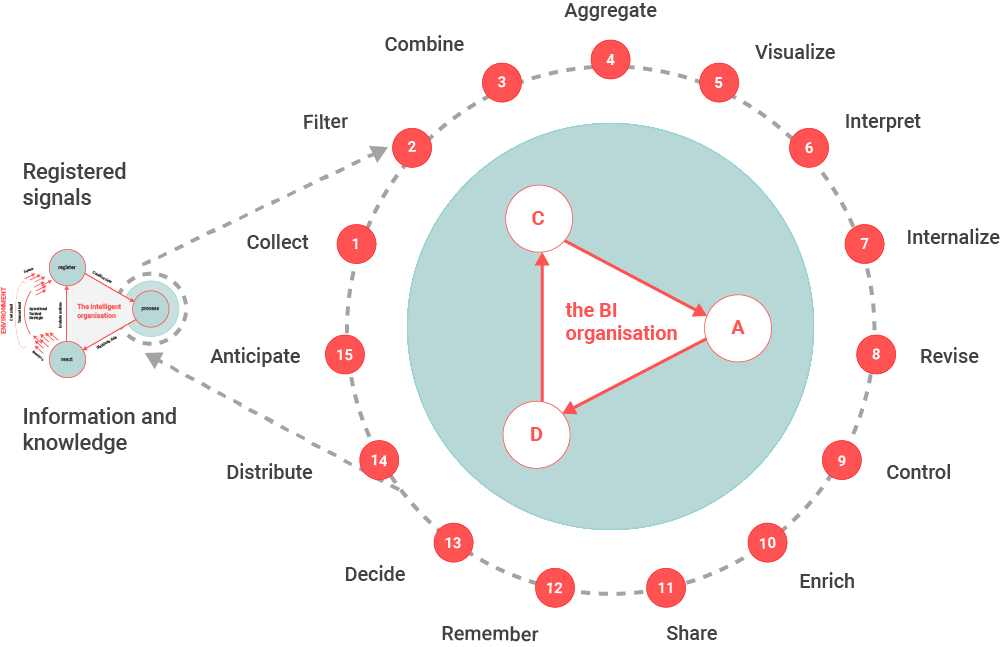 Figure 1: the (small) Business Intelligence cycle consists of fifteen steps.
The fifteen steps from the BI cycle (source: Business Intelligence book: The intelligent organization, 2014) can be divided into three main processes that roughly coincide with the three well-known layers in a software architecture:
Collecting: data layer with data warehouse and data marts
Analyzing: application layer with analytics, KPIs, data and text mining
Distributing: presentation layer with interaction, visualization, navigation and authorization
Much attention has been given to the data layer in recent years: collecting, filtering, combining and aggregating data from different sources. Data Warehouses and data integration tools (ETL), OLAP, model-driven ETL and business intelligence software are now commonplace. The automated support for the first four steps is therefore extremely easy to arrange. The efficiency of that part of the BI process is thus a given.
Fortunately, more attention to visualization and the User eXperience
Fortunately, in the last few years, more and more attention has been paid to data visualization, business discovery and the User eXperience (UX) and its importance. The domain of the presentation layer. This layer must also ensure that the right information comes to the right person at the right moment in the right format. And that is where the biggest challenge is at present. Not so much in the best or prettiest visualizations, the right format. There is already a lot of knowledge available about it. The big question is, how do we get that information to the end user as quickly as possible at the right time and especially tailored to his or her role in the organization.
To put reuse for BI explicitly on the agenda
Gartner only explicitly put the concept of 'reuse' for BI on the agenda in 2010. "Better later than never" could be said, but in the meantime there are a lot of BI environments that do not support the principle of reuse. If all the charts and tables in an organization were placed next to each other, a lot of overlap is often seen. For example, you will see sick leave or turnover growth over the last 12 months recurring several times in a variety of reports, analysis or dashboards. This makes it all quite inefficient and inflexible. At least when you know that it can be different, namely by using a business intelligence framework. organization roles and reuse are thereby very essential concepts (see box below).
Organization roles and smarter business intelligence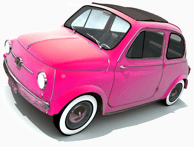 organization roles and smarter business intelligence belong together. Research shows that organizational success is strongly correlated with the correct naming of roles with corresponding tasks, powers and responsibilities in relation to information. This must then be translated into the necessary insights and smart, role-based systems: in a word, information logistics.
Role-based management and working, everybody does it
Yet, when it comes to building reports and dashboards, the functional way of thinking is often retained. That is indeed clear and defined (and gives the builders extra work). Marketing is marketing, sales is sales, HR is HR and operations is operations. Virtually the same charts (and sometimes even their associated definitions) occur in numerous functional reports. Besides the fact that this is not technically convenient to maintain, this also severely hampers professionals and executives in improving their performance. Professionals still have to examine multiple systems / folders in detail to find the information relevant to them. In addition, executives often have to click on a variety of reports and dashboards before they get to the right information.
Simplicity in Business Intelligence
Information is ideally organized around the organizational role. This provides simplicity for the business intelligence designer, reuse opportunities for IT, excellent usability for the professional and manager and time savings for administrators. A true BI consultant will always be committed to this.
First, make an inventory of the roles
A role is somebody who performs a certain task in a process and needs insight at a certain moment to add value to the company. Therefore, in the first place, it is important to identify a list of roles that exist. For example, a sales manager in the Southern region, the manager of a specific distribution centre, a medical practitioner, a hospital director, a buyer of a particular product group, a member of the board of directors, etc. The higher up in the organization, the more roles a person can fulfil to keep the organization running. Thus, the managing director can fulfil for certain key customers an account management role. One person can therefore have multiple roles.
Linking insights with business strategy
The next question is what insights a role needs to perform the tasks properly. These insights can consist of 1) operational, tactical or strategic management information or 2) data that is necessary at a specific point in the process to let it run efficiently and effectively. Both types of insights should ideally be linked with business strategy so that management can take place more or less automatically (self-management & self-organization).
Make insights as generic as possible initially
These insights will be detached from the role in the first instance and designed as generic as possible wherever possible. They are deduplicated in the design phase, in other words, they are made generic. Thus, a library is built up from reusable components. Moreover, the insights are again linked with the role at the final configuration of the roles, by parameters amongst other things.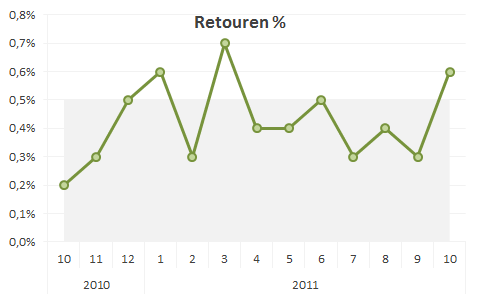 Figure 2: An example of an insight: the percentage of products that are returned by clients.
The parameters ensure that a generic insight from different perspectives (roles) at various levels of aggregation (customer, customer group, region or total) can be used, but needs to be structured and defined only once. It is finally stored in the insights library. Components (the insights) can be reused through this approach, by multiple roles in a large number of reports, dashboards and analysis. This saves a lot of time in design and maintenance!
Linking roles and insights to the process
By linking the roles and insights to specific transfer points in the process, authorization is automatically taken care of. In the first instance, a medical practitioner sees only those of his or her clients who are in treatment or who will be coming in soon. The manager of the Eastern region initially sees only those indicators and totals on the dashboard that are important for his role in the process. The labor-intensive and error-prone process of administering authorizations is a thing of the past with a role-based approach.
Business Intelligence Frameworks: generating dashboards
A business intelligence framework sets out who needs what insights and indicators at any point in a process. It is structured as a collection of organizational roles that pursue the same but sometimes different organizational goals together. Nicely visualized insights with meaningful indicators show the progress on this and the opportunities and threats. Filters, amongst other things, ensure that insights can be exactly tailored to the role. All this meta information is recorded in a model. Because of this, a customized dashboard can then be 'generated' for each role (and user), either manually or automatically. An example is shown below: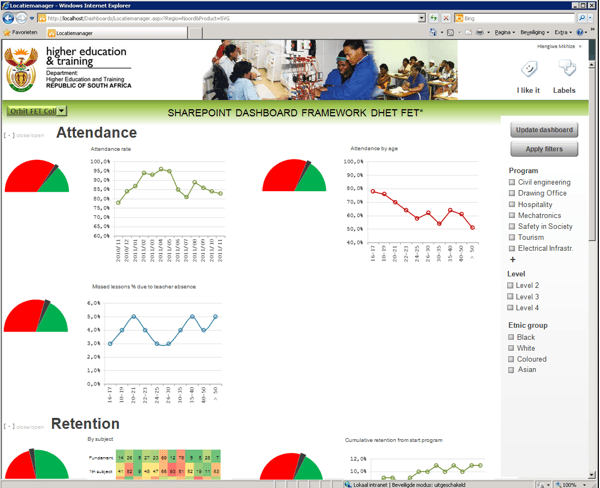 Figure 3: an example of a dashboard (for the role of College Director) generated by an underlying business intelligence framework for the Ministry of Education in South Africa (DHET).
The advantages of a framework
The advantages of a business intelligence framework have impact:
The user will instantly see the relevant information for him or her without having to click;
Authorization is automatically controlled, but does not form a tight restriction;
Low development and maintenance costs: create new dashboards in several hours and new (mobile) BI applications in a few days;
High flexibility: the implementation of a modification of the operation or appearance of an insight is a matter of a few clicks. It continues to work fully automatically in all reports and dashboards that use the insight concerned.
When such a framework is implemented, it is a small step to save the shared insights that are generated by the Business Intelligence tool as an image. Advantage: very fast response times that are comparable to websites. It also offers many opportunities to reuse these images, which can be automatically and invisibly updated, anywhere in the organization: operational applications, the intranet, PowerPoint slides, the annual report or mobile applications. This is also called embedded BI. Finally, costs can be saved because users who are only viewing images do not require licenses.
What BI tools support the principles of BI frameworks?
There are a number of principles that Business Intelligence tools must support in order to get the BI framework up and running:
Role-based reporting, analysis and dashboarding in one package
Be able to save insights in a repository (the library)
Be able to reuse insights anywhere such as reports, dashboards and analysis
Unlocking these insights into a portal via controllable portlets or web parts
The score of the different BI tools on these principles is as follows (source: the Business Intelligence Tools Survey):
Figure 4: the score of different BI tools indicates to what extent they support business intelligence frameworks.
With a score below five points the support for business intelligence frameworks is barely adequate. That does not mean that the software cannot do it at all, but probably only with a lot of blood, sweat and tears.
Conclusion
Actually, the logistic path that takes information to the end user is determined in a business intelligence framework. That costs a one-time investment: the mapping of organizational roles, the objectives and the business process, the associated indicators and finally the building of a library of reusable insights. Modifications to these entities occur very regularly in a typical BI environment. By using a BI framework these changes can be implemented quickly throughout the BI environment, for both the internal and any external users. All reports, dashboards, analysis, documents, web pages on the intranet, the website and the images on mobile devices are updated automatically. The ultimate form on which agile Business Intelligence takes shape. The use of BI in the organization can also increase due to this, while at the same time costs can be reduced.
Would you too like to make BI more flexible, cheaper and faster?
Then feel free to contact us for a discussion with one of our experts.