The amount of data is increasing day after day
As a result of the pressure in the current work climate the amount of time that managers and staff have to take the right decisions is decreasing rapidly, although the complexity of the decisions is increasing. This is complicated further by the fact that the amount of data needed to take good decisions is increasing exponentially*, the so-called Big Data. These two factors, time to decide and the volume of data, are diametrically opposed. As illustrated below the Business Intelligence gap will only increase unless organizations taken steps to tackle the problem.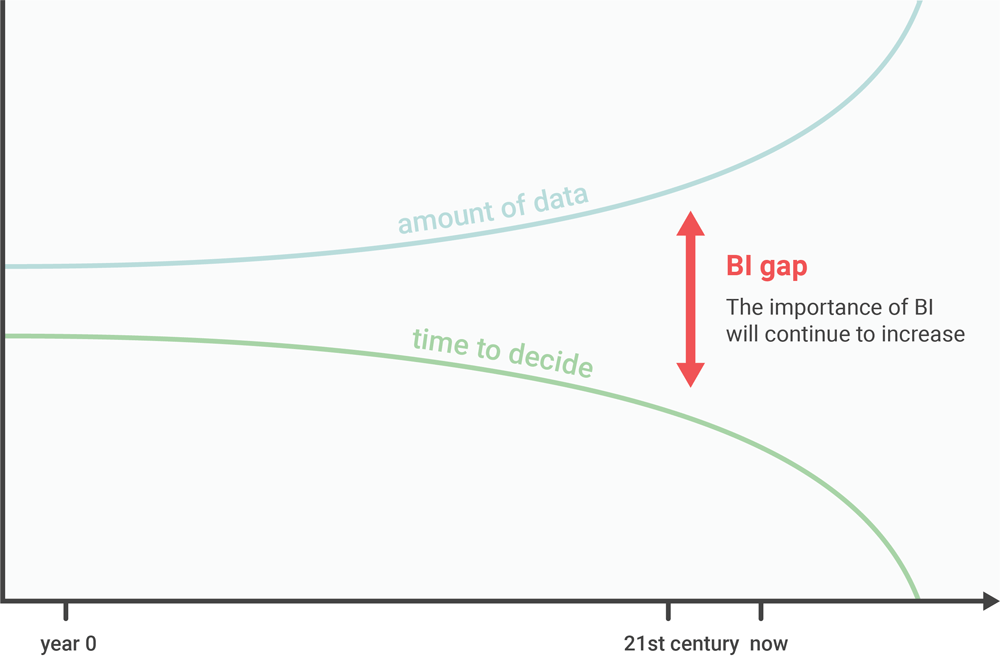 * The quantity of unique data doubles every three years (Lyman & Varian, 2003). According to other research this doubling actually takes place in less than three years and may be as little as 18 months.
Not only to survive but to prosper
As a result of the requirement for ever decreasing margins of error organizations need more and more sensitive tools to bridge the Business Intelligence Gap, to support the decision management process and not only to survive but to prosper.
We are confronted with more complex and broader issues
The ever increasing gap makes the successful management of our organizations even more challenging. We are confronted with more complex and broader issues, mainly as a result of the external factors – the business environment in which we now find ourselves. In the post-industrial economy most organizations are forced to deal with an ever increasing complexity together with a requirement for more and more flexibility. To deal with this we need quicker and better information to support the constant flow of decisions we need to take.
Combine internal and external data
In most cases we see that Business Intelligence is not used on anything but internal data, and this limits its' value. Particularly in the current economic climate decisions which are taken outside our own organizations – by customers, by vendors, by our competitors and by governments – have a much larger impact on our organizations than the internal decisions. It is clear that the role of Business Intelligence is to combine the internal and external information to allow us to take balanced decisions.