The definition of Business Intelligence (BI)
BI is an abbreviation of the two words Business Intelligence, bringing the right information at the right time to the right people in the right format. It is a 5-step process to run your business smarter, starting with registering the right data correctly, collecting the data from multiple sources, transforming, combining and storing it in a data warehouse.
This data should be reported, analyzed and distributed to the right people at the right time in the right format. The figure below shows these steps.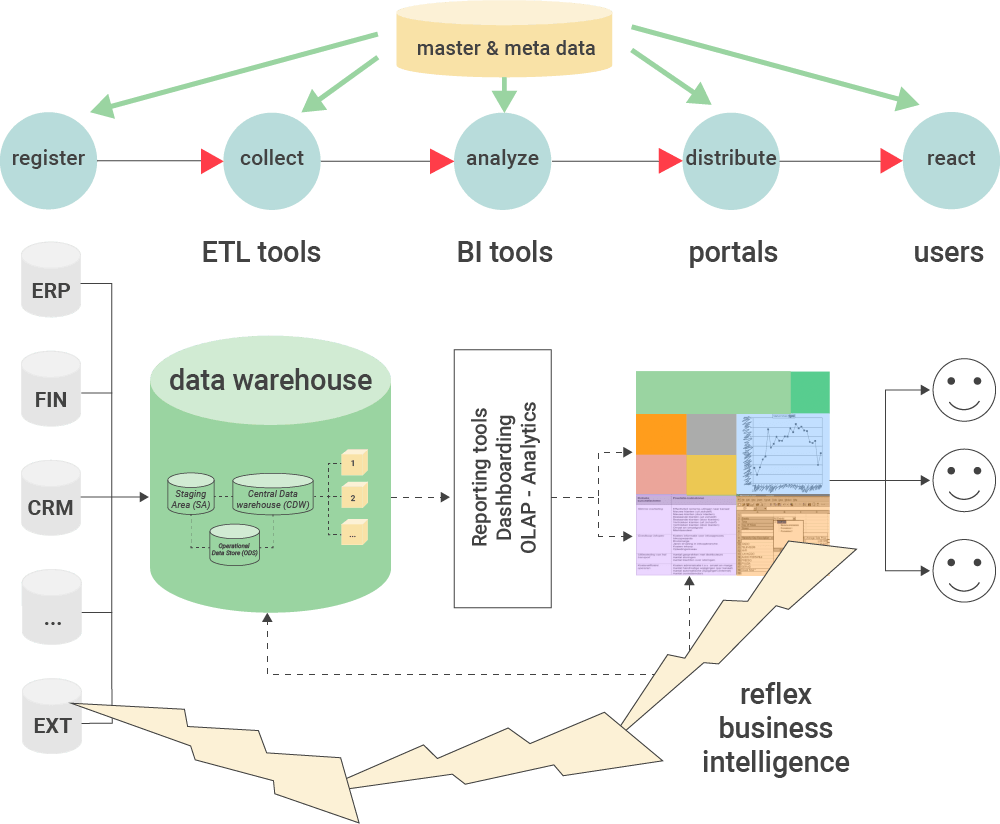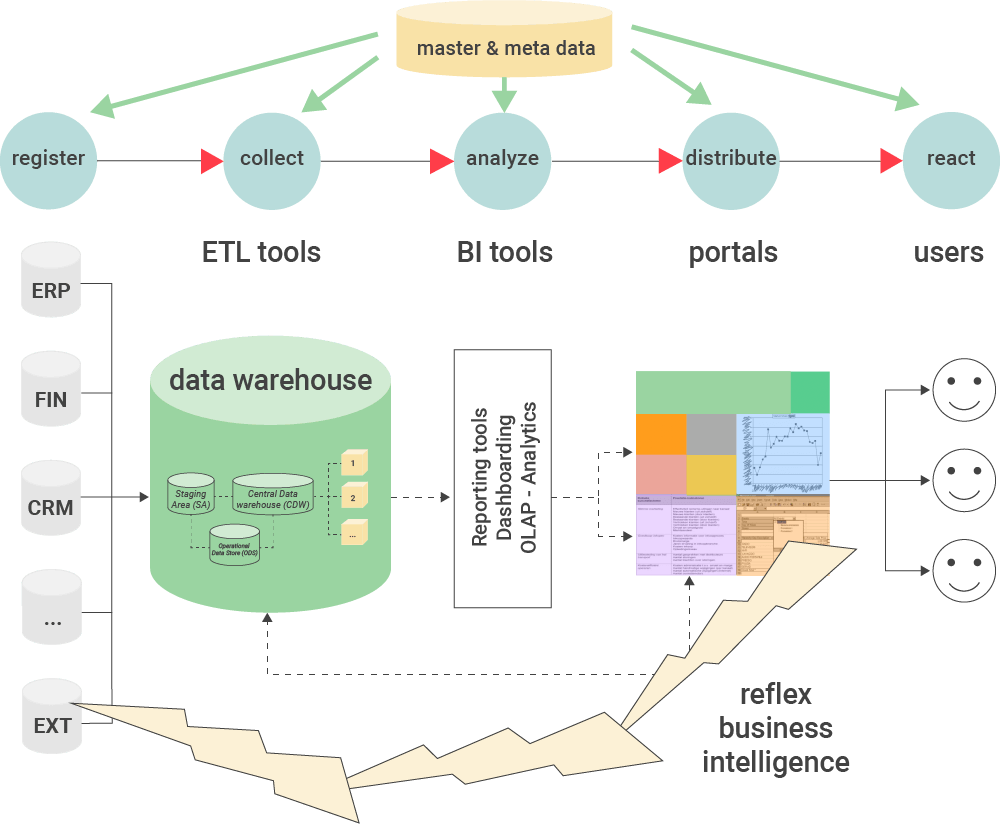 Learn more about Business Intelligence
Business Intelligence is about connecting people using a proper information infrastructure and performance driven culture, enabling them working smarter and more closely together towards company and personal goals. Different applications and tools may exist in a business intelligence infrastructure, including reporting tools.
Key resources
Basic Business Intelligence
This type of application is mainly used to understand the business processes, and the operational results, of the organization. This basic application contains often just a collection of reports, used for operational purposes.
Corporate performance management (CPM)
An application used to optimize the business processes of an organization, and more importantly to align strategy with execution, and vice versa. Key performance indicators (KPI's), key result indicators (KRI's) and performance indicators (PI) are defined in order to see how things are going, in perspective of each other. Once you have a performance management application running, you can alter and execute strategies more quickly. In a fast changing environment, this will not be an overkill.
Customer Analytics / CRM
For each organization, customers should be considered and treated as the most important business partner. Because of that, many organizations understand that to be fully customer oriented, they should have a 360 degree view of the customer. This Business Intelligence application, often implemented side by side with a Customer Relationship management system, collects all the customer data that a organization registers, combine it and display it to the users in different formats.
Marketing intelligence
An application to measure the effectiveness of the marketing activities, for example to measure the relationship between ads and the revenue by product. With marketing intelligence, we measure and analyze also market shares, market growth, brand awareness, the effectiveness of marketing campaigns and product portfolio. With this application we can get a clear view of the contribution of marketing to the other activities of the company.
Business Activity Monitoring (BAM)
This application, often called BAM, makes it possible to discover real-time or near real-time what is happening in daily operations. Mostly used to report sudden deviations in critical business processes from the standard patterns or norms, for example a sudden increase of the back log, or a decrease of the stock of some specific medicins. Thanks to BAM, people can get alerted before things are getting real worse.
Business Intelligence for the supply chain
Pivotal in this Business Intelligence application is integration of information with your business partners in a very structured way, using the internet, to enable a more smoothly running supply chain. It can support better vendor management, monitor stocks in the entire supply chain, give more flexibility to connect new vendors in the chain, enhance the speed and reliability of deliveries, and a on-demand supply chain.
Metadata management
Information about all the data that is processed, from source systems to target reports and dashboard, is often put into a metadata repository; a database containing all the metadata. The entire process can be 'managed' with metadata management, for example one can query how a specific key performance indicator (KPI) is built-up in the process, called data lineage. Or, you want to know what the impact of a change will be, for example the size of the order identifier (id) is changed, and in which steps this attribute plays a role.
Business Intelligence Tools
An overview of Business Intelligence tools is provided in the list of Business Intelligence tools. Click on the button below to order and download the Business Intelligence Tools Survey 2019.
An overview of ETL tools is provided in the
list of ETL tools
. Click
here
to order and download the ETL Tools & Data Integration Survey 2019.