BI reporting is essential
Every company needs effective BI reporting, so that employees and managers can see what is going on at a glance, and they are able to thoroughly analyze the underlying data. Reporting can be done directly on operational systems like ERP, CRM and so forth, or on a data warehouse containing OLAP cubes. Ideally, reporting should be part of your Business Intelligence platform, so you should consider using Business Intelligence tools to do reporting. Those tools have a lot of reporting functionality on board and are able to get much more out of your data than plain reporting tools.
Present information that is reliable, correct, and trustworthy
Key in reporting is that you present valuable information to the business user that is reliable, correct, and trustworthy.
In the first place you need Data Quality procedures to clean up the data.
In the second place you need clear definitions of the measures and dimensions. Validate them against both your business people and data sources.
And, last but not least, using data visualization, present the data in a way that allows your users to interpret the data very easily so they exactly understand what is in the report.
BI reporting for small to medium-sized companies
Big companies as well as small to medium-sized companies and nonprofit organizations need BI reporting tools. They can provide business users with information almost instantly, as well as providing insights and real intelligence. But, you need a BI reporting tool that matches the requirements of the business, the size of the company, and your IT infrastructure.
How to select a BI reporting tool
In the first place you should know which tools are available in the marketplace. The list of reporting tools helps you to get to know each BI reporting solution better. Then, you should consider making a long list of the tools. Approximately 6 tools will be sufficient. After making a long list you should make a list of selection criteria: which features do you really 'need to have' and which are 'nice to have'.
In the second place you should gather all the information from the vendors. That may take a while; based on our experience it takes at least several weeks. It could be that you don't want to wait that long. Then consider buying the BI Reporting Tools Study 2019 from the Passionned Group, a 100% vendor-independent comparison of BI reporting tools available on the market. We did a thorough comparison based on 169 questions in categories like usability, connectivity, core functionality, predictive analytics, mobile BI, and so forth.
Different Types of BI reporting
BI reporting isn't just a tool, it's a platform to run your business better using key information about your clients, vendors and business processes. An effective BI reporting platform consists of several types of BI reporting applications like:
If you need to select a BI reporting platform that fits your organization, we have gathered all the information for you comparing all the major solutions on a broad list of evaluation criteria which is available in our BI Reporting Tools Study 2019.
Business Intelligence Reporting
Business Intelligence provides an excellent platform for reporting and dashboarding in every company. Business Intelligence reporting helps you to structure the process of distributing "the right information to the right person at the right moment in the right format" very efficiently. Read more in the section 'What is business intelligence?' or download our BI Reporting Tools Survey 2019.
Below you'll find a nice example of a dashboard generated by one of the best business intelligence reporting solutions.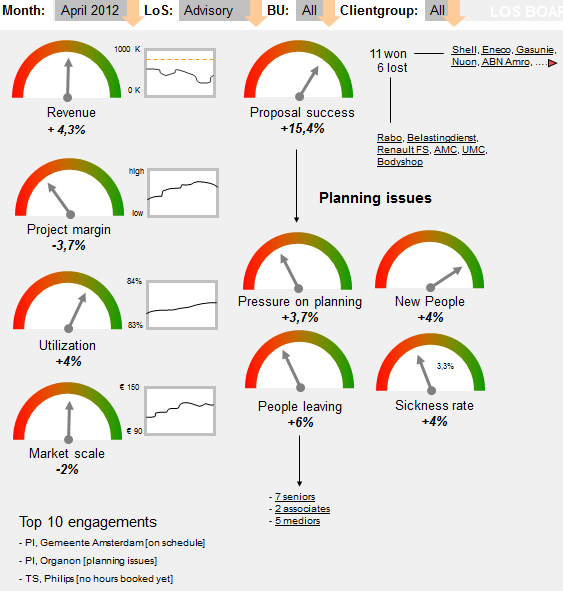 5 tips for better Business Intelligence reporting
Choose a Business Intelligence tool that matches best with your organization, users and IT infrastructure. Passionned Group's Business Intelligence Reporting Tools Survey 2019 helps you to perform a selection very quickly.
Before writing reports, first find out what your Business Intelligence users want to see in their reports and which key performance indicators (KPIs) drive your business.
Build a sustainable data integration layer, for example a data warehouse either with or without a data vault. Fill and maintain the data warehouse using ETL software.
Visualize the information as well as you can using standard lay-outs for your reports, present the information in meaningful colors and create some interactivity in your Business Intelligence reports like drill-down and slice-and-dice.
Apply role-based Business Intelligence reporting to ensure business users see instantly the information that applies (only) to them.
If you need to know what features BI reporting tools can offer, take a look at the selection criteria section of this website. The BI Reporting Tools Study 2019, written by the Passionned Group, contains a comprehensive guide for selecting reporting solutions, based on 169 selection criteria.
Role-based reporting & dashboarding

From research carried out at hundreds of organizations, it is clear that role-based reporting and dashboarding can be a highly effective means of achieving Business Intelligence success. By personalizing reports, analysis and dashboards, based on the role(s) the person has in your organization, you can ensure that, initially, they only see information that is highly relevant.
Causing information-overload
Omitting information that is out-of-scope might seem to be risky, because you are not always certain what your users want to know. However, a Business Intelligence system and dashboard that isn't role-based presents a lot of information that is not relevant to a particular user, causing information overload. And that is exactly we don't want to achieve with BI. Users still have to search for information, instead of having it simply presented to them.
The way they present information differs considerably
Role-based reporting and dashboarding are functions that are provided by nearly every Business Intelligence tool, but the way they have implemented it differs considerably. Some still present a full report, requiring the user to drill-down, filter, sort or click excessively in order to find the required information. Some tools, the better ones, make it possible to define roles within the BI system, and then link directly to information and data elements extracting only the information that is relevant to the role. Read more in the BI Reporting Tools Study 2019 which is now available for purchase.
Reporting software
Reporting software is used for creating and distributing valuable information and insights to your employees and managers. So you will be able to manage and control your business processes and the outcomes in a more effective way. This type of software is often an important component of a mature Business Intelligence platforms. The main objective is to improve the performance by creating & using intelligence and insights.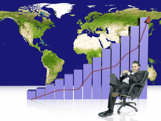 With the right information at hand, employees and managers are able see how things are going and are able to take better decisions. We have compared all the major reporting software that is available in the market on 169 key evaluation criteria.
Most important features
The most important features of reporting software are:
establish connections to one or more databases
define SQL-queries to be able to retrieve the data from the database
create plain and complex tables with data
format the data by changing the font size or color
apply exception reporting to highlight the most striking trends
filter, group and sort the data on one or more attributes
print or export the report to Excel or PDF, with or without formatting
100% independent comparison of reporting software
Today, there are many reporting solutions available on the market. Some solutions just do plain reporting and those solutions have fewer capabilities on board for creating 'real' intelligence. For that reason we did not compare them. We strongly believe that every report should contain (at least some) intelligence and relevant insights for continuous performance improvement.
The best reporting software solutions which are able to create 'real' intelligence, are often part of a complete Business Intelligence platform. All the strengths and weaknesses of the major solutions are included in our BI Reporting Tools Study 2019. It contains several graphs, expert opinions and a comparison matrix with all the details.