In a recent poll on this website we asked our visitors to vote for what they think contributes most to the success of Business Intelligence. Most voters (approx. 50%) think that the success depends highly on using the best Business Intelligence tool.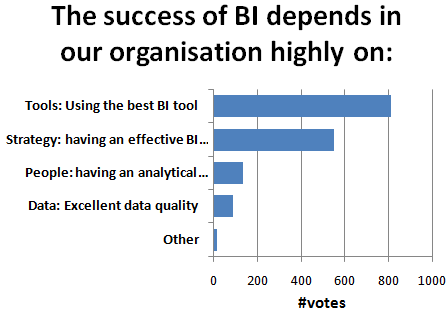 Can this be true?
In a recently held intelligence survey among nearly 400 organizations, across several branches, it became clear that the success of Business Intelligence depends highly on the analytical skills of people. Information should be used for analysis and action. The results of the survey are written down in the research paper "Making BI successful".
BI tools needed for an efficient BI process
Sure, we need good Business Intelligence tools for making the whole Business Intelligence process efficiently and smoothly running. In the Business Intelligence Tools Survey Report, available for download, we evaluate the most popular Business Intelligence tools in the marketplace across 169 criteria.