Much has been spoken and written about cloud computing, as well as about Business Intelligence (BI). You can expect a specialized BI research company and consultancy to follow developments closely and to share clear and stimulating views on various topics with you. In this way, we can help you to separate the wheat from the chaff and to make a good choice. In this article, we look at the 'BI in the cloud' phenomenon.
Cloud computing
The word 'cloud' is used to convey the image of a cloud in the sky. A cloud floats somewhere in the sky, one moment here, the next moment there. You know what it is but not exactly where it is. Some ICT services, applications or components can also exist in the 'cloud', somewhere out there on a server. You rent it on a 'pay-as-you-go' basis and use it through the internet without having to worry about backup & recovery, availability, security, scalability and accessibility.
To quote Wikipedia: "Cloud computing is the making available of hardware, software and data on request via the internet, much as electricity is supplied from the grid."
There are well-known cloud computing success stories. Think of Salesforce.com for CRM, Amazon.com and Google Apps. Nowadays we are more and more used to the idea of storing confidential data and management information externally, of course only if it can be properly secured. Many of the 'cloud' services are about data storage and the ability to use specific applications such as Office, e-mail, CRM and accounting. You turn on the tap or insert a plug into the socket and you can start working. This is how simply cloud computing works. Business Intelligence in the 'cloud' is a different story.
Business Intelligence in the "cloud"
The essence of Business Intelligence is to combine data from many different sources (integration) into reliable management information and new knowledge. This should lead to new insights for employees and managers and as a result, to smarter decision making and intelligent action. Furthermore, BI is much more of a process than an application. Every business can decide for itself whether it is convenient to store something in the 'cloud'. However, if we look at the specific characteristics of cloud computing and compare these with the characteristics of business intelligence we see in that comparison that there are a large number of points to be considered. We examine the differences from various perspectives.
The good news: many BI tools can be used via the browser
In the Business Intelligence Tools Survey, we see that virtually all suppliers can make usage functions conveniently available through the browser. They offer zero-footprint use, which is very important from a managerial point of view. That is the main pre-condition for being able to offer BI in the 'cloud' to large numbers of users. In this respect, the market and the technology are largely ready for each other. However, almost half of BI suppliers still need 'thick' client applications to configure and build reports and dashboards. Such applications are not accessible via the web (zero-footprint) and cannot therefore be put into the 'cloud'.
Generic versus specific: make profit that your competitor cannot make.
Cloud computing can provide specific business functions such as accounting for a (very) wide audience. That wide audience has broadly the same need. Business intelligence is so industry- and even company-specific that, while it can admittedly be offered as a cloud service, the question then arises as to how distinctive you can be compared to your competitor. The greatest added value of BI is in key performance indicators (KPIs) and analyses that are specifically tailored to your business. By managing based on these you can discover, amongst other things, where the 'rework' is happening in your organization and make profits that your competitor (still) cannot make.
A specific 'BI in the cloud' application for HR, with which you can monitor and analyze general indicators such as sick leave, staff turnover and other HR related issues is of course possible, especially if the source system is also running in the 'cloud'.
The suppliers and supporters of BI in the 'cloud' will say that you are completely free to organize your BI whatever way you want (of course you should be able to). However, that is of course completely inconsistent with the concept of cloud computing where you should be able to get BI by turning on the tap.
Sufficient bandwidth
There are still stories doing the rounds that the in-house data warehouse can only be updated at the weekend because of the huge amounts of data. A recent poll on our website ETLtool.com shows that 50% of the ETL community thinks that an excellent processing speed is the most important thing about ETL tools. If processing speed of data was not a problem, why do these people think it is important? In short, sufficient bandwidth to and from the 'cloud' is a minimum requirement, to be able to process the data from the source systems at a reliable speed.
The E in ETL remains completely unused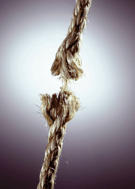 Another problem is making the best use of an ETL tool. If the data warehouse is run externally and an ETL tool is used for extracting data out of the source systems, then the environment where BI runs in the 'cloud' must have direct access to those systems. From a security point of view that is often not desirable. Incidentally, the choice is then often made to make the extraction files in-house and subsequently send them via the line to the 'cloud' environment. The E out of ETL remains completely unused and you are paying for it.
Applications versus architecture: just hack the mainframe?
Cloud computing is particularly suitable to be able to control, manage and allow the use of specific applications such as CRM remotely. Business Intelligence in itself is not an application but an essential component of your enterprise architecture and must be able to communicate well with the other architectural components such as source systems, web services, the identity manager, for example via LDAP or Active Directory, and the master data manager.
An example where 'BI in the cloud' is difficult, is a pension fund that, during the processing of the data in the data warehouse, must refer – via a so-called 'remote call' to the mainframe – to the huge pension book in which all the rules to calculate the future payment are set down.
VPN connection
If the processing of Business Intelligence takes place externally, you cannot just 'hack' the mainframe. Naturally, it is possible to set up a VPN connection and to approach it this way. This then requires that the VPN connection has to able to make a 'call' for each row with data to be processed separately. In the case of the pension fund, there are several million pension beneficiaries and a call must therefore be made via VPN – where bandwidth is theoretically guaranteed but there are peaks and troughs in practice and other oddities – for each customer. Such millions of one-on-one transactions are sometimes much more difficult to achieve over VPN than a few bulk transactions, primarily because authentication is necessary for each individual transaction.
If VPN is not an option, for whatever reason, a different solution may be considered. The things you need in your BI environment are defined and published as an in-house web service, also for external use. However, that also brings many security issues with it – like opening up certain ports – and sometimes a lot of work because functions in (back-office) systems are not automatically defined as web services. Especially in (local) government where dozens of source systems are the rule rather than the exception.
BI portal versus enterprise portal: linking action to information
BI is increasingly offered via an enterprise portal in the form of web parts and applets with charts, reports and meters, to facilitate management information and action within an environment. Therefore, not only is information made available in such a portal, but employees and managers also have access to specific functions in applications to perform tasks and workflows can be started across different applications. Below the surface, everything is managed via meta data.
When BI in running in the 'cloud' and the portal is in-house, it creates a significant challenge for the single sign-on (SSO) system. Internal authentication methods for access to in-house applications – which is already a challenging problem in itself – are not necessarily appropriate to access a 'cloud' application via the internet; they often use other methods such as OpenID and OAuth. Users will need to log into the 'cloud' and enter their credentials again and again. Now there are solutions like OneLogin and Sherpas, which make an SSO web service available via the web for automatically controlling access to underlying (BI) applications. However, this means your entire security will be external. This will be a bridge too far for many organizations.
The other way around is also possible: make sure that the enterprise portal runs in the same 'cloud' as your BI. However, you then have a major challenge to gain access to all the necessary source applications that run in-house from the enterprise portal.
BI as a technology versus BI as a process
Many people see and define BI in their own way. It was once put in the market by suppliers as a technology to be able to report on and analyze business data flexibly. A wonderful solution that can have a lot of added value. However, research shows that it is not technology that is important to the success of BI, but rather the use of information, the joint creation of new insights and knowledge in the context of the PDCA cycle and process management. To use management information in a way that leads to analysis and action. In that sense, BI should never run in the 'cloud', the intelligence process should remain in-house. You wouldn't permanently outsource your brain to your neighbour, would you?
We will shortly be putting this question to the candidates and winners of the BI Awards in recent years. I cannot imagine that Ahold would think of putting their very profitable BI, with a complex architecture where the intelligence process is largely driven by the store managers and suppliers, in the 'cloud'.
Consider BI in the cloud?
External business intelligence may be considered if all of the following conditions can be met:
all usage and management functions of the Business Intelligence tools used by you are available through the browser (zero-footprint);
there is sufficient bandwidth to load the data daily or in real-time into the data warehouse or when the source application(s) are running in the same 'cloud' as BI;
users do not find it annoying to have to log in separately to the 'cloud';
the BI applications are simple and relate to one specific theme, for example HR;
no integration is required with an enterprise portal, now and in the future, or security of information is not an issue;
the intelligence process continues to run in-house.
We do not believe it is likely that your situation meets all these conditions. If it does, then perhaps you should ask yourself whether business intelligence in your organization receives as much attention as it deserves.
Comment? More information?
Do you want to comment on this article or want more information on this topic, then please leave your comments below or contact Daan van Beek, author of the business intelligence book: The intelligent organization and Managing Director of the Passionned Group.