Unique 2-day training in Business Intelligence & Analytics
In our Business Intelligence Training you will learn everything you should know to make a big success of BI / Analytics in your business. You are convinced that with the right information and key insights better results have to be achieved but also perceive that this isn't easy, because:
How to find the 1 million dollar insights, genuine kpis and do you make a business case?
How to deal with Big Data, a diversity of data sources and Predictive Analytics?
How to take care of the most critical BI success factors?
How to involve all the stakeholders (both business and IT) in the BI initiative?
Which BI tools are in the market and how to build a sustainable BI infrastructure?
What is the best project approach, what are the right steps to take and how to manage the risks and opportunities involved?
If you need answers to one or more of the questions above then our 2-day Business Intelligence training would be highly recommended.
Implement BI process improvements with success
In two intensive course days you will get acquainted with all the business intelligence aspects that are needed to successfully implement BI process improvements. People who completed our 2-day BI training are perfectly equipped to take the rights steps / decisions in their BI project.
Customer testimonial: would be pleased to attend again
"Very organized, good pace, calm/cool delivery, instructor is very "thoughtful" and encouraged participation, would be pleased to attend again."
Ross Smith
Washington, USA
What you will learn in our Business Intelligence training
You will learn all you need to know about key performance indicators (KPIs), data visualization, data warehousing, project management, achieving success with business intelligence, Big Data architectures and tools, predictive analytics and mobile BI. Become a true master in Business Intelligence and attend this unique, interactive Business Intelligence (BI) training.
The training program, 100% vendor neutral
This practical Business Intelligence course is 100% vendor neutral and will provide you with compressed, direct applicable knowledge to make a real success of business intelligence. You will learn all the skills and technics to achieve success. Delegates of this training will be prepared in two intensive days for a leading / advisory role in BI:
Part 1: The basics, trends in BI & Analytics, KPIs & world class intelligence
During part 1 of our Business Intelligence training, you will learn the basics of BI and all the important
business case aspects
of Business Intelligence. International trends are covered and you will learn how to define genuine key performance indicators and 1 million dollar insights, letting your company achieve real performance breakthroughs.
The 5 major international trends:

Mobile & social BI: will everyone be going to be connected to Business Intelligence?
Big Data: a hype, big business or somewhere in between?
Business Analytics (BA): are the vendors trying to create the next hype?
Self service BI: even more easily than before, users can produce nonsense?
Business Intelligence in the cloud: what are the benefits, the possibilities and the impossibilities? When should you use it and when not?

Measuring Less & Knowing More (KPIs):  "Core performance metrics often fail to register trouble on the horizon". Important lessons from Harvard are used to demonstrate the importance of having the right metrics on your dashboard. You will learn what key performance indicators are (including the 7 characteristics), what they exactly measure and how to identify them. This module ends with a practical KPI assignment where you exercise with the KPI decision tree.
World class intelligence: In this part of the business intelligence training you learn how to create world class intelligence: how do you discover and define 1 million dollar insights for your own company? Trainer Daan van Beek demonstrates a real live example report worth 8 million dollar. In addition you'll learn how to use these key insights, and above all how to benefit from them in order to increase your companies' profitability and the return on investment (ROI). Finally, an analytical assignment is given to find these insights in your own organization.
Part 2: Data visualization, project control & governance, predictive analytics
After the break the training continues with an after lunch intermezzo about data visualization. Then we will present you the most important insights into project management and the governance you should have in place to implement sustainable solutions. During the last topic of the day you will become familiar with Predictive Analytics & Modeling, mainly from a business and information management perspective.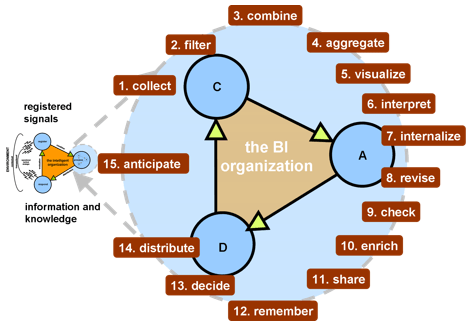 Data Visualization: after lunch intermezzo: How to turn your data into actionable insights? You will learn all the fifteen steps that are involved in BI / Analytics. Many of them are very important with respect to data visualization. Next you will learn the psychology behind data visualization and decision making; a top documentary from the BBC 'How to make better decisions?' will be discussed. In addition you will discover when to use lines, bars, bubbles, animation, pies, colors and more important, when not. The intermezzo ends with a few practical assignments.
Project management & governance: This part of the BI training starts with how to make a solid business case for Business Intelligence. And you will get familiar with the 10 steps to project success: a proven project methodology. And you will learn what is needed to do agile BI & scrum. Next the most important pitfalls are covered (and how to avoid them) and the key topics that should be in your project plan. Finally, a business intelligence governance & maturity model is presented.
Predictive analysis & modeling: This part covers all you need to know about predictive analytics from a human perspective, machine learning, data mining & text mining. What are the best algorithms? And, what are typical applications of predictive analytics? Finally, an overview of the tools is given and this part ends with a group discussion and assignment.
Part 3: Predictive Leadership and Business Intelligence frameworks
During part 3 of the Business Intelligence training you will learn all the important principles in order to accomplish Predictive Leadership, the highest level of maturity in Analytics. And you'll discover the major benefits of having a Business Intelligence framework in place.
Predictive leadership: How to establish predictive leadership? The trainer presents several cases and the steps to a successful implementation of predictive analytics. Learn how the Police of Amsterdam catches more criminals with analytics and solved more cases. How did they get the job done? What were their steps to success? In addition this part covers also the 5 biggest pitfalls in predictive analytics, which type of data is needed and the best predictive analytics architectures.
Business Intelligence frameworks: You will learn how to define and implement a BI framework establishing role based access to your reports and dashboards. Such a framework helps you:

to achieve superior performance and enhance the User eXperience (UX)
to provide the right information instantly to the right person in the right format
to lower the maintenance burden on reports and dashboards substantially by the concept of reusability: object orientation + inheritance applied to BI.

You'll discover in addition how to create business intelligence dashboards /apps in a few hours.
Part 4: BI architectures, tools & the 12 key success factors in BI / Analytics
The last part of this unique BI masterclass covers the subjects BI architectures, BI tools and the most critical success factors in BI / Analytics.
BI architectures: You will going to understand deeply what a data warehouse is and 

why and when you should have one. The training elaborates also on the most common used data warehouse architectures / models: 

3NF, data vault, star scheme and snow flake, and explains the differences. This module ends with an architecture assignment.
Business Intelligence tools: in our Business Intelligence Tools Survey we have researched all the major Business Intelligence Tools in detail, at least 90% of the market is covered. The trainer gives an overview of the market, elaborates on the different vendors and tools, presents the most important selection criteria and explains why they are so important. Finally, the major steps in the software selection process are presented.
Key success factors in BI: from a detailed study among 400 organizations it became clear that achieving success with BI / Analytics isn't quite easy. In the same study the researchers discovered the 12 most critical success factors involved in achieving a better financial performance with Business Intelligence. In addition the Ahold case is presented and discussed. They won the Dutch Business Intelligence Award for their outstanding achievements in BI / Analytics. What can we learn from them? This part ends with a group discussion and finally the trainer gives a wrap-up of the two days.
Why should you attend this BI-training?
✓ In 2 days you will learn the basics, the key details and latest insights
✓ Very practical, direct applicable to your daily business to improve BI / Analytics
✓ Letting you become more successful with mastering business intelligence
✓ Many examples, top cases, best & worst practices and tips
✓ High Quality: average evaluation scores 4.4 out of 5 (more testimonials)
Customer experience: Excellent!
"Excellent! The Business Intelligence course of the Passionned Group provided me with an understanding & best practices and approaches that help me feel that a BI strategy + a DWH are within reach."
Todd Nicholls
New York, USA
Who should register to the training?
This Business Intelligence training is highly interactive and is developed for Business Intelligence consultants, IT managers, architects, BI managers, Directors of Finance, managers of performance management, data warehouse managers and for everyone who is interested in being more successful with Business Intelligence, reporting and dashboards.
Are you interested in attending this Business Intelligence course?
Places are limited so, if interested, you should book pretty early.