We have all heard that Business Intelligence projects have a high risk factor. The experts tell us that between two-thirds and three-quarters of BI projects do not deliver the desired results and that the number of users remains stuck at no more than a quarter of the potential. Oddly enough, this has hardly changed in the last 20 years. The software has improved, the machines have become faster, client-server has been replaced by the web, we have iPads and other mobile devices, yet people remain dissatisfied with the Business Intelligence platform chosen by IT and go back to Excel spreadsheets as a kind of safe haven.
There are currently a number of movements in the market that could solve this problem, but they are so different from the conventional wisdom that they will at least lead to some interesting discussions within many organizations.
Bring your own Software (BYOS)
Similar to the Bring Your Own Device (BYOD) concept, we now have Bring Your Own Software (BYOS). Enough to give most CIOs a heart attack, but this is definitely a possible future scenario. On the one hand, many companies are buying specialist applications, for example, to analyze buyer behavior or to search for fraud through pattern recognition – functionality that is usually part of Business Intelligence.
On the other hand, all industry analysts accept that Excel is the undisputed leader in information provision. The analysts, including ourselves, are still struggling to call it 'Business Intelligence', but it is the source of a lot of management information in many organizations. Because the use of Excel is outside the control of IT, it can more or less be considered as BYOS. The new generation of BI suppliers expect that the traditional products (Cognos, BusinessObjects etc.) will remain the official IT standard in the future, but will actually do no more (or less) than provide production reports. The business itself collects the real intelligence.
Who will use the software and what for?
Following the Business Analytics Survey report, we are quite often asked who makes the best BI platform or what the best product is. If it was that simple, it wouldn't have been necessary to update and publish the report four times a year since 2007. One of the main questions when choosing a Business Intelligence platform is "who will use it and what for?" Albert Heijn won the BI Award in 2008, and they showed the following image in their presentation: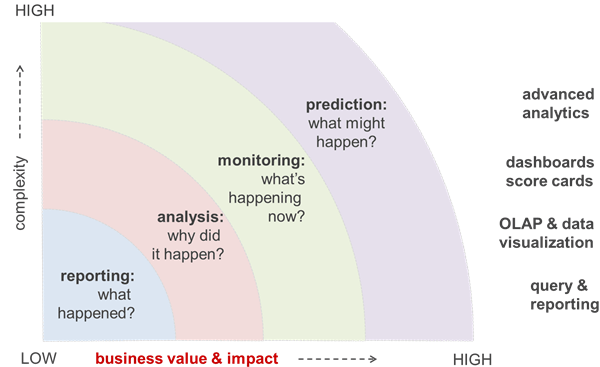 Figure: Business Intelligence platforms and different functionalities of BI / Analytics
This indicates in a very simple way that there are at least four different types of Business Intelligence functionalities and four different types of users. 'Complexity' is on the vertical axis. Broadly speaking, this has to do with the infrastructure that is necessary to implement the functionality and it also gives an indication of the costs. 'Business value' is on the horizontal axis – the basis of Business Intelligence.
Although there are platforms that are able to fill all four layers, my approach in a selection process is to buy one product per layer or to choose four possible "best-of-breed" solutions. Previously, we thought it was better to choose a single integrated product, but too many of these implementations have not been successful in practice. The tendency nowadays is to let the different user groups choose the products and to let IT provide an infrastructure that ensures the integrity of the results.
Business Intelligence or Analytics?
Currently there is a discussion in the market about a new name for what has already been called Business Intelligence for more than 20 years. Even the CEO of one of the major suppliers has said, "We no longer do Business Intelligence." That might be of interest to industry analysts, but it is rather boring for a company that needs the functionality. Learn more: Sentiment analysis shows: BI is still just called BI.
This indicates the difference between the analysis of structured and unstructured data and positions the different levels (similar to Albert Heijn's image). It is expected that people will start doing more with unstructured data, including from sources of social media like Twitter and Facebook. Basically, Analytics goes beyond traditional Business Intelligence, but the naming has more to do with the supplier marketing than with the software.
Do you need assistance in selecting the right BI platform?
If you have any questions or need assistance in choosing a BI-platform contact us for an appointment without obligation or order and download our survey today.