Develop, measure, and refine your strategy using Balanced Scorecards
As a manager, team leader, or director, you need a crystal-clear strategy. The strategy obviously has to function and be supported by the workforce properly; but you also want to be able to monitor the results of the strategy, so you can manage performance and course-correct. The Balanced Scorecard (BSC) is a very helpful tool for all these things.
Effective management and predictions
A Balanced Scorecard looks past financial indicators alone and makes more effective management possible. This model allows you to fine-tune cohesive goals, KPIs, norms, and initiatives, in order to create alignment, which is what makes it so effective. Furthermore, a Balanced Scorecard combines key financial numbers with their underlying performance drivers effortlessly. Every intelligent company and financially healthy organization works according to the principles of this model. Driving on finances alone is a bad situation, because doing so means always running behind current events. Key figures are the results of many underlying processes and combinations of activities. With a Balanced Scorecard you can start measuring earlier in the process, and course-correct where necessary. That allows for greater control, and gives KPIs greater predictive value.
The 4 perspectives: Balanced Scorecard
These perspectives indicate the most important questions to ask and answer to identify the strategic goals of your organization.
1. Financial perspective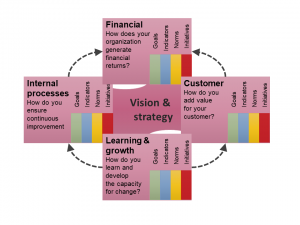 How does your organization generate financial returns? This perspective is about establishing how you generate revenue and establish profit margins. What are the crucial factors? What are your cash cows?
2. Customer and market perspective
How do you create/add value for customers? How do your customers experience the added value of your products and services? That will be clarified in the customer perspective.
3. Internal business processes perspective
How do you ensure continuous improvement of processes? Pay special attention to waste in your business processes, productivity improvements, and hiccups in your (mostly) primary processes. This will be elaborated on in the business processes perspective.
4. Learning and growth perspective
How do you remain capable of permanent development and improvement? This is about hard and soft factors. Think about the development of specific competencies, training, and the development of a future-proof IT infrastructure.
It's not surprising that research shows that organizations perform better on the long term when they invest in the learning and growth perspective, which also involves innovation. Aside from that, they focus primarily on the optimization of internal processes and especially increasing the added value for the customer. Financial growth will naturally follow.
Three important components
The benefit of the Balanced Scorecard is that it makes the strategic contribution of the performance drivers behind the financial results directly visible. Every financially healthy company uses it. The successful execution of a strategy requires three components:
1. Describing the strategy using a strategy map.
2. Measuring the strategy using genuine KPIs.
3. Managing the strategy using dashboards.
The biggest advantages of working with a BSC
✓ The focus is on goals that really matter, 100% aligned.
✓ Use one model to develop, monitor, and measure your strategy.
✓ Your organization becomes more agile.
✓ Financial results improve, there's less waste.
✓ More satisfied customers and employees.
External Resources
Do you want to know some of our inspirations when it comes to Balanced Scorecards? Here are some of our resources:
The 7 biggest pitfalls of a Balanced Scorecard
Successfully using a Balanced Scorecard means considering some crucial aspects. They're essential to successfully implementing a BSC in your organization. Here are the 7 biggest pitfalls to avoid.
1. No performance/improvement-driven culture
You and your employees have to want to achieve something substantial and deliver a performance like pro athletes, all from a passion to keep improving for your customers. To do that, you need a winner's mentality, because you're sure to encounter setbacks, but you can't give up. And don't forget: preparation, discipline, rest, and rhythm. If there's no culture of performance, then a company has little use for a Balanced Scorecard or KPIs, because they can't or won't keep raising the bar. Employees can't see the higher bar, or they don't know how to prepare for it. What can you do to create a more performance-driven culture? Start with giving and receiving feedback in your organization or team. Do this regularly, and practice doing it. Also start discussing the most important KPIs, not every month, but weekly, for example. But don't judge your people: make sure there's a safe learning environment. That's management's job.
2. No knowledge about change management
A Balanced Scorecard track is basically a process of change. You want to explore what makes your organization tick together and visualize that using strategy maps. And then everyone discovers that their priorities should change, and that their efforts are part of a much larger whole. A BSC exposes those connections and dependencies. You might discover that the current way of managing totally has to change, and that many things could and should be better. That also means a different attitude and new behavior from employees and managers. Also, everyone in the organization has their own opinion and perspective on the state of affairs. You want to join heads and come up with a new business model or strategy together, so your people have to come to an agreement. To make all this change go smoothly, you need a lot of practical knowledge of change management, and a good amount of experience in implementing new concepts like Balanced Scorecarding. Here, too, think big, start small. And experiment with the new concept until your people understand what really matters.
3. No urgency
The need for a Balanced Scorecard should be clear to everybody. Can you clearly define what's wrong with the current strategy and direction? What's the benefit? The organization's leadership should be able to make this clear to everybody, while bringing home the urgency. This is important because the costs of investing in a Balanced Scorecard can mount quickly. Especially when you bite off too much and want to do everything exactly by the book. Aside from the advantages of BSC mentioned earlier, there are more advantages, such as:
Teams that can work in accordance with the strategic goals.
An organization with less hierarchy, abuse of power, and internal politics.
A much better value proposition for customers.
Driving on facts, not intuition or gut feeling.
You can compare these advantages to the "advantages" of your current way of working. That comparison will expose a business case for working with a balanced scorecard and brings home the urgency, usefulness, and necessity.
4. Not working data-driven
If everything is on paper, you're off to a good start. Now you have a mission and a strategy map for the entire organization. You also have strategy maps for the various teams, so they know what goals to strive for. The first step is complete, but you're not past the finish line yet. The Balanced Scorecard can also be used very effectively to manage and refine your strategy. But you can only do this well if the critical success factors in the strategy map have been translated into KPIs. And you want to monitor them with a dashboard so that you can drive them. The KPIs have to be filled with the right data. That process should be automated to make it efficient. A spreadsheet definitely isn't the right tool to do this. Automating it is a sizeable task, because you have to clarify the definitions with everyone. How do you measure lead time? What is a customer? These are the kinds of questions that can be raised. This process of filling in the KPIs with the right data is called Business Analytics and data-driven working. These are skills the organization should have, or build up, to succeed in implementing a Balanced Scorecard.
5. Not unique enough
You can't copy a competitor's strategy, although that may seem like a smart move. The same goes for a Balanced Scorecard: it can't be copied. The great value of this concept is that it can be refined and narrowed down over time so that eventually, no other company could copy it, even if they knew every detail. That's because your organizational strategy is embedded so deep in your people, processes, and systems, that it becomes an organizational competency. That's what makes your Balanced Scorecard unique, and what makes it a powerful strategic way to stay ahead of your competitors.
6. No balance in management
The Balanced Scorecard is the essential instrument in creating balanced management. It also enhances the synergy of various activities (source: Foundations of the Balanced Scorecard). And yet we see a lot of tracks where the focus is on the financial perspective. Such an implementation is doomed to fail. You're actually hurting your Balanced Scorecard. It's crucial to learn to understand and improve the underlying driving forces of your financial performance. To avoid this pitfall, it's best to start at the bottom with the critical success factors in the learning and growth perspective. That's where you can find the original passion and core expertise of your organization. From there you can work your way up. Through your internal processes and customers, you can finally reach the critical success factors for financial growth.
Client Testimonial
"Passionned Group challenges the organization and isn't easily satisfied. They make sure to get results."
Fons Catau
General Director
De Woonplaats
7. Too many indicators
After critical success factors, you can start determining indicators. In this way, you can make your strategy and critical success factors measurable, one by one. But you'll quickly find out that this leads to having far too many indicators. This pitfall is a big one, and therefore relatively easy to avoid. The solution is to check if every indicator is a genuine KPI. You'll only use the genuine KPIs to monitor, manage, and refine your strategy. All the other indicators should be judged on relevance, just to be sure. Then they'll be given a less prominent place in the Balanced Scorecard and on the dashboard.
Our approach to scorecarding
Our approach distinguishes itself in its focus, simplicity, and decisiveness. And of course, we take into account the pitfalls and implementation aspects mentioned above. Passionned Group can support you through the process from A to Z:
Where necessary, we'll first help you define your strategy in a crystal-clear way on various levels. So there's no static in your business model.
The next step is clarifying the strategy using a strategy map with critical success factors and genuine KPIs.
Then we'll help you fill in the scorecards further with goals, measurements, norms, and initiatives. We do this on a departmental level.
This gives everyone room to contribute. And everyone can clearly see their own contribution to the strategy.
We automate the process of filling in the scorecards, for efficiency's sake, using a dashboard and a Business Intelligence solution of your choice.
We'll coach your employees and managers in the practical use of these tools.
Balanced Scorecards specialists
Passionned Group's consultants have a wealth of experience in advising and implementing performance management and Balanced Scorecard tracks. As authors of several Business Intelligence books and organizers of the Dutch BI Award for the most intelligent organization, Passionned Group is a leading expert on performance management.
Balanced Scorecard advice
Contact us for an appointment about the implementation of a crystal-clear Balanced Scorecard in your organization.