If the challenges associated with Big Data are handled well by making things relevant, digestible, and specific, you can go from Big Data to Right Data and then make the Right Decisions. Then,  you'll be able to make the four Vs of  Big Data work to your advantage: you'll see more and see better as an organization!
Volume: see more.
Velocity: spot things faster.
Variety: see more detail and more nuance.
Veracity: with the right focus and expertise, there are more possibilities.
From Big Data to Right Data
At the end of the day, all data, from small to big, is only relevant if it's presented in a useful way that leads to actionable outcomes. Do something that matters.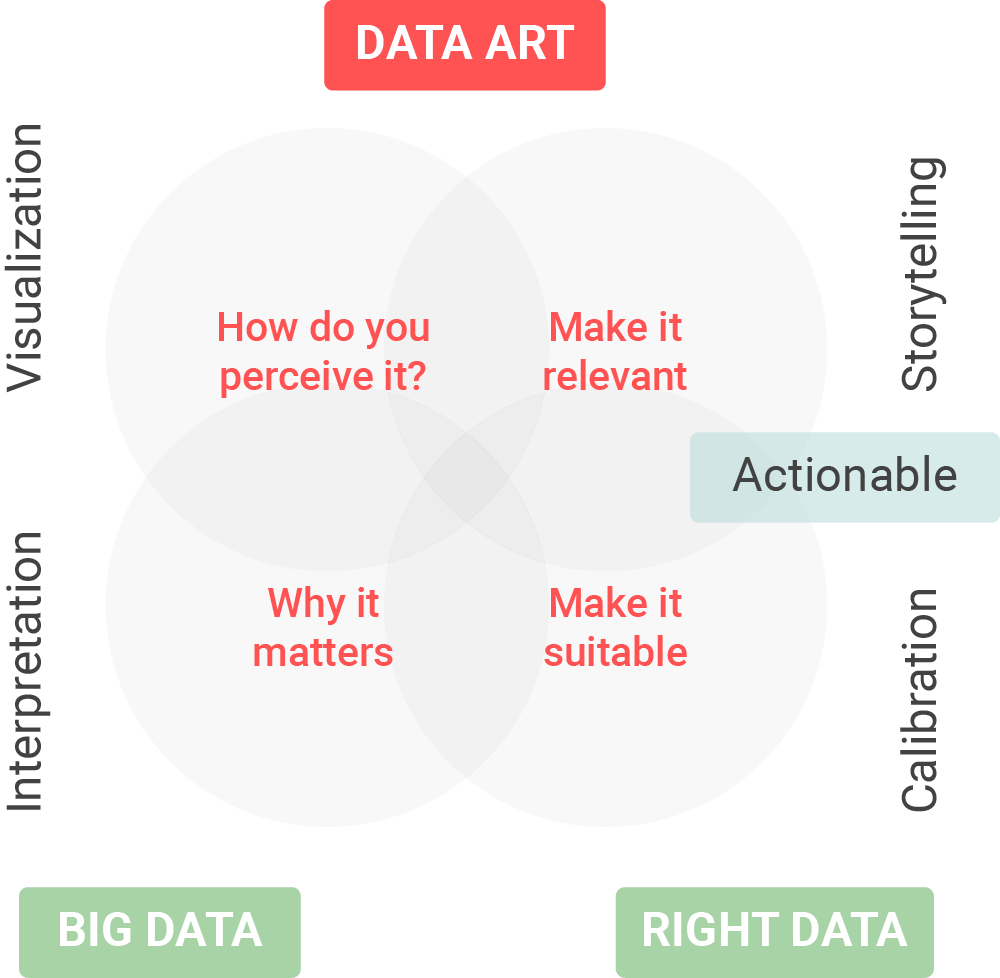 Simon Gratton, Chief Data Officer at the Zurich Insurance Company Ltd., pictured it as shown above. He called it Data Art; the art of using the right data, visualizations, interpretation, and storytelling to arrive at actionable outcomes. To go from Big Data to Right Data.
From Right Data to Right Decisions
Predictive and Prescriptive Analytics can help improve difficult and complex decisions. Of course, you need to consider the risks such as the amount, quality, and representational quality of the data. Using these data analysis techniques, you can build predictive and prescriptive models and work on optimization problems: what's the best thing to do?
Before that, (traditional BI) analyses will explain why certain things happened and describe these incidents.
Finally, the role, cleverness, and attitude of decision-makers is decisive. Can they organize the decision-making process so that a right decision can be made? Incorrect conclusions and cognitive pitfalls have to be avoided (biases like group polarization, majority rule, confirmation bias, etc.).
Data Scientist: unique combination of skills
Correctly developing such complex models demands specific competencies and skills. We distinguish soft skills from hard skills: the relational and communicate skills on the one hand, and the scientific ones on the other.
Hard Skills
Quantitative skills such as statistics, machine learning, and data mining.
The right programming / hacking attitude: persistent, with an eye for detail.
Soft skills
Business know-how:

actionable: to what extent can the analytical model solve the business problem?
performance: what are the statistical performances of the analytical model?
interpretive skills: can the analysis model be easily explained to decision makers?
operational efficiency: how much effort is required in setting up, building, evaluating, and monitoring the analytical model?
complying with rules: is the model in line with the rules?
economic costs: how much does it cost to set up, build, and maintain the model?

Translating complex matters for laymen.
Diverse communicative skills, an absolute team player, with a natural curiosity.
This unique (and definitely attractive) combination of competencies and skills and the expected added value that Big Data Analytics can achieve make Data Scientists both rare and highly sought-after. Not for nothing, Davenport and Patil (in Harvard Business Review) called Data Scientists "the sexiest job of the 21st century".
Want to learn more about Data Science?
Passionned Group teaches in-company training courses abroad, or in classrooms in the Netherlands, where you can become a Master of Data Science.