AI is here to stay
Artificial Intelligence is a hot topic. Applications based on machine learning make the news on a near-daily basis. Smart police cameras steered by algorithms can register drivers holding cell phones with great precision. Algorithms can dynamically determine the real-time prices for taxi rides, hotel rooms, airplane seats, and so on. High-frequency traders are getting rich as they sleep by letting their secret algorithms do the work.
Meanwhile, the Dutch Bank, IRS, and other services are experimenting with big data and algorithms. But why should controllers delve into artificial intelligence (definition)? Five reasons why a smart controller should become the data analyst of the future.
1. AI enables real-time reporting, fast closing, and forecasting
Closing a month in two days, predictable quarter results and earnings per share, predicted to two decimal points – these are the things every controller strives for. A tight budget, being in control, and an annual report with no mistakes, these are the hallmarks of a successful controller. But the real, serious controller work is not easy if you first have to manually connect dozens of Excel sheets or ERP systems, or make all kinds of conciliatory moves.
Every financial expert knows that the controller function can be performed much better and faster using automated systems and specialized financial software (including (big) data analytics) running on a robust, mature data infrastructure. Continuous accounting is on the rise, embedding (automated) data processing, control and period closing tasks in the daily accounting activities, so that accurate information about financial performances is always available.
One algorithm can replace 100 reports
The latest estimates, quarterly predictions, and annual profit prognosis in profit per share will become more reliable if you can use algorithms to predict to a high degree of certainty how the financial results and (financial) KPIs will further develop. Algorithms have been developed that can fairly accurately predict if an organization will end up in trouble in the long term, or perhaps even end up going bankrupt. Controllers on alert can course-correct in time thanks to data science and analytics.
The world around us is becoming ever more complex, and some issues are hard to process for individuals (including the controller!), especially when the number of variables and causal relationships and correlations becomes too great. One algorithm can replace 100 reports. This makes the controller's job a lot easier.
Training: AI in 1 day
Learn how to successfully apply Artificial Intelligence in your organization in this interactive one-day training course for managers, directors, and controllers. Learn all about the practical applications of Artificial Intelligence, the pitfalls, success factors, regulations, case studies, and more.
view the AI in 1 day training course
2. Algorithms are better at predicting fraud in the long term
Whether we're talking about white washing, bribes, abuse of insider knowledge, or good ol' invoice fraud, controllers, auditor, and accountants have a moral and formal responsibility to detect and prevent fraud in organizations.
To that end, the The Royal Netherlands Institute of Chartered Accountants has expanded the online Dashboard Accountancy with information about the accountant's role in case of fraud. Within the union of register controllers VCR, NOCLAR is an issue. NOCLAR stands for "Non-compliance with Laws and Regulations". But in practice, the extent of that responsibility is always debated. It also raises the question to what extent busy controllers are capable of detecting fraud. They lack the time and often also specific expertise in this area. Fraud detection and forensics are separate topics, after all.
Criminal networks make clever use of social engineering. They operate across boundaries, and they're spread out. Although some experts content that the current machine learning systems are not yet mature enough for reliable fraud detection, algorithms are getting better and better at detecting fraudulent transactions. Computers are smarter and faster than people, after all, or at least they're assumed to be. But just like young children, the algorithms have to be raised with supervised learning. By now algorithms are successfully used to detect forms of welfare fraud, tax fraud, or student loan fraud.
Computer says no
Annual reports often contain subtle signs that something is amiss in the text. They might be possible red flags for fraudulent transactions. Computers can detect fraud signals using an algorithm and machine learning, as discovered by Marcia Fissette, who got a PhD on the topic at Twente University. In 89% of the cases, the computer assigned the annual report to the right category, based on the text. The database also contained annual reports of companies who committed frauds multiple years in a row. After filtering these out, the percentage still ended up at 86%.
If you're going to work with machine learning, it's essential to improve data quality by doing a so-called data deep dive. Once the data is of a high enough quality, data scientists can develop an algorithm the financials can use to perform their control function.
The Business Intelligence Tools Survey is an extensive, vendor-independent comparison report. 19 BI platforms were reviewed by experts on 197 criteria. This guide is a must for every controller who wants to save time and money in the time-consuming BI Tool selection process.
Download now
.
Go to the Business Intelligence Tools Survey (EE)
3. AI enables more efficient processes
Financial controllers and business controllers each have their own tasks and responsibilities in organizations. They fulfill different roles with their own skills and they have their own behavioral preferences. The primary difference is that financial controllers primarily focus on financial reports and results, while business controllers spend more time looking ahead, towards the future.
Within an organization, the division of labor is usually such that the board of directors provides the vision, goals, and ambitions, while the business controllers are responsible for all the required systems, processes, and information to achieve these goals. Business controllers, in their consultancy role, focus on efficiency improvements in process, as well as cutting costs. Modern concepts based on algorithms, such as Robotic Process Automation (RPA) and Process Mining (training) are very useful tools that can lighten the load of the business controller.
Algorithms are getting better and better at taking over the annoying routine tasks
Using Process Mining, business controllers can use smart algorithms applied to event logs to discover how business processes are executed in practice. In doing so, they can detect hidden costs, inefficiencies, and bottlenecks in primary and secondary processes and quickly solve them. By using Process Mining, organizations can tangibly improve their business processes and IT.
In short: algorithms are getting better and better at taking over the annoying routine tasks. The simple typing jobs, the onerous phone calls, configuration, and even programming will be automated and taken over by robots, 3D printers, chat bots, virtual agents, and so on.
The SMART KPI Toolbox is an extremely useful tool for every controller in determining relevant, crucial management information. Based on 6 logical steps, you'll learn how to use KPIs to steer as effectively and efficiently as possible. This handbook contains over 350 KPI examples, so that defining essential KPIs is within anyone's reach.
Download now
.
Go to the SMART KPI toolbox (Complete Edition)
4. Data literacy is becoming an essential core competency
Despite all the available technology, it remains a big practical challenge for organizations and controllers to transform data into actionable insights. According to the people behind the Data Literacy Project, only 24 percent of employees in the world have full confidence in their own ability to read, analyze, and process data. Subpar data literacy competencies in an organization can greatly hinder its efforts to work more data-driven. It can also hamper its ambition to become an intelligent organization. Data skills and basic insight into the working of algorithms in the end all help to make better business decisions.
Organizations in nearly every industry need enough qualified employees to extract valuable insights from data. Leading controllers should take an exemplary role in promoting data literacy in their organization. We're talking about skills like being able to analyze with a critical eye, and making decisions and communicating based on data. Users also need to be able to understand infographics and data visualizations to be able to make decisions based on data.
In short: business controllers are the quintessential person to encourage the organization to become data literate, armed with data and integrated dashboards.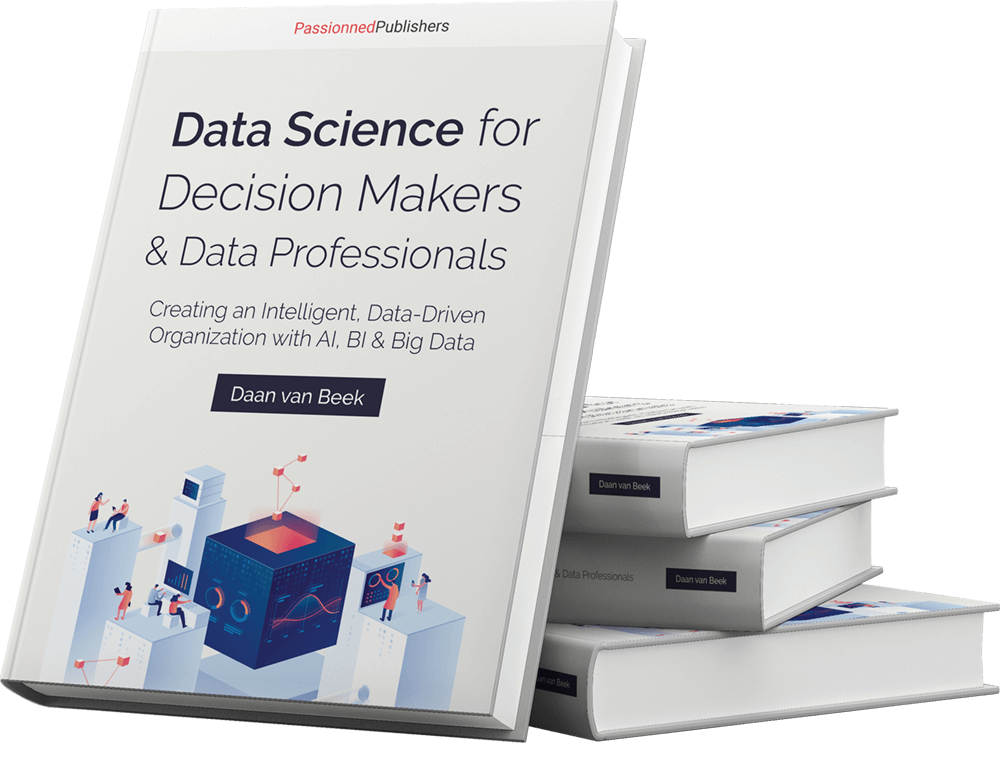 This complete Business Intelligence & Data Science book covers the entire spectrum of making organizations more intelligent. It offers the perfect framework for structurally approaching organizational improvement. Make better decisions faster on every level.
Order this book now
.
Go to Business Intelligence book
5. Man and machine are becoming colleagues
Although AI is still widely regarded as the biggest destroyer of jobs of all time, a more nuanced view is also taking hold in the workplace. Softbots and physical robots are seen as reliable colleagues who keep working, are responsible for top production, and are never sick.
The Scientific Council for Government Policy (WRR) published a report "Mastering the Robot", promoting a so-called inclusive robot agenda that promotes the complementary nature of man and machine. It's not about replacing as many people as possible with robots, but making people more productive by working together with robots. Their philosophy is investing in robot technology with an eye on co-creation.
Having a degree alone isn't an adequate response to machines becoming smarter. Job guarantees no longer exist. Certain types of highly skilled jobs, like accountants and controllers, can also be done by robots in the future. We're talking about the predictable, routine tasks. That's why it's important to develop new applications in conjunction with the people who have to work with them, and not just leave it up to the techies.
Become an AI expert
Do you want to learn more about AI? Sign up for our innovative masterclass AI in 1 day. Or contact one of our AI, data science and machine learning experts for tailored advice.