Internet of Things: using data to innovate and disrupt
The Internet of Things (IoT) connects all kinds of devices to each other online and is causing an exponential growth in data. This offers unparalleled possibilities for continuous improvement, innovation, and disruptive business models. As director, manager, or advisor, you might wonder what it is and how your organization can use it to gain a competitive edge.
What is Internet of Things?
The Internet of Things: devices that continuously generate data about situations and relay them to other devices or powerful computers for analysis and reactions. IoT makes continuous improvement, innovation, and new business models possible for just a fraction of what it would cost in a traditional setting. These machines are becoming more intelligent and are becoming more and more important in organizations, workplaces, houses, public spaces, and society as a whole.
The fourth industrial revolution
The Internet of Things is a growing trend which is still very far from reaching its apex. We're standing on the precipice of a fourth industrial revolution wherein all devices, tools, and machines are being supplied with self-learning processes, sometimes accessible over long distance. Analysts are predicting tens of billions of connected devices in 2020. The prediction is that IoT will have a market value of around 11 trillion euros. The question is: who profits from this?
Disney and the smart wrist band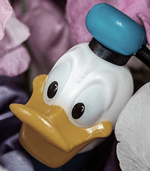 Disney World has been working with the so-called "Magic Band" recently, a smart wrist band. It helps visitors to enter the park and its accommodations more quickly, and to purchase food, drinks, and souvenirs more quickly. Visitors can also get into rides faster by simply tapping a receiver with the band. This IoT application also provides Disney and the customer access to personalized information and surprises. It tells Disney the movement patterns and preferences of its visitors. Which attractions are most interesting to which visitors at which times and under which circumstances? Which parts of the park need more attention? How do Disney mascots, acrobats, and other interventions affect the flow of visitors? This is a great example of a successful IoT application.
Interest is growing steadily
The interest in IoT and the analysis of the data it generates is growing steadily. As a recognized disruptive technology, and in combination with Big Data Analytics, and using Data Science algorithms, the suspected impact of IoT is huge. Given, of course, that it is implemented successfully, because a lot of money is lost due to IoT applications that turn out not to work at all.
From IoT devices to smart cities
Connected and intelligent devices are called "smart" more and more often. The smart watch, the intelligent pill, the bright thermostat in the smart house, but also the smart street light or gas pump. These are all examples of IoT applications. Together, they form networks that combine into smart buildings, smart cities, smart logistics, smart healthcare, and smart factories. All of this data can be analyzed using tools like SAS Analytics, Cognos, and Tableau (overview of all Business Analytics tools).
Huge efficiency gains because of Internet of Things
In a General Electric (GE) report about industrial applications of intelligent machines, they indicate that an efficiency gain of just 1% in 15 years could result in:
63 billion dollars of worldwide healthcare savings because of optimized treatments, better patient flow, and better use of equipment in hospitals.
66 billion dollars of savings in fuel use for the worldwide raft of gas-powered electricity plants.
30 billion dollars saved in kerosene costs in air travel.
These conservative estimates give the true potential of the Internet of Things more weight, including in boardrooms and politics.
Inspiration & Internet of Things
The management book 'The Intelligent Organization' guides you through the world of IoT and Business Analytics. Inspiration, innovation, and implementation: all aspects are discussed.
The applications of Internet of Things
1. IoT in your personal living space
The impact of Internet of Things in personal lives is taking off in a big way. You can measure your own health and that of your close relatives using activity trackers, smart pills, and other intelligent devices. You can follow the critical vital signs of your baby, or your elderly parents, on your smartphone. Of course, your house has a smart thermostat, your kitchen equipment and lights are connected, and your smoke detectors and security devices are intelligent. And your room plants and garden are monitored automatically. And all of this, of course, in relation to each other.
2. Internet of Things in your city
In your city, dumpsters talk to each other (and the cleaning service) using powerful computers. That's how these containers stay properly cleaned. The streetlights are also dynamically switched on and off as they are used. Public and private transport can be tuned to each other, as well as store supplies and delivery services. Travel and delivery times can be optimized like this, and waste and emissions minimized. Also, electricity use can be reduced thanks to insights into private, public, and industrial use.
3. IoT for agriculture and environmental protection
The developments in the use of sensors and apps in agriculture are also taking off. Consider applications that allow you to combine real-time sensor data about soil health, weather predictions, use of (biological) pesticides and herbicides, and more, into advanced maps. This could allow you to recognize opportunities to optimize, or problems with crops, remotely, and act accordingly.
Environmental protection is about an understanding of waste streams, better water control, and protection of wildlife. But also consider, for example, insight into bee death rates and combating illegal foresting, by combining remote sensing and a local network of GPS/GSM equipment that measures changes in temperature and movement.
4. Internet of Things in the air
Famous examples of companies that use IoT in their ecosystem include Rolls-Royce (plane engines), Boeing (airplanes), and airlines such as Virgin and its partners. This ecosystem reinforces itself so that it minimizes waste while maximizing the the passenger's travel experience.
5. Predictive maintenance under water
A relatively simple example of an IoT application is predictive maintenance. Sensors in equipment measure if there are components of pumps on the sea floor that exceed certain thresholds. They can send warning signs to owners and manufacturers automatically. These thresholds are "hard" at first, but are adjusted along the way as they are used. This allows you to make predictions about possible defects and perform automatic maintenance before an actual defect occurs.
The technology behind the Internet of Things
The internet allows devices to communicate. Wireless communication over GSM, UMTS, and Wifi, using IP addresses, is crucial. The switch from IPv4 to IPv6 is necessary to supply the need of (large amounts of) IP addresses. Passive objects are identified using RFID or bar codes. Sensors collect data from the environment and convert analog signals into digital. Smart devices need a microcontroller and storage capacity for file saving and processing. More and more, data storage takes place in the Cloud. GPS and mobile communication technology enable allocation.
Sometimes IoT devices communicate with people indirectly, for example using smartphones or speech, image, or sound recognition. Also they can act as actuators and convert signals into, for example, motion. Drones and robots, which can operate in places people can't reach, are a good example of this. We don't mean remote-controller drones, but true (artificially) intelligent drones.
Ethical ramifications for Internet of Things
It's self-evident that applications for Internet of Things should consider laws and regulations concerning privacy. This is happening slowly, but there's a long way to go. Many things happen behind the scenes that would not pass scrutiny. Any organization that wants to work with IoT seriously will have to develop policies concerning privacy. Where are the limits of the use of all this combined data? Which mechanisms should be applied to protect the privacy of your customers and citizens? What personal data are devices allowed to pass on? Public safety, like where drones are and are not allowed to fly, also needs to be adequately handled.
The advantages of IoT for your organization
The advantages of Internet of Things can be myriad. These are the top 3 advantages of IoT for your organization:
Efficient and accurate feedback about situations.
The ability to effectively directly intervene only when and where required.
Combined with Big Data Analytics, enabling precision service.
Interested in this technology?
The specialists of Passionned Group are intimately acquainted with the (im)possibilities of the Internet of Things. Make an appointment with one of our IoT advisors with no strings attached, and be surprised at the possibilities that the Internet of Things has in store for your company.