Automation is always about people. This is certainly true with regard to 'automating' decisions and transforming data into 'actionable intelligence'.
The point is that people will use this information and start acting differently. In order to create a proper (well-designed) Intelligent Organisation, we will need people in certain roles, with specific (behavioural) competences, experience and knowledge, first on a project basis and later in the daily operations. In this article, we describe the ideal Business Intelligence project organisation. Note that, in practice, we do not always require all roles or we cannot always facilitate all roles, due for example to budgetary constraints.
Effective BI project teams are characterised – in contrast with conventional IT project teams – by their multidisciplinary nature: business professionals, usability experts, information analysts, (senior) managers, they all play prominent role on the Business Intelligence stage.
The different roles are also shown in the figure below. They are subdivided into basic roles and additional roles.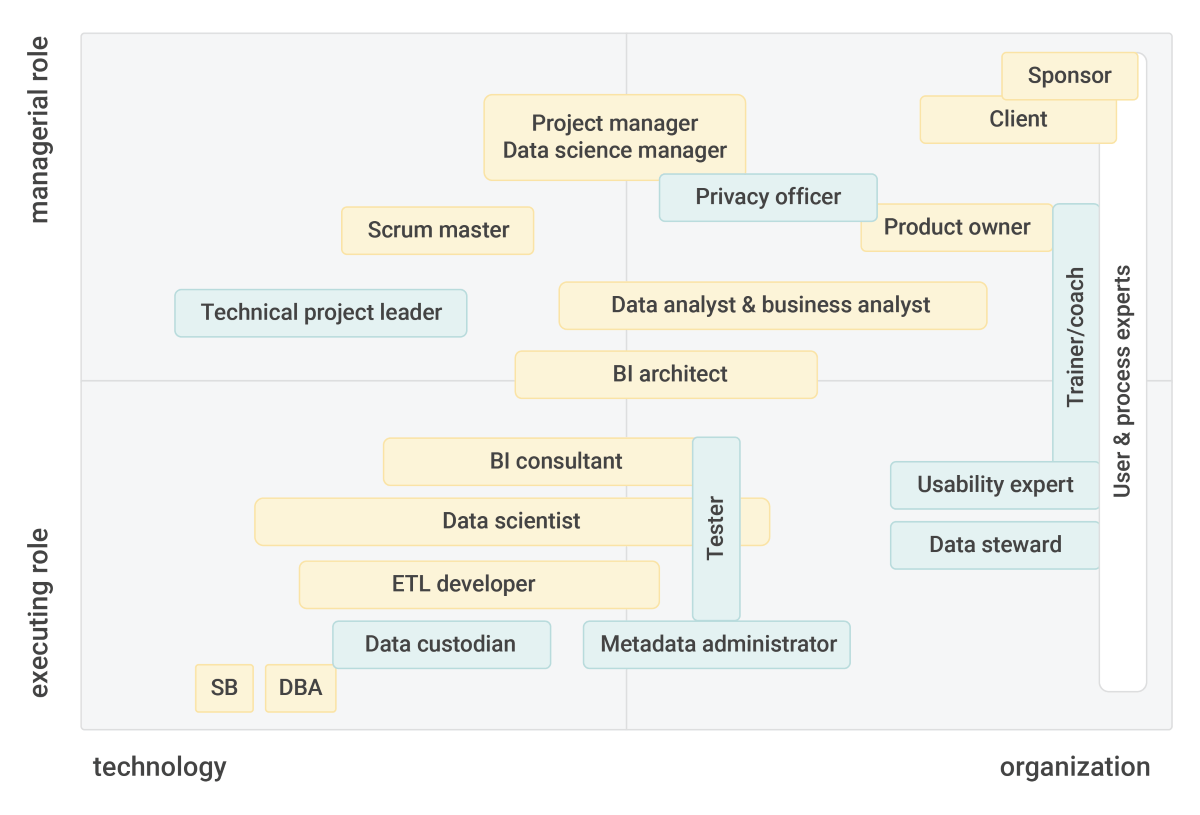 Figure: The different roles that are required for a Business Intelligence project, split into two dimensions Management/Execution and Technology/ Business.
For a multidisciplinary project team to properly function, it is necessary that adjacent roles have sufficient knowledge of each other's problems, experience, ambitions, plans and expertise. Each role should be able to communicate easily – speak each other's language – with its adjacent roles in order to quickly 'change gear' and take action. This should be the main focus of the project manager, in addition to compiling an expert team –, particularly at the start of the project. This aspect is particularly important because, in the world of Business Intelligence, there are many different ideas with respect to the architecture and the most suitable data model. It is the task of the project managers to bring these different ideas to light and then to work towards a shared vision.