Halve organization response time
Traditional organizations make decisions occasionally, intelligent organizations make decisions constantly and at all levels, even beyond the boundaries of the organization. It is therefore quite conceivable that professional Business Intelligence – using innovative IT – could halve the response time of organizations, thereby enhancing the adaptability by a factor of two.
How quickly does your organization respond?
The adaptability of an organization is, among others things, a direct result of how quickly the organization responds to changing market conditions (Liautaud and Hammond, 2001), for example aggressive competitors entering the market or the industry regulator tightening or loosening certain rules. We examine the boundaries of the Intelligent Organization from three different perspectives that harmonize with the three stages of the Intelligent Organization:
1. Sensitive stakeholders
If change and uncertainty are the most important constants, then stakeholders in an organization should adjust to these. Sensitivity and agility will have to increase because change occurs at an accelerating pace. Organizations could, for example, increase the level of autonomy of its employees, stimulate internal entrepreneurship or work more closely with partners. An important prerequisite here is that ready-made information must be available to employees at all levels. Employees will need to be able to detect signals quickly within the environment and take the appropriate actions in the organization's interest. They should be allowed to make decisions independently, and increasingly so. The same goes for business partners.
Difficult to totally control the organization
Additionally, dynamics today make it increasingly difficult for senior management to oversee and totally control the organization. Autonomous teams and free usage of information, even beyond boundaries, and the right Business Intelligence tools may create leaner and more agile organizations. However, they are also more vulnerable. By digitally sharing critical information with customers and suppliers, certain activities and processes within the organization may become superfluous because customers and suppliers take over.
Satisfy your customers every time
A very good example is the website Zoover.com, which provides a platform where customers can share their experiences and reviews about holidays and accommodation. Hotels and tour operators who have their affairs in order, satisfy their customers each and every time and who receive positive reviews, have to do little marketing or sales. Their product sells itself!
Organizational bounderies
Good collaboration cannot be stopped by organizational boundaries that were drawn up in another era with other traditions. Knowledge workers become decision makers who, together with colleagues, customers and suppliers, keep the organization running and often improve it. Peter Drucker (1993) finds that "decision making should take place at the lowest possible level and as close as possible to where the result is achieved." The role of middle management changes from controlling to coaching. This raises the question whether average managers are capable of properly fulfilling this desired change.
2. Strategic capacities
In this uncertain information intensive era, strategies have an increasingly limited shelf life and there is little capacity to think. Today, it is almost impossible to speak of long term strategies (Davis and Meyer, 1998). Long term strategies require a highly predictable future and internal dependencies within the organization – to proceed from plan to action – need to be clearly imprinted in memory (Haeckel, 1999).
Organizations can hardly meet the basic conditions
Due to market dynamics, organizations today can hardly meet those two basic conditions, even when they make good use of the appropriate Business Intelligence instruments such as Cognos forecasting and scenario planning. While these instruments may ease the pain substantially, they cannot basically change the ever-increasing uncertainty. This is why strategic management within organizations nowadays mainly focuses on creating and maintaining a sensitive organization with an adaptive and flexible structure.
Strategy development is being 'crafted'
This allows managers and employees – by using the right information – to anticipate new opportunities and threats better and quicker. Strategies can then be carried out effectively. Strategy is not a matter for senior management alone (Mintzberg, 2004). During the strategy process, the thinking that takes place at top level should be able to intermingle with the actions on the work floor, preferably in such a way that strategy development is being 'crafted' instead of 'remotely' planned. This is only possible when we combine proper internal and external information and when we share information at all levels of the organization. Moreover, there must be expertise available at all levels
3. Adaptive structures
The bottom line is that boundaries – both horizontally and vertically – fade or even disappear when Business Intelligence is being used to get the right information to the right person. Transparency is today's motto. Fixed, inflexible structures and boundaries are outdated. Traditional hierarchies will have less and less power and boundaries within an organization will increasingly blur (Davis and Meyer, 1998). This is depicted in the following figure.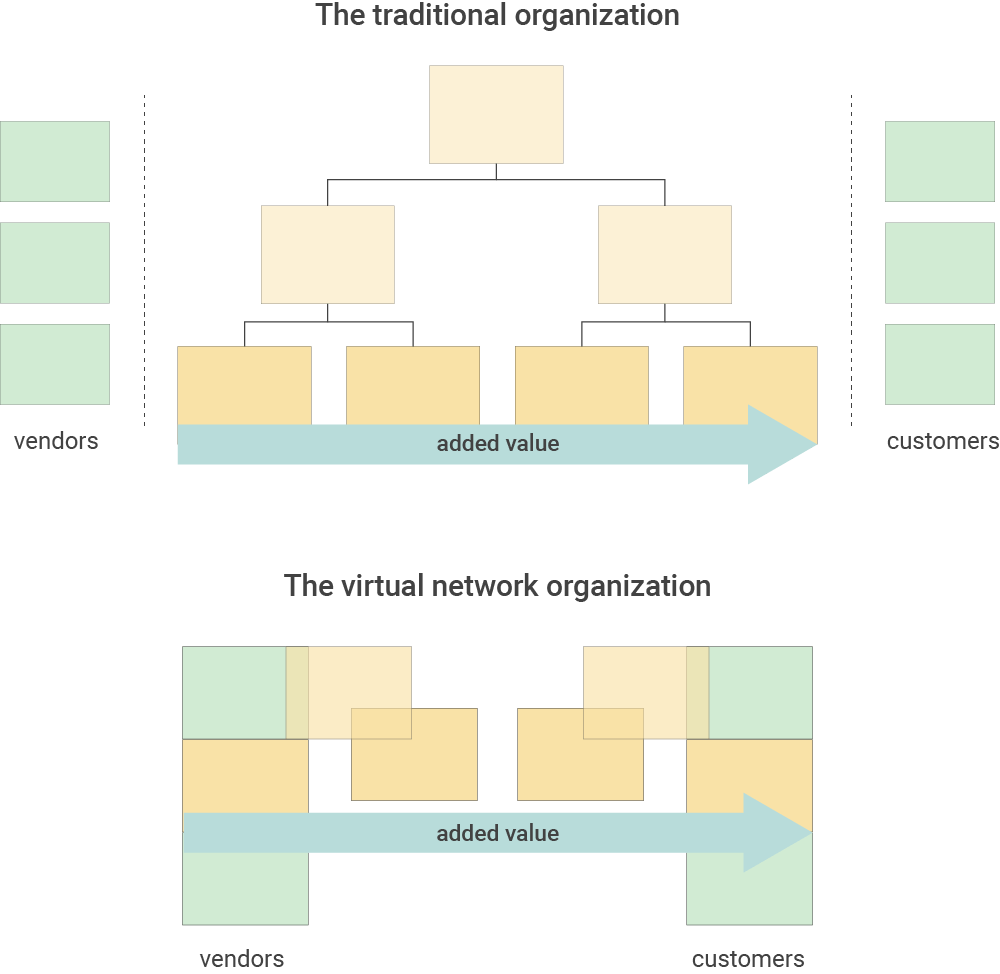 Figure: Borders become vague and hierarchies disappear.
A successful organization
A new organizational concept presents itself: a successful organization, which is based on information, hardly requires middle management (Drucker, 1998). Managers stop 'playing the boss' and may start acting like coaches instead (Hammer, 1995). It is without question that this increase of transparency evokes some resistance: "Middle managers fear that standardized BI data and analysis will expose or threaten their power as they can't hide behind their own data and analysis. This often leads to covert and overt sabotage of BI initiatives." (CRM Today, 2004).
Structures in Six?
Max Weber describes five basic design dimensions for organizations to structure large amounts of work (Weber, 1970). In his classic work 'Structures in Five' (1983), Mintzberg describes five basic organizational configurations (based on Weber's theory) to achieve distribution of workloads. Meanwhile, a sixth configuration has been introduced: infocracy. This sixth configuration does not make basic design dimensions superfluous, however their necessity decreases (Zuurmond, 1994).
This infocracy is less hierarchical, less specialized and decentralized: it is the rise of the virtual network organization in which location, leadership and function have a highly distributed nature. Information and communication technologies – including Business Intelligence systems – bring with them the required interrelations (Bekkers, 1993). This vast flexibility as well as (virtual) integration can be achieved when the right information is made available to the right person at the right time and when managers stimulate this process by effectively deploying Business Intelligence technology.
A flatter organization
The organization will become flatter, partly through making information available to lower levels within the organization. If authorization has been arranged and if a proper competency and behavioral culture is present, many decisions can be taken at this lower level. The smaller the gap between management and 'workers', the more adaptive capacity increases (Tideman, 1993).
Top-down coordination is simply no longer possible
Due to increasing dynamics and slow seepage of decisions, top-down coordination is simply no longer possible. After all, the rate of change is fast and strategic plans from the top of an organization – large organizations in particular – do not easily seep down to lower levels of the organization. Plans usually end up clouded, which halts targeted actions. If changes are difficult to predict organizations need to ensure inbuilt flexibility in order to seize the opportunities as they arise (Davis and Meyer, 1998).
The contours of the intelligent organization
Autonomous, enterprising employees (sensitivity), transient customer-oriented strategies (capacity) and flexible structures form the contours of the Intelligent Organization. This requires excellent integration of systems; very open cultures; professional and excellent organizations and proactive sharing of information; knowledge; responsibilities and results.
Inseparable trinity
In short: well-targeted sensors, reliable processors and effectors – allowing for quick response – together form the inseparable trinity of the Intelligent Organization.