Define genuine KPIs
Defining and managing the right KPIs is a task that most organizations still greatly underestimate. Key performance indicators can make the difference between healthy growth and decay, or even survival in times of crisis. The road to effective performance management is littered with pitfalls, however. Determining a genuine KPI isn't easy. On this page you'll find many KPI examples, practical tips, and you can read more about our vision and practical approach to defining KPIs. We also offer a remote KPI workshop.
Do you think that you have too many KPIs and a labyrinth of indicators? The SMART KPI toolbox helps you to decide if an indicator really is a genuine Key Performance Indicator. This essential KPI handbook contains an overview of KPIs and KRIs from various branches, as well as many examples and exercises to define genuine KPIs.
Download now
.
Training: Performance management & KPIs
Learn how to manage the performance of your organization and the behavior of your employees with genuine KPIs, among other things. We'll make short work of perverse incentives, the wild growth of KPIs, and molasses-like decision-making. Give everyone the room to grow. With international KPI expert mr. Leo Kerklaan.
The 5 biggest KPI blunders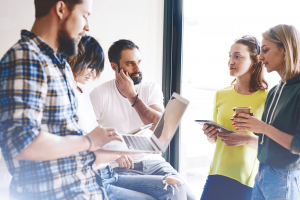 KPIs and SMART goals are very specific. It's easy to focus on the wrong indicators. Or to define so many (not) Key Performance Indicators that you can't see the forest for the trees anymore. We've listed the 5 biggest KPI blunders for you, so that you can avoid them in the future. Look before you leap!
Link KPIs to strategic goals
The essence of effective performance management is developing the right key performance indicators (KPIs) and insights in relation to the organization's strategic goals. This lets you determine what shows up in the management information system or on the dashboard. In short: you remain in control and you can course-correct whenever necessary.
Learn more about KPIs
The invisibility of KPIs
More than 70% of organizations have the same problems: too many Key Performance Indicators that often aren't even actual KPIs. Because of this they lack insight and lose sight of the big picture. A lot of organizations tend to only look at financial results. When business is booming this may not be a problem, but when the business is struggling, they just fall further behind. The point of a KPI is to find predictive key indicators, and direct the organization based on those, so you can identify problems and act before it's too late (source: Key Performance Indicators (David Parmenter).
Steering your business without KPIs is like driving in the pouring rain with broken windshield wipers. Dangerous and unnecessary.
Do you want to be able to see and steer clearly? Get the SMART KPI Toolbox (includes 350 KPI examples) and find the right KPIs for your organization.
The meaning of KPIs: what is a KPI / what are key performance indicators?
The real meaning of KPI can be found in the fact that all of these indicators are embedded in the heart of every company, business model, and organization. You can find them by closely studying your primary processes. By measuring your organization's core activities, they'll show you where you can do better and where you're leaving big improvement opportunities up for grabs.
You're not alone in your search for the meaning of "what is a KPI". Every month, many thousands of people search the internet for the term KPI, because they want an explanation about Key Performance Indicators.
Do you want to work with a set of genuine key performance indicators? Contact one of our KPI specialists or do it yourself with the SMART KPI Toolbox. Guaranteed to lead to KPIs that work for you.
Find the KPIs that work
A KPI exposes clear areas of improvement – something every employee can understand. They're perfect management tools, taking the complexity out of management. We can help you answer these questions:
How do you find genuine Key Performance Indicators, and what are their key hallmarks?
How do you connect these to the mission, strategic goals, and spearheads?
How are your employees going to immediately benefit from this in their everyday duties?
A perfect early warning system
KPIs are key indicators. Every successful company uses them. They permeate the entire hierarchy of the organization, enabling your teams to cooperate more effectively. They also make for a perfect early warning system, so you can see which area needs attention before it's too late. See also: our article "the 5 biggest KPI blunders".
The impact of using the wrong KPIs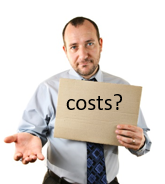 Companies that end up in trouble, or actually go out of business, almost always have problems with their Key Performance Indicators. They measure the wrong metrics, because they don't truly understand their own business model. And they suffer the consequences.
The board of a hospital introduced a new management information system and defined their first "KPI": personnel costs.
And it worked: personnel costs went down. Everything seemed fine. But at the end of the fiscal year it became apparent they lost almost 5 million euros. It turned out that beds were unoccupied too often (internal KPI) because the waiting lists that the hospital had always had (external KPI) had cleared up and there just weren't enough patients to fill the available beds.
Examples of KPI per industry / discipline
There are many more examples of KPIs, of course, but here are a few for various industries and disciplines. These KPI examples will give you insight into the essential workings of key performance indicators.
KPI examples healthcare: returning patients, OR occupancy, bed occupancy, productivity, waiting time, patients' medication loyalty. These are real areas of interest for healthcare institutions.
KPI examples sales & marketing: offer success rate, bounce rate, conversion rate website, email opening rate, number of new customers, number of lost customers.
Example KPI customer satisfaction: This isn't a genuine KPI, but a key results indicator (KRI). It's not wrong to measure customer satisfaction, but this score is the sum of many factors.
Examples production KPIs: machine defect rate, waste, productivity, active machine %.
KPI quality examples: quality is an important container term. In and of itself, it can never be a genuine, directly measurable key performance indicator. The concept has so many aspects. The most important indicator is, of course, the expectation of the customer / user. The number of percentage of defects, for example, is directly related to quality.
Examples of KPIs at a bank: late payments, uptime percentage of internet banking, fraudulent cases, erroneous transactions, number of times money was transferred late.
KPI examples personnel: Turnover rate, promotions, demotions, relationship between managers and employees, sickness leave.
These are only a few examples. Our SMART KPI Toolbox has 350 of them, divided across various industries, each with its separate table.
Strong influences on excellent performance
Scoring highly on genuine KPIs directly influences the three biggest factors of any organization: finances, customers, and employees. The emphasis here is on "directly". A key performance indicator always directly impacts profitability and also employee or customer satisfaction.
What is the most critical factor in improving the score of your KPIs? It's an exact mix of systems, information, feedback, employees, behavior, data, vision, strategy, culture, and values. Finding that mix is a management challenge.
Even experienced managers can't define KPIs easily
Genuine KPIs are hard to define, even for experienced managers. Our comprehensive, pragmatic approach helps you drill down to the core quickly, so we can help you find those genuine KPIs that work for you. Learn to understand the true meaning of KPI. Download the SMART KPI Toolbox, and find out if your KPIs are genuine.
How do you define a KPI?
How do you define a Key Performance Indicator, and what are the most important steps in this process?
Check the business processes where mistakes (can) happen frequently.
Define these processes and make them measurable.
Determine what data you need in order to visualize the key performance indicators.
What makes our approach uniquely effective?
Unlike other advisors, we don't center the technology or the KPI model. Our approach lets your employees experience what Key Performance Indicators are in practice, and how to work with them effectively while staying true to the organization's mission and goals.
Working with genuine KPIs relieves your staff. It creates clarity, eliminates perverse incentives, and improves your customer satisfaction and profitability.
Our approach shows what desired behavior and which changes are necessary to continually improve your KPI scores. Our goal is making your organization more intelligent. Read our book "The Intelligent Organization".
Select the right KPIs quickly
Do you want to select the right key performance indicators quickly and achieve a dramatic improvement of the performance in more multiple areas? Then the SMART KPI Toolbox is a very powerful instrument for both directors and staff.
Benefits of our approach
✓ Manage more directly and easily using an intelligent dashboard.
✓ Quickly improve your margins: Achieve 200% Return on Investments with KPIs.
✓ Organizational processes run more efficiently (from weeks to hours).
✓ Lay a foundation for the continual improvement and smarter cooperation between teams.
✓ Satisfied customers and employees that help you achieve your strategic goals.
More than 500 organizations served
We can confidently say we are the foremost KPI specialists in The Netherlands. We've written books on performance management and continual improvement (see our knowledge base) and have assisted over 500 organizations and helped them to work with genuine KPIs that work. We'd love to help you define clear KPIs and manage effectively too.
5 tips for finding genuine KPIs
Do you want to get started on performance management? Below are 5 tips that will help you find the key performance indicators for your organization:
The biggest disaster: Can't name a key performance indicator for your organization off the top of your head? Try to imagine the worst thing that could happen to your organization or department. If that never happens, try to imagine the next worst thing, and so on.
Look at the time: Processes often stall when work doesn't get delivered on time. Many KPIs involve time.
Ignore financial indicators: Although key performance indicators always have a financial impact, they're never really financial in and of themselves. That means there's no dollar sign in front of them. When searching for genuine KPIs, feel free to ignore all financial indicators.
Focus on satisfied customers: Finding the right KPIs is easier when looking at the most important factors in customer satisfaction. What can you do to make your customers genuinely happy?
Infrastructure: Do your processes depend heavily on a certain infrastructure, or is that infrastructure the core of your company? A smooth infrastructure often proves critical in achieving good results.
Want more tips? The SMART KPI Toolbox helps you to find the genuine KPIs for your organization.

Example of a key performance indicator
For airlines it is crucially important that airplanes arrive on schedule. If they are delayed then there are roll-on effects for several result areas: customers are dissatisfied because they miss their connecting flights, the baggage handling and catering have problems with their capacity planning, there can be fines from the airport for missing targets and possible claims from passengers for damages, etc. This directly impacts finances and customer and employee satisfaction.
How can you improve structurally using KPIs?
Step 1: Make a longlist of the most important performance indicators.
Step 2: Whittle the list down to a shortlist of genuine KPIs using the right method.
Step 3: Monitor these indicators using dashboards and reporting (BI).
Step 4: Use the Key Performance Indicators to manage, improve, and work.
KPI Advice from start to finish
Our advice focuses on the most crucial areas of working with key performance indicators:
1. Which ones matter most to your organization? The hardest part is finding the KPIs that work within your organization. Does your company have a confusing mess of indicators? Our custom-tailored advice helps you quickly determine whether an indicator is a genuine KPI. Because not all indicators were created equally, we help you to discover the truly essential ones: start measuring less and knowing more.
2. How to successfully implement KPIs in your organization. Defining KPIs (step 1) is complex, especially if it's the first time you're doing it. Once you've found the right indicators, the next step is implementing them correctly. We'd love to advise you.
Want to get started on KPI management?
Feel free to contact us for an appointment with one of our specialists, or follow our unique KPI & Performance Management training course.