Improve your organization using a dashboard
As a manager or director, you invest a lot of time, money, and energy into developing your company and its employees and policies. But how can you be sure that you're still on course afterwards, and see where your bottlenecks are? You could keep fumbling in the dark, but there's a perfect set of tools available to solve these problems:
You can take advantage of every opportunity to improve with one clearly organized dashboard.
What is a dashboard?
A well-designed management dashboard is a strategic performance management tool that quickly lets you see if your company is still on track. It also shows you at a glance if there are any problems in your company processes, and if so, where. You can see whether it's a new or old problem and which actions have been taken by which employees to solve it.
Overview at a glance
A good management dashboard is very clear and easy to use, because fast interpretation is a must. The user has to be able to get an overview and gain insight at a glance. And they have to be able to switch between different angles quickly, for example from one fiscal period to another, between various business units, product groups, or customer groups. Or the user might want to zoom in on one cluster of data. A good dashboard will enable all those things and more.
The look of a dashboard
In many cases, a dashboard will consist of meters or stop lights, simple graphics, and other visualizations. Sometimes, there are also notifications on the screen. They could show all unsolved (potential) bottlenecks in text as a link, for example, so you can quickly follow up.
An example of an integrated dashboard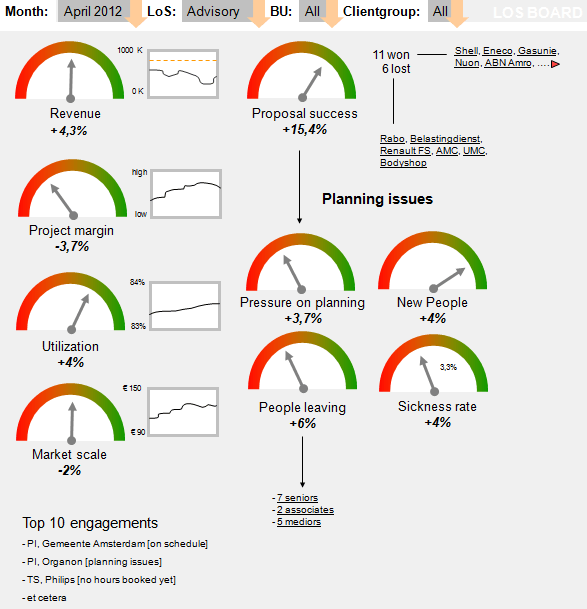 The most important KRIs and KPIs in one clear management dashboard.
How does a good dashboard help?
A good dashboard helps your teams and managers to quickly be able to see what's happening. Even when they're elsewhere due to circumstances or being busy, they have to be able to blindly trust the dashboard numbers. The management information offered by the dashboard has to be very reliable, accessible, and simple.
The most important properties of a dashboard
Presents information clearly, usually with a limited degree of interactivity.
The information requirements have been determined in advance using KPIs and process indicators.
Shows internal business relationships (your strategy) and is thus overarching.
Standard environment that users can alter themselves when necessary.
A dashboard refreshes automatically, for example daily or weekly.
Uses a plethora or business intelligence sources (cubes, data marts).
Clarify relationships in your business model
Dashboards are used more and more often in order to gain insight into the causal relationships within the company's business model. This allows everyone in the organization, at all levels, to sharpen their intuition. Not only that, they can combine their intuition with facts from a variety of data sources, improving decision-making across the board in a natural way. Instead of one source, multiple sources can be consulted. All kinds of management models, like a Balanced Scorecard and the INK model, can be visualized using a dashboard.
What are the benefits of a well-designed dashboard?
Overview into the company and insight into bottlenecks, at a glance.
Better and faster driving on bottlenecks and problems (follow-up).
Insight into the various causal relationships in the organization (Balanced Scorecard).
A smarter and more strategic organization.
More revenue and better margins and results, thanks to faster steering.
List of dashboard tools
The following solutions, which include tools for dashboarding, are thoroughly examined on 169 criteria considered important for high productivity and dashboard systems that actually add value to your company. The tools below are listed in random order.
Dashboard tool
Version
Vendor
Dashboards
included?
Microsoft BI & dashboard tools
2014
Microsoft
✓
IBM Cognos Series 10
10.2.2
IBM
✓
Oracle Enterprise BI Server
11.1.1.6
Oracle
✓
Board
9.0
Board International
✓
QlikView
11.2
QlikTech
✓
SAP NetWeaver BI
7.3
SAP
MicroStrategy
9.4.1
Microstrategy
✓
SAP BusinessObjects BI
4.1/SP5
SAP
✓
Oracle Hyperion System
9
Oracle
✓
SAS Enterprise BI Server
9.4
SAS Institute
✓
BizzScore Suite
7.4
EFM Software
✓
Birst
5.13
Birst
✓
WebFOCUS
8.01
Information Builders
✓
JasperSoft (open source)
6.0
TIBCO Software
✓
Style Intelligence
12
InetSoft
✓
Pentaho BI suite (open source)
5.2
Pentaho
✓
Yellowfin BI
7.1
Yellowfin
✓
Tableau Software
8.3
Tableau Software
✓
** The niche players Spotfire, Longview (AKA Arcplan), Talend and Panorama software were not included in this list, because they did not want to fill in the questionnaire and the comparison cannot be done without the vendor's cooperation.
Which tools are the best?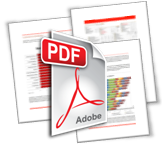 You might want to know which dashboards tools score highly on functionality, connectivity, usability, and so forth. It's hard to find the right tool for your needs, and you want to be able to select the best dashboard tool that fits your requirements. Passionned Group, a leading consultancy and independent research company based in Europe, has created an up-to-date comparison of BI & dashboard tools and packed the results in a 100% vendor independent comparison report.
Do you want a reliable dashboard?
Passionned Group's specialists have over 15 years of experience in making organizations more intelligent using dashboards. Do you want better performance and deeper insight into your company and business model? Contact us for guidance on the development and implementation of dashboards.