Louis van Gaal has achieved and accomplished a lot as a coach. His views on improving sports performance show a great analogy with that of the PDCA cycle. "My motto has always been: analyze, implement, evaluate. I measure as much as possible." What makes constant measuring so important? And why should you apply more energy to good indicators? How important is it for you to work with common KPIs and indicators at every level in your organization?
Thanks to performance indicators
Indicators make an anticipatory form of management possible. Problems are identified early with the trend visualization, which also allows sufficient time to fix them. The effects of improvement and quality projects are visible thanks to performance indicators. This encourages performance and provides motivation to do better.
In this way, the indicators can also help to keep a clear head with these questions:
Do the projects deliver on what should they actually deliver?
Do the results weigh up against the efforts?
The indicator as a compass
Boosting indicators by seeing a challenge. Not to be confused with results. Of course, you can use the indicators to discuss the provided service. However, this must be done with care and the indicator value should be influenceable. It's a careful balancing act with indicators. In the process, the indicator becomes the compass to show the direction.
Day-to-day pressure
The basis for actual performance improvement lies in the awareness of the need to do better. Many organizations are strongly focused on their day-to-day operations. If performance slows down, they often seek the causes for worsened results outside the organization instead of within. Subconsciously, they know very well where the bottlenecks are, but all that day-to-day pressure keeps them stuck to routine operations, keeping them from considering in-company potential for improvement. It is precisely in these situations that performance indicators can become an intervention instrument to make organizations conscious of the current inefficiencies and causes of worsened results. The indicators confirm what you often already know unconsciously, but, once expressed quantitatively, it suddenly becomes very concrete. This result is reinforced by displaying the development over time or comparing it with others.
Surprise
We illustrate this with a practical example borrowed from Hoppenbrouwers (2002). He argues that the insight into performance indicators for the transport industry first leads to surprise, almost without exception, because the situation is often more severe than expected. Once people are convinced of the measurement's accuracy, organizations find numerous external causes to justify the current performance problems. But, gradually, a number of in-company causes become obvious. Of course, the internally influenceable causes also start to gradually appear thanks to co-operative discussion between different levels and departments of the organization. At this stage, it is particularly important not to accuse each other of poor performance, but to keep focusing on a common goal: to improve the performance.
Case: performance indicators visualization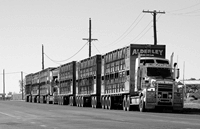 In recent years, an international transportation company has rapidly grown thanks to several acquisitions in the Netherlands, Belgium and Germany. The newly acquired branches continued to operate autonomously, where agreements were made on transfer prices with mutual outsourcing. Although the company had previously planned to actually merge a few offices, this step was never taken. The performance indicators clearly and tangibly demonstrated what many within the company already knew. There was even less actual collaboration than expected.
From visibility to action
At first, this led to a defensive reaction among the branch managers. The mutual transfer prices would be too high, the other offices might not offer the desired flexibility, the client might not accept (internal) outsourcing and there was no insight into each other's drives. It turned out that the collaboration could be optimally employed only with physically merged offices. The company decided to merge the offices operating in the same geographical area, both financially and physically. This resulted in a quick and significant reduction in the 'empty drive' portion and a subsequent operation efficiency improvement.
Read also: Transport company does not achieve its business case
New ideas for improvement
Coming up with improvement solutions is usually much easier than the identification of the problems. Once you cross the threshold of awareness and the poor results can be discussed, a lot of improvement ideas suddenly appear within the organization. Some of them can be discussed immediately. Remarkably enough, they're sometimes already well thought out. Those involved often need some time to digest the results and to further crystallize their ideas.
KPIs & Improvement Cycles
Indicators can act like an improvements lever. The PDCA cycle is a powerful improvement method to continuously embed and maintain improvements within your organization. The four letters stand for Plan Do Check Act, continuously in a recurring cycle. So, the processes improve a little every day, and thus, you can lay a firm foundation for innovation. Targeted adjustment of policy and process optimization becomes easily possible by going through the four steps consistently and regularly. And these steps must occur in the Check and Act steps. Here, the implementation is compared with the plan targets or policy guidelines based on Key Performance Indicators and underlying indicators. In this way, indicators can act as a lever to set your improvement cycles in motion.
What is the value of good indicators?
Overall, indicators are of great importance for you:
They provide tangibility, stimulate performance, and motivation to do better.
They have a challenging influence and are influenceable.
They raise awareness, allowing for improvement measures to be worked out.
They form an intervention mechanism in order to do business.
They act as a lever for continuous improvement.