Hyperion: Oracle's EPM solution
Hyperion is the market leader when it comes to Enterprise Performance Management (EPM) software. It is by far the largest and leading solution in this area. But Hyperion is more than just a performance management tool. After the acquisition of Brio in 2003 and Essbase in 2005 it actually became a BI solution, while still being focused on a specific area of ​​interest. In 2007, the tool was acquired by Oracle, and therefore it is now part of the Oracle BI suite.
Hyperion and its competitors are evaluated and compared in our interactive and innovative Intelligent Insight BI & Analytics app. Evaluate each solution on the criteria of your choosing, compare them, and determine which BI tool best meets your requirements.
Download now
.
Go to Intelligent Insights BI & Analytics™ - 90 days access
Hyperion is a separate product
The Oracle Hyperion suite includes several components such as Hyperion Financial Management (HFM), Financial Close Management, Disclosure Management, Planning, Profitability & Cost Management and Hyperion Strategic Finance. Other Oracle suites can also be found in various parts of Hyperion.
Oracle Hyperion performs as a separate product, but it has a strong integration with Oracle Database and many other applications from Oracle. For this reason, the tool is categorized as: databases and packaged products. Other BI tools in this category are Microsoft BI and OBIEE.
Hyperion Software now also available from the cloud
In 2014, Oracle began providing Hyperion from the Cloud. The advantage for the customer is that the implementation and technical maintenance part is taken care of. The tool is known for the complexity of the implementation and commissioning of the product, and how much technical knowledge is needed to set up the correct environment.
Hyperion EPM has a healthy ecosystem of software add-ons and consulting companies that can support Hyperion in your organization.
What are the benefits of Oracle Hyperion Financial Management?
The main benefits of Hyperion Financial Management are:
It's the leader in Enterprise Performance Management and thus has a very good track record in the market.
Oracle Hyperion has an extensive ecosystem of complementary software and a large number of consultants familiar with the BI tool.
Hyperion is fully functional from the cloud, and can also be used in hybrid form.
The latest version of Oracle Hyperion took a big step forward by extending functionality, improving their user interface, and improving support for mobile platforms
What should you look for with Oracle Hyperion Financial Management?
Hyperion is the market leader, but that doesn't mean that there are no concerns. The most important ones are:
The initial investment to get it up and running is higher than that of comparable EPM solutions.
Implementation projects are difficult, and it's sometimes difficult to get Hyperion from development to production, especially in a cloud environment.
Initially, a lot of technical and functional expertise is needed for Hyperion to work properly for an organization.
Oracle as a supplier
Oracle was founded in 1977 and acquired Hyperion in 2007. Oracle offers several BI solutions that are summarized under the name OBIEE, Oracle Business Intelligence Enterprise Edition. Hyperion is covered by OBIEE, but also stands apart from this because it focuses on the EPM market.
Oracle is a major ICT player with over 130,000 employees delivering a wide range of products. They say they're active in over 145 countries.
Three-quarters of sales of Oracle consists of the sale of licenses. This is the lifeblood of Oracle and a very important KPI. A common complaint from customers of Oracle is that the licensing structure is 'vague' and there is 'always discussion' about the compliance of licenses.
Strategic positioning of Oracle Hyperion Planning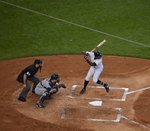 Oracle Hyperion Planning is a separate suite within Oracle, but parts of the suite are also provided in other Oracle suites. With the Oracle Hyperion suite, the focus is on the Enterprise Performance Management Market and much less on the BI market.
Oracle is an undisputed leader in the EPM market. However, there are new players emerging which will threaten Oracle's market position over time. If you want to see how Hyperion compares to other BI solutions, then Passionned Group's Intelligent Insights app can be a great starting point.
Hyperion compared to other products
Hyperion operates in a specific market, but it's always good to consider other solutions. Compare the various BI solutions using our innovative Intelligent Insights app. You will see quickly where products overlap or where there are gaps in your functionality needs.
The Intelligent Insights app can be ordered through this site.
More BI software
If you're considering purchasing performance management software, then Hyperion is definitely not the only choice. Which solution is the best for your organization? Take a look at other suppliers who may meet your requirements as well.
Oracle Hyperion expertise
The choice of Hyperion or another, more generic BI solution is different for every organization. Often the choice is made for many years, and specific software selection expertise is not available within an organization.
Many consulting firms have focused on (the implementation of) Hyperion. The question is whether these companies can advise organization in a truly independent way and if they have a broad view of the BI market.
The Passionned Group consultants are fully supplier-independent and can provide you with the right advice. It's also possible to ask for a second opinion.
Learn more about Hyperion and performance management
Passionned Group offers specific BI services in the form of Business Intelligence training and a knowledge base that is available to you. But Passionned Group also has extensive consulting in the area of performance management, PDCA cycle, Lean and continuous improvement.
Want to know more about BI, performance management, or discuss the possibilities with one of our consultants? Please contact us.