Microsoft Business Intelligence
Microsoft was originally a provider of operating systems and the Office suite, but these days they also offer a wide range of BI solutions. Traditionally with Excel at its core, although one could ask the question whether a spreadsheet counts as a BI tool. It's definitely the most abused "BI tool".
Microsoft now also offers the specific self-service BI solution, Power BI. They now invest heavily in mobile BI on the Android and iOS platforms. Here, they have gained a leading position in a relatively short period of time.
Microsoft has solutions that run within an organization (on-premise) as well as complete cloud-based solutions that run on the Microsoft Azure platform.
Microsoft BI is one of the preferred suppliers of our annual Business Intelligence Tools Survey. The survey will give you a thorough insight into the market and help you choose the best BI solution for your needs. Contains reviews of 18 other BI platforms.
Download now
.
Microsoft BI stack: many different products
The Microsoft BI stack has traditional solutions built around Excel. Think of add-ons such as: Power Query, Power Pivot, Power View, and Power Map. These add-ons are still being improved.
In addition to Microsoft Power BI, Microsoft is setting up a separate product line that focuses entirely on end-users of BI solutions.
Most Microsoft Business Intelligence products are based on SQL Server 2015 with solutions such as SQL Server Analysis Services (SSAS) and SQL Server Reporting Services (SSRS) on top of that. These solutions have been integrated seamlessly with Office and SharePoint.
Workshop Power BI & data-driven working
This unique Power BI workshop was designed from the ground up to teach participants all the tricks of the Power BI trade. Master all the essentials of one of the most flexible BI tools around. Learn how to implement Power BI and data-driven working in your organization and maximize your data's value.
Microsoft occupies a strong position in the BI market
With all these products, Microsoft has created a strong position for itself as a BI vendor. Microsoft's different BI products can now run both on premise and in the Cloud. Hybrid forms are also possible. New developments and BI functions are first available in the Office 365 environment. Organizations may want to consider a transfer to that licensing structure if they want to get in on the ground floor of new features.
What are the key benefits of the Microsoft BI suite?
The most frequently mentioned benefits of Microsoft BI are:
Very user-friendly, because of a strong integration with the Office products, originating mainly with Excel. Power BI has made it much easier to analyze large amounts of data.
Microsoft has a comprehensive range of solutions for both on-premise and Cloud. Hybrid solutions are also available. As a result, a step-wise Cloud strategy has become possible.
Power BI solution is relatively inexpensive, especially compared to other large BI vendors. For most BI users the functionality is more than adequate and with its 'office-like' user interface, the tool is relatively easy to operate.
Microsoft is fully committed to Mobile BI and self-service BI now.
What should you look for when purchasing Microsoft BI?
Here are the disadvantages of Microsoft BI:
Microsoft now provides multiple solutions; it's not clear what the integration of these different solutions looks like.
For the Microsoft BI suite there is no separate sales organization. Because of this, it's often unclear what the best choice for customers is, and at what price.
The solution scores lower in the area of social BI. If that's important to your organization, you may want to consider another solution.
The Business Intelligence suite and support score significantly lower when it comes to 'non-Microsoft' file formats and databases.
The licensing structure is unclear. It's now undoubtedly one of the best solutions on the market. Until recently the license cost for Microsoft Power BI was € 39.95 per month instead of the current € 9.95 per month. The question is for how long this will remain.
How do we position Microsoft as a BI supplier?
Microsoft BI tools cover a wide range of functionalities and they remain competitive. They provide user-friendly tools that connect strongly with the experiences of end users (Excel).
By offering both on-premise and Cloud Solutions, both flavors can be provided for properly. For processing large amounts of data in other file formats, this solution is less suitable.
Want to know more about how the Microsoft BI platform compares to other solutions and platforms? The Passionned Parabola for BI & Analytics shows you the strategic perspective on the entire BI market at a glance.
Compare Microsoft BI with other BI tools
If you are considering buying one or more Microsoft BI products, it is imperative that you make an informed decision. Passionned Group has, for over 10 years, executed an independent study, the Business Intelligence Tools Survey 2019, which can help you to make the right decision. The BI platforms are compared with each other on almost 200 criteria. This survey is now available through our website.
Should you buy Microsoft (BI) tools?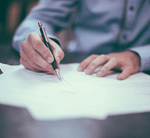 Microsoft has a wide range of tools and linked to it is a comprehensive licensing structure. The BI tools often cannot be separated from the other licenses such as Office 365. The licensing structure of the software changes regularly and sometimes certain other licenses are required. The license fees may vary greatly. At first, Power BI cost €39.95 per month, but now that's only €9.95 per month.
Do you plan to purchase large amounts of Microsoft licenses and do you want to try and keep costs down? Please feel free to contact one of our Microsoft (license) specialists. They can advise you on the best choice for your situation.
Other BI-tools
Microsoft has an extensive BI range, but there are also other suppliers. Also take a look at these other suppliers and what they might mean for you.
Microsoft BI expertise
Microsoft BI is very user-friendly, so why would you hire an expert? Proper implementation of the various Microsoft components both on-premise and in the Cloud is often still a challenge for any organization. How can you make the various components work together seamlessly?
Microsoft offers many possibilities to organize the BI workflow, but which options are best for your organization? Will you send reports or do you work with interactive dashboards or will you work simultaneously on the same dashboards? Each of the situations needs a different workflow in order to achieve your BI targets.
Our Microsoft developers can work with you to work out the best solution and see which BI workflow is best for you, regardless of whether it comes to the more traditional BI solutions of Microsoft or the self-service solution, the Power BI tool.
Learn more about the Microsoft BI or Business Analytics
For over 10 years, Passionned Group has been the independent knowledge source of information in the field of Business Analytics. We also offer a wide range of BI training to operate your organization in a smarter way. Please contact us if you want to take the next step with your organization.