Compare BI tools
QlikView vs Tableau, which business intelligence tool scores better on functionality, performance, visualization, analysis and dashboarding? In the 100% vendor independent comparison of the Passionned Group, QlikView and Tableau are compared on a feature by feature basis.
QlikView vs Tableau: which one scores better on core functionality
In the Business Intelligence Tools Survey 2019, 197 criteria are used to examine QlikView, Tableau and 16 other Business Intelligence tools. In the category 'core functionality' (29 out of 197 criteria) they score almost the same points. That is visualized in the figure below.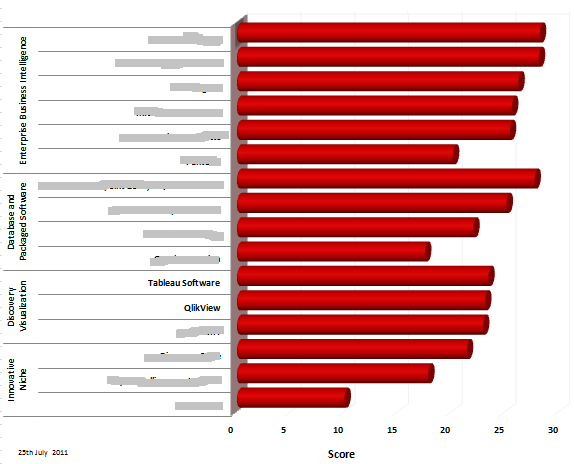 Figure 1: the score in the category 'core functionality' of QlikView vs Tableau. 29 criteria out of 197 are used to measure this score. Source: Business Intelligence Tools Survey 2019.
Performance management
Both QlikView and Tableau have very less facilities for performance management: using a balanced scorecard methodology, setting norms and targets, linking key performance indicators (KPIs), and so forth.
The connectivity of QlikView differs from Tableau Software
In one category, connectivity & security, the two BI tools score not equal. Tableau Software has a better connectivity. It can connect natively to 17 data sources where QlikView has yet native support for 2 data sources. Allthough QlikView and Tableau have almost the same scores in some categories, they differ in some crucial details like support for aggregate awareness and cubes. If you want to know all the strengths and weaknesses of QlikView as well as Tableau Software, order and download the Business Intelligence Tools Survey 2019 today.
Expert verdict
| | |
| --- | --- |
| Qlik | Tableau Software |
| "Qlik (FKA QlikView) sales have grown dramatically in the last two years, showing that there is at least some room in the marketplace for a product that is genuinely different. Whilst BI in general has moved from being a relatively simple product to a complex integrated architecture Qlik is a fairly simple product, easy to use, quick to implement and because it works in memory it has very fast response times. Both the customers and consultants alike are generally very positive about the product. It should be noted that in general 80% of the implementation cost of a Business Intelligence solution is consultancy (either hired-in or in-house staff). According to a number of consulting companies we have spoken to Qlik development is about 5 (five) times quicker than BI development with conventional products – if this remains so then use of Qlik would have some huge financial advantages. We believe however that they will need to add more functionality if they wish to compete with the market leaders at the larger organizations." Learn more | "It is generally accepted that the ability to use a product easily and to interpret the results just as easily is one of the most important factors in the acceptance of a Business Intelligence project. According to their users Tableau seem to have solved this problem, with a number of large companies using the product as an additional presentation layer. We have included Tableau in the new category Data Discovery and Visualization products because it is not (yet) a full BI product in terms of the functionality which we expect (batch reporting, data lineage, impact analysis) and as far as we can see isn't trying to be one. However, their overall score in our survey comes with each new version closer and closer to the big vendors. It might be well that Tableau will move to the category Enterprise Business Intelligence within the next two years. Conclusion: this is an excellent analysis product with extensive functionality for use by the end-user – especially the Story Points feature is nice – and the product is very easy to use." Learn more |
If you want help with your tool selection process of QlikView or Tableau Software, please contact us at: +31 33 8887010 (www.passionned.com). We are being asked for our world class business intelligence consulting services and business intelligence training all over the world.
More in this series: