Improving Management Information
Substantially improve the quality of your management information using the following tips. Research of over 400 organizations shows that the following factors are essential in stimulating the use of management information. In order of importance: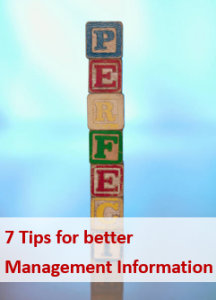 1. Match the dashboards and reports with the target audiences and roles inside your organization. This has proven to be a decisive factor for the success of a management information system. For more information, check out the business intelligence framework.
2. Make sure users can still see the forest for the trees by not flooding them with reports. Present the right amount of reports: not too many, not too few. See also our article "Stop reporting, provide insights".
3. Use colors wisely, and make clear, simple graphs and other, more advanced, data visualizations. Consider the fact that about 4.5% of the world's population (predominantly men) is color blind.
4. Standardize the layout of management information. This makes management information more accessible and easier to use. It also makes it easier to maintain reports and dashboards.
5. Make sure there are interactive elements on reports and dashboards so that users can analyze any element in detail from any angle. This enables them to get to the bottom of things and discover relevant information more easily (Data Discovery).
6. Explain management information thoroughly using legends and definition manuals. This prevents miscommunication about the facts and users drawing incorrect conclusions that are not in line with the facts or other conclusions.
7. Make sure the information is analyzed thoroughly so that the management information is matched with the needs and roles of the users in the process.
See also: The 5 biggest KPI blunders.
Download the SMART KPI Toolbox or follow our Training Course
Contact us to see what our specialists can do for you and your organization.