Customer-focused business makes the difference
Being customer-focused is essential for businesses. It separates the winners from the losers. Research by Forrester has shown that customer-focused businesses perform much better than organizations that aren't customer-focused. The customer-focused organization adds a lot more value. In doing so, they don't just earn more praise from their customers; revenue and profit increase, too.
Customer value and customer-focus
Customer-focused business starts from the assumption that creating value for customers is the only way for businesses to create value for themselves. It's hard to create a singular definition for customer-focused business. There are many popular definitions. The Customer Intimacy definition by Treacy and Wiersema is commonly referred to. But a term like "customer excellence" can also be used to describe the customer focus of your organization.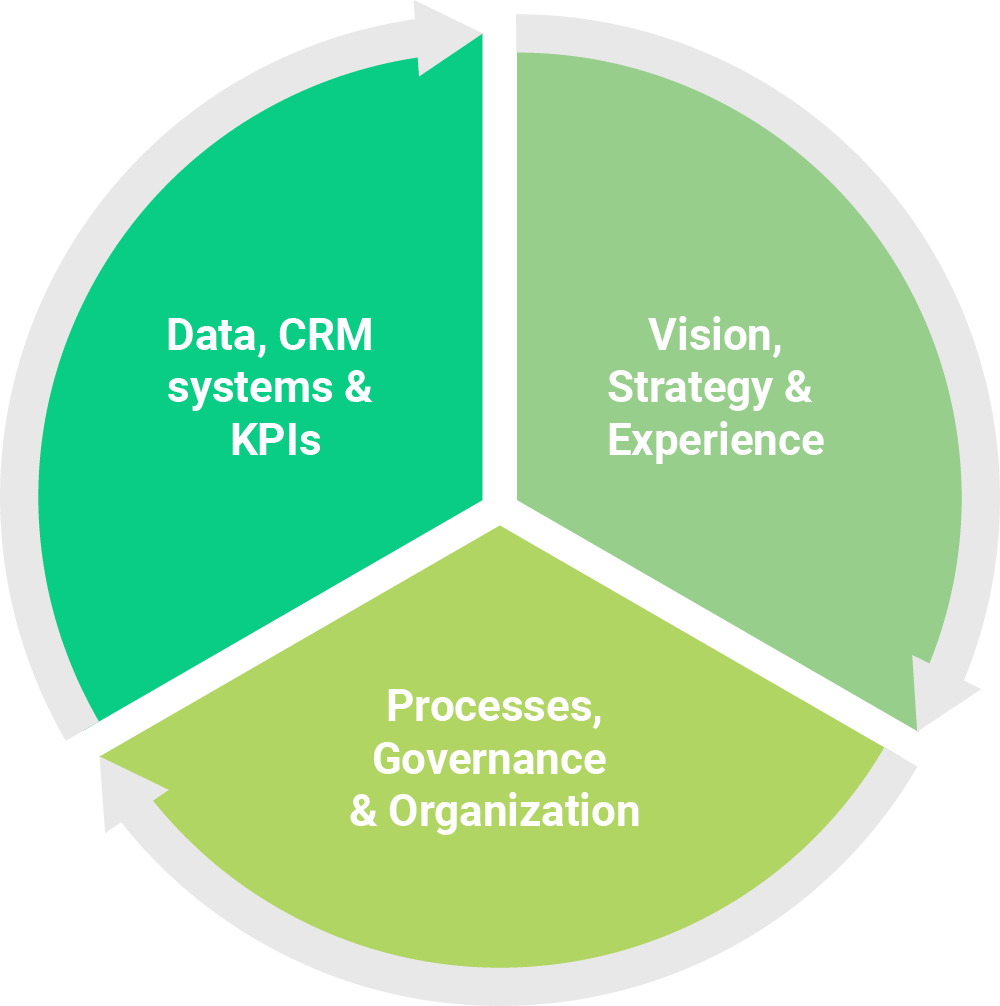 Customer-focused business is more than just a person or department that focuses on customers. It's a designation for the vision, strategy, and customer experience, and translating that into a customer-focused organization, employees, and processes. This is supported by the right customer data, CRM systems, and measurable criteria (KPIs). Passionned Group's specialists are eager to help you with independent advice. And of course we can help you become more customer-focused.
A fresh perspective on customer focus
An organization and its employees often have a very different perspective on customer focus than their customers. Research among employees shows that 70% think that their organization is customer-focused. But if you ask the same question to customers of that organization, it turns out that only 8% of customers thinks that the organization is customer-focused.
The big difference can be explained by customers experiencing organizations holistically. Employees often only see a part of their own organization. They're looking from the inside-out, whereas customers look from the outside-in. That's why it's becoming more commonplace for organizations to design their customers processes from the outside-in. The growing popularity of service design thinking is a good example of this.
Customer focus and being customer-friendly
You can make your organization work in a customer-focused way, by prioritizing customer satisfaction and providing high-quality service. Being customer-friendly is a way of showing how customer-focused your organization is. But just being friendly towards customers without providing the service they need is not the definition of being customer-focused. That's just being customer-friendly.
Only measuring customer satisfaction
This is the most common mistake made by organizations that want to be customer-focused: immediately measuring customer satisfaction. They don't consider the changes the organization needs to make. When organizations want to become more customer-focused, they often start by measuring it. They might measure the NPS score (net promoter score), for example, or other customer-focused KPIs. Without adjusting the organization's processes or the skills of its employees. There are many organizations and tools that can measure the degree of customer focus. This is often a science in and of itself, but this isn't the solution when:
You take measurements when you customer doesn't know what to expect.
The organization isn't ready to be measured, and the relevance or urgency is lacking.
Insights aren't shared across departments.
The measurements can't be translated into concrete actions.
So what's right way to go about it? By taking an outside-in approach instead of an inside-out approach.
Our approach: the 9-layer model
In order to make the organization more customer-focused, it's essential work on all aspects of customer focus. For that reasons, we've developed the unique nine-layer customer model. This model doesn't just show what an organization should work on. It also provides tools you can use to quickly improve your organization's customer focus. The nine-layer model consists of the following components: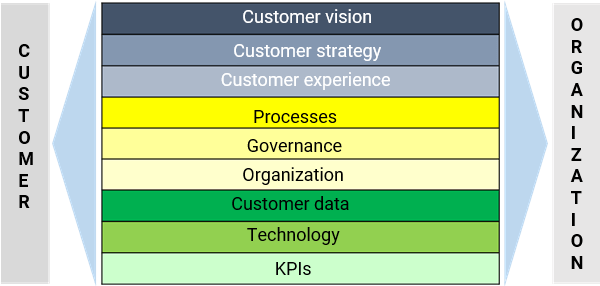 This is what each of the nine layers stands for:
Customer vision is the starting point of any change. Put a dot on the horizon that represents how you want to treat customers. The organization's directors ideally determines what the customer experience should be like, and how customers should see and experience the organization. The direction only sketches out what the organization should look like, and what the consequences of that should be.
Customer strategy is the translation of the vision into concrete objectives per customer segment. This is then translated into a strategy with concrete plans and a roadmap. The organization can then execute it. It's essential that everyone in the organization is familiar with the vision and the strategy.
Customer experience is the key to more loyal customers, higher customer satisfaction, and more revenue. It provides a clear picture of what the organization wants to stand for. Sketch out the customer experience your customers can expect, and what the focus is.
Processes describe how the organization works to provide the services that customers desire. It's important to describe where the customer contact points are in every process, also called touch points. The focus should be outside-in when it comes to process design.
Governance describes how the organization acts and where its responsibilities lie. It's more concerned with horizontal, flat structures focused on feedback rather than hierarchical organization. It's about the direction of the customer domain.
Organization describes which members of the organization are responsible for which customer segments. Next, clarify how this can be functionally organized into tasks, roles, and responsibilities. Competencies of employees and organizational culture also fall under this domain.
Customer data is the registration, maintenance, and distribution of customer data. So that employees all across the organization have access to a comprehensive customer profile. This information has to be complete, accurate, and timely for it to be used properly. When used well, customer data can be the key to the optimization of customer interaction, predictable delivery, and higher customer satisfaction.
Technology concerns the purchasing, building, and maintenance of CRM software. This includes the infrastructure and sourcing of applications. Questions of integration and the ICT organization also fall under this aspect.
KPIs measure the objectives of the organization with regards to customer contact. The goal is to arrive at measurable business values that can be used across the entire organization. That creates a feedback mechanism to make employees work more customer-focused.
The results of our approach
What are the results of implementing our approach in your organization? A customer-focused business can expect the following results, among others:
Greater customer satisfaction and a better customer experience.
Higher revenue and better margins.
Better predictability and quality experience for customers and the organization.
Decreasing operational costs by reducing rework.
Adjust to changing customer expectations quicker.
Quicker results thanks to an approach focused on implementing changes. This immediately impacts customers.
Organizations that work customer-focused achieve markedly better results than organizations that can't or won't distinguish themselves by doing so.
Maturity in customer focus
Not every organization has reached the same level of maturity when it comes to being customer-focused. Every organization has a different history, goals, market, and customers. It's only natural that they have different priorities when it comes to customer focus. You can see this in the different uses of the aspects in the nine-layer model.
A good example of this is that many organizations that want to be customer-focused are quick to implement customer KPIs (mature), while the customer experience hasn't been defined yet (immature).
There are five stages in our maturity model:
Awareness.
Development.
Application.
Optimization.
Leadership.
These five stages of maturity can be applied to each aspect of the nine-layer model. Based on an extensive questionnaire about the current and desired situation, you can map your organization and gain insight into the gap.
Our advice is always to have the questionnaire filled in by multiple stakeholders so that the model can highlight any differences in insight that may occur in the organization. These differences can then be discussed to arrive at a shared plan of action. That way, the organization's maturity can be improved in a controlled manner, step-by-step. If you want to know where your organization is at as a customer-focused business, take the test. You'll immediately know your place.
If you want to get started with the outcome of this test, take a look at our offerings in Passionned Academy, or get in touch with us for a conversation. Together, we can find a solution to whatever issue your organization is facing.
Why customer-focused business is challenging
If being a customer-focused organization is more profitable in every way, then why aren't all organizations getting in on it? The answer is that it's not as easy as it sounds. There are seven primary reasons for this:
Lack of vision for customer-focused working.
Lack of inspiring leadership.
The organizational structure is overly functional instead of customer-focused.
Implementing a new CRM system is seen as the solution.
Changes are often too internally focused, and there are too many at once.
Employees aren't invested in customer-focused working, for many reasons.
The organization lacks passion for the customer.
If you want to improve your organization's customer focus and better serve your customers, here are three solutions you can get started with right now:
Answer 1: Make your organization intelligent
In the book Data Science for Decision-Makers, author and founder of Passionned Group Daan van Beek explains how organizations can capitalize on changes in customer-focused business better and faster, using data. By coupling a strong vision to smart insights (analytics) and acting on it quickly and adequately, you can create the foundation for a customer-focused organization. The book, the approach described above, and our toolbox give you practical handholds to realize your organization's customer goals.
This change approach isn't a one-time thing. Customers keep changing, so the organization has to change with them. Implementing a continuous change process is essential in order to remain successful.
Answer 2: Constantly course-correcting your business model
Business models of existing organizations are under increasing pressure. Consider retail models that have to continuously compete with online stores. The customer is becoming less loyal and keeps expecting higher quality service. The only way to be ready for that as an organization is to be customer-focused and to constantly innovate your business model.
The intelligent organization contains all the ingredients needed to implement and improve these business models in organizations. This makes the organization much leaner and more agile. To quickly design, test, and implement business models, we've developed a scenario planning & Business Dynamics training course.
Answer 3: Service design thinking
Customers are becoming more demanding. Distinguishing yourself through products alone isn't enough anymore. The ability to distinguish yourself as a customer-focused business more often lies in the service domain. Service design thinking is a trend that's increasingly commonly applied in organizations. The goal is to create the ultimate customer experience. A good example of a customer-focused business is Apple.
This video explains the essence of service design thinking in 90 seconds. If you want to know more about this approach, feel free to contact us. We're love to talk you through what service design thinking can mean to your organization.
Successfully improve your customer focus
We have over 25 years of experience in realizing and improving customer-focused business in various industries. Using countless solutions and our own unique approach, we can help your organization become more intelligent and customer-focused. So that you can get greater returns on your investments.
Feel free to contact us for a conversation about customer-focused business. We're eager to tell you about our approach and the results you can expect to achieve.