Course-correct using performance management
As a manager or director, you need up-to-date insight into the performance within your organization, departments, and teams. And preferably as fast as possible, so you can course-correct immediately. Quality is what matters here, so the insight has to be complete. You want to find out what the driving force behind success is. Passionned Group's performance management makes this all possible.
Insight through performance management
Performance management balances the management process. It reduces focus on financial numbers as a sole driver – these numbers can only tell you something about your performance after the fact. Using performance management, you'll look at an integral system of cohesive goals, critical success factors, and KPIs. That gives you much greater opportunities to predict, continuously improve, and execute your strategy more effectively. And you get a better view and grip on your business model.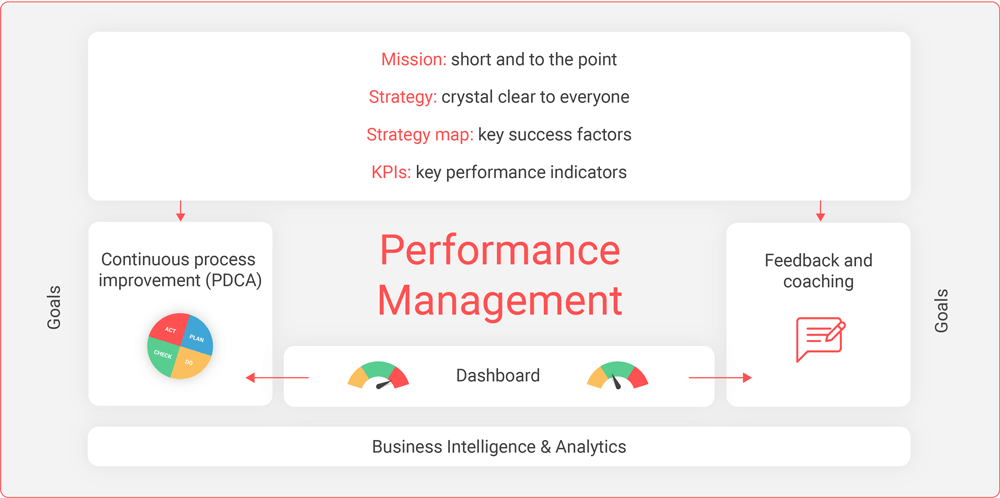 The advantages of performance management
See how your company, department, or team is performing at a glance.
Make your organization or team more effective and agile.
Your employees will better understand the driving forces behind financial results.
Employees will cooperate and be guided by these driving forces more effectively.
Your organization will exhibit stronger control of critical success factors.
What are critical success factors in performance management?
Performance management starts with clearly mapping the KPIs within your organization. After all, every department is responsible for several key pieces of the puzzle. KPIs reveal the essentials: the critical success factors of your strategy.
It's important to determine exactly what they look like. What and how do marketing, sales, production, IT, HR, and purchasing contribute to higher customer satisfaction, better financial results, and the overall performance of your organization? This insight can be gained using a so-called strategy map.
Ignoring KPIs wastes opportunities
Without insight into your genuine KPIs, you're probably wasting serious opportunities. Of course it's great that you can see that your market share, quotations, new clients, and revenue are growing. But do those tell you if you're actually doing well, long-term? No, because your market share may be increasing, but at what cost? That's why you have to look at genuine KPIs like productivity, staffing, lead time, and waste. That will immediately show you what else can be improved. Useful, especially in times where your results seem to depend greatly on the condition of the economy. KPIs offer you serious opportunities to improve your performance further.

You can't manage performance without pure, genuine KPIs to drive. Many organizations are struggling with too many indicators that aren't truly Key Performance Indicators. The SMART KPI Toolbox will help you pare down the forest of KPIs down to a manageable handful that really expose the key management information, allowing you to focus on what really matters. Contains many examples, exercises, and explanations. Download now.
go to the SMART KPI toolbox (Complete Edition)
What are the exact goals of your organization?
Your organization probably has a mission and a strategy. But are they concrete enough? Do your people understand it, and can they act on it? Our research has shown that only 26% of employees understand their contribution to the strategy. Integral performance management makes sure that everyone can grasp the critical success factors of your strategy. When the current situation (as-is) is clear not only on a company level, but also on a departmental level, you can deliberately define goals and norms for every KPI (to be). That's how you gain clarity and focus on the goals that really matter, on all levels of the organization.
Managing performances
Armed with a clear starting point and defined goals, you and your team can get started managing performances. Then you'll be able to drive more than just financial numbers. Using performance management tools like a Balanced Scorecard and a dashboard, you can periodically and in the right frequency determine the achieved results. Gain insight into whether targets have been met per KPI, department, and/or per person. And you can see where deviations take place, and where you need to course-correct. It also ensures clear communication and greater cohesion. Especially when it's embedded in a continuous improvement cycle like PDCA.
Personal involvement
Performance management increases the personal involvement of employees and managers in your company's performance. It makes employees aware of the fact that financial results are the consequence of processes and factors that connect together (strategy map). So not just hard work, but also marketing concepts, client knowledge and attention, logistical innovations, and human capital will help you improve your business model.
Client testimonial
"Passionned Group helped us create a performance management system. This enables both leadership and employees to drive the organizational goals much more effectively."
Joke Bults
Financial Manager
De Woonplaats
Multiple angles for performance management
Given the ever-increasing popularity of management models, more and more organizations are embracing performance management. Often, they'll work from the angle of planning and control, continuous improvement, or strategic management. But there are some other interesting angles, too:
Organizational development & performance management
Quality management & performance management
Personnel management & performance driving
With surprising results, which is why the knife cuts both ways.
1. Developing your organization using performance management
Recent research shows: performance management shouldn't be used solely to monitor performance. The odds are good that performance won't improve. So, how should it be done?
Excellent system for organizational development
Performance management systems are also exceptionally well-suited to organizational (re)development and strategy management. Not every system, but those that consistently couple higher scorecards to those directly underneath it. This can be done by consistently asking the following questions for every formulated objective per level: "How are we going to reach that?" and "What is critical to do so?"
Organizational structure forms automatically
These questions have to be answered in clear, quantifiable objectives. These objectives are assigned to the right groups or persons in the organization. As a result, an organizational structure will arise automatically. "Who does what?" or, stronger: "Who is responsible for what?". Thus, ownership – an important factor in performance management projects – can establish itself naturally.
Quick insight into activities that don't add any value
A side-effect of this process is clarifying which activities in an organization don't have any added value to the realization of objectives. This "waste" should at the very least spark discussion about the usefulness of the activity in question.
Client Testimonial
"Passionned Group challenges the organization and isn't easily satisfied. They make sure to get results."
Fons Catau
General Director
De Woonplaats
2. Improve quality using performance management
A lot of quality management systems are activity-based. Entire handbooks are filled with procedures that describe how people should work.
Integral implementation makes handbooks obsolete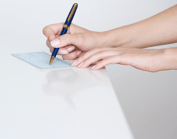 An integral implementation of performance management makes these handbooks obsolete, in any case. The results, not the activity, are central.
Small step to completely procedure-less ISO 9001
Because a balanced scorecard also uses the right frequency of measuring and reporting, process management and control of the sub-processes are taken care of simultaneously. And then a completely procedure-less ISO 9001 system is only a small step away.
Performance management is a solution for INK model users
Performance management is a great solution for companies that work with the INK model, too. The various areas of results are already quantified using performance indicators. Here, too, using those results to manage areas that need attention is very effective.
3. Four positive results for personnel
On a personal level, a good performance management system and SMART goals have several positive effects. These are the four most important ones.
a. Creating discussion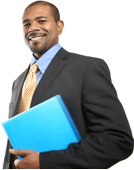 The first positive effect is that careful development of balanced scorecards is an excellent means of communication in the organization. Your employees will not only become more familiar with the company's direction on all levels, there are more effects.
When formulating goals and objectives, it's important to keep in mind that they should be realistic. Unrealistic goals should be avoided at all costs. This means that goals will have to be tuned to preconditions almost automatically. This creates demands of the organization en the previous processes, and those have to be recorded.
Typical comments during this process:
"I'll have to get this or that on time from my colleague"
"I'm going to need a lot of time and money to do this"
"My people will need to take specialized training"
When goals and objectives don't meet the right conditions, discussion about the ambition of said goals is inevitable. But there will also be discussion with the first higher level about the established objectives.
b. Contribution to objectives
The second thing is that performance management tells employees what's expected of them. This gives them insight into how ambitious the objectives are, and they can comment on that. At the very least, there should be agreement about the objectives between the two hierarchical levels involved. This agreement is something like a performance contract: both parties know what's expected of each other.
c. Fair performance evaluation
The third effect is that if agreements are clear, evaluating someone's performance can be objectively done according to these standards. That's how you can establish a fair evaluation system.
d. Function profiles become obsolete
The fourth effect ties in with the previous ones: function profiles based on knowledge, activities, and responsibilities become obsolete. The function becomes defined based on the results that should be achieved, and the way they should be achieved.
What steps are taken in performance management?
Step 1: Establish clear expectations together about the goals of performance management.
Step 2: Determine the critical success factors and define the genuine KPIs.
Step 3: Create or obtain tools to measure and visualize progress on every KPI level.
Step 4: Learn to drive indicators and secure improvement in the process.
The most important results of performance management
✓ Focus on the goals that really matter, 100% aligned to each other.
✓ Employees won't work in silos anymore.
✓ Automatic improvement of the quality of products and services.
✓ Profitability goes up dramatically, no more waste.
✓ Higher customer and employee satisfaction.
Specialists in performance management
Passionned Group's consultants have a wealth of experience advising about and implementing performance management tracks. As authors of various management books, such as Data Science for Decision-Makers, and organizers of the Dutch BI award, Passionned Group belongs to the upper echelons of performance management experts. If you want to implement performance management in your organization, feel free to contact us, no strings attached.