The process of choosing a suitable tool for Business Intelligence and performance management in your organization is often difficult and time-consuming. Tools are also expensive, and the tool you choose can't just be exchanged for another one due to the high investment, both financially and from an organizational standpoint.
Independent research agency Passionned Group released the latest edition of the BI Tools Survey, to help you choose a suitable BI tool faster.
Trends in the marketplace
The acceptance rate of BI has been under 20% for years. That means that less than 20% of the users that need BI actually use it. There are two reasons for this: the products are too expensive and too hard to use. The latest versions of the products we've tested seem to have solved these two problems. Is BI finally ready to be accepted by the masses?
What does the report look like?
The latest edition of the BI Tools Survey covers the latest developments in the BI tools marketplace. The traditional market leaders like Business Objects, Cognos, and Hyperion have been in the hands of the biggest IR giants like SAP, IBM, and Oracle for a while. This raises the question of whether BI software will be supplied with databases or the new ERP system. That begs the question: will this transition finally create the BI acceptance that the market has been waiting for for 20 years?
Based on five broad categories and 70 criteria, we compared the thirteen most-used Business Intelligence Tools. We compared them on criteria like architecture, user-friendliness, functionality, and costs. Qlikview and Board, for example, scored high on innovation, and SAS, Microstrategy BI Tool and Information Builders scored high on functionality. The graph below illustrates how the different products were compared and how this report visualizes the results.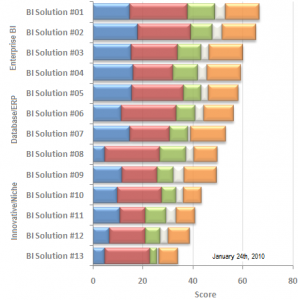 We emphasize both the positive and the negative aspects of each BI solution, while the suppliers typically only mention the pros. This report is 100% vendor-independent, so there's no doubt about whose interests we serve.
Saving time
The first benefit of the report is saving you a lot of time. Collecting the right information – and not just the information supplied by vendors – is a long, arduous process. Thanks to the advice of the BI specialists in the report, you can quickly decide if you want a product that's ideal for programmers, for example, or a product that's better suited to the business. The BI Tools Survey ensures that your first selection will be much faster.
Stronger bargaining position
The BI Tools Survey will also provide you with a stronger position from which to negotiate with the vendor, because you hold all the cards – you know exactly what their strengths and weaknesses are.
Learn more?
Did we pique your interest and do you want to order the BI Tools Survey? Click the button below. You can also freely contact us for more information.