Third edition of the Business Intelligence book, 100% revised
An intelligent organization focuses its senses on the things that matter to them. It uses its brains to process signals into meaningful information and knowledge, and its limbs to implement and perform specific actions. To begin with, two aspects are important: proper data registration, and determining what information is truly relevant in order to achieve better results.
Knowing what might happen tomorrow is essential
The ever-growing mountain of data, the increasing (market) dynamics, and the (often) limited time to make decisions are major challenges. Having the ability to quickly obtain reliable insight into what is (currently) happening, why it is happening, and what might happen tomorrow is no superfluous luxury, it's necessary to stay competitive.
Making better decisions, faster – at all levels
Business Intelligence (BI) and performance management, using clever filters, meaningful indicators, role-based reports, integrated dashboards, customer sheets, and flexible analysis, can make the necessary difference. Whether it concerns daily information about logistics performance, or weekly reports on product margins or process lead times, it all comes down to this: making better decisions, faster – at all levels. Discussing performances becomes more important than 'hard' figures. Behavioral changes, as well as an analytical culture, are critical for success.
This business intelligence book covers all the major principles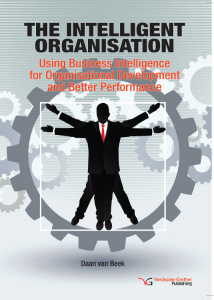 This business intelligence book covers the most important basic principles, organizational processes, architectures, tools, and conditions needed to create a truly Intelligent organization: from awareness to successful applications, from social infrastructures to tested and proven technologies such as data warehouses, enterprise portals and data integration. The organization can pivot and start to think and work market and process-oriented. The customer will get online access to both relevant information and applications in the back office and is ultimately in the driving seat.
Think differently and work together better
In this way, the effectiveness of the organization can increase significantly: the relatively small group of managers will be extended, as it were, by employees, customers, suppliers, and other stakeholders, all of whom will also act as 'involved' managers. Top-down control and bottom-up commitment will then converge. Based on the concept of Business Intelligence, we will not only think differently and work together better, we will also increasingly organize ourselves around processes and target audiences. Many of organizations worldwide have already embraced the concept of Business Intelligence.