Third edition of the Business Intelligence book, 100% revised
An intelligent organization focuses its senses on the things that matter to them. It uses its brains to process signals into meaningful information and knowledge, and its limbs to implement and perform specific actions. To begin with, two aspects are important: proper data registration, and determining what information is truly relevant in order to achieve better results.
Knowing what might happen tomorrow is essential
The ever-growing mountain of data, the increasing (market) dynamics, and the (often) limited time to make decisions are major challenges. Having the ability to quickly obtain reliable insight into what is (currently) happening, why it is happening, and what might happen tomorrow is no superfluous luxury, it's necessary to stay competitive.
Making better decisions, faster – at all levels
Business Intelligence (BI) and performance management, using clever filters, meaningful indicators, role-based reports, integrated dashboards, customer sheets, and flexible analysis, can make the necessary difference. Whether it concerns daily information about logistics performance, or weekly reports on product margins or process lead times, it all comes down to this: making better decisions, faster – at all levels. Discussing performances becomes more important than 'hard' figures. Behavioral changes, as well as an analytical culture, are critical for success.
A must-read
This Business Intelligence book is a must-read for both business managers and IT professionals. The 3rd edition is even more practical than previous ones.
NBD Biblion
This business intelligence book covers all the major principles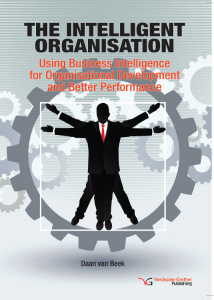 This business intelligence book covers the most important basic principles, organizational processes, architectures, tools, and conditions needed to create a truly Intelligent organization: from awareness to successful applications, from social infrastructures to tested and proven technologies such as data warehouses, enterprise portals and data integration. The organization can pivot and start to think and work market and process-oriented. The customer will get online access to both relevant information and applications in the back office and is ultimately in the driving seat.
Organizational intelligence is not the sum of its intelligent employees
Intelligent organizations; the subject has lost none of its topicality in recent years. Although we see that, at employee level, knowledge and the development of knowledge are indeed being managed more intensively, we also see that many organizations do not actually deserve the predicate 'Intelligent Organization', even though they are rich in intelligent employees. The intelligence of an organization is not simply the sum of its intelligent employees. No, what matters is the intelligence of the organization itself: a collective mental capacity. Sometimes it even seems as if the number of intelligent employees is inversely proportional to the intelligence of an organization.
Steer intelligence at a human level
Admittedly, intelligence is a complex concept. It's difficult enough to define, make tangible, and steer intelligence at a human level, let alone at an organizational level. We attempt to grant organizations characteristics that are similar to those that distinguish intelligent people from less intelligent people: acting on the basis of knowledge, anticipating developments in their (direct) environment, developing a learning ability, and being able to reflect on one's own position within the environment, to name a few. Business Intelligence provides organizations with these elements, and thus contributes to a more intelligent organizational structure.
Intelligent management with KPIs
In the past few years, not all the elements of what we call an Intelligent Organization have received equal attention. Many books have been written about performance management, data management, and project management, while the adaptive and sensitive elements of the Intelligent Organization have often remained underexposed. Many organizations still have much to gain in the areas of competitive intelligence, innovation, social infrastructures, knowledge management, and intelligent management with KPIs.
Key concepts that contribute to smarter organizations
In this book, Daan van Beek consistently works out some key concepts that can contribute to the development of smarter organizations. He divides his attention evenly between the motor and sensory elements of the Intelligent Organization. Furthermore, he supports a development model in which the various elements of the Intelligent organization progress through the different stages hand in hand. The author provides important tools and contributes greatly to the central question that all Business Intelligence professionals should address: how can we get organizations to perform better, structurally?
Think differently and work together better
In this way, the effectiveness of the organization can increase significantly: the relatively small group of managers will be extended, as it were, by employees, customers, suppliers, and other stakeholders, all of whom will also act as 'involved' managers. Top-down control and bottom-up commitment will then converge. Based on the concept of Business Intelligence, we will not only think differently and work together better, we will also increasingly organize ourselves around processes and target audiences. Many of organizations worldwide have already embraced the concept of Business Intelligence.
Order "The Intelligent Organization" now
The BI-book 'The Intelligent Organization' (296 pages) contains dozens of diagrams and images, many best practices from different industries, and many useful tips. You can order it right away for Euro 37.50  (excluding sales tax).