Unlimited access to BI & Analytics expertise
The Business Intelligence & Analytics Guide gives you unlimited access to a vast amount of BI & Analytics expertise. Whether you want to choose a tool or vendor or want to know everything about the field itself. With this unique, interactive guide, you can give your knowledge of the field and the market a quick and thorough boost. We've done all the legwork for you, saving you up to thousands of dollars per year. Staying up-to-date in your field or choosing a tool has never been easier or more objective. Download the BI & Analytics Guide 2021 here.
What can the BI & Analytics Guide do for managers and professionals?
The online Business Intelligence & Analytics Guide opens up a whole new world. The accessible, practical knowledge can be quickly applied in your organization or that of your customers. The direct benefits and applications of the Business Intelligence & Analytics Guide are:
Develop, refine, and enrich your knowledge as a data professional in the field of your choosing. The guide can be used as an online training course for yourself and your team. Take advantage of the valuable insights contained in its extensive video library.
Select, as a consultant or manager, the vendor(s) that best suit(s) the requirements of your organization or project. Order the BI & Analytics Guide for an objective vendor evaluation in the run up to an RFP proposal, a tool selection, or in preparation for a presentation.
Compare and evaluate vendors in relation each other. If you are a vendor, see how you stack up against the competition.
Stay up to date on the latest developments and news in your field and the market, as a consultant or manager.
All of these applications have been developed and integrated into one user-friendly guide so that you can do your work more quickly and advise your clients or colleagues more effectively.
Main topics of Business Intelligence & Analytics Guide 2021
The following topics are considered in the BI & Analytics Guide. Each topic also covers a large number of sub-topics, represented by the number following each subject below. In total, over a thousand relevant subjects and countless examples have already been integrated into the guide, with new ones being regularly added.
✪
Infrastructure & cloud (+75)
✪
Mobile Business Intelligence (+50)
✪
Multidimensional models (+25)
✪
Performance optimization (+50)
✪
Performance management
(+25)
✪
Real-time options (+25)
✪
Self-service functionality (+25)
a
ab testing
abap
abap connectivity
active directory
ad
ad hoc analysis
ad hoc reporting
adfs
advanced analytics
advanced analytics integration
advertising analysis
adwc
agile analytics
ai
ai bots
ai models
aix
algorithms
amazon athena
amazon redshift
amazon web services
analysis
analytics
analytics hub
analytics platform
android
animated graphs
apache cassandra
apache hive
apache impala
apache spark
apache tomcat
api
api authentication
api management
application programming interface
area chart
artificial intelligence
asset performance analytics
association rules
audio analytics
augmented analytics
augmented reality
authentication
automated analytics
automated machine learning
automatic data modeling
average trend line
aws
azure active directory
azure analysis services
b
balanced scorecard
bam
banking analytics
bar charts
bar-line chart
basket analysis
bayesian networks
behavioral analytics
bi
big data
big data analysis
big data analytics
big data analytics platform
big data cloud computing
big data computing
big data engineering
big data governance
big data integration
big data management
big data pipelines
big data processing
big data quality
big data streaming
big data streaming analytics
big data visualization
blinkdb
blob storage
bubble charts
bullet graphs
business intelligence
business intelligence platform
business process analytics
business process monitoring
business rules
c
cache settings
cached data
caching
calculated dimensions
calculated field
campaign analysis
candlestick charts
canonical correlation analysis
canonical discriminant analysis
care analytics
cartesian charts
cas
causal pathways
cdc
central data hub
central data warehouse
chart suggestion
classification analysis
clinical analysis
clinical research analytics
cloud analytics
cloud based
cloud based business intelligence
cloud computing
cloud computing infrastructure
cloud data warehouse
cloud platform
cloud services
cloud-native analytics
cloudera hadoop
cloudera impala
cluster analysis
cluster analysis node
clusters analysis
cognitive computing
cognitive services
cohort analysis
collaborative analytics
collaborative data science platform
column charts
combo chart
complex data
complex data analysis
complex data sets
computer vision
conditional colors
conditional formatting
connectivity
contextual data mining
conversational ai
conversational ai chatbot
conversational analysis
conversational artificial intelligence
conversational bots
convolutional neural networks
correlation analysis
correlation matrix
correlation rules
cosmos db
credit risk modeling
crm
cross-channel analysis
cross-database joins
csv
cube
custom maps
custom sql query
custom visualizations
customer analytics
customer intelligence
customer profitability analysis
customer segmentation
d
d3 data visualization
dashboards
data acquisition layer
data catalog
data center analytics
data cleansing
data discovery
data encryption
data governance
data hub
data ingestion
data integration
data integration jobs
data integration platform
data lake analytics
data lakes
data management
data management framework
data mart
data migration
data mining
data mining models
data mining wizard
data modeling
data pipelines
data preparation
data profiling
data quality
data quality dashboard
data quality management
data quality rules
data quality server
data quality warnings
data replication
data science
data science platform
data science workflows
data storytelling
data streaming
data transformations
data virtualization
data visualization
data warehouse api
data warehouse automation
data warehouse automation platform
data warehouse management
data warehousing
data wrangling
dax
debian
decision tree
deep learning
deep learning models
deep neural network
density map
derived metric
desktop analytics
di
digital marketing analytics
dimension tables
distributed computing
distributed processing
distribution analysis
documentdb
donut chart
doughnut charts
dw
dwa
dynamodb
e
ecommerce analytics
edw
embedded analytics
embedded artificial intelligence
embedded business intelligence
emr
end user analytics
energy forecasting
enterprise business intelligence
enterprise data hub
enterprise data management
enterprise data warehousing
esri
etl
event stream
expert analytics
exploratory data analysis
extract-transform-load
f
fact tables
failover
federated analytics
field quality analytics
finance analytics
financial analysis
financial consolidation
financial planning
financial reporting
fitted regression
flow analytics
force-directed graph
forecast server
forecasting
forward fit
fraud analytics
fraud detection
fraud framework
freeform sql
funnel analysis
funnel chart
g
gantt chart
gauge charts
geoanalytics
geospatial analysis
google adwords
google analytics
google bigquery
google cloud platform
google sheets
grid chart
guided analysis
h
hadoop cloudera
hadoop distributed file system
hadoop gateway
hadoop hive
hadoop spark
hdfs
hdinsight
health insurance
healthcare analytics
heat maps
heatmap chart
high availability
high-performance analytics
horizontal bar chart
horizontal bar charts
hortonworks
hotel analytics
hr analytics
hybrid cloud
i
ibm db2
ibm netezza
ifrs
iis
image classification
image processing
image recognition
impact analysis
impala
importing predictive models
in-chip big data analytics
in-memory
in-memory analytics
in-memory bi
in-memory cubes
in-memory database
in-memory technologies
incremental snapshots
informix
infrastructure
insurance analysis
interactive analysis
interactive bubble graph
interactive dashboards
interactive data visualizations
interactive reports
investment portfolio analysis
ios
iot
iot analytics
ipad
iphone
j
jaql
java
jdbc connectivity
json
json data
jupyter notebook
jwt authentication
k
kafka
kerberos
key phrase extraction
kpi
kpi charts
kubernetes
l
layered scalable architecture
ldap
learning algorithms
life sciences analytics
line charts
linear regression
linear regression analysis
linear regression task
linedot chart
link analysis
linux
live connection
live video analytics
load balancing
location analytics
logical mapping
logistic regression
lsa
m
machine intelligence
machine learning
machine learning algorithms
machine learning models
machine learning server
macintosh
manufacturing analytics
map chart
map-reduce analysis
mapreduce
mariadb
marketing analytics
massive volumes
master data hierarchies
materialized views
maxdb
mdm
mdx
media analytics
metadata management
microsoft 365
microsoft dynamics
microsoft dynamics 365
microsoft dynamics ax
microsoft excel
microsoft office
ml
mobile analytics
mobile business intelligence
mobile dashboards
mobile push notifications
mobile server
molap
mongodb
motion charts
moving average
mpp
mpp data warehouses
multi-dimensional analysis
multidimensional models
multinomial logistic regression
multiple linear regression
multiple linear regression analysis
multivariate analysis
n
native
natural language
natural language computing
natural language generation
natural language processing
natural language queries
natural language querying
natural language search
near real-time
network analysis
network graphs
neural network
neural network models
neural network node
nlp
nt authentication
ntlm
number formatting
o
oauth
odata
odbc
ods
office 365
okta
olap
olap connector
olap cubes
olap database
ole db
omnichannel analytics
on-premises data gateway
open source
open source machine learning
operating systems
operational reporting
operations analytics
p
paginated reports
pam
parallel processing
pareto chart
parquet files
path analysis
patient analytics
pattern recognition
pdf report
pentaho big data integration
people analytics
performance
performance management
pervasive analytics
pie charts
pig
pivot charts
pivot tables
plot chart
pmml
portfolio analysis
portfolio risk analysis
postgres
postgresql
predictive analysis
predictive analytics
predictive forecasting
predictive maintenance
predictive modeling
predictive models
preliminary analysis
prescriptive analytics
presto db
pricing analytics
principal factor analysis
process analytics
production quality analytics
profitability analysis
pulse chart
push notification
python
python integration
q
quadrants chart
qualitative analysis
quality analytics
quantum algorithms
quantum computing
r
r
r integration
radar charts
real time dashboard
real-time
real-time analytics
real-time big data
real-time big data streaming
real-time charts
real-time consolidation
real-time data
real-time data warehousing
real-time forecasting
real-time insights
real-time iot
real-time streaming data
recurrent neural networks
red hat
redshift data warehouse
regression analysis
regression chart
regression line
reinforcement learning
removing noise
report bursting
reporting
repository
responsible ai
rest apis
retail analysis
retail analytics
retail omnichannel analytics
retention analysis
revenue analysis
reverse analytics
reverse lasso
ribbon charts
ring graphs
risk analysis
risk analytics
risk modeling
rolling forecast
root-cause analysis
rpa
s
saas
saas analytics
sales analysis
sales analytics
sales forecasting
sales funnel analysis
salesforce
saml assertion
sankey chart
sap business one
sap connector
sap olap connector
sasl
scalability
scatter charts
scd
sdk
security assertion
security assertion markup language
segmentation analysis
segmented regression analysis
self-service
self-service analysis
self-service analytics platform
self-service business intelligence
self-service data analytics
self-service data discovery
self-service data exploration
self-service data integration
self-service data platform
self-service data preparation
self-service data quality
self-service data visualization
self-service reporting
semantic graph
sensor data
sensors
sentiment analysis
serverless
set analysis
share insights
sharepoint
simulated analytics
simulation analysis
single sign-on
slack
slowly changing dimensions
snowflake schema
social network analysis
spark distribution
sparklines
spatial data
spatiotemporal causal pathways
speech recognition
spend analysis
sports analytics
sql
sql data models
sql data warehouses
sql database
sql editor
sso
sso authentication
stacked area chart
stacked bar charts
stacked column chart
standard deviation
star schema
statistical analysis
store analysis
story boards
stream analytics
stream processing
streaming
streaming data
streaming datasets
supply chain analytics
t
tabular data models
talent analytics
tensorflow
teradata
teradata olap connector
text analysis
text analytics
text data processing
text mining
threat analytics
tile chart
tiles
time series
time series analysis
time series analysis forecasting
time series chart
time series forecasting
transportation analytics
trellis chart
trend line
tsm authentication
two-factor authentication
u
unix
unstructured data
usage analytics
user analytics
utility analytics
v
vector graphics
vertica db
vertical bar chart
video analytics
visual analysis
visual analytics
visual analytics tree
visual data analysis
visual data mining
visual storytelling
visual text analytics
voices analytics
w
waterfall chart
web analytics
web authentication
web data connector
web server
web services
website analytics
weighted average
weighted moving average
white-label analytics
windows
word cloud
workforce analytics
workplace analytics
wsdl
x
xml
z
z/os
Learning Objectives to be achieved
With the Business Intelligence & Analytics Guide, you not only have all the comparison tools to evaluate vendors in your hands, but you also get instant access to a complete learning environment and training portal. Immerse yourself in the terminology, BI jargon and all possible applications. Regardless of the vendors, you can achieve the following learning objectives with our BI & Analytics Guide:
Understand the fundamentals of (enterprise) Business Intelligence, Analytics, reporting, dashboarding and big data
How to perform basket analysis, root-cause analysis and principal factor analysis.
What is the use of a data lake and what do you need for it?
What is (embedded) artificial intelligence and when do you use it?
How does deep learning differ from machine learning?
What is a neural network and how and when do you apply it?
Understand the basics of statistics: standard deviation, forecasting, linear regression, etc.
What is data storytelling and how do you apply it successfully?
What is guided analysis, what are the benefits and how do you implement it?
How to set up a geoanalysis and what aspects should you consider?
How to perform a sentiment analysis on social media?
What is a cohort analysis and when do you apply it?
What are the essentials of (big) data visualization?
When do you apply a donut chart and how do you create one?
Learn how to optimally visualize data with heat maps, pareto, funnel, word cloud, etc.
What is a (reverse) lasso selection and how do you execute it?
What is an omnichannel strategy and what are the challenges in analytics?
What is advanced analytics and how does it relate to AI?
What is text analytics and when can you apply this technique?
What is automated analytics and what risks are associated with this?
What are relevant applications of video and audio analytics?
What examples of predictive maintenance are there in various industries?
Get to know the different types of algorithms and concepts such as: decision trees, natural language processing, business rules, computer vision, A/B testing, bayesian networks, responsible AI, et cetera
How do you set up big data pipelines and what performance gains can you achieve with them?
What is IoT analytics and how will you use sensor data for better results?
How will you set up the governance of "normal" data, master data, meta data and big data?
What is data quality management and how will you improve your data quality?
What is data profiling and how do you make sure that business rules automatically flag or reject bad data?
When do you apply report bursting and what are the advantages?
How do you create an interactive (PDF) report?
What is Hadoop (hive), pig, hortonworks, mapreduce, and what do you need to know about them?
What is a (real-time) data warehouse, a data hub, and what are the best practices for applying data integration?
What is data virtualization and do you then no longer need a data warehouse?
What is the advantage of an MPP data warehouse?
What is a star schema, a snowflake schema and when do you apply them?
What is data warehouse automation and which aspects are important?
What role do slowly changing dimensions (SCD) play in building history and other ETL tasks?
What is a REST API and when does it make sense to use it?
Understand the world behind abbreviations such as: DAX, MDX, JSON, AD, ROLAP and MOLAP
When and how do you apply load balancing, caching, parallel processing and in-memory BI?
These are just a few of the enormous learning potential of our BI & Analytics Guide. In addition, you will learn how the market fits together, which vendors are active and what their strengths and weaknesses are. On each of the above subjects, you can actually check yourself how a specific vendor scores on them. Get the most out of the BI & Analytics Guide: download it today.
Regardless of your goal, this guide will effortlessly and interactively guide you through the maze of jargon, vendors, tools, concepts, and relevant terms of the field. Access more than a thousand videos and insights, all neatly ordered. The knowledge they contain is essential for any (freelance) BI consultant or data science & analytics manager. In just two taps or clicks, you can access all the information and knowledge required to execute or manage your projects even better than before.
End-users can instantly see the strengths and weaknesses of each vendor. These clear insights can help you understand and contextualize developments in the market and make a final vendor selection (based on both a long list and a short list of criteria).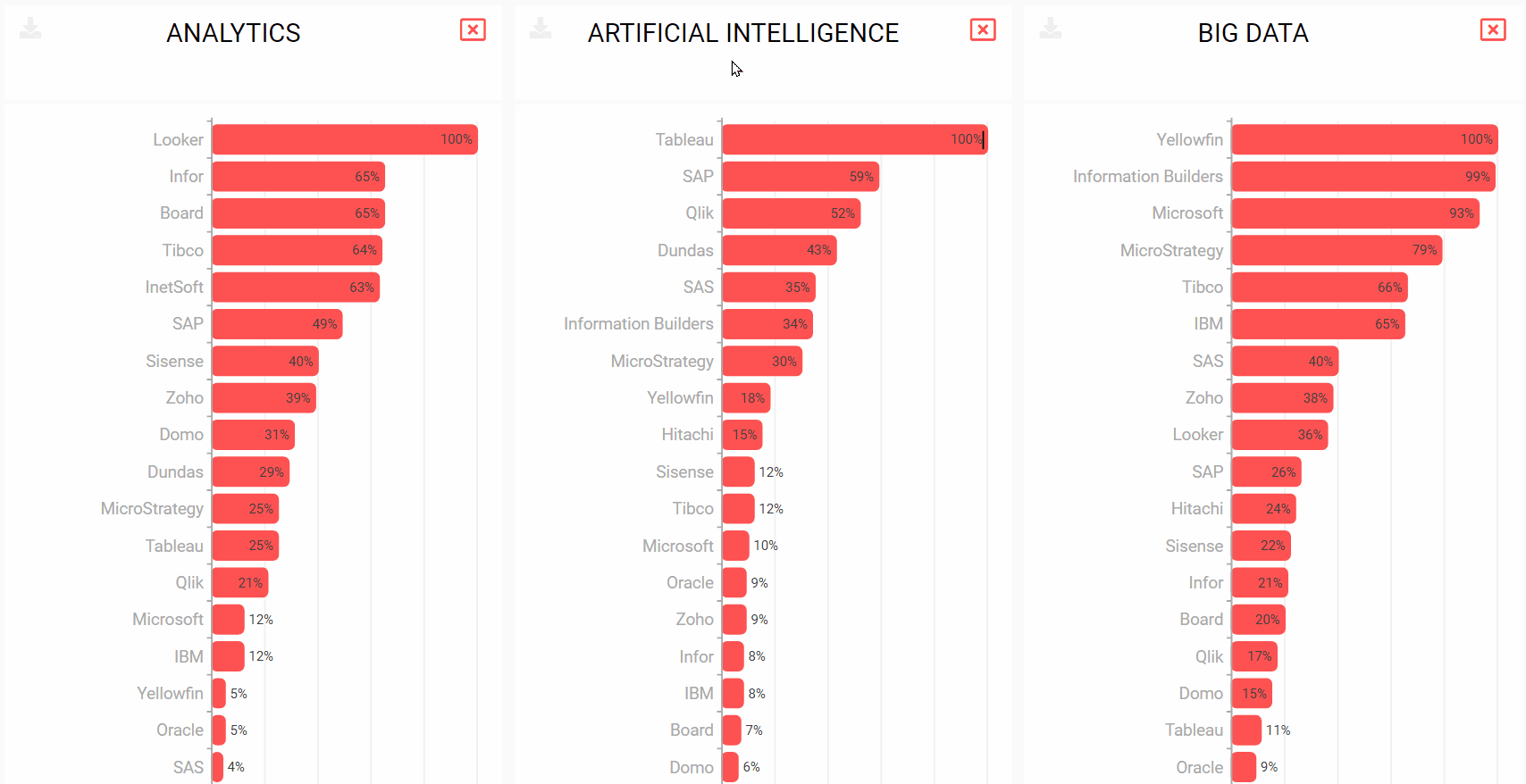 Finally: you can verify whether or not a certain insight corresponds with reality. The BI & Analytics Guide™ 2021 is no black box, but a clear looking glass that offers much to see and learn.
The ideal combination of algorithms and the human eye
The Business Intelligence & Analytics Guide is developed by experts with over 20 years of experience in the field. Our experts are assisted by various AI technologies, such as text analytics, among others. The knowledge and insights revealed aren't just widely accessible and applicable, but also deeper than the knowledge possessed even by experienced consultants and managers. In addition to an ensemble of algorithms, the human eye (our experts) provides the finishing touch, overruling the algorithms when necessary – a perfect symbiosis of man and machine (learning).
Just a few clicks away from a world of practical knowledge
The Business Intelligence & Analytics Guide is divided into 4 practical chapters (modules) designed for anyone who wants to stay up-do-date on the latest developments in the field and/or those who want to monitor the performance of BI & Data Science vendors. Do you also want to follow a short course on deep learning by renowned experts in the field, or learn about DAX, AutoML, AI bots, self-service data discovery, Google Bigquery, Tensorflow, contextual data mining, or JSON. Do you want to learn how to make a good data visualization? With this modular, interactive BI guide you're only a few clicks away from clear answers, new knowledge, and surprising insights.
The self-service analysis module
Using the self-service analysis module (an optional order) you can also determine which vendors to keep an eye on and which criteria are important to you.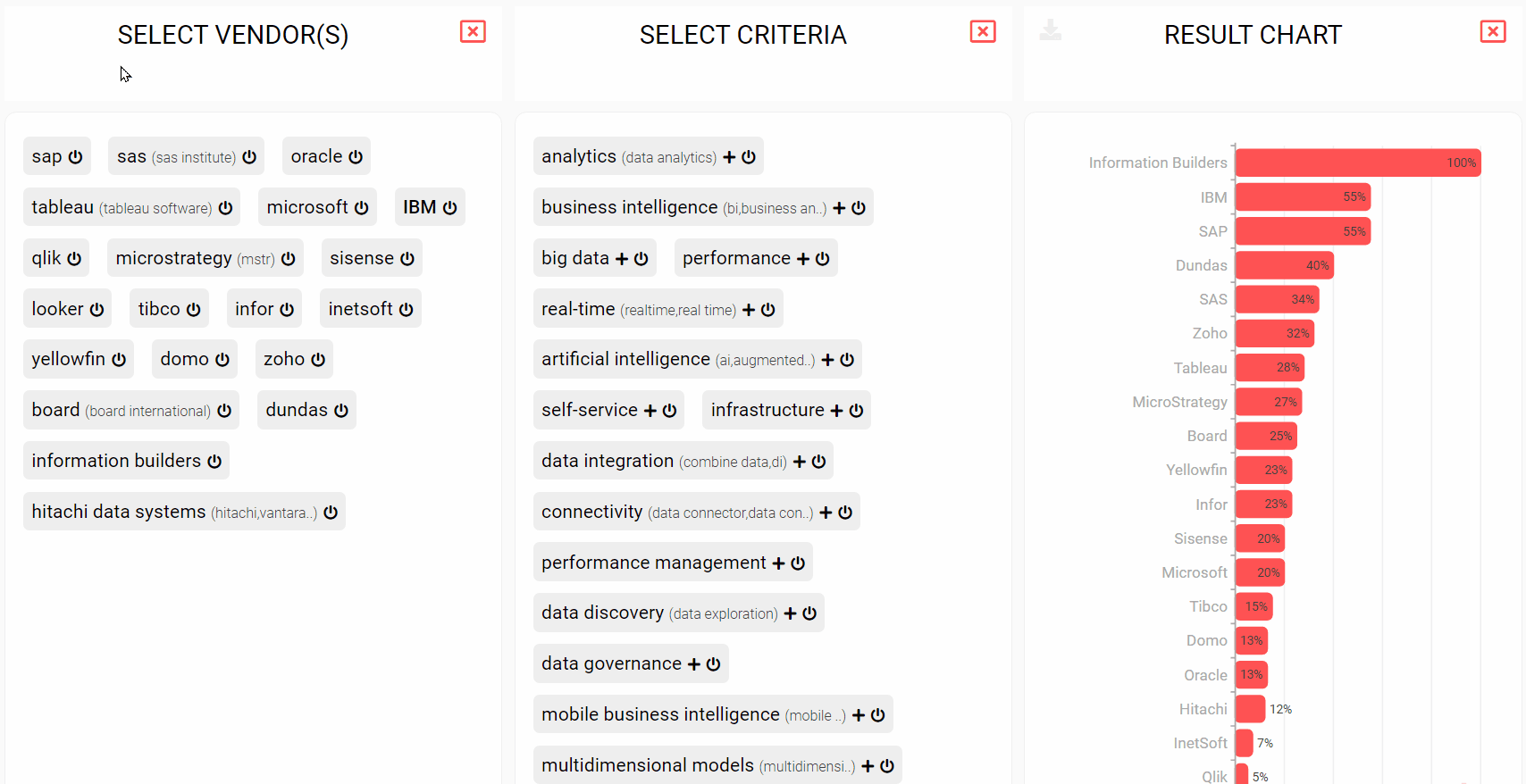 Example of the self-service functionality of the BI & Analytics Guide. These scores are randomized and are merely meant to show off the functionality. Click here to download the guide
Download this essential guide today
The BI & Analytics Guide runs on any device, cellphone, tablet, laptop, or desktop. For just 99 euros you get access to the Guide on three different devices. If you want to allow more users, you can easily modify the license agreement online.
Take advantage of every extra feature
Broaden and deepen your knowledge of the field with a low barrier to entry using thousands of demos, tutorials, training courses, tech talks, classes, et cetera
Drill-down to five levels deep so that you never have to stop learning all the tricks of the trade
Download any graph and save it as an image. Simply drag the images into your Word or Powerpoint file and enrich your presentations
Evaluate every vendor based on their market dominance and functionality and draw your own (preliminary) conclusions based on the many graphs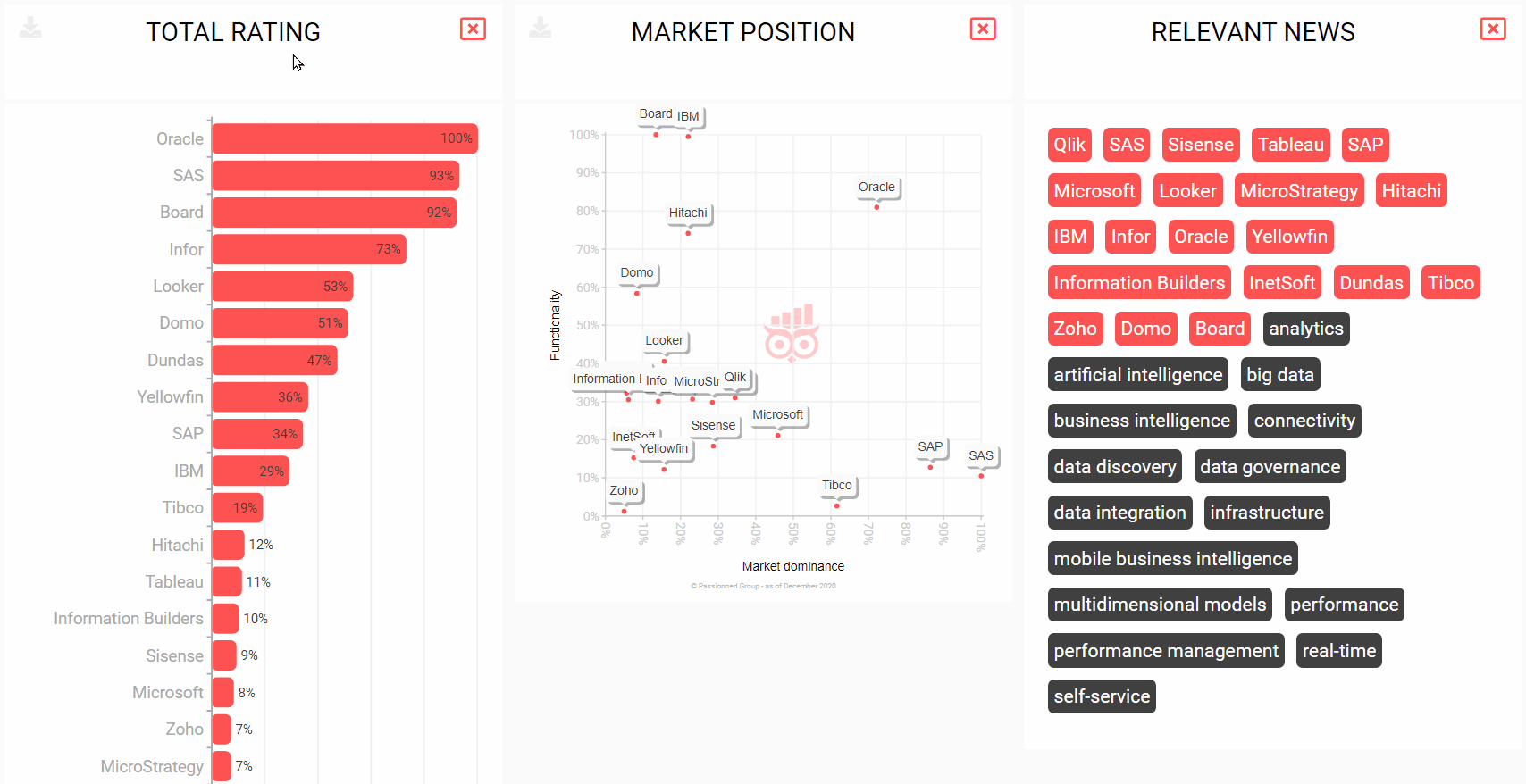 These scores are randomized and are merely meant to show off the functionality. Click here to download the guide
Draft a shortlist of vendors that meet your (knockout) selection criteria
Stay up-to-date: gain access to every relevant and available news source in the field of BI, AI, data science, and analytics
Gain deeper and more refined knowledge by clicking on the subjects relevant to your interests
Target audience: professionals who want to use their data more effectively
The BI & Analytics Guide has been specially developed for the broader community of consultants, advisors, and BI managers that lead BI teams, Datalabs, or a Business Intelligence Competence Center (BICC). But data and IT professionals, independent advisors, (freelance) consultants, business managers, IT managers, CIOs, Chief Data Officers, and managers of consultancy firms will benefit from this digital platform. Knowledge is still power. Leap ahead of the competition and give your employees and teams immediate access to a unique and crucial source of knowledge.
Contents: every important vendor and almost 1,000 relevant topics
The BI & Analytics Guide 2021 contains (as of this writing) material from 20 vendors and all of their relevant products. The latest version of their products is always evaluated. With almost 1,000 relevant topics in the field, this guide is a crucial source of up-to-date knowledge. Is there a vendor missing you'd like to see included? Contact us and we can add a relevant vendor for you.


✪

Board

✪

Domo

✪

Dundas

✪

GoodData

✪

Hitachi

✪

IBM

✪

InetSoft

✪

Infor

✪

Information Builders

✪

Looker

✪

Microsoft

✪

MicroStrategy

✪

Oracle

✪

Qlik

✪

SAP

✪

SAS

✪

Sisense

✪

Tableau

✪

ThoughtSpot

✪

Tibco

✪

Yellowfin

✪

Zoho

These radar graphs demonstrate the visualization functions of the BI & Analytics Guide. Quickly compare the various vendors and get a balanced idea of their strengths and weaknesses. Keep in mind that the scores assigned in the demo are randomly scrambled and do not represent reality

When relevant, you can also zoom in on the radar graphs. The BI & Analytics Guide also contains line graphs that visualize a vendor's results over time so you can see how quickly or slowly they develop.
4 reasons to order the BI & Analytics Guide 2021 now
The BI & Analytics Guide was developed with a focus on these important benefits (among others):
QUICKLY INCREASE YOUR KNOWLEDGE. With this guide, you're never more than two mouse clicks removed from an ever-growing library of videos and news items. Consult a short instructional video at any time, such as a 5-minute video by an expert explaining the concept of a data lake. Or follow a demonstration, a tutorial, or an inspirational (mini) class by an absolute expert in the field of Machine Learning (ML), such as Stanford University's Andrew Ng. Thanks to the guide's easy-to-use navigation, you'll never get lost and all the relevant content is handed to you on a silver platter.
100% OBJECTIVE EVALUATIONS. The BI & Analytics Guide and its underlying knowledge base makes the process of evaluating vendors and everything that comes with it completely objective. Every subjective factor, such as dishonest answers, human errors, and randomness has been removed from the process. The result is an objective evaluation system that is fair to vendors, consultants, and end-users. The goal is to arrive at the "best choice" in a specific business situation. Travelers that want to compare hotels go to tripadvisor. People who want to evaluate potential employers go to Glassdoor. And smart professionals that want to compare BI software download the BI & Analytics Guide.
ALWAYS UP-TO-DATE. Thanks to the algorithms that continuously run in the background, checking relevant public sources, the BI & Analytics Guide™ is always up-to-date and complete. Traditional analyst reports, on the other hand, can take a year or more to generate and are thus dated the second they're published. Also, besides the real-time updating of the data, the algorithm is regularly updated and the reliability of the data and content is regularly checked. This ensures that the insights that users get access to through the Guide are always based on the latest developments and the latest versions of the software.
SAVE HUNDREDS OF DOLLARS PER MONTH. By using our guide to its fullest potential, you can realize significant time savings. If a consultant, manager, or all members of a team, on average, each invest a good number of hours per month in "keeping up to date with the profession" and everything associated with it (and this is certainly not an unrealistic scenario), by using our platform you can significantly reduce this time expenditure. You will quickly save hundreds of euros per employee per month based on an average hourly rate of 100 euros. Purchasing the BI & Analytics Guide therefore quickly pays for itself.
Do you want to quickly learn more about BI, AI & Analytics?
Objective and quick access to information and knowledge about the field, the BI & Analytics market, the vendors, and the software functionality is rare. Most manually created reports, knowledge banks, or online training platforms are expensive, inaccessible, and opaque. They also frequently contain subjective elements.
The developers of the  BI & Analytics Guide have broken these old patterns. They chose an alternative, innovative mobile-first and AI-first approach. The examples (over 1,000) make this Guide very appealing and accessible, so that everyone will want to get their hands on this guide.
This makes our BI & Analytics Guide the first guide that is 100% based on completely objective and verified big data. Completely free of biases. Try the BI & Analytics Guide for only 99 euros.