Unlimited access to BI & Analytics expertise
The Business Intelligence & Analytics Guide gives you unlimited access to a vast amount of BI & Analytics expertise. Whether you want to choose a tool or vendor or want to know everything about the field itself. With this unique, interactive guide, you can give your knowledge of the field and the market a quick and thorough boost. We've done all the legwork for you, saving you up to thousands of dollars per year. Staying up-to-date in your field or choosing a tool has never been easier or more objective. Download the BI & Analytics Guide 2021 here.
What can the Business Intelligence & Analytics Guide do for managers and professionals?
The online Business Intelligence & Analytics Guide opens up a whole new world. The accessible, practical knowledge can be quickly applied in your organization or that of your customers. The direct benefits and applications of the Business Intelligence & Analytics Guide are:
Develop, refine, and enrich your knowledge as a data professional in the field of your choosing. The guide can be used as an online training course for yourself and your team. Take advantage of the valuable insights contained in its extensive video library.
Select, as a consultant or manager, the vendor(s) that best suit(s) the requirements of your organization or project. Order the BI & Analytics Guide for an objective vendor evaluation in the run up to an RFP proposal, a tool selection, or in preparation for a presentation.
Compare and evaluate vendors in relation each other. If you are a vendor, see how you stack up against the competition.
Stay up to date on the latest developments and news in your field and the market, as a consultant or manager.
All of these applications have been developed and integrated into one user-friendly guide so that you can do your work more quickly and advise your clients or colleagues more effectively.
Main topics of BI & Analytics Guide 2021
The following topics are considered in the BI & Analytics Guide. Each topic also covers a large number of sub-topics, represented by the number following each subject below. In total, over a thousand relevant subjects and countless examples have already been integrated into the guide, with new ones being regularly added.
✪
Infrastructure & cloud (+75)
✪
Mobile Business Intelligence (+50)
✪
Multidimensional models (+25)
✪
Performance (+50)
✪
Performance management
(+25)
✪
Real-time options (+25)
✪
Self-service functionality (+25)
Regardless of your goal, this guide will effortlessly and interactively guide you through the maze of jargon, vendors, tools, concepts, and relevant terms of the field. Access more than a thousand videos and insights, all neatly ordered. The knowledge they contain is essential for any (freelance) BI consultant or data science & analytics manager. In just two taps or clicks, you can access all the information and knowledge required to execute or manage your projects even better than before.
End-users can instantly see the strengths and weaknesses of each vendor. These clear insights can help you understand and contextualize developments in the market and make a final vendor selection (based on both a long list and a short list of criteria).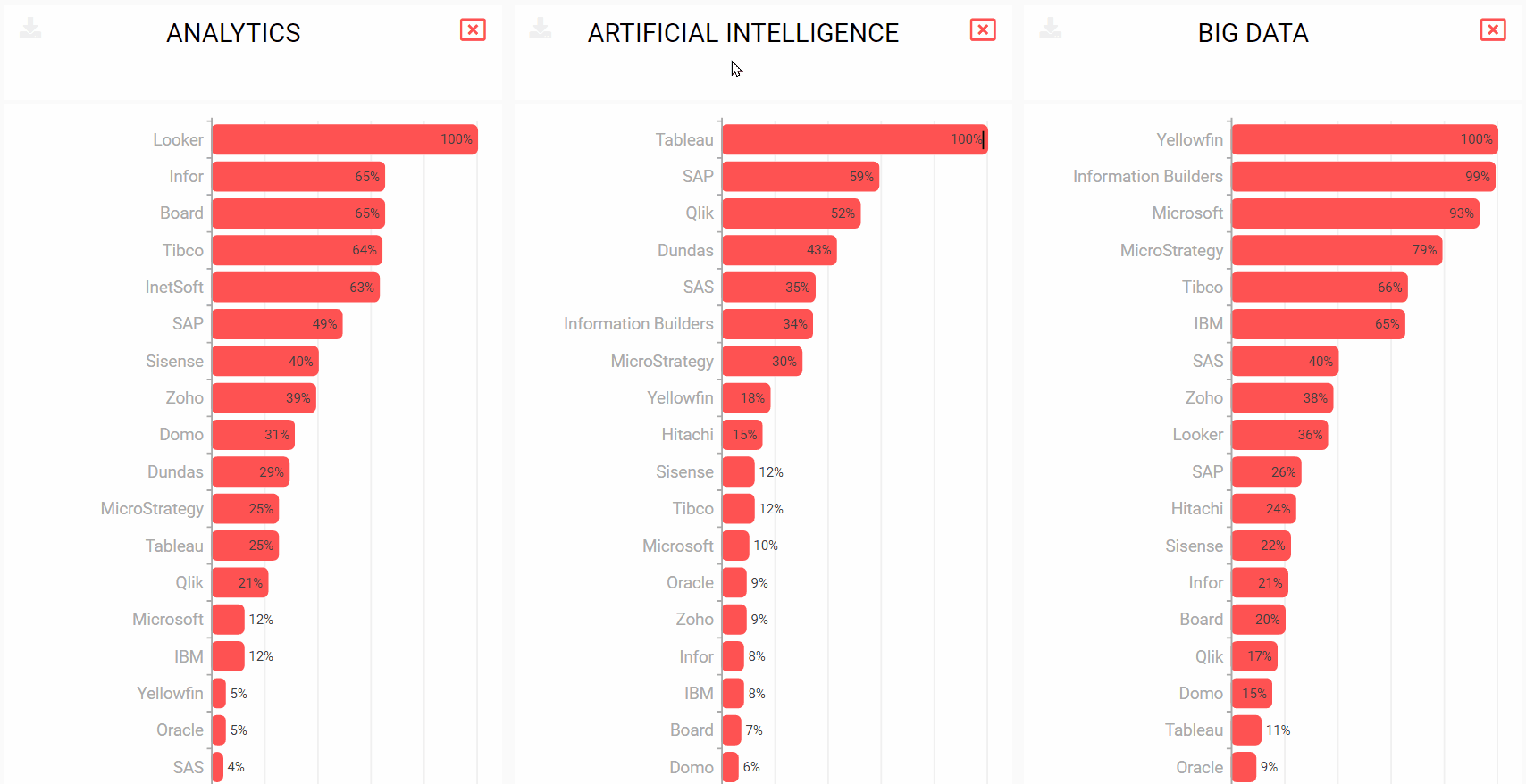 Finally: you can verify whether or not a certain insight corresponds with reality. The BI & Analytics Guide™ 2021 is no black box, but a clear looking glass that offers much to see and learn.
The ideal combination of algorithms and the human eye
The Business Intelligence & Analytics Guide is developed by experts with over 20 years of experience in the field. Our experts are assisted by various AI technologies, such as text analytics, among others. The knowledge and insights revealed aren't just widely accessible and applicable, but also deeper than the knowledge possessed even by experienced consultants and managers. In addition to an ensemble of algorithms, the human eye (our experts) provides the finishing touch, overruling the algorithms when necessary – a perfect symbiosis of man and machine (learning).
Just a few clicks away from a world of practical knowledge
The Business Intelligence & Analytics Guide is divided into 4 practical chapters (modules) designed for anyone who wants to stay up-do-date on the latest developments in the field and/or those who want to monitor the performance of BI & Data Science vendors. Do you also want to follow a short course on deep learning by renowned experts in the field, or learn about DAX, AutoML, AI bots, self-service data discovery, Google Bigquery, Tensorflow, contextual data mining, or JSON. Do you want to learn how to make a good data visualization? With this modular, interactive BI guide you're only a few clicks away from clear answers, new knowledge, and surprising insights.
The self-service analysis module
Using the self-service analysis module (an optional order) you can also determine which vendors to keep an eye on and which criteria are important to you.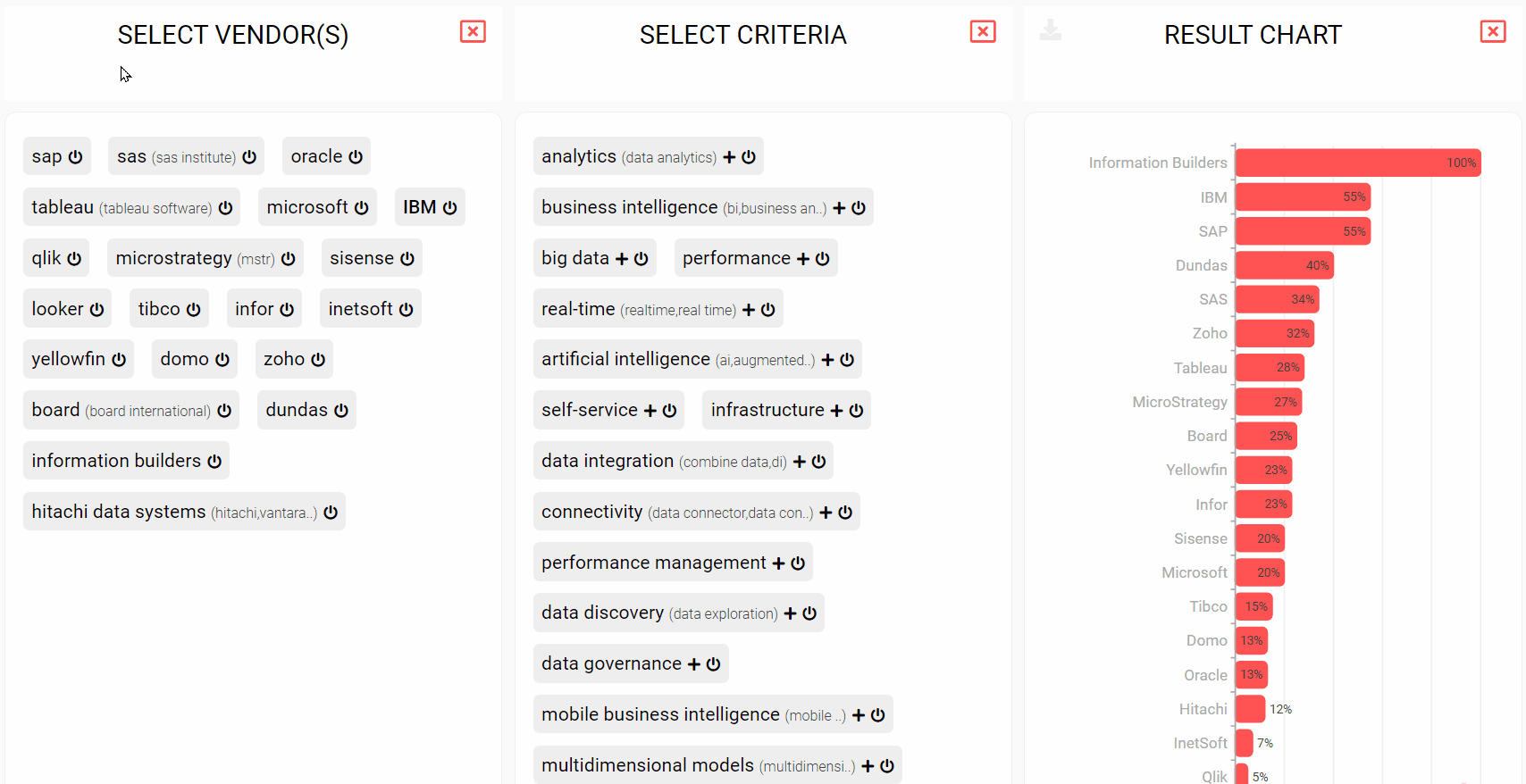 Example of the self-service functionality of the BI & Analytics Guide. These scores are randomized and are merely meant to show off the functionality. Click here to download the guide
Download this essential guide today
The BI & Analytics Guide runs on any device, cellphone, tablet, laptop, or desktop. For just 99 euros you get access to the Guide on three different devices. If you want to allow more users, you can easily modify the license agreement online.
Take advantage of every extra feature
Broaden and deepen your knowledge of the field with a low barrier to entry using thousands of demos, tutorials, training courses, tech talks, classes, et cetera
Drill-down to five levels deep so that you never have to stop learning all the tricks of the trade
Download any graph and save it as an image. Simply drag the images into your Word or Powerpoint file and enrich your presentations
Evaluate every vendor based on their market dominance and functionality and draw your own (preliminary) conclusions based on the many graphs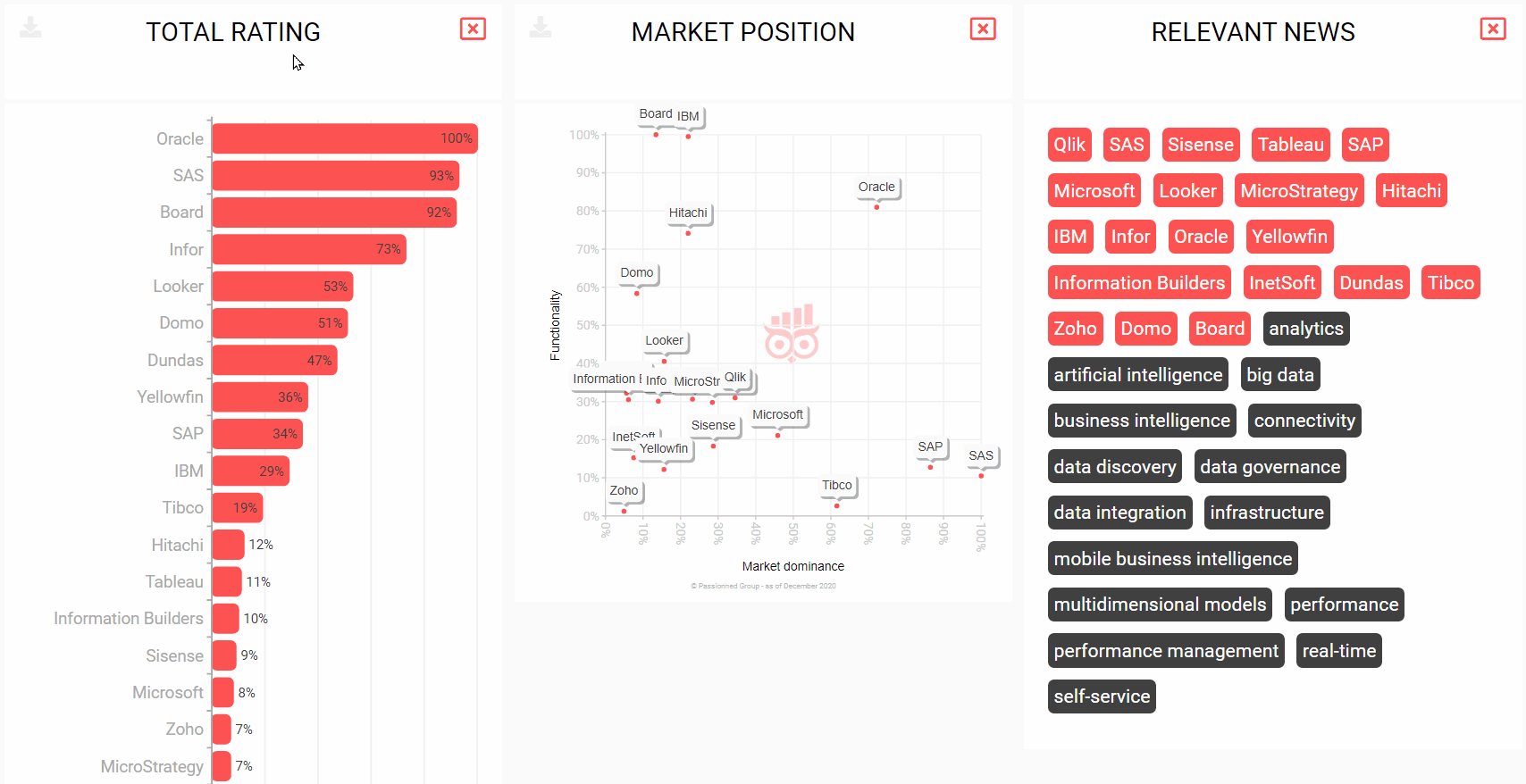 These scores are randomized and are merely meant to show off the functionality. Click here to download the guide
Draft a shortlist of vendors that meet your (knockout) selection criteria
Stay up-to-date: gain access to every relevant and available news source in the field of BI, AI, data science, and analytics
Gain deeper and more refined knowledge by clicking on the subjects relevant to your interests
Target audience: professionals who want to use their data more effectively
The BI & Analytics Guide has been specially developed for the broader community of consultants, advisors, and BI managers that lead BI teams, Datalabs, or a Business Intelligence Competence Center (BICC). But data and IT professionals, independent advisors, (freelance) consultants, business managers, IT managers, CIOs, Chief Data Officers, and managers of consultancy firms will benefit from this digital platform. Knowledge is still power. Leap ahead of the competition and give your employees and teams immediate access to a unique and crucial source of knowledge.
Contents: every important vendor and almost 1,000 relevant topics
The BI & Analytics Guide 2021 contains (as of this writing) material from 20 vendors and all of their relevant products. The latest version of their products is always evaluated. With almost 1,000 relevant topics in the field, this guide is a crucial source of up-to-date knowledge. Is there a vendor missing you'd like to see included? Contact us and we can add a relevant vendor for you.
✪
Board
✪
Domo
✪
Dundas
✪
Hitachi (Pentaho)
✪
IBM
✪
Inetsoft
✪
Infor (Birst)
✪
Information Builders
✪
Looker
✪
Microsoft
✪
MicroStrategy
✪
Oracle
✪
Qlik
✪
SAP
✪
SAS
✪
Sisense
✪
Tableau
✪
Tibco
✪
Yellowfin
✪
Zoho
These radar graphs demonstrate the visualization functions of the BI & Analytics Guide. Quickly compare the various vendors and get a balanced idea of their strengths and weaknesses. Keep in mind that the scores assigned in the demo are randomly scrambled and do not represent reality

When relevant, you can also zoom in on the radar graphs. The BI & Analytics Guide also contains line graphs that visualize a vendor's results over time so you can see how quickly or slowly they develop.
4 reasons to order the BI & Analytics Guide 2021 now
The BI & Analytics Guide was developed with a focus on these important benefits (among others):
QUICKLY INCREASE YOUR KNOWLEDGE. With this guide, you're never more than two mouse clicks removed from an ever-growing library of videos and news items. Consult a short instructional video at any time, such as a 5-minute video by an expert explaining the concept of a data lake. Or follow a demonstration, a tutorial, or an inspirational (mini) class by an absolute expert in the field of Machine Learning (ML), such as Stanford University's Andrew Ng. Thanks to the guide's easy-to-use navigation, you'll never get lost and all the relevant content is handed to you on a silver platter.
100% OBJECTIVE EVALUATIONS. The BI & Analytics Guide and its underlying knowledge base makes the process of evaluating vendors and everything that comes with it completely objective. Every subjective factor, such as dishonest answers, human errors, and randomness has been removed from the process. The result is an objective evaluation system that is fair to vendors, consultants, and end-users. The goal is to arrive at the "best choice" in a specific business situation. Travelers that want to compare hotels go to tripadvisor. People who want to evaluate potential employers go to Glassdoor. And smart professionals that want to compare BI software download the BI & Analytics Guide.
ALWAYS UP-TO-DATE. Thanks to the algorithms that continuously run in the background, checking relevant public sources, the BI & Analytics Guide™ is always up-to-date and complete. Traditional analyst reports, on the other hand, can take a year or more to generate and are thus dated the second they're published. Also, besides the real-time updating of the data, the algorithm is regularly updated and the reliability of the data and content is regularly checked. This ensures that the insights that users get access to through the Guide are always based on the latest developments and the latest versions of the software.
SAVE THOUSANDS OF DOLLARS PER MONTH. Last but not least: the BI & Analytics Guide can save you a considerable amount of time. Let's do some simple math. If a consultant, manager, or an entire team each invest 4 hours per week into staying up-to-date and everything that entails (which is not an unrealistic scenario), the Guide can reduce this time down to 1 hour a week. Assuming an average of 4.3 weeks a month and an average hourly rate of 100 dollars, you're quickly saving one thousand dollars per month per full-time employee. On an annual basis, this can run up well into the tens of thousands of dollars. An investment in the BI & Analytics Guide quickly pays for itself.
Do you want to quickly learn more about BI, AI & Analytics?
Objective and quick access to information and knowledge about the field, the BI & Analytics market, the vendors, and the software functionality is rare. Most manually created reports, knowledge banks, or online training platforms are expensive, inaccessible, and opaque. They also frequently contain subjective elements.
The developers of the  BI & Analytics Guide have broken these old patterns. They chose an alternative, innovative mobile-first and AI-first approach. The examples (over 1,000) make this Guide very appealing and accessible, so that everyone will want to get their hands on this guide.
This makes our BI & Analytics Guide the first guide that is 100% based on completely objective and verified big data. Completely free of biases. Try the BI & Analytics Guide for only 99 euros.