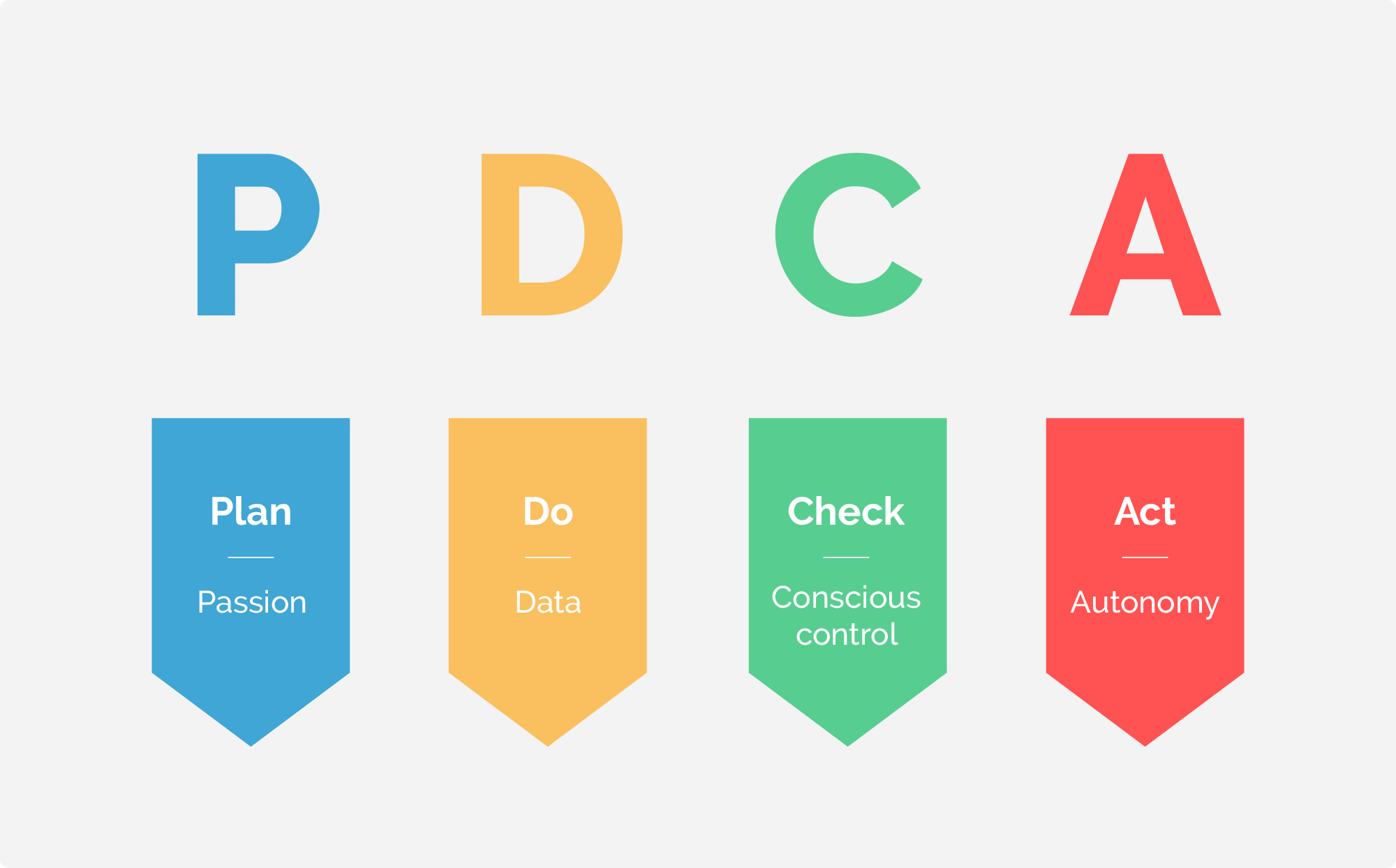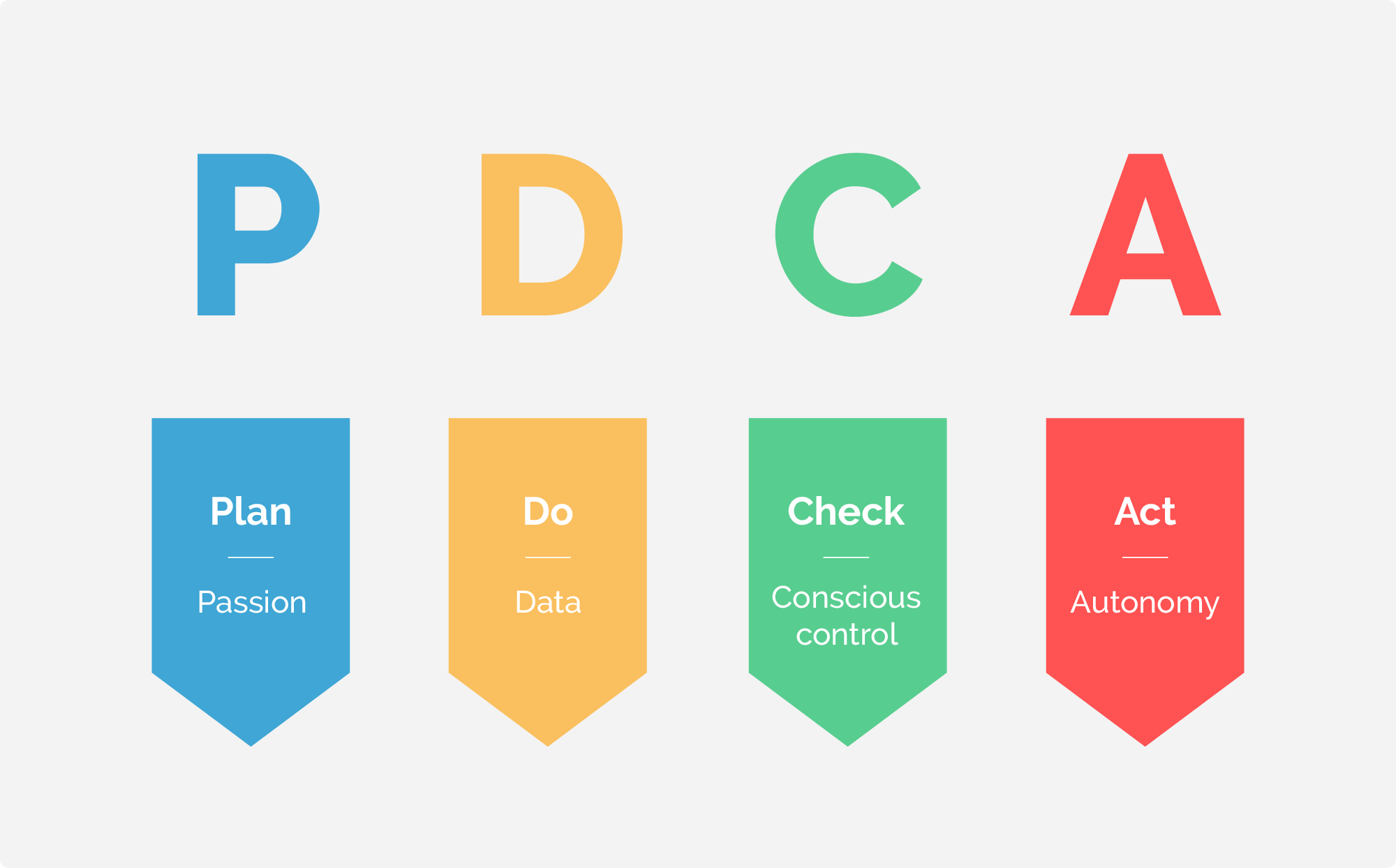 Plan Do Check Act & improving
Implement continuous improvement in practice, let your teams learn faster, and make your organization more agile. Intelligent organizations apply the Plan, Do, Check, Act cycle on all levels and across the entire organization. Plan Do Check Act (or PDCA) is a powerful improvement method that will let your improve your work and processes every day. But don't forget to secure the results, because that's the only way to make your organization genuinely smarter.
Plan Do Check Act, popularize by William Edwards Deming, is often applied in the care sector, education, the public sector, industry, and banks. But it can also be applied successfully in other sectors. This cycle makes your company into a learning organization. But how can you start applying Plan Do Check Act?
Plan Do Check Act will help you when…
The Plan Do Check Act cycle will benefit you in the following situations:
Planning and Doing are going okay, but completing the cycle proves more challenging than expected.
Your organization keeps making the same mistakes, leading to frustration and failure.
Learning processes stall and many of your best employees are leaving to work elsewhere.
It takes too long to achieve your goals. Progress is slow and painful.
Your customers are abandoning you for competitors: they're getting more bang for their buck elsewhere.
Your strategy is lacking: it's unclear and not future-proof.
These situations are all too common in many companies. Running an organization isn't easy. But what if you want to turn the tide and make your organization intelligent? Read how to do just that here.
Masterclass PDCA & Continuous improvement
This practical PDCA training provides you with directly applicable continuous improvement methods. Practice using all the necessary skills, techniques, and building blocks you can use in order to successfully implement change and PDCA cycles in your company.
to the PDCA & Continuous improvement masterclass
How do you apply Plan Do Check Act?
Organizations and teams that apply the Plan Do Check Act cycle consistently perform better. Their margins are higher, their lead times shorter, and their employees more satisfied. What can you learn from these organizations?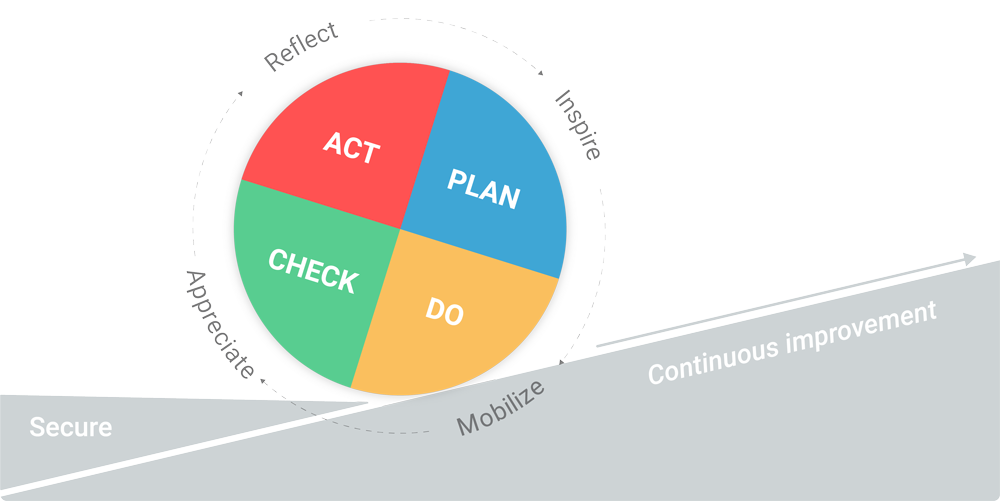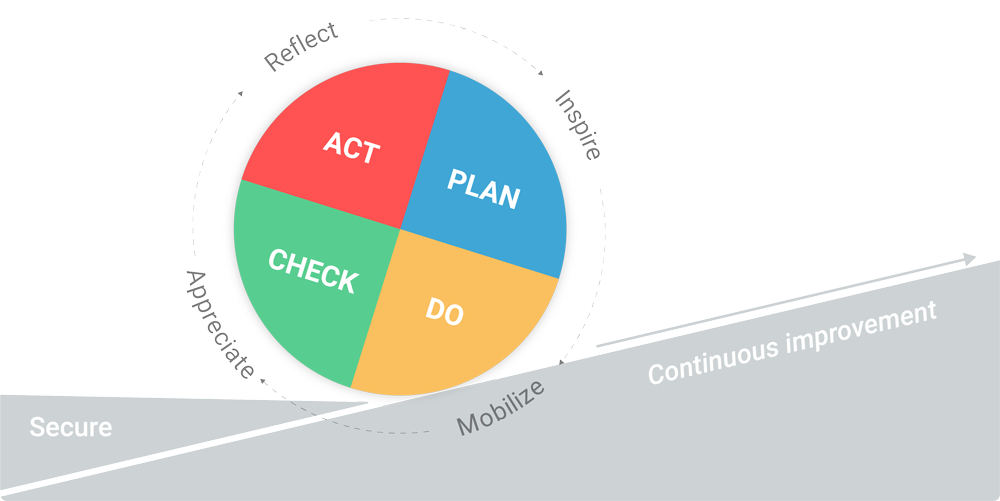 PLAN: Plans and goals should always be made SMART with genuine KPIs for sales, production, etc. Set goals and targets. Management and directors have to communicate clearly. They have to know what they want and know the company inside-out. The strategy has to be second nature to every employee.
DO: Monitor processes carefully using interactive dashboards and data analysis. Apply data-driven working in practice, every day. You can make mistakes in PDCA organizations, but they have to be treated at the root. There's room to learn and experiment.
CHECK: Regularly check whether the execution is still in line with the plans, the policy, and the goals. Feedback should be embedded in the company's DNA. Regularly discuss KPI scores, even when they're negative. And don't forget to take stock of developments and the energy of the teams. Aberrations are a learning opportunity. Ensure a safe learning environment for every employee.
ACT: Course-correct where necessary and adjust the KPIs, but keep raising the bar. The mentality should reflect a desire to do a little bit better every day.
Decisions made and actions taken by different teams shouldn't get in each other's way, obviously. That's why the various cycles have to be carefully synchronized with each other. From innovation teams to customer service and aftercare. This creates a powerful improvement platform and continuous improvement process.
The results follow suit: there's more focus on what matters, processes run more smoothly, customers are more satisfied, and employees enjoy their work more and experience more personal growth. As a result: much better marginal structures and greater agility.
Choose the right tools for every step of the PDCA cycle
We've created useful tools for every step in the Plan Do Check Act cycle, for example: making goals SMART, or determining the KPIs of your organization or teams. You can also approach us for dashboards and feedback. That's how you can complete the cycle every time and start working smarter.
1. PLAN: business plans, strategy & KPIs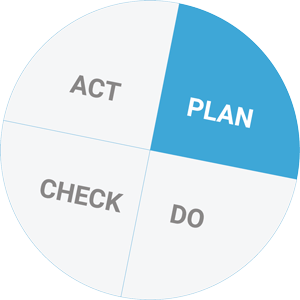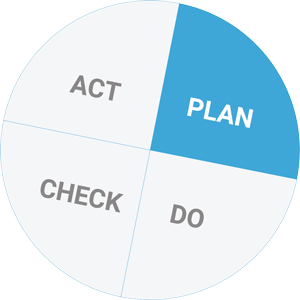 During this phase of the PDCA cycle you'll make a business or department plan. Your plan should match the mission, the policy, and the strategy of  your organization or department. That's how you establish clear goals that everyone can understand. But that's easier said than done: how do you ensure that everyone's on the same page, on every level of the organization?
Critical success factors
One useful tool for this is the strategy map. This is where you'll split up goals into critical success factors. These derivative goals are very important. You should appoint owners who will safeguard that part of the plan. You'll also need genuine key performance indicators (KPIs), which then need norms and targets. This is a very useful exercise, because only then will you be faced with the question of co-dependencies. "If I have to meet that target, then department X needs to take care of A and B".
Useful tools in the Plan phase
The KPIs and accompanying norms and targets are crucial. They stitch the four steps together. This allows you to monitor and analyze where you are during the execution. During the "Check" step, you'll judge the KPI scores and discuss them. During the last step, evaluate and adjust the KPI norms. Without KPIs, it's impossible to start a Plan Do Check Act cycle.
2. DO: smart execution using lean & process management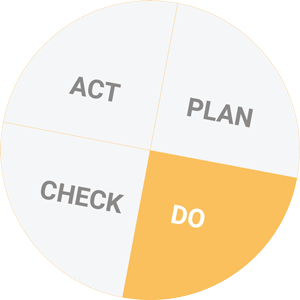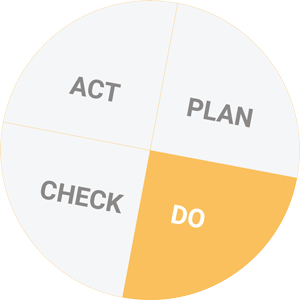 During step 2 of the Plan Do Check Act cycle, it's time to execute your plans. This is where you'll perform new activities in order to realize your plans. There's room to learn and experiment. New challenges will reveal themselves, and you have to face them. This will test the leadership's resolve and their ability to convince the teams, as well as the ability of the team to continuously improve the process. In short: you need to ensure good process management.
Useful tools in the Do phase
Data quality is crucial in this step. You'll register data during the execution of the plan. For example: new customers, new orders, new files, or new employees. Your data has to be in ship shape, otherwise you end up with unreliable information. Without good data there can be no information and no knowledge.
3: CHECK: are your plans working/what are your scores?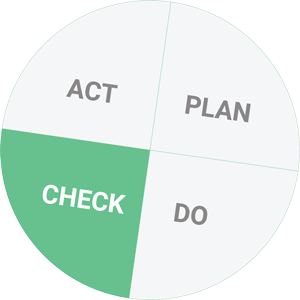 The Check step is about comparing the results of the activities compared to the plans made earlier. Do they match the goals, norms, and targets? You'll need information about the critical success factors and goals: your key performance indicators (KPIs). These will be presented in the form of reports, dashboards, or scorecards. KPI scores have to be discussed, both the positive and the negative ones. That's how you can have a productive conversation about your performances as well as your team's.
Useful tools during the Check phase
It's crucial to determine where, exactly, you need to course-correct (Act), otherwise you're stumbling in the dark. This step involves making detailed analyses of the data behind the KPIs. You can split up the KPIs into regions, teams, product groups, or departments, for example. It's also possible to combine them. That allows you to see exactly where it's going well, and where it's going wrong. Good Business Intelligence solutions can help you present and analyze KPIs.
4: ACT: adjust or course-correct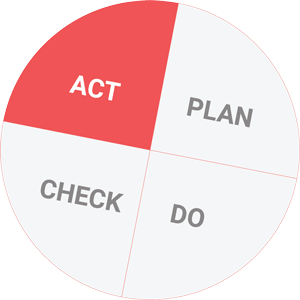 The Actualize phase strongly resembles the Plan phase. This isn't about redoing your plans, but adjusting and refining them. Or you could, for example, adjust the execution by adding capacity for a certain period of time.
During this step, you'll also initiate small or large improvement tracks (Do). You can experiment to see whether a certain solution works, and if it works, implement it in your regular process. By experimenting, you can start improving your KPI scores.
Useful aids during the Act phase
Adjusting KPI norms and targets
Process management
Do you want to increase the benefits of Plan Do Check Act? Learn how to control this cycle and implement it in your own organization, take our in-company PDCA and continuous improvement masterclass. Many professionals have come before you, and with an average score of 8.8, this PDCA training course comes highly recommended.
The importance of feedback to PDCA
We're always interested in improving companies and reinforcing teams. That's why we do a lot of research into PDCA and other improvement methods. Almost all research shows that feedback leads to faster learning and higher intelligence. Our own experience backs that up. Make feedback an integral part of your company culture and your financial performances will improve. Work on better feedback systems in your organization and you'll leapfrog ahead.
The advantages of working according to PDCA:
Just like your smartphone, you can use Plan Do Check Act for almost everything. At some point, you won't be able to go without it. You'll end up with one method, which has many advantages:
Improve your business processes a little bit every day.
Professionalize quality management in your company.
Let your employees grow and learn a little bit every day.
Refine and develop your company strategy.
Work on an intelligent, data-driven organization.
Achieve a better margin structure and perform better.
Do you want to know more or get practical advice?
Do you want to know how your organization can start to continuously improve using the Plan Do Check Act cycle? And how to make your company or team smarter and more data-driven? Contact us now for a good conversation with one of our PDCA experts or improvement coaches.