Over 20 years of experience in Business Analytics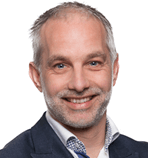 Rini van Ooijen studied business computer science in Breda. Afterwards, he studied management science at the Open University, with a focus on strategy and organization, obtaining the title of Master of Science in Strategy and Organization. He has over 20 years of experience in supervising and managing implementations such as data warehouse and business intelligence environments, in the banking sector, retail, and government organizations, among others.
He worked as a project manager for SAS Institute, where he gained a lot of experience implementing various SAS Business Analytics applications. Since 2011 he's been working as an independent contractor, fulfilling functions like business analyst, architect, data warehouse / business intelligence project manager, and scrum master.
The bridge between business and IT
With his technical and business background, Rini is the ideal candidate to build bridges between the business and IT departments. With his analytical skills and focus on solutions, he can quickly suggest solutions to make organizations more intelligent using data management. Rini's approach is thorough and pragmatic whenever possible. He's worked with a lot of multi-disciplinary teams where business and IT work together. Fostering co-operation is his creed.
Data warehouses and migration
Rini has fulfilled various roles in the design of new data warehouses, including as a business analyst, architect, and BI project manager.  He also has experience migrating data warehouses and in putting data warehouse projects gone awry back on track. His role wasn't just limited to the data warehouse, but he was also responsible for the implementation of business intelligence and analytics applications. Rini is a proponent of the agile / scrum method; he regularly fulfills the role of the scrum master, and is a certified scrum master.
Companies often choose to outsource a part of the development or management activities. Rini has experience in directing outsourced projects and managing teams in off-site locations.
Performance management
As a business analyst, Rini has fulfilled assignments to implement performance management and balanced scorecards. His tasks included setting up key performance indicators (KPIs), defining singular definitions, and involving stakeholders. In doing so he also performed analyses showing which data is available in the organization, and which required data isn't being registered yet to be able to report the desired KPIs.
The banking sector and external regulations
Rini mainly accrued experience in the banking and insurance sectors, where data warehouses are centralized, for instance to comply with the demands of external regulating bodies like the European and Dutch banks. At ING Bank, ABN Amro, and SNS Bank, he worked on regulatory reporting.
Implementation is using and managing
For Rini, a project isn't finished until the systems are in use and being managed. He has experience in writing user instructions and giving use training. Has has also overseen the transfer of project responsibility to the management organization multiple times. If the management activities and processes were not yet present, he designed them, so that the implementation could be properly finished.
Do you want to meet Rini van Ooijen?
Feel free to contact Rini to discuss the possibilities for your organization re: data management, BI project management, or compliance with external regulation.