Independent media advisor and executive partner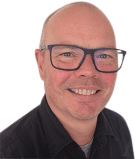 Alex Beishuizen (1965) started his career in radio journalism. He worked for various media outlets in journalist and management functions. He was an editor in various departments of the renowned Dutch newspaper Algemeen Dagblad and editor-in-chief of the ICT trade magazines Computable and CRN, of the e-business platform Emerce, and of Intermediar. Since 2012, he's an independent media advisor. At Passionned Group, Alex is active as an executive partner and publisher.
Strategic and project-based change management
Thanks to his analytical capabilities, focus on solutions, experience, and knowledge of the market and media industry (newspapers, magazines, radio, TV, and internet), Alex has a lot of value to offer publishers, directors, and editorial. He's a change manager in the broadest meaning of the word. Thanks to his extensive knowledge of media organizations, online platforms and online publishing, revenue models, editorial, finances, and stakeholders, he's broadly deployable. He also has an extensive network, and he's the author of the Dutch media book "Golden Grail or Life Preserver."
Projects and interim work
Alex has been involved in various innovative media initiatives. He worked as a project leader in the co-operation between regional newspaper BN DeStem and Omroep Brabant in the regional media center West-Brabant. From 2013 to the launch in 2014, he was active as a project leader in the co-operation of L1 and MGL in their joint digital news platform 1Limburg.
Alex also worked as editor-in-chief of regional public broadcast network of Friesland on an interim basis. In 2016 and 2017 he worked as interim content director of the Adfo Group on the titles Adformatie, Marketing and Communication Magazine, and the IT trade publication AG Connect.
Teacher
From 2008 to 2016, Alex was a teacher with the Hogeschool Utrecht. He taught various classes, usually involving marketing, journalism, entrepreneurship, communication, and change management. He also worked as a guest teacher for the Rijks University Groningen (RuG), the Fontys College of Journalism, and Leiden University.
Digital transition
Alex transformed Computable from a traditional weekly publication with a website into an online platform with a magazine, webinars, congresses, and annual guides as a byproduct. It became the first traditional weekly magazine being made by an online editorial staff.
On Alex's initiative, Computable also started an expert panel of over a thousand members who generated content for the website and magazine. This exceptional transition didn't escape attention, and in 2009 it won the prestigious annual LOF award for trade publications. Computable instantly became a nationally known trade magazine, and Alex is still being asked to discuss this topic on congresses and seminars.
It also resulted in a book about his vision on media and internet: "Online or Flatline", which he wrote with his then-assistant EiC of Computable, Johannes van Bentum.
Jury member
As editor-in-chief of Computable, Alex was on the jury of the Dutch BI & Data Science Award from 2007 to 2009. From 2009 to 2016, he was in the jury for the LOF Award for the best Dutch trade publications. From 2012 to 2016 he was the chairman of the jury. From 2011 to 2014 he was on the jury for the NL Awards, the annual award for the 13 regional public broadcast networks in the Netherlands.
Do you want to meet Alex Beishuizen?
Feel free to contact Alex Beishuizen to discuss the possibilities of digital transitions, change management, and data-driven working within your organization.