Passion as the starting point of improvement
It takes more than just a plan to make people take action towards continuous improvement. A good plan helps to accomplish product development, or to improve a service or capitalize on a market opportunity, but that's not the starting point that intrinsically motivates people.
Martin Luther King Jr didn't say: "I have a plan!" And he certainly didn't say: "I have a planning!" He shouted: "I have a dream!" A dream is a motivational vision of the future – a plan, or planning, is only a roadmap to get there.
Learning starts with passion
If you want to share in people's dreams, you have to share their vision of the future, and start from there. These ambitions have to be in lockstep with the planning, and it's about everyone's passion, everyone's will to improve things, everyone's vision that shows a better world, if we'd only…
Passion can be seen as that thing that makes you want change things or take action despite the fact that it may temporarily cost you more than it earns you. People weren't put on this earth to realize plans. People want to make their passion real. That means that a data-driven learning process doesn't start with a plan, but with everyone's personal passion.
Revive the dormant dream
Once you realize that the starting point of performance improvement through behavioral change lies in passion, another task is immediately added to organizations, projects, and improvement programs. What's everyone's passion in this organization, in this department? What does an individual want to accomplish? What excites someone? What do people want to accomplish together with their colleagues?
The first task for any team that wants to embrace data-driven working is to revive long-dormant dreams and discuss them. That's a coach's job. How does it feel to experience the original passion and ideas of the founders again? It may lead to renewed energy, while it may also cost energy at the same time. Even when you have all the passion in the world, if your mission or strategy isn't crystal clear, you can still go wrong. Strategy and mission are the first building blocks of our data-driven framework.
Business Intelligence training course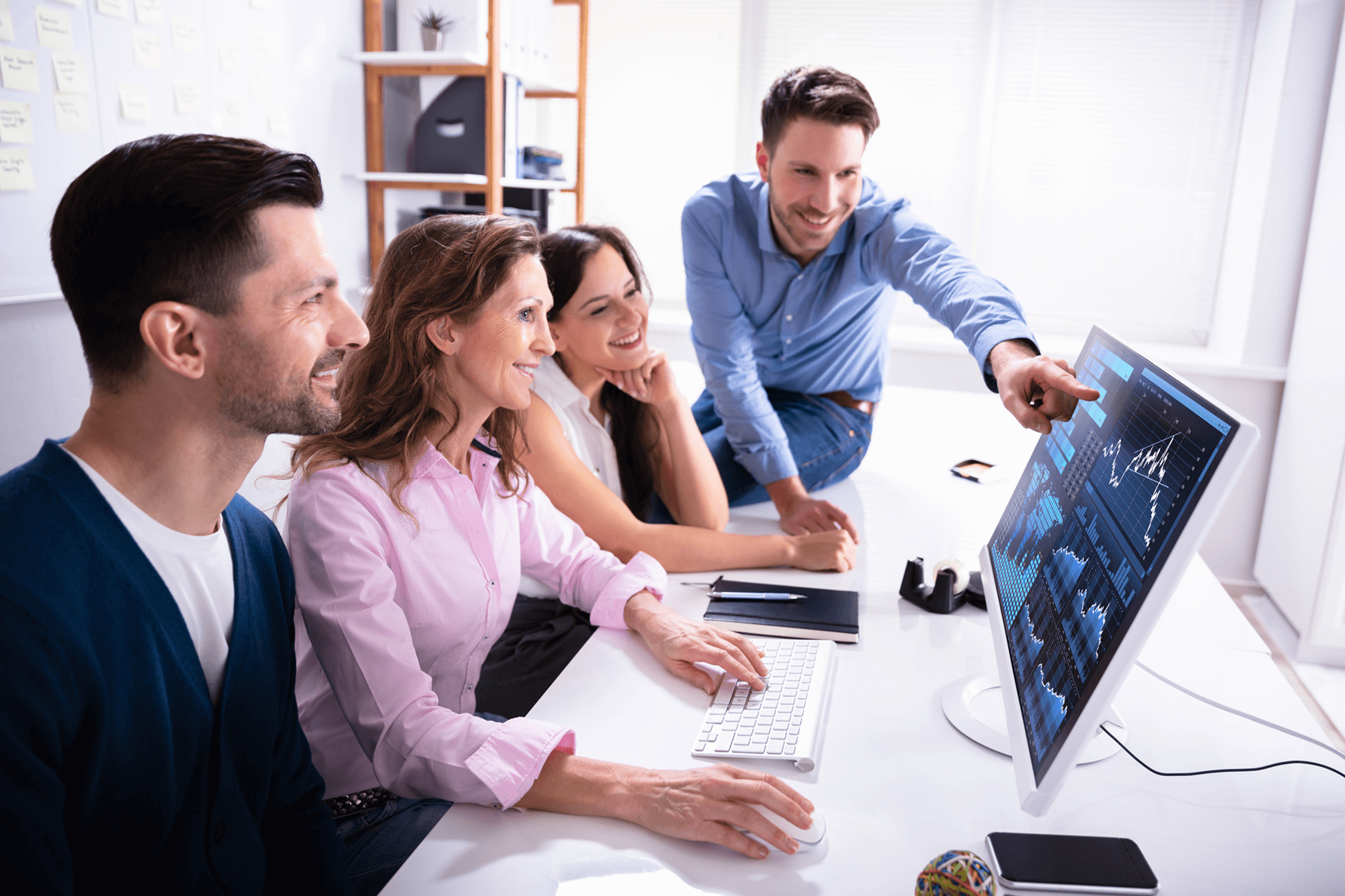 This data-driven, practical Business Intelligence training course covers KPIs, analytics, BI Project Management, Big Data, change management, data visualization, and BI success factors. Our passionate instructors will prepare you for a leading and advisory role in BI projects.
to the BI masterclass
Don't stand diametrically opposed
What drives you as an individual and what drives an organization can overlap or diverge to various degrees. The Venn diagram of the things that drive a person and those that drive the organization may have various levels of overlap ranging from all the way to none whatsoever. If the organization focuses on completely different matters than what drives people, people have to contort themselves to the point that it creates stress. Or you don't adjust, but then you don't fit the organization's ideal image of its employees, and that will have consequences sooner or later.
Be mindful of tunnel vision
Passion feeds the plan. The danger of passion is that it leads to tunnel vision: focusing on the goal to the exclusion of all else. Before you know it you're missing the forest for the trees. It's important to take a holistic look at the problem and analyze the root cause.
In this phase it's important to also look at the problem from a bird's eye view. Take the situation in Rotterdam. They could've set the goal to help as many people as possible get work, but by looking carefully, they determined that other factors, such as addiction or eviction, play into unemployment problems. These surrounding factors have to be addressed too in order to arrive at a holistic solution with a chance of success. Ignoring or downplaying these surrounding problems will negatively affect the effectiveness of the interventions sooner or later. It's essential to take a holistic approach, because otherwise the plan simply won't live up to its potential.
It's essential to take a holistic approach, because otherwise plans simply won't live up to their potential
This also means that the first version of the plan should only contain the main ideas and essences. You can't make an extremely detailed plan that's also executable the first go around. This problem demands small steps driven by data. It's about taking a journey, and taking stock of what you meet along the way.
Look at the problem holistically
When everyone's passions have been charted and the problem has been analyzed holistically, it's time to make first plans. Not endless policies put to parchment, but practical plans. In a team, ask yourselves what, given the passions present, should be the first, inevitable step that the team should take. This generates a stream of ideas and initiatives. These start from everyone's passions, and diverge into first, inevitable steps that all together form the foundation for the collective plan.
Look for kindred spirits
It's important to find kindred spirits who also have a desire for genuine change and improvement, and who want to work together to achieve that. Five tips:
Start with a small group and focus on the things you can influence.
Don't waste time and energy on things you can't influence.
Given the dedication required to keep focusing on things you can influence, it's important to keep your passion in mind.
Focus on things that matter to you personally.
Dedicate attention to long-term commitments that give a lot of satisfaction.
Good to great: The Hedgehog Concept
One framework that can help integrate this passion in your business model is Jim Collins' Hedgehog Concept (Collins, 2004). This concept  consists of three simple principles that you can apply to your organization (department, team). They can help you become and stay the best in your environment, industry, or region. The strength of these principles is in the overlap of the three concepts:
What are you deeply passionate about?
What can you be or become the best at?
How can you maximize your revenue doing that?
In the overlapping area of these three questions is your mission. The questions refer, respectively, to wanting, doing, and earning. But it transcends the planning or technical meaning of these verbs. It's about accepting these verbs in their overarching, passionate forms.
It's about:
What do you really want? (passion!)
What do you excel at? (what are you best at)
How can you maximize earnings doing that? (maximum pay-off)
Collins' three circles also indicate that you have to make choices. The goal is ensuring that you're making healthy choices that aren't clouded by emotions or pitfalls. That will greatly improve the odds of your plans succeeding.
Make choices that aren't clouded by emotions or pitfalls
There's more to life than making money
Collins (2004) assigns a business-economical meaning to the word "earning". He defines it as: what drives your economic engine? We've taken the liberty of stretching the definition of earning and including non-financial components in the definition.
Earning doesn't just have to be considered from the business-economic or financial perspective (making profit or cutting costs), but also aspects that indirectly or even immaterially lead to earnings or revenue. Consider factors like increasing your name recognition, obtaining free marketing, getting attention due to a news post going viral, improving your corporate image, or deflecting negative attention.
Earn karma points
With regards to earning in the immaterial sense, we're talking about earning goodwill, credits, or so-called karma points: what goes around, comes around. In the case of a volunteer organization, earning can be something as simple as a client's smile as a pay-off, if someone works from a place of passion to help others in need, in bad health, or for other altruistic reasons.
Consider the invaluable work of countless informal care organizations, people working in hospices, or in other volunteer organizations. Take the Make A Wish Foundation, who fulfill the last wishes of immobile, terminally ill children. In the case of real volunteer organizations, earning doesn't start with the financial component, but with the intrinsic need to do something about humanitarian disasters, people in need, or oppressed peoples.