Last year TIAS, a separate division for executive teaching of Tilburg University, started an executive programme for IT Consulting. Of the 10 modules, one is dedicated to Business Intelligence. Prof. Piet Ribbers asked Passionned to take on the lion's share of the BI sessions. "A wonderful challenge and a great honor" according to Daan van Beek.
TIAS programmes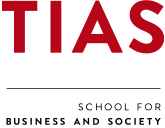 TIAS offers a number of programmes that are IT-related. The students are typically in their thirties with about 5 years of work experience who want to gain an extra MSc degree or another diploma valued in practice. The IT Consulting programme is aimed at those who want to become proficient in this area. The programme was created in addition to the existing IT Auditing programme. There is a joint intake for IT Auditing and IT Consulting, after about a year both groups split.
How do I get people to the point where they can use the systems well?
"We help people develop the skills to help businesses with deployment, implementation, construction, and the use of systems. An Information Management course has been in existence for many years, but that is more for the policy makers who together with business management must consider how systems can be used in the organization. IT Consulting focuses more on: how do I build systems, what can I do with these and how do I get the people to the point where they use them properly." The speaker is Prof. Piet M.A. Ribbers MSc, Emeritus Professor of Information Management and associated with the Tilburg School of Economics and Management. The MBA IT Consulting programme consists of 10 modules; the latter is entirely dedicated to Business Intelligence.
BI and Big Data are hot topics
"BI and Big Data are hot topics. Also in the universities, where they are trying to establish new programmes for these. They are strongly focused on the development of tools and predictive models. The people who wish to study such courses must have a strong background in mathematics and statistics," says Ribbers. "What I was looking for were people who can explain how you deploy these tools in an organization, how these tools contribute to the performance improvement of the organization and what is needed to make that happen. I have had a look around and haven't found many people who can do this. And who are also able to do that for a critical audience of people with experience."
Prof. Ribbers: "Complete confidence"
"I got the feeling that it was going to be a difficult story. However, I went to talk to Daan van Beek of the Passionned Group and to my great joy he responded very enthusiastically. We made an appointment and in that meeting he also opened a number of new perspectives for me. I have become convinced that Daan is the designated person. So I have given it to him in full confidence."
Also want to know how the BI machine works?
The Business Intelligence module includes eight day sessions, of which Passionned is responsible for seven. Ribbers' colleague Henny Daniëls is a mathematician has been teaching Business Analytics at the faculty for some time. He gives a one day session. "I think it's good if the students know of some principles of this. They get some basic technology from Henny, so that they know how the machine works. Daan focuses entirely on the adoption and implementation of BI in organizations. He knows that material like no other," concludes Ribbers.