Feedback in teams and organizations: the challenges
Feedback helps all managers or consultants improve and innovate: driven by data, focused on results. A feedback culture doesn't only set the tone in the workplace, it also impacts the atmosphere. It's the number 1 success factor of intelligent organizations: they have a culture where feedback is not only welcome, but encouraged.
But how important is being able to speak your mind, really? And moreover: how can you successfully apply feedback in your own team or organization? Several questions rear their heads:
How can you use feedback to achieve better results in your organization?
How can you make your people grow using feedback and feedforward, so that your teams can flourish?
How can you learn to give constructive feedback, and also to welcome it?
How can you combine feedback with KPIs, continuous improvement, and data science?
How can you link feedback to larger concepts like agile teams and organizations?
How can you successfully apply feedback & the accompanying systems in your company?
Do you have one or more of these questions in your organization or team? Our feedback specialists and coaches are eager to help you.
Why is feedback crucial to your organization?
If you want to achieve better financial results, feedback should be embedded in the organizational culture. Giving and receiving feedback is also crucial for healthy co-operation.  It's the number 1 success factor of intelligent, agile organizations.
One-dimensional versus integral feedback
Many organizations approach a feedback culture one-dimensionally. They only use it in improvement cycles or process models. Or only to get customer input on a product or service. But also as a competency or a system for personal performance improvements or performance reviews.
Organizations only sporadically embed feedback in their culture, so that people can talk to each other about both the positive and the negative results. That creates a real dialogue and opportunities for improvement. You'll be able to better leverage opportunities for innovation or better financial results. And it gives people more room to improve, as long as they can handle constructive criticism.
The real value of feedback & feedforward
You won't see better structural financial results until you give feedback and its culture its due. It needs to be applied broadly, not just for the functioning of teams. What are the biggest benefits of a healthy feedback culture?
Improvement cycles like PDCA will shine and lead to improved processes.
Grow and develop employees without extra investments.
Teams work together more closely and can better steer themselves.
It enriches your data science results and advances the dialogue around data.
It improves and speeds up the decision-making and steering of teams.
Increase the agility of your teams and organization.
1. Feedback is crucial to continuous improvement
People need feedback and feedforward to improve themselves. Feedback is the fuel that powers your processes and improvement cycles, such as:
PDCA cycles
(data) quality processes
customer processes
performance management processes
decision-making processes
innovation processes
Without a systematic feedback culture, many improvement initiatives will stall early on. There won't be enough attention and focus for it.
2. Feedforward lets employees grow and develop
Work is becoming increasingly automated, rendering many competencies and skills obsolete. The social competencies remain, however. They make the difference between organizations where teams perform better and improvement processes are successful. This leads to greater growth and development. These are crucial building blocks for future-proof, intelligent organizations. A growth mindset is crucial.
You need data and other people to discover your blind spots and stay relevant. That will encourage you to unlearn bad habits and learn new, positive habits. Skills like feedforward fall under:
social awareness
self-awareness
relationship management
self-management
These greatly contribute to business model innovation and improvements. It's an important, driving force of Talent Science.
Master of Talent Science training course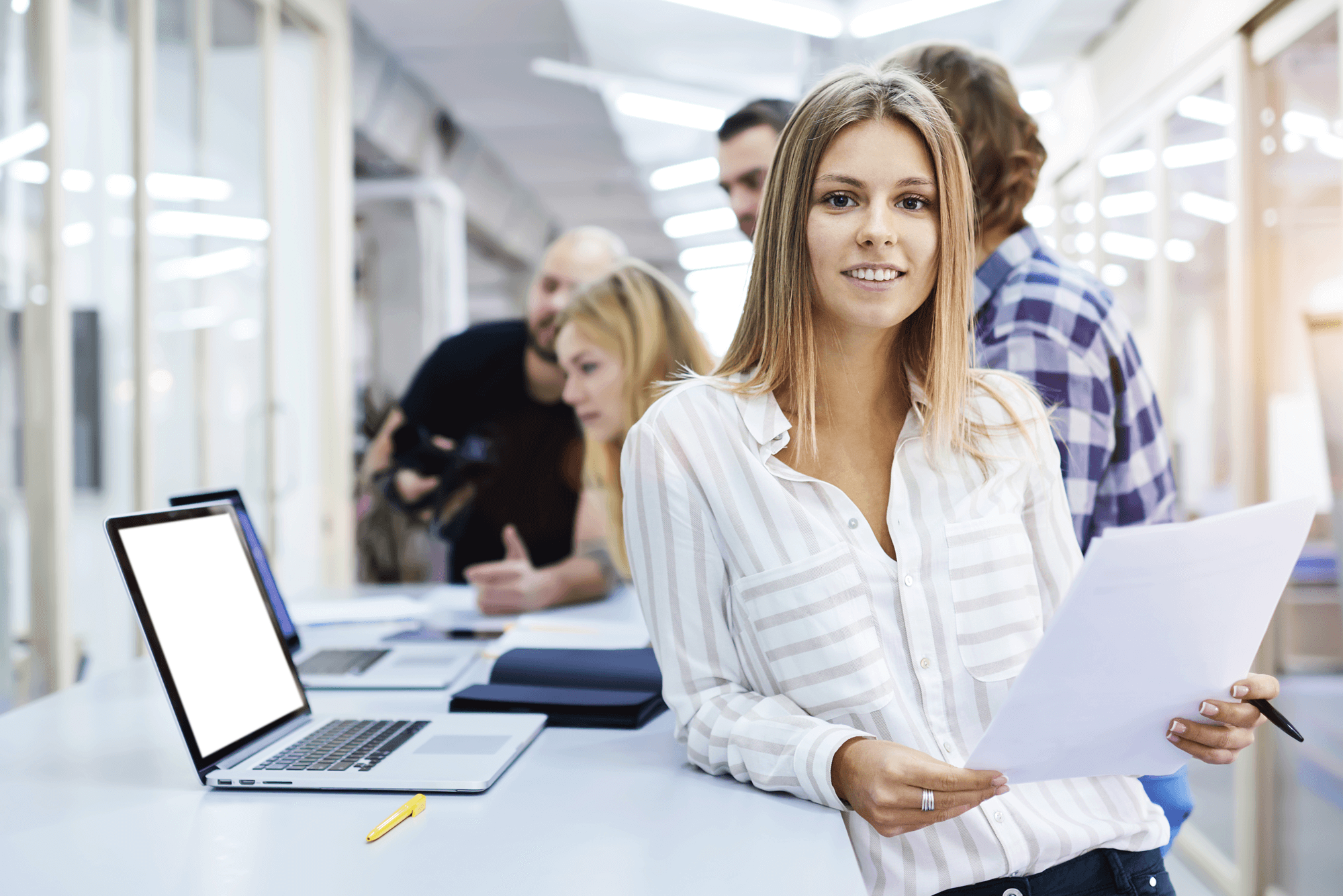 The intensive 10-day Master of Talent Science course introduces you to continuous improvement, PDCA, customer-focused working, talent development, Lean, Analytics, and smart organizations. Bring out the best in your people, teams, customers, and company.
to the Master of talent science training
3. Feedback improves team co-operation
Different opinions, and the dialogue that flows out of them, is important for high-performance teams and the quality of their performance. Productive teams disagree with each other 75% more than unproductive teams. But this can only happen if there is room, knowledge, and the safety to give and receive feedback. This mostly concerns feedback about:
the contents of the work
the processes around the work, such as co-operation
joint reflection about personal, team, and organizational goals
Being able to speak your mind is a cornerstone for effective co-operation.
4. Feedback enriches your data science results
Communicating about data with a perspective on organizational processes is crucial for BI consultants and Data Scientists nowadays. Having a dialogue leads to new insights, ideas, and improvements in the process of developing and experimenting. Data doesn't come to life until you talk about it. Data provided with feedback and dialogue with room for differences leads to real change and improvement. Loading data with an open and action-oriented dialogue makes the difference: the data dialogue.
5. Feedback increases decision and steering possibilities
Continuous feedback from the market, clients, each other, data, and KPIs enables managers and teams to evaluate and adjust the strategy, goals, and resources when necessary. Collecting and registering data usually isn't the biggest problem. Making timely decisions or course-correcting is the bigger challenge, especially now that this responsibility falls on the workplace more frequently.
6. Feedback & feedforward enhance your agility
The organization's environment is changing rapidly. It's becoming more complex as new business models are changing existing markets at a rapid rate: disruption. The ability to anticipate is a core competency of intelligent organizations, modern managers, and agile teams. This ability can only be developed using high data quality, genuine KPIs, and short-cycle feedback.
This requires a transition from feedback as a competency or a system to a climate and a method of co-operating and experimenting. We're all familiar with the increased speed with which technology supplies us with knowledge and information these days. That means you should be able to learn faster. More direct dialogues and faster decision-making processes enable that.
The definition of giving feedback
Feedback is the process of returning the results or effects of an action in order to adjust the next action. It's essential for the workings and survival of all organisms in nature, as well as for man-made systems, such as school systems and the economy. As a two-way stream, feedback is a part of every interaction, whether it's person-to-person, person-to-machine, or machine-to-machine: it doesn't change the definition of feedback.
In the context of an organization, feedback is: the information you send to an individual or group about their earlier behavior. That enables you to change their current and future behavior in order to reach the desired results. This definition underlines that giving feedback is more than just a competency.
Feedback is more than that
Given the impact of feedback on organizations, we use a broad definition. Feedback enables:
the personal and interpersonal skills
culture and supporting systems
to improve the processes, results, and skills of and between employees.
The broad definition is: the entirety of communication processes, skills, behaviors, systems, and habits that promote the sharing of information about results, co-operation, and behavior. With the goal of improving them in the future.
The connecting factor of feedback
We believe that feedback is most effective when everyone uses the same facts, data, together. Not to browbeat each other, but to start the dialogue. That doesn't only improve the signal to noise in communication, but also makes your organization more intelligent: one that combines data science, feedback, and continuous improvement into powerful performance.
We don't believe in one-time success. We also don't believe in implementing separate solutions or competencies. Our integral, comprehensive approach ensures success in the short and long term. We connect all the senses in the organization:
That's the only way to create a balanced interplay of the right ingredients for constructive criticism and feedback.
What advantages can you expect?
✓ Better financial results and highly-rated products and services.
✓ More effective and efficient meetings and gatherings.
✓ The co-operation and motivation of employees will improve.
✓ Improvement initiatives will be evaluated more quickly.
✓ Get more out of yourself, your team, and your colleagues.
Develop your feedback competency
If you want to take the right steps, it's essential to closely examine your feedback competencies, your organizational goals, the culture, and the leadership. Our approach is pragmatic: do and experiment. Contact us for a conversation with one of our feedback coaches.