Understanding machine learning
Every modern manager, director, or consultant needs to have a thorough understanding of machine learning. Not because it's a controversial topic, but because it's useful and profitable. Machine learning determines the difference between winners and losers, satisfied customers and complaints, quality and shoddy work. In this article, we'll tell you what you should know to get started with machine learning. Which questions do you need to answer?
Which projects are suitable for tackling using machine learning?
How do you make sure the team has the right skills and competencies?
Who do you involve in the project, and how do you create support through disruption?
Which machine learning tools should you use?
What are the most important pitfalls to avoid? What are the risks involved in a machine learning project?
Finding the answers to these questions isn't always easy, because every situation and business case is different. The machine learning specialists of Passionned Group are eager to help you in this search.
Master of Data Science
Learn all ins and outs of machine learning, big data, and data-driven organizations in our 10-day Master of Data Science training course. Take steps towards success in implementing machine learning and data science and enroll today.
Support through disruption
We live in exciting times, the likes of which have never been seen before. Organizations need to be very agile in order to keep surviving these days. Disruption is lurking around every corner, and without machine learning, companies won't survive. It's simple, really: those who stay on top of the data and can successfully apply machine learning can shake up an industry. Just look at Uber, Google, Netflix, Tesla, Amazon, and many other success stories.
But how do you create a base of support when the middle man is disappearing and many colleagues are fulfilling that role?
It's difficult to get support from them, so you go to management and the early adopters who see the necessity of change. From support for disruption, to support through disruption.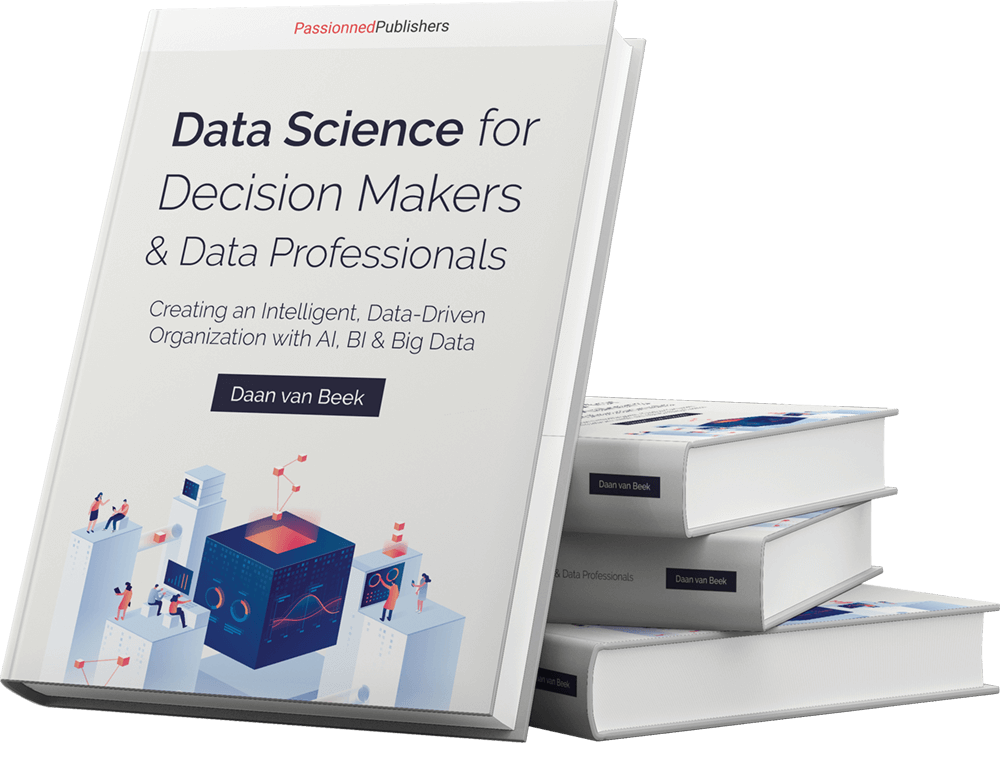 Machine learning, AI, and algorithms: essential aspects of intelligent organizations. This unique AI handbook, Data Science for Decision-Makers, describes in 10 clear steps how to implement machine learning and AI in your organization to make better decisions, faster, across the board.
Order this book now
.
Go to Artificial Intelligence handbook
What is machine learning?
Machines can't learn by themselves, so why call it machine learning? Well, we make models that simulate reality. Those models are fed into a computer, and then we make the model run through as many cases as possible, which increases the quality of the model, and with it, the truth of the predictions.
Machine learning is the creation of a predictive model using data, also called data mining.
Deep learning is a sub-domain of machine learning.
What distinguishes machine learning from machine data?
The Internet of Things generates data non-stop. At this point in time, there are already more machines and devices generating data than there are humans and animals combined. We call the data generated by these machines machine data. For example, sensors that measure movement, sound, temperature, friction, or humidity.
Types of machine learning projects
Machine learning projects can be divided into two groups:
Simple projects (continual improvement): These can be executed using a limited scope and budget, for example to detect credit card fraud. The business model stays the same, but existing processes are optimized. This has a relatively low impact on personnel.
Multi-disciplinary projects (innovation): These projects impact the entire organization and bring about major tactical and operational changes. The business model changes drastically. For example, the Amsterdam Police Department now uses machine learning to deploy officers to the sites where crime is most likely to occur.
One-day AI & machine learning training
In this interactive training course, managers, directors, and controllers will learn all about the practical applications of AI and machine learning, and how to successfully implement it in organizations.
view the AI in 1 day training course
Risks and pitfalls
The biggest risks of machine learning lie in the lack of a clear business case, a lack of support, lack of understanding in management, resistance from staff, and low-quality data. Passionned Group would love to help you manage these risks and convert them into success.
The intelligent organization & machine learning
An intelligent organization cannot live a long, healthy life without utilizing machine learning these days. Becoming more intelligent, by definition, means employing machine learning and advanced analytics in order to innovate and continually improve processes. Read our book Data Science for Decision-Makers to learn more about this.
The role of Big Data
It's become clear that machine learning (or artificial intelligence) requires large quantities of data (BI trends 2017). Big Data is crucially important, because it enables computers to keep learning in perpetuity. The continual flow of new data, and with it new cases, makes for faster learning and deeper understanding, and thus more accurate algorithms.
19 tools for machine learning
The huge market for BI software is always shifting, and it can be hard to determine the right tools for the job. Passionned Group's 100% vendor-independent Business Intelligence Tools survey separates the wheat from the chaff and helps you make a well-informed choice when purchasing machine learning tools.
The ethics of machine learning
We've never had to worry about the local grocer or news stand vendor knowing a lot about our personal lives. But we don't really trust computers, because they tend to gossip a lot. Take Big Data marketing, for example: you're looking for a plane ticket to Barcelona online, and next thing you know Amazon is advertising Lonely Planet Barcelona guides to you. Passionned Group understands this as well as anyone: there is a line that needs to be respected. If the outcome of machine learning is really relevant, then we accept it. If it's not, then a line is being crossed. It's that simple. It goes without saying that machine learning should only happen within the confines of the law.
The purpose of learning machines
A lot of (simple) work is being made redundant because of machine learning, and that's a good thing. People weren't meant to do menial tasks for 40 hours a week, according to Adam Smith's principles. People were meant for more, to spend more time lollygagging. Although some industries are being hit very hard by machine learning, we think it's a good thing for defining humanity's purpose. The old crafts are returning, organizations are flattening and becoming more intelligent, healthier, and friendlier. It's our passion to achieve those goals.
What are the advantages of machine learning?
✓ Saving costs: doing more with fewer people.
✓ Making better decisions, faster, as a data-driven organization.
✓ Developing and innovating data-based products and services.
✓ More job satisfaction for your entire personnel.
Become disruptive with machine learning
Contact us freely. The specialists of Passionned Group are eager to surprise you with our expertise on machine learning.