Every successful organization has a successful, future-proof strategy.


Strategy training for all-round vision
Our unique strategy training will make your company more intelligent, increasing your agility and profitability. Achieve a company strategy and execution that are perfectly in tune with each other. Time and time again, this proves to be more difficult than it seems: managers and employees continue to make decisions based on gut feelings, thus watering down your strategy or rendering it ineffective. Even worse: the competition might pass you by.
Get a head-start on progress
There's a better way. Our strategy training lets you experience how to build and implement an agile, performance-driven organization. An organization and employees can elevate the strategic competencies, plans, and predictions to a higher level. Knowledge and insight can provide a head-start on progress.
Our strategy workshops
Below, you'll find some possible training courses we can provide for your company. Naturally, as in-company training courses, they can all be tailored to meet your specific needs.
---
Learn how to make your strategy future-proof in 3 days. Learn to develop future scenarios and strategy maps for your company and be prepared for the future. Read more…
Learn how to manage the performance of your organization and the behavior of your employees. Learn the foundation of performance management, strategy dynamics, KPIs, and implementation. The path to successful change starts here. Read more…
This practical PDCA training provides you with directly applicable continuous improvement methods. Practice using all the necessary skills, techniques, and building blocks you can use in order to successfully implement change in your company. Read more…
This CRM course will teach you how to effectively apply CRM and customer-focused analytics in your organization. Become acquainted with the most important principles, processes, and pitfalls in CRM, and learn how to successfully apply analytics. Read more…
Learn the ins and outs of (designing) implementation and change management. Discover why it's difficult to change yourself and others, and how best to kick-start that change. Read more…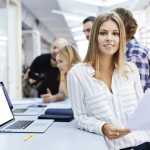 The intensive 10-day Master of Talent Science course introduces you to continuous improvement, PDCA, customer-focused working, talent development, Lean, Analytics, and smart organizations. Bring out the best in your people, teams, customers, and company. Read more…
Why choose our strategy training?
✓ Our teachers all have over 15 years or more of practical experience, as well as theoretical knowledge. They know how to unite the practical and the theoretical like no others.
✓ Our approach is based on the proven concept of the intelligent organization.
✓ We cover the entire ABC of strategy: from scenario planning to KPIs.
Specialized in-company training
Our teachers teach in-company courses abroad. Get in touch with us to discuss the rates and possibilities we can offer. Our teachers would love to visit your company and share their knowledge, experience, and expertise.