Continuous improvement and innovation with PDCA
Continuous improvement and innovation have to be embedded in your company's DNA and instilled your people. How do you implement continuous improvement in your organization? Moreover, how can you make your teams agile and turn your organization into an intelligent, learning one? This 3-day PDCA & continuous improvement training will teach you everything you need to know.
How do you organize continuous improvement amidst everyday hustle and bustle?
How can continuous improvement be embedded as a style of working in your organization?
How do you match the goals of continuous improvement with your strategy?
How do you make new goals and processes measurable using genuine KPIs?
How do you organize co-operative evaluation and timely course-correction (check)?
How do you implement continuous improvement in the workplace, and not just with management?
How do you successfully introduce it in your organization and with management?
If you're facing one or more of these challenges, our 3-day PDCA & continuous improvement training comes highly recommended.
Achieve results with PDCA & continuous improvement
In three days, you'll learn about all the elements of PDCA & continuous improvement. Our unique PDCA training course enables you to take the right steps towards improving your own organization. You'll get all the necessary tools and insights to maintain momentum. We'll introduce you to big PDCA cycles to improve your business model, and you'll also work with small PDCA cycles to enhance your operations. That combination is the key to success.
A complete PDCA approach for your company
This training course also teaches you how to avoid pitfalls. The biggest one is how to continue after the Plan and Do steps. You might be well on your way, but then what? How do you complete the circle? But there are many more pitfalls to avoid. By doing concrete assignments you'll work on the skills for a successful implementation of continuous improvement. During the course, you'll work on a complete PDCA approach for your company.
Customer experience
"The workshop PDCA provides a strong combination of KPIs, processes and behavior."
Michel Cabri
SNS REAAL
Practical and interactive PDCA training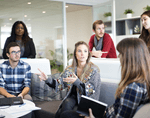 There are group discussions during every day of the course. Everyone will have the opportunity to exchange experiences. The practical assignments immediately let you apply the training to your own organization. Together, we'll create an optimal combination of learning & doing, applying & reflecting. Upon completing this course, you'll receive a Passionned Academy certificate.
The contents of the PDCA & continuous improvement training course
This practical training course provides you with directly applicable knowledge you can use to successfully implement continuous improvement. You'll learn all the required skills, techniques, and building blocks. In three intensive days, we'll prepare you for a leading and advisory role in PDCA and improvement projects.
Day 1: Continuous improvement, big PDCA cycle & translating to teams
On the first day of this masterclass you'll be introduced to continuous improvement and the PDCA philosophy. We'll show you the interplay between improvement initiatives, strategic frameworks, and processes.
Continuous improvement & PDCA: what's the benefit of continuous improvement? What is PDCA, and where did it come from? What are the differences between the big and small PDCA cycles? What is the overlap with strategy and policy? How does the big circle relate to operational improvement initiatives?
Completing the big circle: how do you complete the big PDCA cycle? How do you recognize the pitfalls, and which risks should you be aware of? How do you design the process of monitoring and evaluation? How do you arrive at the correct indicators? And what's the best way to unite them on a dashboard?
Embed continuous improvement in strategy: how can continuous improvement be embedded as a way of working in the organization? How can you use a strategy map to deduce the goals and actions for your team? Strategic performances will be translated to the workplace. And you'll make a strategy map for your own organization.


Applying the big circle to the organization: how can you transition between big and small PDCA cycles? How do you translate the strategy to effective improvement cycles for departments and teams? How dose this relate to improving processes?
Day 2: Small PDCA cycles, KPIs, and high-performing teams
During the second day, the small PDCA cycle will be extensively discussed. We'll keep an eye on the link to the big PDCA cycle.
The big and small PDCA: how do you keep the improvement initiatives of both PDCA cycles in lock-step? How do you prevent them from being one-time, or separate, cycles? How can you ensure that they enhance each other, instead of getting in each other's way? What do you need to accomplish that?
Process improvement and PDCA: how do you improve your processes? Where do you begin, what tools are useful? What pitfalls can you expect to encounter? Make your own process map, share your progress, and receive feedback.
Measuring and steering with KPIs: how do you make improvement goals, processes, and performances measurable? What are good result KPIs? Determine the KPIs for your own process, and learn to give feedback on what are good and bad KPIs.
High-performing teams: what are high-performing teams? How come many teams don't get around to continuous improvement? What do you need to build a co-operative system that prioritizes learning and developing knowledge? How do you pivot the culture?
Day 3: PDCA implementation, co-operative system & competencies
The last day of this PDCA masterclass is dedicated to improving and learning together. During this day, you'll mostly apply what you've learned to your own organization.
Elements and building blocks: what roles do team and talent development, and group dynamics, play in co-operative learning? What's the role of the leader in establishing a positive learning environment? How do you ensure feedback and feedforward is constructive, so that employees can experience positive personal development?
Co-operative system: good co-operation is the key to maximizing performance. Management can promote co-operation by establishing a good co-operative system. What does such a system look like, and what elements does it contain? What are the opportunities for your organization, and how can you approach this?
The benefit to your organization: during this section, you'll apply the learned concepts to your own organization. Under the teacher's supervision, you could, for example, design an implementation plan for continuous improvement. Or you could focus in on the development of a strategy map and determining KPIs. But you could also focus on introducing continuous improvement in your organization, and determine which skills and competencies are crucial. The contents of this section depend on your needs and preferences.
Practical training
Unintelligent organizations don't connect the dots. They see change management as separate from continuous improvement and achieving their strategy. Or they make policy and goals measurable, but neglect the accompanying process management.
Our 3-day PDCA & continuous improvement training unites these specialties with your real-world experiences. You'll work on concrete assignments that are relevant to your own situation. This training course will help you to make your company into a learning, agile organization.
What are the benefits?
✓ Complete: comprehensive approach to continuous improvement and quality improvement.
✓ 3 compact days: learn everything about big & small PDCA cycles and how to connect them.
✓ Practical: your strategy, processes, KPIs, and situation are centered.
✓ Results: directly apply the learned knowledge.
✓ Leadership: take up a leading role in improvement projects.
Who is this unique training course for?
This PDCA training course is a revelation for anyone involved in the continuous improvement of their organization. For example, the leaders who are responsible for the preparation, execution, and adjustment of continuous improvement programs. The types of people who take this training course include: business managers, transition managers, change managers, quality managers, team leaders, business consultants, project leaders, and HRM advisors.
Contact us about in-company training
Do you want to improve the performance of your organization and teams by effectively applying continuous improvement and PDCA? Contact us about arranging an in-company training course at your company.