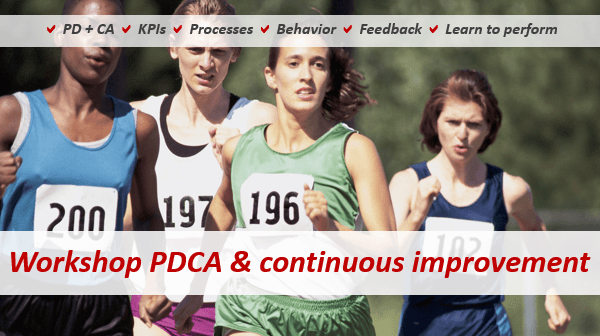 PDCA workshop: a little bit better ever day
Many plans or improvement projects don't achieve the intended results. In practice, they almost always take longer than expected. And even if the improvement plans are implemented, they still might not lead to the desired effect. The "Plan" and "Do" steps often succeed, but what then? Does this sound familiar?
The pitfall: not working according to PDCA
Many internal processes go on autopilot. And just discovering the autopilot and the redirection of these automatic processes (redesign) is an important part of the PDCA improvement methodology. An improvement plan without PDCA anchoring doesn't achieve the best results.
What will you learn?
In this hands-on workshop, international KPI expert and change management expert Mr. Leo Kerklaan will introduce you to the world of PDCA improvement circles, processes, KPIs, and effective behavior. You'll learn about the major PDCA principles and everything associated with it to implement it for continuous improvement.
What steps should you take for continuous PDCA improvement?
Determining genuine KPIs, standards and targets (plan).
Modeling processes, including transfer times (do).
Consistently using information for analysis, action, improvement and innovation (do).
Discussing positive and negative KPI scores and giving feedback (check).
Evaluating and adjusting standards and targets (update plans).
Customer Experience
"A cycle in which you evaluate and update is not a foreign concept to me after 13 years as a director. But because of the PDCA workshop by Passionned Group, I now have more tools to continue looking and measuring, and making well-advised, proactive (not reactive) adjustments."
Annette Lecomte
Hofplein Drama School
How do you get a good view of the "holes" in the PDCA cycle?
To complete the PDCA cycle, the connecting links between the four steps are crucial: KPIs, processes, and behavior. Therefore, these links are discussed extensively during the workshop. This integrated approach allows for optimum assurance of improvements.
Comprehensive checklist
Based on a comprehensive checklist, you'll also achieve clear insight into the gaps in the plan-do-check-act cycle in your organization and your own work pattern. And how you can improve it and
embed the results into your process.
PDCA-oriented work can certainly be learned
Our powerful PDCA workshop provides managers and consultants with the software to effectively implement changes in the organization following a unique formula: PDCA + KPIs + lean processes + feedback = improved results. After this workshop you'll be able to remove the greatest amount of waste from the process in order to improve quality and improve the margins of the organization!
"The PDCA workshop took place in a pleasant atmosphere and lecturer Leo Kerklaan gave excellent guidance. All in all it was very educational!"
Hans Scherff
Dr. W. Kolb Netherlands BV
What will you learn in this workshop?
In this workshop you'll learn to transfer the plans and strategy to the workplace so that each employee can understand his or her contribution and can act accordingly. In short: how you can effectively implement your plans! You will discover how you can round out your improvement circle using a proven methodology.
Addressing the bottlenecks
The improvement process is mapped out for the participants in concrete steps and in understandable (your own) language. Then actions are formulated to address the identified gaps and bottlenecks, so that the most waste can be eliminated step by step.
1. Morning program of the PDCA workshop
09:00 Reception & welcome by Mr. Leo Kerklaan
9:10 Learning objectives, expectations, and introduction session
9:15 Presentation of the results of national study of PDCA & performance by Passionned Group (in cooperation with Quality in Business). You will learn the 10 most critical factors for efficiency in quality management and PDCA.
9:45 What are genuine Key Performance Indicators (KPIs)? How do you combine that with PDCA? What are the real success factors of performance improvements in your company? When is a KPI a really useful KPI? Which proven methods exist to standardize indicators?
10.45 Break
10:55 What are business processes and how does a successful Lean plan run? What exactly happens in a business process, and most importantly, how can you increase control and continually optimize using PDCA and KPIs?
11:30 Practical assignment: 5 steps to model your business process and decrease transfer times, and establish KPIs & standards
12:30 Lunch at the restaurant
2. Afternoon program of the PDCA workshop
13:15 Continuation of practical assignment: 5 steps to model your business process and minimize transfer times, and establish KPIs & standards
14:00 How to work smarter with PDCA: behavior & horizontal and vertical feedback loops. The feedback on behavior or the feedback regarding measurement results determines the possible intervention in the process. Feedback makes it possible to take corrective action and thus influence the future performance of the process.
15:00 Break
15:10 Practical assignment: problem selection, bottleneck analysis + A3 problem solving. The flat tire as an example of achieving three levels of improvement:

Patch tire (repair)
Check for cause, such as a glass shard (analysis)
Alternate cycle routes.

In short: modify the process / behavior so it does not happen in the future.
16:50 Evaluation
17:00 Closing
The PDCA workshop provides you with excellent tools for an integrated approach to KPI management, process management, and change management.

What are your benefits?
✓ Overall: integral improvement approach with PDCA, processes, KPIs, and behavior.
✓ Practical: take your own primary process and KPIs with you.
✓ In one day: you'll learn all about the PDCA cycle and how you can improve.
✓ Result: immediately put your learning into practice (including comprehensive PDCA checklist).
Register for the PDCA workshop
Do you also want to implement the PDCA improvement path in your organization and achieve the intended results? Sign up now for the PDCA workshop.